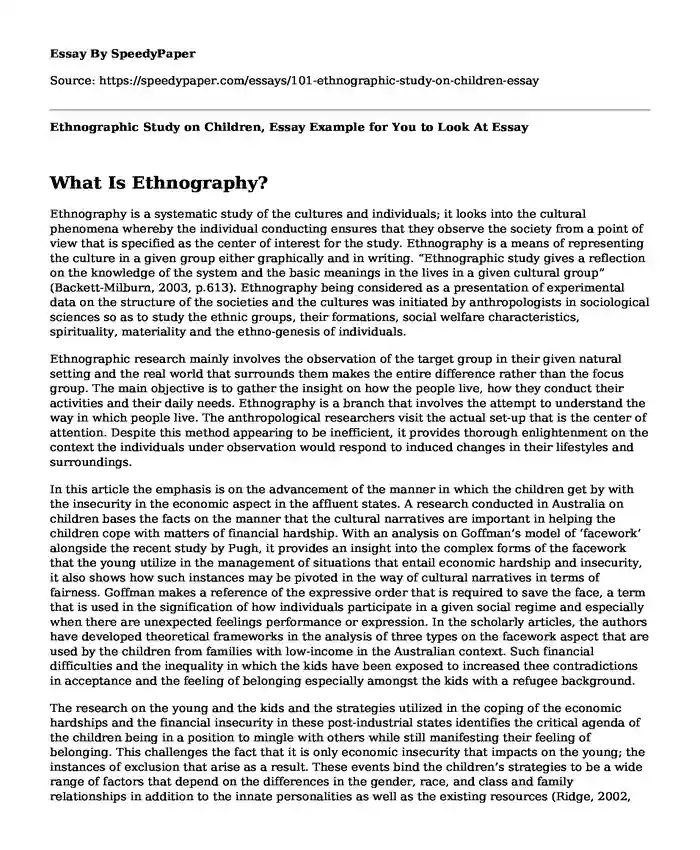 What Is Ethnography?
Ethnography is a systematic study of the cultures and individuals; it looks into the cultural phenomena whereby the individual conducting ensures that they observe the society from a point of view that is specified as the center of interest for the study. Ethnography is a means of representing the culture in a given group either graphically and in writing. "Ethnographic study gives a reflection on the knowledge of the system and the basic meanings in the lives in a given cultural group" (Backett-Milburn, 2003, p.613). Ethnography being considered as a presentation of experimental data on the structure of the societies and the cultures was initiated by anthropologists in sociological sciences so as to study the ethnic groups, their formations, social welfare characteristics, spirituality, materiality and the ethno-genesis of individuals.
Ethnographic research mainly involves the observation of the target group in their given natural setting and the real world that surrounds them makes the entire difference rather than the focus group. The main objective is to gather the insight on how the people live, how they conduct their activities and their daily needs. Ethnography is a branch that involves the attempt to understand the way in which people live. The anthropological researchers visit the actual set-up that is the center of attention. Despite this method appearing to be inefficient, it provides thorough enlightenment on the context the individuals under observation would respond to induced changes in their lifestyles and surroundings.
In this article the emphasis is on the advancement of the manner in which the children get by with the insecurity in the economic aspect in the affluent states. A research conducted in Australia on children bases the facts on the manner that the cultural narratives are important in helping the children cope with matters of financial hardship. With an analysis on Goffman's model of 'facework' alongside the recent study by Pugh, it provides an insight into the complex forms of the facework that the young utilize in the management of situations that entail economic hardship and insecurity, it also shows how such instances may be pivoted in the way of cultural narratives in terms of fairness. Goffman makes a reference of the expressive order that is required to save the face, a term that is used in the signification of how individuals participate in a given social regime and especially when there are unexpected feelings performance or expression. In the scholarly articles, the authors have developed theoretical frameworks in the analysis of three types on the facework aspect that are used by the children from families with low-income in the Australian context. Such financial difficulties and the inequality in which the kids have been exposed to increased thee contradictions in acceptance and the feeling of belonging especially amongst the kids with a refugee background.
The research on the young and the kids and the strategies utilized in the coping of the economic hardships and the financial insecurity in these post-industrial states identifies the critical agenda of the children being in a position to mingle with others while still manifesting their feeling of belonging. This challenges the fact that it is only economic insecurity that impacts on the young; the instances of exclusion that arise as a result. These events bind the children's strategies to be a wide range of factors that depend on the differences in the gender, race, and class and family relationships in addition to the innate personalities as well as the existing resources (Ridge, 2002, p.73; Pugh, 2009). The cultural narratives equally teach the children equally as the strategies on how to cope with the economic hardships. The main core discussion of thee paper concentrates on the qualitative research drawn from the city of Victoria in Australia so as to provide an insight into the emotional and social practices that are adopted by the children. From the social theory of Goffman and his notion on facework and the drawings from Pugh's analysis, there is a highlight on the cultural consideration of the fairness in the shaping of the behaviors in the context of Australia's consideration. The articles describe how the children adopted and developed facework attributes in regard to the cultural narratives of just and equality in order to retain the sense of belonging. The analysis lays interest on how the researchers are required to prioritize the role of the cultural narratives in a broader manner during the examination of the emotional and the social strategies that are developed by the children so as to make sense out of the economic insecurity in the different cultural set-ups.
Research In the Children's Economic Severance In the Affluent Countries
In the year 2001 to 2010, Australia experienced an economic growth at a constant rate; however the portion of the population that was experiencing relatively low income experienced a little impact in return. The population raged between 12% and 14% as per McLachlan (2013). A research conducted by Household Income and Labor Dynamics shows that in the year 2008 over an eighth of the children were living in such deplorable conditions. The advent of the economic condition was that there was an increased level of the risk of an increase in the level of poverty for the children living in a family with a lone parent in comparison to those living with both their parents.
Grasping the young one's own comprehension of destitution and economic deprivation is critical for having the capacity to bolster children in their families and societal set-ups, and a developing assemblage of subjective examination has tried to decide kids' view of financial affliction in prosperous countries (Sutton et al., 2007; Ridge, 2002. Redmond, 2008; Walker et al., 2008; Thorne, 2008; Mason and Danby, 2011; Skattebol et al., 2012). Such studies have especially centered around the perplexing way of impediment and the distinctive connections which outline youngsters' encounters of monetary instability and insecurity (Skattebol et al., 2012), how such events sway on kids' connections (Redmond, 2008), how family earnings influence kids at the miniaturized scale level and the implications that kids ascribe to the social circumstances that emerge through eco-nomic misfortune (Skattebol et al., 2012). This motivation organizes kids' own particular experi-ences, now standard in tyke centered examination, which underlines the significance of utilizing kids' perspectives as a part of settling on choices that influence them (Qvorturp et al., 1994; James and Prout, 1990; James et al., 1998; Mason and Danby, 2011).
It is entrenched that not all youngsters are socially and monetarily disadvantaged in a comparative sense. Nor do kids encounter the passionate weights of family money related issues similarly (Skattebol et al., 2012). For instance in factors such as age, sexual orientation, class and dialect securing (Backett-Milburn et al., 2003), inalienable personality, peer groups and the existing connections may all effect on how kids are influenced by and react to such encounters (Van der Hoek, 2005). Research in the light of a social avoidance system has likewise demonstrated that kids in the low income families are very much aware of the open doors and acquisitions of their associates and peers. Financial adversity in the affluent countries is regularly an issue of relativity having less, in material terms, of that which is viewed as sufficient as indicated by group criteria (Redmond, 2008).
In their examination with youngsters at the age of 11 to 17 years from assorted foundations in Australia, Skattebol et al. (2012) accentuate that adolescent are at danger of being prohibited when the assets and capacities to which they have admittance fall well underneath group standards. These specialists plot complex ways that youngsters utilize their office to accommodate for what they need in various social settings, for example, conforming their conduct to diminish requests on family spending plans. Youngsters utilized such procedures to shield them-selves from the torment of passing up a major opportunity, and to shield their folks from the negative emotions that accompanied saying "no" (Skattebol et al., 2012). Youngsters may likewise endeavor to shield their parental figures from the truth of destitution by supporting these grown-ups' engagements in the work market. In her exploration with Korean-American, working-class transient youngsters in Los Angeles, Kwon (2014) inspected the considerable lengths to which kids went to bolster their folks' working lives. These youngsters drew on assets of class, race and dialect to attempt this work, and saw themselves to satisfy 'family duties' that were important to help their folks set up permanent settlement.
Extent Social Associations
Adolescents experience budgetary hardship to the extent social associations, as the spot in which differences can be discovered (Backett-Milburn et al., 2003). The most critical impact on children coming to fruition in light of monetary hardships is not having the ability to "partake" with others, and being denied the honorability this oversees (Pugh, 2009). The subsequent work that children endeavor to keep up having a spot focuses on the social associations in their brief lives (Skattebol et al., 2012: 169).
Pugh widens this dispute when she sees that 'joining in' comes not simply from having the material stock required to have a spot. It furthermore originates from having the tongue, or what Pugh calls the 'scrip', and perceiving what the 'tokens of respectability and dignity' are that matter. The uniqueness of a couple sorts of scrip over others in children's social lives, Pugh fights, develops their customers as people from the same gathering. This enables children to draw pride from particular experiences, and to shore up admiration among those with whom it has any kind of effect (Pugh, 2009: 59). Pugh calls this structure an 'economy of pride', exhibiting how youths assemble or give balance among themselves according to their moving agreement about the articles or experiences that ought to would not joke about this. She then strings this dispute by method for adolescents' client sharpens, as these go about as a run of the mill lingo through which kids make relationship with others. Youths get the pictures of business society for the term of step by step life, and this outfits them with a social currency that they decipher, enhance and use in vacillated ways to deal with interface and disengage with their partners (Pugh, 2009). Using such pictures as a part of the correct path therefore relies on upon adolescents having and knowing how to use the best possible 'social capital' in a given social association, and their ability to change over specific purposes into different social settings.
Pugh's work clarifies that vital to seeing how kids in wealthy countries understand monetary frailty is perceiving that financial rebuilding has pushed kids to the focal point of the business sector. Utilization is today a characterizing routine of youngsters' lives, and one through which kids endeavor to fashion associations with others, paying little respect to their monetary circumstances (Pugh, 2009). Youngsters should successfully join wares and learning into their own, group and nearby understandings (Cole and Durham, 2007). This hypothetical consideration regarding youngsters' utilization underscores its significance over creation, whereby items get their social worth from the differing qualities of social uses to which they are put. Kids' understandings of their own utilization are not just peculiar, but rather, as Pugh proceeds (2009: 16–17), are 'grounded in social areas and loaded social implications'. Moreover, Pugh attests (2009: 7, 51), when youngsters, be they low-wage or well-off, wind up without what they have to have a place, they perform what Goffman called "facework" to compensate for this exclusion and keep up their nobility.
Goffman's Theory on Connection in Children using 'facework'
Goffman initially instituted the expression "facework" to mean how we take an interest in a social administration, especially when we perform startling sentiments before a group of people. Goffman upheld that in social experiences, we tend to showcase 'a line'. This is an example of verbal and non-verbal acts through which we express both our perspective of a circumstance, and our assessment of members and additionally ourselves. Goffman was quick to push that such activities join and embody the formally certify estimations of society – by under-taking such work, we highlight the basic estimations of society in light of the fact that these ordinary ceremonies 'do respect' to what is socially critical (Goffman, 1967). We attempt such conduct once a day to support and secure what can be conveyed about ourselves through our social connections (Goffman, 1981). This incorporates the act of 'facework', the expressive request required to conceal any hint of failure face, which has ended up 'itself a holy thing' (Goffman, 1967). Taking a gander at how individuals 'hide any hint of failure face', Goffman expounds, can enlighten us much concerning how a more extensive society functions. However the specific arrangement of practices inside demonstrations of facework, pushed by specific people or gatherings, appear to be drawn from a solitary, legitimately sound system of conceivable practices. 'It is as though face,' Goffman proceeds, 'by its exceptionally nature, can be spared just in a specific number of courses, and as though every social gathering must make its choices from this single framework of potential outcomes'.
"Facework" therefore alludes to the specialty of management of impression that includes the presentation of a good/honourable self (Pugh, 2009). Goffman was expounding on the adults in the analysis, nonetheless, as Pugh contends, youngsters likewise perform facework in the presence of those other interested. The grown-up focused social situations portrayed by Goffman are particularly helpful for analyzing the little up close and personal collaborations that involve youngsters' social universes, and the courses in which little gatherings make and reproduce social request (Pugh, 2009). In any case, as Pugh hassles, youngsters' face-work is more about participate, instead of keeping up a circumstance in the courses affirmed by Goffman. In her perceptions of kids in California in the US, Pugh observes youthful peo-ple to be less worried with fulfilling the desires they see, than they are with picking up the remaining to partake in their social universes in any case (Pugh, 2009).
Drawing on this examination of facework by Goffman and Pugh, and to a lesser degree Bourdieu's hypothesis of social capital, this article, in light of subjective exploration with children in territorial Australia, contends that youngsters in this social environment likewise work with each other in particular approaches to 'participate' when their associations are risked by money related misfortune. Be that as it may, as will be examined, this facework can't be sufficiently comprehended without perceiving the focal part of social accounts in youngsters' lives. In this social setting, kids' facework draws on mainstream social accounts around 'decency', which itself goes about as a type of 'scrip'. Such stories are unequivocally associated inside low-salary provincial childhoods, and are reinterpreted by youngsters themselves in favorable approaches to adapt to social effects that emerge through encounters of economic instability.
Cultural Narratives of Fairness
Cultural narratives conduct a highly essential role in the manner in which individuals locate themselves in in the world, this is as important as portrayed in by the moral accounts of life. Cultural narratives are a central means through which individuals learn about their identity and their prospected outcome in the long run in their respective distinct and dynamic environment (Grieg et al. 2003). Most of the cultural narratives may seem to emanate from cultural myths, they have an effective way of becoming a part of the daily practices that individuals engage in and predict the specific cultural and social order that guides the living criteria and order of the societies.
Taking Australia for instance the cultural narratives of fairness replete in the dimensions of the slang Australian-English. The regulations therein that guide the country's labor relations as well as the nation's centralized wage fixing and award system and dynamics (Grieg et al., 2003). Ever since the implementation of the 'fairness clause' in the industrial relations system, a social expectation of 'a fair go' has been expected. With the implication of an upward social mobility will therefore be applicable and possible thus the state will be in a position to moderate the income distribution and balance the resources (Pusey, 2003). According to Pusey 'fairness' has been taken to be adopt something essential about the attitudes in the Australian culture as well as the future wages expected despite the deeply entrenched, gendered and radicalized constructions that are implicit in the narrative.
The children's way of life is consequently based on the adults' environment inside which it exists, however the children adjust this adult society to their own nearby purposes (Hirschfield, 2002). All things considered, the young additionally revise the prevailing stories and myths that engulf their childhood. This way, the narratives become more relevant, responsible and relative, and turn into something that serves locally in that moment (Meyer, 2010). In doing as such, kids understand new encounters through their aggregate practices, in that they do their very own large portion society making in their lives with other kids (Hirschfield, 2002). Children on the whole experience the world as they see, decipher, structure assessments and act working together with their companions (Pugh, 2011), and this is the point in which prevailing social stories of "decency" go up against such importance in kids' lives. As I will appear, kids work with each other to loan, adjust and shape these ethical stories to oversee social encounters which result from financial insecurity.
Children in this environment instituted particular types of facework with a specific end goal to keep up their consideration in very specific social circumstances, to move the estimation of a social connection to support their having a place, or to join a gathering by and large. In any case, it was the sort of facework that youngsters allowed each other to perform in this social connection which highlighted the significance of social accounts to such practices of consideration. 'Doing without', 'chopping down' and 'staying inside' were focal sorts of facework utilized by kids to adapt to monetary shakiness, each being tied down in shared and socially endorsed thoughts of "decency" that were productive inside these local childhoods. As showed through these three ideas, youngsters' utilization of "reasonableness" accounts was not a clear procedure of appointment. However, children appear to be constrained to adjust this perfect with competing requests from the business sector and its ethos of independence and rivalry that is key to the young in contemporary Australia. This raised disagreements around having a place and acknowledgment among their companions, especially for youngsters from evacuee foundations.
The findings in the topic of discussion support existing analysis into kids' encounters of financial stability in wealthy countries, which demonstrate that as a rule, not having the capacity to take an interest in essential discussions, exercises and imparted encounters to others is the biggest negative result of budgetary difficulty. This article broadens this exploration by belligerence for the essential part that social stories play in youngsters' own elucidation of, and reactions to such circumstances. Further research with kids and their families from more extensive demographic and geographic foundations in Australia would be important to assess the implications that aim at the analysis and the theory on policies that are focused on children and families.
Cite this page
Ethnographic Study on Children, Essay Example for You to Look At. (2018, Aug 07). Retrieved from https://speedypaper.com/essays/101-ethnographic-study-on-children-essay
Request Removal
If you are the original author of this essay and no longer wish to have it published on the SpeedyPaper website, please click below to request its removal: