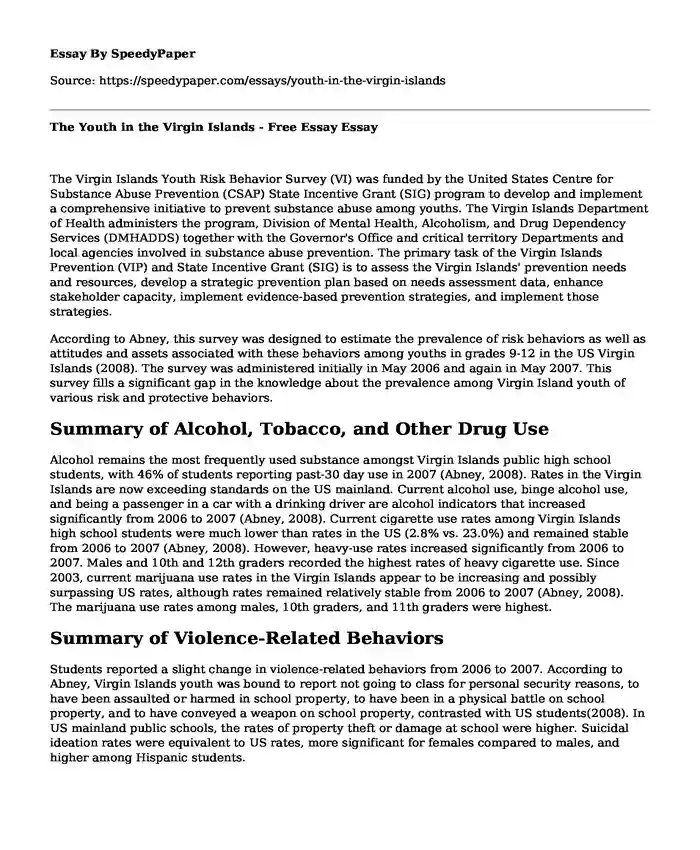 The Virgin Islands Youth Risk Behavior Survey (VI) was funded by the United States Centre for Substance Abuse Prevention (CSAP) State Incentive Grant (SIG) program to develop and implement a comprehensive initiative to prevent substance abuse among youths. The Virgin Islands Department of Health administers the program, Division of Mental Health, Alcoholism, and Drug Dependency Services (DMHADDS) together with the Governor's Office and critical territory Departments and local agencies involved in substance abuse prevention. The primary task of the Virgin Islands Prevention (VIP) and State Incentive Grant (SIG) is to assess the Virgin Islands' prevention needs and resources, develop a strategic prevention plan based on needs assessment data, enhance stakeholder capacity, implement evidence-based prevention strategies, and implement those strategies.
According to Abney, this survey was designed to estimate the prevalence of risk behaviors as well as attitudes and assets associated with these behaviors among youths in grades 9-12 in the US Virgin Islands (2008). The survey was administered initially in May 2006 and again in May 2007. This survey fills a significant gap in the knowledge about the prevalence among Virgin Island youth of various risk and protective behaviors.
Summary of Alcohol, Tobacco, and Other Drug Use
Alcohol remains the most frequently used substance amongst Virgin Islands public high school students, with 46% of students reporting past-30 day use in 2007 (Abney, 2008). Rates in the Virgin Islands are now exceeding standards on the US mainland. Current alcohol use, binge alcohol use, and being a passenger in a car with a drinking driver are alcohol indicators that increased significantly from 2006 to 2007 (Abney, 2008). Current cigarette use rates among Virgin Islands high school students were much lower than rates in the US (2.8% vs. 23.0%) and remained stable from 2006 to 2007 (Abney, 2008). However, heavy-use rates increased significantly from 2006 to 2007. Males and 10th and 12th graders recorded the highest rates of heavy cigarette use. Since 2003, current marijuana use rates in the Virgin Islands appear to be increasing and possibly surpassing US rates, although rates remained relatively stable from 2006 to 2007 (Abney, 2008). The marijuana use rates among males, 10th graders, and 11th graders were highest.
Summary of Violence-Related Behaviors
Students reported a slight change in violence-related behaviors from 2006 to 2007. According to Abney, Virgin Islands youth was bound to report not going to class for personal security reasons, to have been assaulted or harmed in school property, to have been in a physical battle on school property, and to have conveyed a weapon on school property, contrasted with US students(2008). In US mainland public schools, the rates of property theft or damage at school were higher. Suicidal ideation rates were equivalent to US rates, more significant for females compared to males, and higher among Hispanic students.
Summary of Factors Related to Substance Use
Although sometimes described as paradise, the prevalence of substance use and the high rate of HIV infection in the Virgin Islands are alarming. The University of the Virgin Islands Substance Abuse and HIV Prevention Program was designed to reduce drug use and prevent HIV infection among college students and young adults (Battiste, Ryan & Engerman, 2017 p16). The mission of the prevention program was to reduce drug use and prevent HIV transmission by using environmental strategies and evidence-based prevention among college-age students at UVI and teens in the local neighborhood. There were few changes in the students' 2006 to 2007 report on substance use-related factors. Only three indicators showed significant increases: student suspensions from school, students carrying a handgun, and associating with close friends who used alcohol in the past year (Abney, 2008).
Implications
High school students from the Virgin Islands had increased their use of the substance to near-US mainland levels after years of relatively low use rates. According to Abney, alcohol use, binge drinking, and being a passenger with a drinking driver significantly increased from 2006 to 2007 (2008). There have been visible increases in many other variables of substance use which have not met the level for statistical significance; however, even these non-significant increases are a significant cause for concern, since they are widespread.
Thus, the disconcerting trends in substance use appear to be less consistent and less pronounced in the areas of violence-related behaviors, and risk and protective factors (Abney, 2008). There are two reasons behind the recent increase in substance in the Virgin Islands. First, the increase from a decade-long trend of lower usage rates than the mainland in the US. Second, it is because young adults on the Virgin Islands are now experiencing disproportionately high levels of adverse health effects that can be correlated with alcohol use.
Conclusion
Many of the institutions where adolescents grow up are unable to provide guidance and support the positive development that young people need. A potential solution to these issues is the immediate need for expanded support of the main structures of teenage life as well as straightforward improvements within these institutions. Successful approaches would include expanding the limits of these programs, facilitating cooperation among them, and reducing the number of teenagers whose complex issues cannot be handled by primary institutions. To prevent and reduce the use of substances by youth in the Virgin Islands, prevention stakeholders must implement evidence-based strategies aimed at the factors that surround youth and that create environments that encourage (or do not discourage) such risky behaviors (Abney, 2008). Good practice strategies have demonstrated the benefits of improving the social care environments faced by youth regularly and redesigning services to various targets and a variety of approaches. A well-conducted prevention program teaches students that bullying is unacceptable behavior and will not be tolerated (Peterson & Skiba, 2000). Efficient applications significantly decreased the frequency of bullying and strengthened the school environment. The most effective prevention programs are delivered interactively and teach skills to help young people refuse drug offers, resist pro-drug influences, correct misperceptions that drug use is normative, and enhance social and personal competence skills (Botvin & Griffin, 2007). The community may also use opinion leaders to promote change in behavior. Opinion leaders have been used in public health to gain support for and implement community health programs (Valente & Pumpuang, 2007). As health promotion activities become more community-focused, the use of opinion leaders is likely to increase.
References
Abney, P. (2008). Virgin Islands Prevention (VIP) State Incentive Grant (SIG). https://www.researchgate.net/profile/Paul_Brodish/publication/272678852_Virgin_Islands_Prevention_VIP_State_Incentive_Grant_SIG_Summary_of_Findings_from_the_2007_Virgin_Islands_Youth_Risk_Behavior_Survey/links/54eb4a3e0cf29a16cbe5bb5f/Virgin-Islands-Prevention-VIP-State-Incentive-Grant-SIG-Summary-of-Findings-from-the-2007-Virgin-Islands-Youth-Risk-Behavior-Survey.pdf
Battiste, D. C., Ryan, A. C., & Engerman, K. (2017). Prevention programming in the US Virgin Islands. Journal of health care for the poor and underserved, 28(2), 16-23. https://muse.jhu.edu/article/656959/summary
Botvin, G. J., & Griffin, K. W. (2007). School-based programmes to prevent alcohol, tobacco and other drug use. International review of psychiatry, 19(6), 607-615. https://www.tandfonline.com/doi/abs/10.1080/09540260701797753
Peterson, R. L., & Skiba, R. (2000). Creating school climates that prevent school violence. Preventing School Failure: Alternative Education for Children and Youth, 44(3), 122-129. https://www.tandfonline.com/doi/pdf/10.1080/10459880009599794
Valente, T. W., & Pumpuang, P. (2007). Identifying opinion leaders to promote behavior change. Health education & behavior, 34(6), 881-896. https://journals.sagepub.com/doi/abs/10.1177/1090198106297855
Cite this page
The Youth in the Virgin Islands - Free Essay. (2023, Aug 24). Retrieved from https://speedypaper.com/essays/youth-in-the-virgin-islands
Request Removal
If you are the original author of this essay and no longer wish to have it published on the SpeedyPaper website, please click below to request its removal: