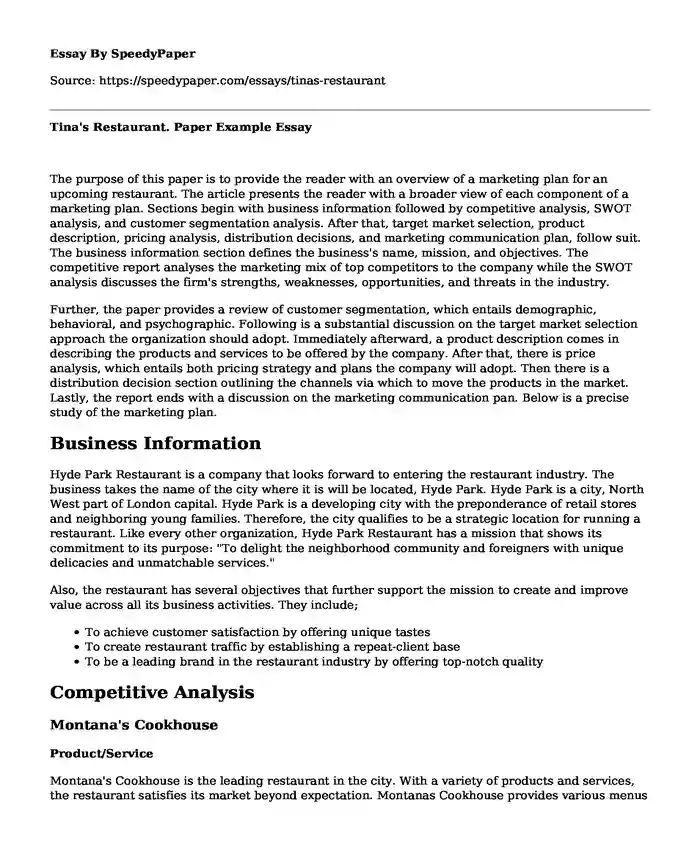 The purpose of this paper is to provide the reader with an overview of a marketing plan for an upcoming restaurant. The article presents the reader with a broader view of each component of a marketing plan. Sections begin with business information followed by competitive analysis, SWOT analysis, and customer segmentation analysis. After that, target market selection, product description, pricing analysis, distribution decisions, and marketing communication plan, follow suit. The business information section defines the business's name, mission, and objectives. The competitive report analyses the marketing mix of top competitors to the company while the SWOT analysis discusses the firm's strengths, weaknesses, opportunities, and threats in the industry.
Further, the paper provides a review of customer segmentation, which entails demographic, behavioral, and psychographic. Following is a substantial discussion on the target market selection approach the organization should adopt. Immediately afterward, a product description comes in describing the products and services to be offered by the company. After that, there is price analysis, which entails both pricing strategy and plans the company will adopt. Then there is a distribution decision section outlining the channels via which to move the products in the market. Lastly, the report ends with a discussion on the marketing communication pan. Below is a precise study of the marketing plan.
Business Information
Hyde Park Restaurant is a company that looks forward to entering the restaurant industry. The business takes the name of the city where it is will be located, Hyde Park. Hyde Park is a city, North West part of London capital. Hyde Park is a developing city with the preponderance of retail stores and neighboring young families. Therefore, the city qualifies to be a strategic location for running a restaurant. Like every other organization, Hyde Park Restaurant has a mission that shows its commitment to its purpose: "To delight the neighborhood community and foreigners with unique delicacies and unmatchable services."
Also, the restaurant has several objectives that further support the mission to create and improve value across all its business activities. They include;
To achieve customer satisfaction by offering unique tastes
To create restaurant traffic by establishing a repeat-client base
To be a leading brand in the restaurant industry by offering top-notch quality
Competitive Analysis
Montana's Cookhouse
Product/Service
Montana's Cookhouse is the leading restaurant in the city. With a variety of products and services, the restaurant satisfies its market beyond expectation. Montanas Cookhouse provides various menus to its customers, including dinner, lunch, bar & beverages, and desserts- mostly British taste. Also, the company is good at offering take-outs to its customers.
Place
Montana's Cookhouse has a responsive website where any client can place an order. The platform is well structured to provide easy navigation, and one can spot everything without straining. There are contacts provided, such as phone numbers, for enhancing communications with the administration. Additionally, the "directions" tab guides one to the restaurant's location for a direct sale.
Price
Montana's Cookhouse offers its clients prices which are affordable and which match the quality they offer. The prices range from $11 to $25 for a regular dish. Anything above $25 is classified as a VIP treatment, which is also considered fair.
Promotion
Montana's Cookhouse mostly uses mailshots as its promotional method since it has a very active website. Customers sign up their accounts with email addresses, which the company uses to send updates to them. Also, the review section is an excellent way of creating a good reputation for winning new clients.
Kesley's Restaurant
Product/Service
Kesley's Restaurant also sells a variety of delicacies to the neighborhood. However, the company has a relatively smaller portfolio compared to Montana's Cookhouse. Products include Hot Chicken, Bacon, Cheeseburgers, Beef Chilli, curd, just a few to mention. However, the restaurant has outstanding service- anniversaries, which adds a competitive advantage.
Place
Just like Montana's Cookhouse, the company has a well-designed website where one can easily place an order, request directions, and even make recommendations. Also, the platform provides different modes of payment to the clients
Price
Kesley's Restaurant sells at relatively lower prices compared to Montana's Cookhouse, with prices ranging from $10 to $24. However, the restaurant offers anniversaries at high prices due to the monopolistic character of the service.
Promotion
Kesley's makes uses of mailshots, gift cards, and reviews to promote its business. The company sends regular updates to customers' addresses provided during sign-ups. The gift cards are issued randomly and unconditionally, making every client is a potential beneficiary. The reviews section builds a reputation for the company and thus wins more new clients.
Boston Pizza
Product/Service
Boston Pizza sells substantially distinguishable dishes compared to its competitors. The menu is quite robust with Starters, Pizza, PastaBurgers & Sandwiches, Salads, and Desserts. Boston also sells several cultural dishes, such as Spanish, Italian, and Turkish. Besides sitting orders, the company offers take-outs to its clients.
Place
Like the other competitors, Boston Pizza utilizes its website to serve its customers. The site promotes fast communication services, quick order placement, and processing as well as directional guidelines. However, the Website provides limited information (only basic ones) and appears less appealing to a newbie.
Price
Boston Pizza does not indicate the overall price range for its products and services on the website. The reason is that the restaurant's most dishes have variable prices due to their diversification. With different varieties, it becomes difficult to set a standard selling price. However, the restaurant sells at higher rates, especially the foreign dishes, which can hit $35 sometimes.
Promotion
Boston Pizza mainly utilizes word of mouth where visitors get to recommend the products and services to others. Even though the company also uses mailshots to send its loyal customers regular updates. Additionally, Boston Pizza issues random rewards such as free meals to loyal customers.
SWOT Analysis
Strengths
Providing high-quality delicacies
Specializing in local dishes
Selling at lower prices will
Providing services such as free-deliveries
Weaknesses
Lack of enough capital to build more resources
A new entrant into the market and thus quite challenging to build market
Lack of trust by customers on the products and services offered
Stiff competition from rivals
Opportunities
Room for expanding resources in the area
Promoting franchising to expand the market
Increasing selling varieties
Threats
New entrants in the industry
Stong brands in the industry
Government regulations
Market Segmentation
Market Segmentation
Customer Segmentation
Behavioral
Demographic
Indoors
Workers
Age
Psychographic
Festivals
Anniversaries
Income
Demographic
The largest population of Hyde Park city comprises of young families. Young couples prefer going for dinner at restaurants instead of cooking at home. Also, the households have an average income of $99,011, and thus, young couples can afford to go for special treats in the restaurant. Therefore, the restaurant can organize VIP occasions such as couples night, which will perform excellently.
Behavioral
The locals have a routine of celebrating festivals and special events in a more significant way. Couples love celebrating anniversaries, such as engagement and wedding. Also, festivals such as valentine and Christmas marks special days and moments in the neighborhood. Hence, the restaurant can offer discounts on such occasions to attract more customers.
Psychographic
A considerable number of locals work in retail stores daily. Workers are busy all day and even lack enough time to rush for lunch. Also, most kids stay indoors during the holidays since there are no many sports facilities to attend. Thus, the restaurant can offer delivery services to the workers at retail stores and kids at home.
Target Market Selection
Couples
Couples are the first market to target at Hyde Park, where 70% of the population comprises of young families. Also, the fact that households have a stable income shows their spending capacity is high. Here, the restaurant should focus on organizing special events like couples night where they get to celebrate anniversaries such as engagements and weddings.
Workers
Hyde Park is a city that holds several retail stores, such as malls, which requires a large number of workers. The retail stores are often busy serving locals, and thus, workers have a tight schedule that makes them miss lunch sometimes. Therefore, the restaurant should offer deliveries to the workers at their workplace, which will help in retaining the customers.
Neighbourhood Community
The young families in Hyde Park value festivals such as Easter and Christmas. Locals would flock into restaurants to celebrate the occasions with their loved ones during such celebrations. Therefore, the restaurant can organize big entertainment for the whole community, for example, holding a concert by inviting local or international famous musicians. Also, offering discounts during such festivals will help retain customers.
Product
While in the initial stage, Hyde Park Restaurant will specialize in local dishes since the majority of the population are locals. The restaurant will offer breakfast, lunch, and dinner. The breakfast menu will comprise the following:
Crab eggs benedict
Buttermilk pancakes
Blueberry compote
Blood orange curd
Peanut butter waffles
Cranberry hazelnut butter
Rye and banana pancakes
The lunch menu will consist of the following:
BLT tortilla wraps
Lime chicken tortilla wraps
Easy coronation chicken
Easy mini quiches
Fluffy naan bread
Cream celery and potato soup
Veggie falafel burgers
Spinach, courgette and leek quiche
The dinner menu will have the following:
Mini pork pies with piccalilli
Herby toad in the hole
Crispy topped Cumberland pie
Cherry & almond tarts
Classic summer pudding
Roast beef with caramelized onion gravy
Roast lamb with spring herb crumbs
No-failYorkies
Scampi with tartare sauce
Hyde Park Restaurant will also be on the frontline to provide after-sales services like free deliveries to the nearby locals and workers in retail stores. For long-distance deliveries, the agents will charge the transport fees accordingly. Also, the company will offer take-aways to pedestrians who are fast heading to their destinations and lack time to sit for a snack. Later, the company will consider diversifying the portfolio by adding cultural dishes such as French, Italian, and Turkish. As a result, the menus primarily, lunch, and dinner will divide into starters, mains, and desserts.
Cite this page
Tina's Restaurant. Paper Example. (2023, May 23). Retrieved from https://speedypaper.com/essays/tinas-restaurant
Request Removal
If you are the original author of this essay and no longer wish to have it published on the SpeedyPaper website, please click below to request its removal: