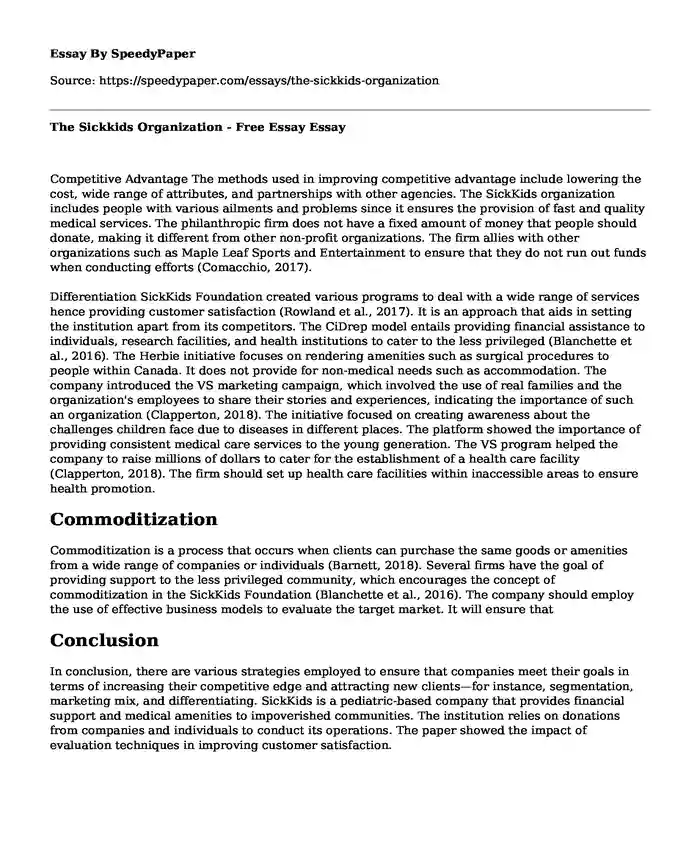 Competitive Advantage The methods used in improving competitive advantage include lowering the cost, wide range of attributes, and partnerships with other agencies. The SickKids organization includes people with various ailments and problems since it ensures the provision of fast and quality medical services. The philanthropic firm does not have a fixed amount of money that people should donate, making it different from other non-profit organizations. The firm allies with other organizations such as Maple Leaf Sports and Entertainment to ensure that they do not run out funds when conducting efforts (Comacchio, 2017).

Differentiation SickKids Foundation created various programs to deal with a wide range of services hence providing customer satisfaction (Rowland et al., 2017). It is an approach that aids in setting the institution apart from its competitors. The CiDrep model entails providing financial assistance to individuals, research facilities, and health institutions to cater to the less privileged (Blanchette et al., 2016). The Herbie initiative focuses on rendering amenities such as surgical procedures to people within Canada. It does not provide for non-medical needs such as accommodation. The company introduced the VS marketing campaign, which involved the use of real families and the organization's employees to share their stories and experiences, indicating the importance of such an organization (Clapperton, 2018). The initiative focused on creating awareness about the challenges children face due to diseases in different places. The platform showed the importance of providing consistent medical care services to the young generation. The VS program helped the company to raise millions of dollars to cater for the establishment of a health care facility (Clapperton, 2018). The firm should set up health care facilities within inaccessible areas to ensure health promotion.
Commoditization
Commoditization is a process that occurs when clients can purchase the same goods or amenities from a wide range of companies or individuals (Barnett, 2018). Several firms have the goal of providing support to the less privileged community, which encourages the concept of commoditization in the SickKids Foundation (Blanchette et al., 2016). The company should employ the use of effective business models to evaluate the target market. It will ensure that
Conclusion
In conclusion, there are various strategies employed to ensure that companies meet their goals in terms of increasing their competitive edge and attracting new clients—for instance, segmentation, marketing mix, and differentiating. SickKids is a pediatric-based company that provides financial support and medical amenities to impoverished communities. The institution relies on donations from companies and individuals to conduct its operations. The paper showed the impact of evaluation techniques in improving customer satisfaction.
References
Barnett, J.M., 2018. The costs of free: commoditization, bundling and concentration. Journal of Institutional Economics, 14(6), pp.1097-1120. https://www.cambridge.org/core/journals/journal-of-institutional-economics/article/costs-of-free-commoditization-bundling-and-concentration/0733BE34AB2FFE2162EF43E89E5DCE2B

Blanchette, V.S., Brandão, L.R., Breakey, V.R. and Revel-Vilk, S., 2016. SickKids handbook of pediatric thrombosis and hemostasis. Karger Medical and Scientific Publishers. HYPERLINK "https://books.google.com/books?hl=en&lr=&id=EQ3zDQAAQBAJ&oi=fnd&pg=PP1&dq=sickkids+foundation&ots=OLcRO9cafd&sig=BiLLFGuHFsHG8iKpfac_Eigrw_c" https://books.google.com/books?hl=en&lr=&id=EQ3zDQAAQBAJ&oi=fnd&pg=PP1&dq=sickkids+foundation&ots=OLcRO9cafd&sig=BiLLFGuHFsHG8iKpfac_Eigrw_c
Clapperton, R., 2018. Conquering Media Coverage. HYPERLINK "https://digital.library.ryerson.ca/islandora/object/RULA%3A7873/datastream/OBJ/download/CONQUERING_MEDIA_COVERAGE___The_use_of_battle_metaphors_in_hospital_foundation_communications_and_it_s_impact_on_news_coverage.pdf" https://digital.library.ryerson.ca/islandora/object/RULA%3A7873/datastream/OBJ/download/CONQUERING_MEDIA_COVERAGE___The_use_of_battle_metaphors_in_hospital_foundation_communications_and_it_s_impact_on_news_coverage.pdf
Comacchio, C., 2017. SickKids: The History of the Hospital for Sick Children by David Wright. Bulletin of the History of Medicine, 91(4), pp.822-823. HYPERLINK "https://muse.jhu.edu/article/682391/summary" https://muse.jhu.edu/article/682391/summary
Rowland, A., Livesley, J., Ngov, C., Eno, M., Dim, D. and Carter, D.J., 2017. From sick kids to SicKids!. HYPERLINK "http://usir.salford.ac.uk/id/eprint/48415/" http://usir.salford.ac.uk/id/eprint/48415/
Wu, Y.L. and Li, E.Y., 2018. Marketing mix, customer value, and customer loyalty in socialcommerce. Internet Research. HYPERLINK "https://www.emerald.com/insight/content/doi/10.1108/IntR-08-2016-0250/full/html" https://www.emerald.com/insight/content/doi/10.1108/IntR-08-2016-0250/full/html
Cite this page
The Sickkids Organization - Free Essay. (2023, Aug 20). Retrieved from https://speedypaper.com/essays/the-sickkids-organization
Request Removal
If you are the original author of this essay and no longer wish to have it published on the SpeedyPaper website, please click below to request its removal: