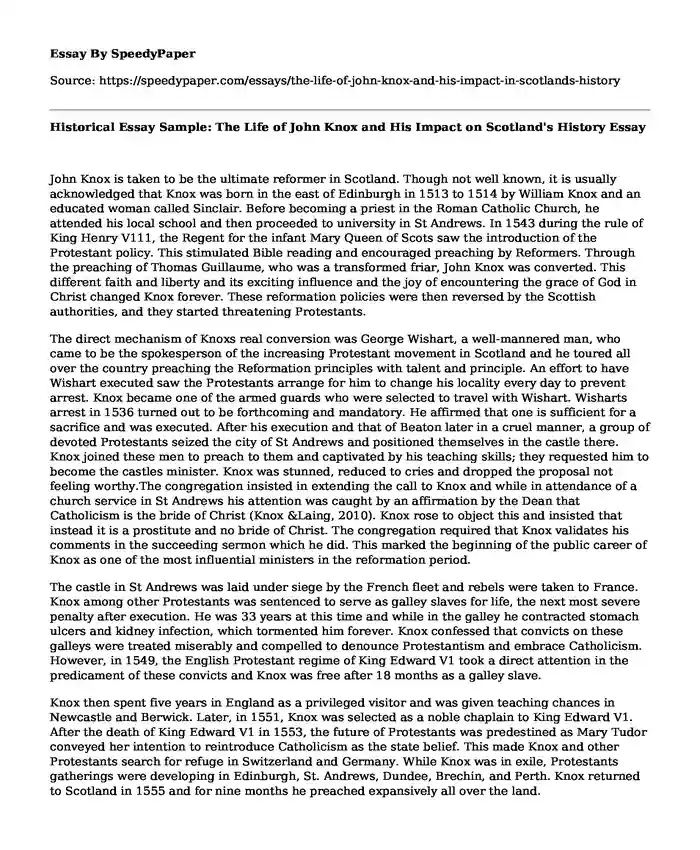 John Knox is taken to be the ultimate reformer in Scotland. Though not well known, it is usually acknowledged that Knox was born in the east of Edinburgh in 1513 to 1514 by William Knox and an educated woman called Sinclair. Before becoming a priest in the Roman Catholic Church, he attended his local school and then proceeded to university in St Andrews. In 1543 during the rule of King Henry V111, the Regent for the infant Mary Queen of Scots saw the introduction of the Protestant policy. This stimulated Bible reading and encouraged preaching by Reformers. Through the preaching of Thomas Guillaume, who was a transformed friar, John Knox was converted. This different faith and liberty and its exciting influence and the joy of encountering the grace of God in Christ changed Knox forever. These reformation policies were then reversed by the Scottish authorities, and they started threatening Protestants.
The direct mechanism of Knoxs real conversion was George Wishart, a well-mannered man, who came to be the spokesperson of the increasing Protestant movement in Scotland and he toured all over the country preaching the Reformation principles with talent and principle. An effort to have Wishart executed saw the Protestants arrange for him to change his locality every day to prevent arrest. Knox became one of the armed guards who were selected to travel with Wishart. Wisharts arrest in 1536 turned out to be forthcoming and mandatory. He affirmed that one is sufficient for a sacrifice and was executed. After his execution and that of Beaton later in a cruel manner, a group of devoted Protestants seized the city of St Andrews and positioned themselves in the castle there. Knox joined these men to preach to them and captivated by his teaching skills; they requested him to become the castles minister. Knox was stunned, reduced to cries and dropped the proposal not feeling worthy.The congregation insisted in extending the call to Knox and while in attendance of a church service in St Andrews his attention was caught by an affirmation by the Dean that Catholicism is the bride of Christ (Knox &Laing, 2010). Knox rose to object this and insisted that instead it is a prostitute and no bride of Christ. The congregation required that Knox validates his comments in the succeeding sermon which he did. This marked the beginning of the public career of Knox as one of the most influential ministers in the reformation period.
The castle in St Andrews was laid under siege by the French fleet and rebels were taken to France. Knox among other Protestants was sentenced to serve as galley slaves for life, the next most severe penalty after execution. He was 33 years at this time and while in the galley he contracted stomach ulcers and kidney infection, which tormented him forever. Knox confessed that convicts on these galleys were treated miserably and compelled to denounce Protestantism and embrace Catholicism. However, in 1549, the English Protestant regime of King Edward V1 took a direct attention in the predicament of these convicts and Knox was free after 18 months as a galley slave.
Knox then spent five years in England as a privileged visitor and was given teaching chances in Newcastle and Berwick. Later, in 1551, Knox was selected as a noble chaplain to King Edward V1. After the death of King Edward V1 in 1553, the future of Protestants was predestined as Mary Tudor conveyed her intention to reintroduce Catholicism as the state belief. This made Knox and other Protestants search for refuge in Switzerland and Germany. While Knox was in exile, Protestants gatherings were developing in Edinburgh, St. Andrews, Dundee, Brechin, and Perth. Knox returned to Scotland in 1555 and for nine months he preached expansively all over the land.
Knox commanded that Gods law be advocated in Scotland and that people must not observe the unfair demands of evil rulers as they would obtain a far more dreadful penalty from God than they would from a leader for disloyalty. He conserved that when believers are in a small number of they ought to distance themselves from idolatry but when they are in large numbers the best thing to do is eliminate it. Holding that no public authority in Scotland was in a position to offer security to the Protestants, Knox alleged that the abusive authorities should be conquered, and he stood alone among the prominent Reformers in the 16th Century.
Knox reached in Perth in 1559 and his flaming summon against Catholic Idolization was so effective that at the end of the service, the audience directly began to abolish altars, crucifixes, and statues. He was selected as a minister at St. Giles Kirk in High Street, and this led to the prosperity of his Reformation history throughout Scotland. A great milestone was signing up of the Treaty of Berwick in 1560 by the Scottish Lords of the Congregation upon meeting with the French troops. The Treaty led to a promise by the French and the English to vacate Scotland, and this guaranteed the success of Reformation Preaching in Scotland.
After the treaty, Knox preached in a Scottish Parliament meeting on Thanksgiving in Edinburgh where he was urged together with his five contemporaries to draft a confession of faith. After four days they wrote an exciting and impulsive Confession comprising of radical and visionary language. It was embraced by Parliament and continued for 90years as the Scottish churches approved religion. The Scots Confession stipulates hands-on Christian principles like decent living, good residency, and commitment to societalfairness and this makes it stand out. It not only authorizes the conquering of oppressors but also makes this action obligatory. It ensures that no civicauthority is absolute.
Protestant Regent Moray governed Scotland from 1967 before he was murdered. The second Reformation Parliament met in the same year and approved more laws in courtesy of the Reformation. Since 1560, adoration was simplified; maintenance for the unfortunate, more training that necessitated average people to recite the Bible and evangelism. The murder of Regent Moray instigated civil warfare in Scotland. Later in the same year Knox suffered a stroke, but the mission did not stop there. He maintained on evangelizing throughout the last days of his life. Upon the worsening of his health, he asserted on being supported to the pulpit.
Knox had the delight of the endorsement of 1560 changes by the Scottish parliament. He oversaw the barring of papal power in Scotland. All forthcoming leaders in Scotland were to promise to defend the Reformed doctrine. John Knox found it essential for Scotland to observe what the Bible instructed and not just what they assumed was right. He was courageous enough to stand up to anybody for what he believed was right, not even Kings and Queens. His instruction was used by God to change the entireScotland. He was occupied with the civic undertakings of the nationwide Church and was dedicated to his work as a church preacher.
Knox died in 1572, and there was pronunciation at his resting-place by the regent of Scotland, the Earl of Mortoun, of a greater testimony worth of a man not short of mistakes in the graveyard of St. Giles, in the attendance of a massive memorial convoy, who had followed the body to its grave: "Here lies a man who never dreaded the face of man in his life, and one who has regularly been intimidated with dagger, but nevertheless has concluded his era in harmony and honor" (Mackie,1991).
References
Knox, J. (1886). The liturgy of John Knox. Glasgow: University Press.Ensor, R. (1968).
England, 1870-1914. Oxford: Clarendon Press.
Mackie, J. (1991). A history of Scotland. Harmondsworth, Middlesex, England: Penguin.
Knox, J. & Laing, D. (2010). The works of John Knox. Burlington: TannerRitchie Pub. in collaboration with the Library and Information Services of the University of St Andrews.
Cite this page
Historical Essay Sample: The Life of John Knox and His Impact on Scotland's History. (2019, Sep 03). Retrieved from https://speedypaper.com/essays/the-life-of-john-knox-and-his-impact-in-scotlands-history
Request Removal
If you are the original author of this essay and no longer wish to have it published on the SpeedyPaper website, please click below to request its removal: