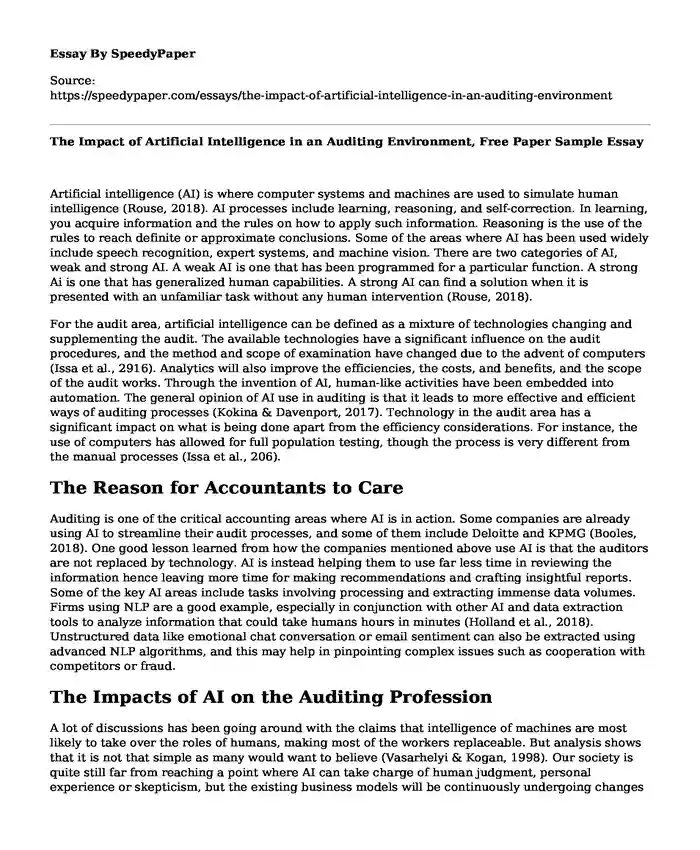 Artificial intelligence (AI) is where computer systems and machines are used to simulate human intelligence (Rouse, 2018). AI processes include learning, reasoning, and self-correction. In learning, you acquire information and the rules on how to apply such information. Reasoning is the use of the rules to reach definite or approximate conclusions. Some of the areas where AI has been used widely include speech recognition, expert systems, and machine vision. There are two categories of AI, weak and strong AI. A weak AI is one that has been programmed for a particular function. A strong Ai is one that has generalized human capabilities. A strong AI can find a solution when it is presented with an unfamiliar task without any human intervention (Rouse, 2018).
For the audit area, artificial intelligence can be defined as a mixture of technologies changing and supplementing the audit. The available technologies have a significant influence on the audit procedures, and the method and scope of examination have changed due to the advent of computers (Issa et al., 2916). Analytics will also improve the efficiencies, the costs, and benefits, and the scope of the audit works. Through the invention of AI, human-like activities have been embedded into automation. The general opinion of AI use in auditing is that it leads to more effective and efficient ways of auditing processes (Kokina & Davenport, 2017). Technology in the audit area has a significant impact on what is being done apart from the efficiency considerations. For instance, the use of computers has allowed for full population testing, though the process is very different from the manual processes (Issa et al., 206).
The Reason for Accountants to Care
Auditing is one of the critical accounting areas where AI is in action. Some companies are already using AI to streamline their audit processes, and some of them include Deloitte and KPMG (Booles, 2018). One good lesson learned from how the companies mentioned above use AI is that the auditors are not replaced by technology. AI is instead helping them to use far less time in reviewing the information hence leaving more time for making recommendations and crafting insightful reports. Some of the key AI areas include tasks involving processing and extracting immense data volumes. Firms using NLP are a good example, especially in conjunction with other AI and data extraction tools to analyze information that could take humans hours in minutes (Holland et al., 2018). Unstructured data like emotional chat conversation or email sentiment can also be extracted using advanced NLP algorithms, and this may help in pinpointing complex issues such as cooperation with competitors or fraud.
The Impacts of AI on the Auditing Profession
A lot of discussions has been going around with the claims that intelligence of machines are most likely to take over the roles of humans, making most of the workers replaceable. But analysis shows that it is not that simple as many would want to believe (Vasarhelyi & Kogan, 1998). Our society is quite still far from reaching a point where AI can take charge of human judgment, personal experience or skepticism, but the existing business models will be continuously undergoing changes altering the operations of many organizations.
Different profiles and people will be called upon by AI to implement the technology and to evolve the skills of the existing personnel. The value of reasoned interpretation and analysis will be priced than before, but the auditors will still be needed to bring forth on the table a broader range of knowledge and experience on the table (Booles, 2018). There will be a lot of importance attached to specialization, and auditors will have to build their skill sets. The audit teams will have to acquire a vast array of backgrounds and perspectives and must be able to work across specialist and accountancy industries and interact with innovative technology.
Through AI, we will be able to work smarter, better, and faster, enhancing the value that human can add and the work that can be done. Besides, if more of the process works and transactions are done for the auditors, they will be able to focus on some other areas such as the value chain hence delivering more problem solving and strategic insights. Most of the professionals will now move towards being trusted business advisors and use the tools at their disposal to become creative and deliver vital insights (Issa et al., 2916). The clients will now be able to identify future risks and opportunities because the auditors will have the capacity to become more predictive and forward-looking. The professionals will also be needed to take on new roles like the development of audit strategies for complex systems of technology like the blockchain (Han et al., 2015).
Just like any other innovation, there are practical considerations that must be looked into when planning for the future of artificial intelligence (Rouse, 2018). For instance, for the large volumes of works undertaken by software robots, auditors should have full confidence in the delivery of such machines by ensuring that they are secure and correct at all the times, and that their operations meet the regulations and rules of the current compliance and reporting standards and the regulatory body (Holland et al., 2018). Ensuring the quality of data is one of the critical AI components. For a business to reap the full benefits of AI use, all the involved parties have to work together to ensure that there is consistency in the quality of data fed into the AI system so that there is the precision of the highest level.
To achieve value using AI, investment, skills, and culture must be developed in the right way that is open to innovation. Innovation is ultimately about taking new risks and challenging conventions (Han et al., 2015). The successful implementation of AI into an audit system depend on the organization's capacity to combine the creativity of approach and the volumes of data that are available at that time. The focus on audit and Ai will continue for a long time to enhance confidence in the capital markets and deliver sustainable audit quality (Booles, 2018).
The Costs and Benefits of Using Artificial Intelligence for Businesses
Our lives are already changing with the use of AI, our health improving, productivity, and safety are also increasing by offering transformational consumer possibilities. Society and businesses are also evolving as a whole. Three major pillars will be driving the economic impact of AI (Issa et al., 2916).
Positivity Gains for Automation
Businesses have acquired massive gains in production through the use of AI in their processes. Companies are maximizing their value by improving input productivity through machine learning, cognitive and robotic process automation, natural language processing, and multi-agent collaborative systems. Capital intensive sectors like transport and manufacturing will benefit a lot from the gains in productivity (FEI Daily Staff, 2017).
Increased Consumer Demand
The availability of high quality and personalized AI is most likely to drive consumer demand for enhanced services and products in the coming years. The forecast indicates that the gains derived from consumer demand will have more influence on the benefits derived from productivity (Omoteso, 2012).
Innovation Dissemination
Innovation has the high chances to enhance through AI since it has the capacity of analyzing data quicker than it would otherwise take a day for a human to process. There are also lower research and development costs, and they create new possibilities for experimentation (FEI Daily Staff, 2017).
The Transformative Impact of AI on Businesses
Through AI, we get new ways of thinking about technology, strategic execution, and business development, and this affects the entire company but not the innovation and technology divisions only.
Strategic Implication
The integration of AI into business could lead to total essential disruption of the company and provide opportunities for innovation with entirely new models of business. For example, auto manufacturers are fundamentally rethinking their business model, moving from manufacturers of vehicles to personal mobility. Other industries, like the legal and consulting firms, are also using cognitive and robotic process blockchain and automation to reengineer their business processes (Vasarhelyi & Kogan, 1998).
Enhanced Decision-Making
The combination of analytics and AI enable organizations to make more effective and quicker decisions to grow, collaborate, and shrink their businesses. The technology is also already applied in many industries for enhanced decisions. For instance, credit cards networks use AI in predicting whether each attempted transition is fraudulent and their levels of legitimacy (Issa et al., 2916).
Major Overhaul of Marketing Functions
AI has been brought into the market area through the recent advances in machine learning, multi-agent collaboration systems, and natural language processing. Companies can now have a better understanding of the customers' needs and their behaviors through AI. As a result, they can work on improving their experience to raise their perceived value hence, brand quality and increased loyalty (Kokina & Davenport, 2017). Through the combination of internal structured data and external social data in monitoring and responding to real-time sentiments by customers, there are new opportunities created by AI to co-develop with customers and drive customer-driven innovation (FEI Daily Staff, 2017).
Integrating AI into Existing Auditing Practices
AI is used by organizations of all types in new and exciting ways. Imagine being able to use tools that are vocally activated like Siri, Cortana, or think Alexa to help you research the applicable tax code line or reporting codification item. The integration of IBM for audit purposes by KPMG is a sign that this is not a distant possibility, and that it is here with us. JPMorgan Chase applied the use of AI to review contracts from thousands of its employees from hours to mere minutes (Holland et al., 2018). AI can be integrated into the already existing auditing processes, and soon CPAs will be using AI for a variety of tools and applications; ranging from social media analytics to the analysis of real-time financial and operating performance and detection of fraud (Omoteso, 2012). Some fears have been sparked that CPA is most likely to lose their jobs due to AI, which can perform many of the simpler and more routine tasks way better than human accountants. According to a 2015 PwC study, bookkeepers and clerks were named to be the workers with the highest likeliness of losing their jobs to technology. However, the CPA will have more freedom for doing more complex advisory work for their clients since AI will be performing repetitive tasks.
Challenges in the Implementation of AI in Auditing
Only Proper Guidance Leads to Good Results
If the approving manager does not fully understand the concept, there is a significant risk that will occur while conducting an overhaul of the previous routine. The IT tech or the programmer building or supplying the system meant to replace the system in place fully understand the ins and outs of the underlying processes and the interface. Most of the upper-level managers do not have such understanding since most of the top managers are of older generations and do not have these skills, as they have not dealt with them in the past. As a result of the lack of knowledge, there is likeliness that there will be a fault, not because the central system has failed, but due to the upper management. If the RPA system was not...
Cite this page
The Impact of Artificial Intelligence in an Auditing Environment, Free Paper Sample. (2022, Feb 14). Retrieved from https://speedypaper.com/essays/the-impact-of-artificial-intelligence-in-an-auditing-environment
Request Removal
If you are the original author of this essay and no longer wish to have it published on the SpeedyPaper website, please click below to request its removal: