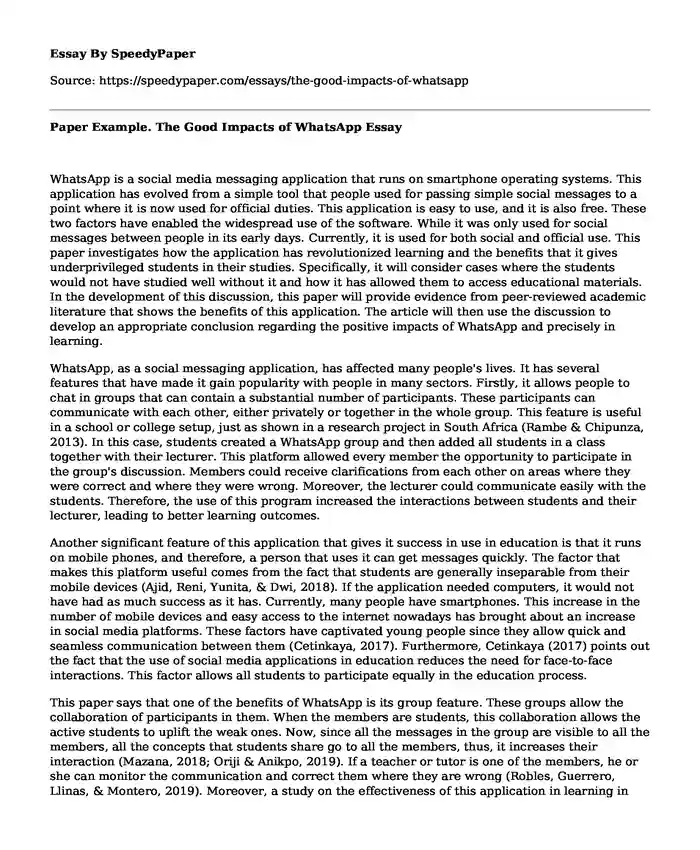 WhatsApp is a social media messaging application that runs on smartphone operating systems. This application has evolved from a simple tool that people used for passing simple social messages to a point where it is now used for official duties. This application is easy to use, and it is also free. These two factors have enabled the widespread use of the software. While it was only used for social messages between people in its early days. Currently, it is used for both social and official use. This paper investigates how the application has revolutionized learning and the benefits that it gives underprivileged students in their studies. Specifically, it will consider cases where the students would not have studied well without it and how it has allowed them to access educational materials. In the development of this discussion, this paper will provide evidence from peer-reviewed academic literature that shows the benefits of this application. The article will then use the discussion to develop an appropriate conclusion regarding the positive impacts of WhatsApp and precisely in learning.
WhatsApp, as a social messaging application, has affected many people's lives. It has several features that have made it gain popularity with people in many sectors. Firstly, it allows people to chat in groups that can contain a substantial number of participants. These participants can communicate with each other, either privately or together in the whole group. This feature is useful in a school or college setup, just as shown in a research project in South Africa (Rambe & Chipunza, 2013). In this case, students created a WhatsApp group and then added all students in a class together with their lecturer. This platform allowed every member the opportunity to participate in the group's discussion. Members could receive clarifications from each other on areas where they were correct and where they were wrong. Moreover, the lecturer could communicate easily with the students. Therefore, the use of this program increased the interactions between students and their lecturer, leading to better learning outcomes.
Another significant feature of this application that gives it success in use in education is that it runs on mobile phones, and therefore, a person that uses it can get messages quickly. The factor that makes this platform useful comes from the fact that students are generally inseparable from their mobile devices (Ajid, Reni, Yunita, & Dwi, 2018). If the application needed computers, it would not have had as much success as it has. Currently, many people have smartphones. This increase in the number of mobile devices and easy access to the internet nowadays has brought about an increase in social media platforms. These factors have captivated young people since they allow quick and seamless communication between them (Cetinkaya, 2017). Furthermore, Cetinkaya (2017) points out the fact that the use of social media applications in education reduces the need for face-to-face interactions. This factor allows all students to participate equally in the education process.
This paper says that one of the benefits of WhatsApp is its group feature. These groups allow the collaboration of participants in them. When the members are students, this collaboration allows the active students to uplift the weak ones. Now, since all the messages in the group are visible to all the members, all the concepts that students share go to all the members, thus, it increases their interaction (Mazana, 2018; Oriji & Anikpo, 2019). If a teacher or tutor is one of the members, he or she can monitor the communication and correct them where they are wrong (Robles, Guerrero, Llinas, & Montero, 2019). Moreover, a study on the effectiveness of this application in learning in Namibia shows that students enjoy using it for learning and that it allows them to continue with their education even when they are not in school (Mbukusa, 2018). This factor will increase the effectiveness of the learning process.
The third factor of WhatsApp that increases its effectiveness in the learning process is the fact that it allows its users to send multimedia files of different platforms. These files can be images, audio, documents, or videos. While these files must not necessarily be educational, their use for learning enhances the way that students understand the information that they contain (Kustijono & Zuhri, 2018). For instance, a lecturer may send students notes in the form of a portable document format (PDF) or a presentation. With these notes, students can study from wherever they are. Additionally, a file sent to a student will always be on his or her phone, and therefore, they can share it with other people later. Students can also conduct group discussions where they discuss the notes that their lecturer sends to them. Thus, the use of multimedia files improves the chances of students reading their notes when out of class since they carry the study material wherever they go.
While the use of WhatsApp in education enhances the process and leads to better outcomes, it also faces many challenges. The critical issue that many researchers focus on is that the use of social media platforms consumes the time of students (Gasaymeh, 2017). This factor could reduce the effectiveness of the use of this application in studies. Veena and Lokesha (2016) studied the use of this application by students, leading to the findings that a significant percentage (60%) use it for between one and four hours a day. For a student, this amount of time can be beneficial when used for studying. However, if they spend it conducting other non-academic matters, then it amounts to time wastage. This is the main issue that challenges the use of this application in education. On the contrary, research projects show that students support the use of this application and its use of multimedia files (Kothari, Bokariya, & Kothari, 2016). They say that the use of these files enhances their chances of reading the academic material that they receive on this application.
Despite this main challenge that faces the use of WhatsApp in education, students and many other stakeholders have supported its use. The main reasons that people cite when supporting this application include that it is instantaneous, pervasive, better than email, and it can help students with their time management (Kothari et al. 2016). Specifically, when a person sends a message on this platform, it reaches the recipient immediately, and the sender can know if it has been received and opened. These features are not available on many other social media platforms. While the files and information that people send using this application can be sent via email, WhatsApp has more benefits, such as its notifications when a person receives a message. Additionally, it has an easier-to-use user interface compared to those of emails. Finally, lecturers can help their students manage their time well by reminding them when their assignments are about to be due. This reminder will help them finish working on the assignments and complete them in good time. The benefits of this application have made many institutions and students to adopt it in their studies (Oriji & Anikpo, 2019). This high adoption rate signifies the success of this application in education.
This paper studies the application of WhatsApp in education. It reviews information from several articles that show the benefits of this application in the education process. Among the most cited features of this application is the ability of its users to create groups. This feature allows students to collaborate and to interact with their lecturers, which improves the learning process. Its ability to send multimedia messages is its other benefit. Some of these multimedia files can be notes that a lecturer would send to his or her students. Another feature of this program is that it runs in the smartphones of its users, and therefore, it is easily accessible. Therefore, based on its advantages, this application has many benefits when used in the education process.
References
Ajid, L. H., Reni, R., Yunita, D. U., & Dwi, S. (2018). The use of WhatsApp in collaborative learning to improve English teaching and learning process. International Journal of Research Studies in Educational Technology, 7(1), 29-35. doi:10.5861/ijrset.2018.3004
Cetinkaya, L. (2017). The impacts of WhatsApp use on success in the education process. International Review of Research in Open and Distributed Learning, 18(7), 59-74. Retrieved from https://files.eric.ed.gov/fulltext/EJ1163183.pdf
Gasaymeh, A.-M. M. (2017). University students' use of WhatsApp and their perceptions reading its possible integration into their education. Global Journal of Computer Science and Technology, 17(1), 1-10. Retrieved from https://globaljournals.org/GJCST_Volume17/1-University-Students-use-of-Whatsapp.pdf
Kothari, R., Bokariya, P., & Kothari, V. (2016). Appraising use of mobile messaging applications as an additional tool for undergraduate teaching. International Journal of Scientific Research in Science and Technology, 2(4), 126-129. Retrieved from https://www.academia.edu/28462278/
Kustijono, R., & Zuhri, F. (2018). The use of Facebook and WhatsApp application in learning process of physics to train students' critical thinking skills. IOP Conference Series: Materials Science and Engineering (p. 296). IOP Publishing Limited. doi:10.1088/1757-899X/296/1/012025
Mazana, M. Y. (2018). Social Media in the classroom: WhatsApp, a new communication tool for enhanced class interactions. Business Education Journal, II(I), 1-8. Retrieved from https://pdfs.semanticscholar.org/b9d1/fd487ec48d92a0ab7431c9f63a468c02ead5.pdf
Mbukusa, N. R. (2018). Perceptions of students' on the use of WhatsApp in teaching methods of English as second language at the University of Namibia. Journal of Curriculum and Teaching, 7(2), 112-119. doi:10.5430/jct.v7n2p112
Oriji, A., & Anikpo, F. (2019). Social media in teaching-learning process: Investigation of the use of WhatsApp in teaching and learning in University of Port Harcourt. European Scientific Journal, 15(4), 15-39. doi:10.19044/esj.2019.v15n4p15
Rambe, P., & Chipunza, C. (2013). Using mobile devices to leverage student access to collaboratively-generated resources: A case of WhatsApp instant messaging at a South African university. International Conference on Advanced Information and Communication Technology for Education (pp. 331-337). Atlantis Press. doi:10.2991/icaicte.2013.66
Robles, H., Guerrero, J., Llinas, H., & Montero, P. (2019). Online teacher-students interactions using WhatsApp in a law course. Journal of Information Technology Education: Research, 18, 231-252. doi:10.28945/4321
Veena, G., & Lokesha, M. (2016). The effects of WhatsApp messenger usage among students in Mangalore University: A case study. International Journal of Library and Information Studies, 6(2), 121-129. Retrieved from https://www.academia.edu/32874824
Cite this page
Paper Example. The Good Impacts of WhatsApp. (2023, Mar 23). Retrieved from https://speedypaper.com/essays/the-good-impacts-of-whatsapp
Request Removal
If you are the original author of this essay and no longer wish to have it published on the SpeedyPaper website, please click below to request its removal: