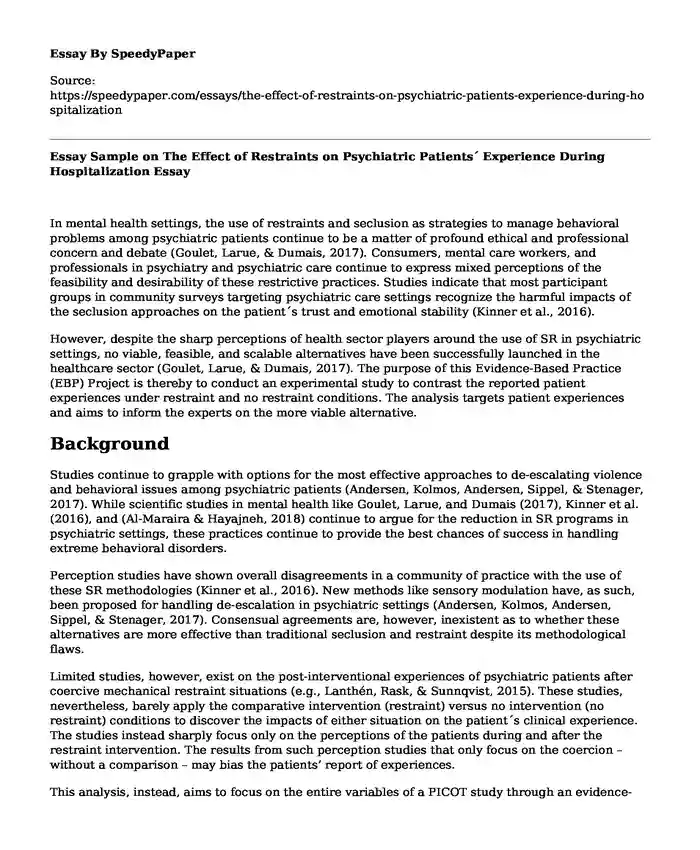 In mental health settings, the use of restraints and seclusion as strategies to manage behavioral problems among psychiatric patients continue to be a matter of profound ethical and professional concern and debate (Goulet, Larue, & Dumais, 2017). Consumers, mental care workers, and professionals in psychiatry and psychiatric care continue to express mixed perceptions of the feasibility and desirability of these restrictive practices. Studies indicate that most participant groups in community surveys targeting psychiatric care settings recognize the harmful impacts of the seclusion approaches on the patient´s trust and emotional stability (Kinner et al., 2016).
However, despite the sharp perceptions of health sector players around the use of SR in psychiatric settings, no viable, feasible, and scalable alternatives have been successfully launched in the healthcare sector (Goulet, Larue, & Dumais, 2017). The purpose of this Evidence-Based Practice (EBP) Project is thereby to conduct an experimental study to contrast the reported patient experiences under restraint and no restraint conditions. The analysis targets patient experiences and aims to inform the experts on the more viable alternative.
Background
Studies continue to grapple with options for the most effective approaches to de-escalating violence and behavioral issues among psychiatric patients (Andersen, Kolmos, Andersen, Sippel, & Stenager, 2017). While scientific studies in mental health like Goulet, Larue, and Dumais (2017), Kinner et al. (2016), and (Al-Maraira & Hayajneh, 2018) continue to argue for the reduction in SR programs in psychiatric settings, these practices continue to provide the best chances of success in handling extreme behavioral disorders.
Perception studies have shown overall disagreements in a community of practice with the use of these SR methodologies (Kinner et al., 2016). New methods like sensory modulation have, as such, been proposed for handling de-escalation in psychiatric settings (Andersen, Kolmos, Andersen, Sippel, & Stenager, 2017). Consensual agreements are, however, inexistent as to whether these alternatives are more effective than traditional seclusion and restraint despite its methodological flaws.
Limited studies, however, exist on the post-interventional experiences of psychiatric patients after coercive mechanical restraint situations (e.g., Lanthén, Rask, & Sunnqvist, 2015). These studies, nevertheless, barely apply the comparative intervention (restraint) versus no intervention (no restraint) conditions to discover the impacts of either situation on the patient´s clinical experience. The studies instead sharply focus only on the perceptions of the patients during and after the restraint intervention. The results from such perception studies that only focus on the coercion – without a comparison – may bias the patients' report of experiences.
This analysis, instead, aims to focus on the entire variables of a PICOT study through an evidence-based experimental focus. The results from this analysis will help to improve further the scientific backing for the Post-incident review (PIR) of patients after restraints. Practitioners continue to use PIR in analyzing patient experiences to reduce harm and minimize the use of the constraints. However, there is limited scientific backing on the effectiveness of these post-incident review processes (Hammervold, Norvoll, Aas, & Sagvaag, 2019). The level of success of PIR in minimizing the harm related to the use of restraints should be mapped. Such a mapping of PIR will help in backing its application in improving patient experiences and reducing the use of restraints altogether.
When studying the use of restraints, the ethical and legal requirements must be highly emphasized (Hammervold, Norvoll, Aas, & Sagvaag, 2019). First, it is important to reemphasize that scientific consensus is missing towards the use of restraints in psychiatric settings. Legally, however, the practice is supported for extreme violence cases, provided that the caregivers apply the principles of "purposefulness and proportionality." Proportionality and purposefulness principles require that restraints are used with as little coercive force as possible and only when it is necessary. The risks associated with coercive force must be carefully taken into consideration, and the patients´ preferences and needs for autonomy taken into account.
PICOT Question
In hospitalized psychiatric patients (Population of patients), how does the use of restraints (Intervention) compared to no use of restraints (Comparison) affect their experience (Outcome) within the hospitalization period (Time)? (Appendix 1, check for Intervention-based questions).
Literature search and empirical study
For a successful analysis of the literature and practice (Evidence-based practice), this study adopted Advancing Research and Clinical Practice Through Close Collaboration (ARCC) Model (Melnyk, Fineout-Overholt, Giggleman, & Choy (2016). Through this model, the study follows a longitudinal pre-intervention/post-intervention experimental approach while implementing the ARCC in between. The clinical and emotional experiences of the patients were thereby gathered before and after the intervention period.
Data and theoretical backing for this research were sourced from peer-reviewed journals and professional policy (governmental) and medical websites. The central database used in the academic search were PubMed and PubMed Central. A keyword search was thereby the primary method used to locate the range of publications linked to restraint and seclusion research. The selected studies must have been conducted within the past decade and must involve in-patient psychiatric care, restraint, and seclusion. Journals like the Journal of Psychosocial Nursing and Mental Health Services and Psychiatry Journal, for instance, appeared to involve several pieces on psychiatric patient restraints and their experiences. Finally, after the keyword search for optimization, 56 relevant studies were selected for the actual analysis.
Bibliography
Al-Maraira, O. A., & Hayajneh, F. A. (2018). Use of Restraint and Seclusion in Psychiatric Settings: A Literature Review. Journal of Psychosocial Nursing and Mental Health Services, 57(4), 32–39. https://doi.org/https://doi.org/10.3928/02793695-20181022-01
Andersen, C., Kolmos, A., Andersen, K., Sippel, V., & Stenager, E. (2017). Applying sensory modulation to mental health inpatient care to reduce seclusion and restraint: a case control study. Nordic Journal of Psychiatry, 71(7), 525–528. https://doi.org/https://doi.org/10.1080/08039488.2017.1346142
Goulet, M.-H., Larue, C., & Dumais, A. (2017). Evaluation of seclusion and restraint reduction programs in mental health: A systematic review. Aggression and Violent Behavior, 34, 139–146. https://doi.org/https://doi.org/10.1016/j.avb.2017.01.019
Hammervold, U. E., Norvoll, R., Aas, R. W., & Sagvaag, H. (2019). Post-incident review after restraint in mental health care -a potential for knowledge development, recovery promotion and restraint prevention. A scoping review. BMC Health Services Research, 19(1). https://doi.org/https://doi.org/10.1186/s12913-019-4060-y
Kinner, S. A., Harvey, C., Hamilton, B., Brophy, L., Roper, C., Mcsherry, B., & Young, J. T. (2016). Attitudes towards seclusion and restraint in mental health settings: findings from a large, community-based survey of consumers, carers and mental health professionals. Epidemiology and Psychiatric Sciences, 26(5), 535–544. https://doi.org/https://doi.org/10.1017/S2045796016000585
Lanthén, K., Rask, M., & Sunnqvist, C. (2015). Psychiatric Patients Experiences with Mechanical Restraints: An Interview Study. Psychiatry Journal, 2015, 1–8. https://doi.org/https://doi.org/10.1155/2015/748392
Melnyk, B. M., Fineout-Overholt, E., Giggleman, M., & Choy, K. (2016). A Test of the ARCC© Model Improves Implementation of Evidence-Based Practice, Healthcare Culture, and Patient Outcomes. Worldviews on Evidence-Based Nursing, 14(1), 5–9. https://doi.org/https://doi.org/10.1111/wvn.12188
Cite this page
Essay Sample on The Effect of Restraints on Psychiatric Patients Experience During Hospitalization. (2023, Aug 21). Retrieved from https://speedypaper.com/essays/the-effect-of-restraints-on-psychiatric-patients-experience-during-hospitalization
Request Removal
If you are the original author of this essay and no longer wish to have it published on the SpeedyPaper website, please click below to request its removal: