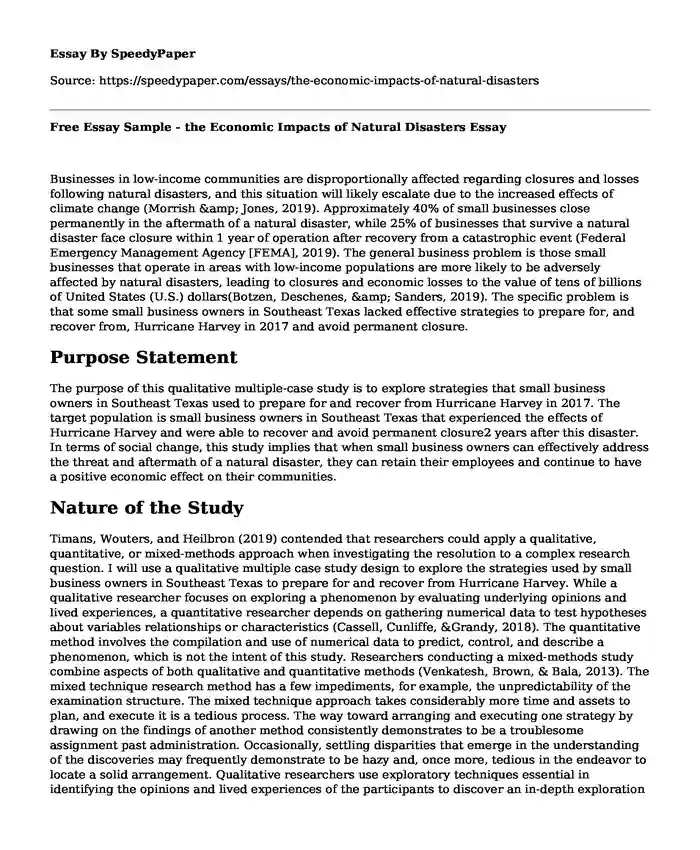 Businesses in low-income communities are disproportionally affected regarding closures and losses following natural disasters, and this situation will likely escalate due to the increased effects of climate change (Morrish & Jones, 2019). Approximately 40% of small businesses close permanently in the aftermath of a natural disaster, while 25% of businesses that survive a natural disaster face closure within 1 year of operation after recovery from a catastrophic event (Federal Emergency Management Agency [FEMA], 2019). The general business problem is those small businesses that operate in areas with low-income populations are more likely to be adversely affected by natural disasters, leading to closures and economic losses to the value of tens of billions of United States (U.S.) dollars(Botzen, Deschenes, & Sanders, 2019). The specific problem is that some small business owners in Southeast Texas lacked effective strategies to prepare for, and recover from, Hurricane Harvey in 2017 and avoid permanent closure.
Purpose Statement
The purpose of this qualitative multiple-case study is to explore strategies that small business owners in Southeast Texas used to prepare for and recover from Hurricane Harvey in 2017. The target population is small business owners in Southeast Texas that experienced the effects of Hurricane Harvey and were able to recover and avoid permanent closure2 years after this disaster. In terms of social change, this study implies that when small business owners can effectively address the threat and aftermath of a natural disaster, they can retain their employees and continue to have a positive economic effect on their communities.
Nature of the Study
Timans, Wouters, and Heilbron (2019) contended that researchers could apply a qualitative, quantitative, or mixed-methods approach when investigating the resolution to a complex research question. I will use a qualitative multiple case study design to explore the strategies used by small business owners in Southeast Texas to prepare for and recover from Hurricane Harvey. While a qualitative researcher focuses on exploring a phenomenon by evaluating underlying opinions and lived experiences, a quantitative researcher depends on gathering numerical data to test hypotheses about variables relationships or characteristics (Cassell, Cunliffe, &Grandy, 2018). The quantitative method involves the compilation and use of numerical data to predict, control, and describe a phenomenon, which is not the intent of this study. Researchers conducting a mixed-methods study combine aspects of both qualitative and quantitative methods (Venkatesh, Brown, & Bala, 2013). The mixed technique research method has a few impediments, for example, the unpredictability of the examination structure. The mixed technique approach takes considerably more time and assets to plan, and execute it is a tedious process. The way toward arranging and executing one strategy by drawing on the findings of another method consistently demonstrates to be a troublesome assignment past administration. Occasionally, settling disparities that emerge in the understanding of the discoveries may frequently demonstrate to be hazy and, once more, tedious in the endeavor to locate a solid arrangement. Qualitative researchers use exploratory techniques essential in identifying the opinions and lived experiences of the participants to discover an in-depth exploration of related phenomenon (Brink, 2018). Notably, the explorative nature of qualitative methods benefits from using semistructured interviews to facilitate open-ended responses, because participants have the liberty to share their experiences within the parameters of the interview questions (Cassell et al., 2018). Thus, the qualitative method is most appropriate for this study.
I will use a qualitative multiple-case study design. Qualitative researchers can select from among several design options, including case study, ethnography, and phenomenology. I will use a multiple case study to interpret and compare multiple bounded systems. Multiple case design is quit all-inclusive and allows for examination of a wide scope of issues for this study. The benefit of multiple case studies over a single case study is that it allows the benefit of comparison research and analysis. Qualitative researchersfacilitatein-depth exploration of a problem and help identify possible solutions (Rashid, Rashid, Warraich, Sabir, & Waseem, 2019), as is the intent of this study. Unlike ethnography, where the researcher evaluates shared cultures and phenomenological designs in which researchers explore the personal meanings of participants lived experiences, using a multiple case study design enables the researcher to conduct an in-depth exploration-based, primarily on facts (Kaszynska, 2015; Cameron, Mohyuddin, &Wijeratne, 2019). A narrative design, which focuses on the personal stories of the study participants (Kourti, 2016) is not in alignment with the goals of this study.
Research Question
The guiding research question for this study is, What strategies did small business owners in Southeast Texas use to prepare for, and recover from, Hurricane Harvey?
Interview Questions
What were your overall strategies for disaster preparedness and recovery?
What, if any, the financial strategy did you have in place to recover from a disaster?
How did you mitigate, if any, adverse impacts of the hurricane?
When you learned the hurricane was coming, what steps did you take to prepare?
How did your short-term preparation, once you knew the hurricane was coming, differ from your long-term plan for general disaster preparedness?
After the hurricane, what steps did you take to recover?
What strategies were least helpful in recovering from the hurricane?
What strategies were most helpful in recovering from the hurricane?
What else can you add to explain what strategies you used as a small business owner in Southeast Texas to recover from Hurricane Harvey?
Conceptual Framework
The conceptual framework, the theory of planned behavior (TPB), is expected to facilitate understanding the findings from this qualitative multiple case study. Ajzen (1985) developed TPB based on his understanding that beliefs can influence behaviors. According to TPB, an individual's behavior and intention are dependent upon perceived norms, beliefs, and attitudes. The concern that intention or reasoned action alone is insufficient to produce an expected behavior is postulated as having influenced the development of TPB. Ajzen (1985) perceived that intent does not always influence behavior, which initiated a reconsideration of the role of an individual's viewpoint in influencing behavior and lead to an extension of the theory of reasoned action to include both intention and behavior.
Researchers who use TPB to support their inquiries are typically inspired by aspects such as intent, beliefs, norms, attitude, as well as the controlled responses to the aftermath of a natural disaster, which inspired the application of this framework (Chaudhary, Warner, Lamm, Israel, Rumble & Cantrell, 2017). Within the context of small businesses, TPB elicits the need to emphasize perceived control, particularly about an individual's perception of the level of control of the potential effects of a disaster (Buhmann & Bronn, 2018). Relative to this framework, influential tenets, such as subjective norms, attitudes, beliefs, and behavioral control, can lead to positive intentions and behaviors. As such, small business owners may apply the TPB framework to influence behaviors on disaster preparedness and risk management strategies to enhance the likelihood of recoverability of their enterprises during and after a natural disaster. In this qualitative multiple case study, the TPB framework is expected to be an appropriate lens that can enhance the understanding of strategies small business owners use to develop and implement disaster recovery; furthermore, researchers use TPB to identify the possible risk management strategies that business owners can apply to promote business recoverability(Najafi, Ardalan, Akbarisari, Noorbala, &Elmi, 2017). The TPB conceptual framework is also appropriate for exploring how small business owners use disaster risk management strategies for business continuity (Kemp, 2017).
Significance of the Study
Natural disasters are unavoidable, but planning for them allows businesses to be more likely to survive natural disasters. According to Padli, Habibullah, and Baharom(2018), natural disasters are not only inevitable, but their frequency has also increased. The changing forms of natural disasters require adequate disaster risk management strategies, and the results of this study may provide valuable lessons to business owners and other stakeholders, the significance of risk plans, and the identification of effective risk management strategies.
Business owners may benefit from this study's findings by obtaining strategies they can apply or adapt to enhance recovery after a natural disaster. Setyawan, Isa, Wajdi, &Syamsudin (2018), contended the results of the proposed study might help new and existing business owners to understand the connection between business recoverability from the aftermath of a natural disaster and appropriate strategies to plan for these disasters. The study's findings may add significant knowledge to the field of business, particularly regarding the use of risk management strategies to prevent permanent business closures.
The study's findings may also contribute to positive social change. Results from this study may influence business owners to identify and gain insights into suitable risk plans to prevent business failures as a result of a catastrophic event (Setyawan et al., 2018). Small business owners with viable plans to survive natural disasters help strengthen local economies. Private businesses ought to have a second point of view on insurance. Having the correct insurance inclusion can have an enormous effect on a business's capacity to effectively endure a catastrophic event. Small businesses should have an operator that spends significant time in securing organizations. What is more, it also cannot damage to hear the second point of view and reconsider the inclusion yearly if there may need to make any updates. Small businesses must monitor all catastrophe-related costs. All through the recuperation procedure, a business additionally needs to monitor every fringe cost for its records, particularly if they are managing protection claims. During the debacle, a business must make certain to demonstrate definitively. When a business is confronting a catastrophe circumstance, the ideal opportunity for arranging is finished. Also, it is the ideal opportunity for one to make a move. It may be fundamental for one to alter their administration style.
References
Ajzen, I. (1985). From intentions to actions: A theory of planned behavior. In J. Kuhl& J. Beckmann (eds), Action control (pp. 11-39). Berlin, Heidelberg: Springer. Retrieved from https://doi.org/10.1007/978-3-642-69746-3_2.

Botzen, W. J., Deschenes, O., & Sanders, M. (2019). The economic impacts of natural disasters: A review of models and empirical studies. Review of Environmental Economics and Policy, 13, 167-188. doi:10.1093/reep/rez004.
Brink, R. (2018). A multiple case design for the investigation of information management processes for work-integrated learning. International Journal of Work-Integrated Learning, 19, 223-235. Retrieved from https://files.eric.ed.gov/fulltext/EJ1196745.pdf.

Buhmann, A., & Bronn, P. S. (2018). Applying Ajzen's theory of planned behavior to predict practitioners' intentions to measure and evaluate communication outcomes.
Cite this page
Free Essay Sample - the Economic Impacts of Natural Disasters. (2023, Mar 17). Retrieved from https://speedypaper.com/essays/the-economic-impacts-of-natural-disasters
Request Removal
If you are the original author of this essay and no longer wish to have it published on the SpeedyPaper website, please click below to request its removal: