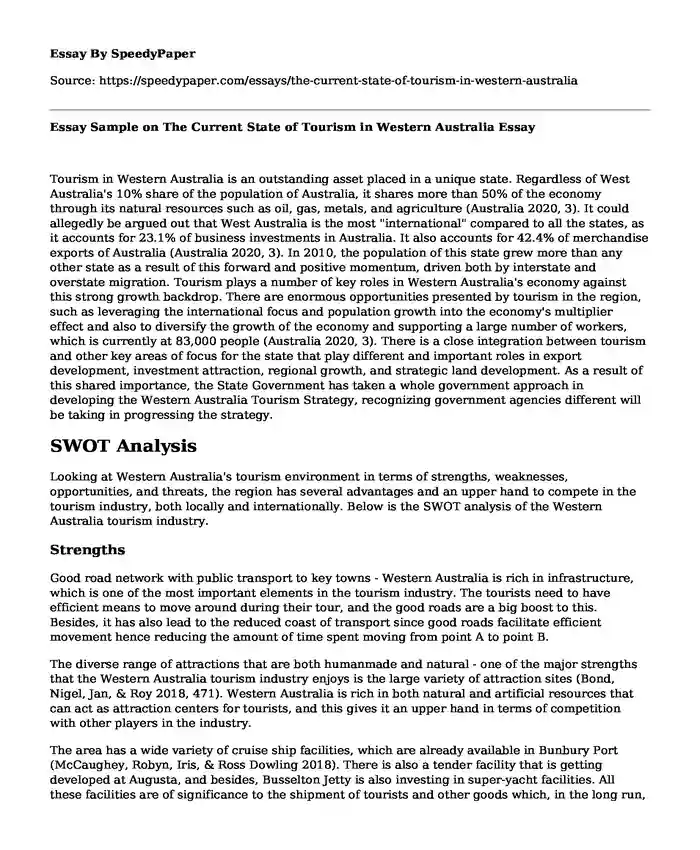 Tourism in Western Australia is an outstanding asset placed in a unique state. Regardless of West Australia's 10% share of the population of Australia, it shares more than 50% of the economy through its natural resources such as oil, gas, metals, and agriculture (Australia 2020, 3). It could allegedly be argued out that West Australia is the most "international" compared to all the states, as it accounts for 23.1% of business investments in Australia. It also accounts for 42.4% of merchandise exports of Australia (Australia 2020, 3). In 2010, the population of this state grew more than any other state as a result of this forward and positive momentum, driven both by interstate and overstate migration. Tourism plays a number of key roles in Western Australia's economy against this strong growth backdrop. There are enormous opportunities presented by tourism in the region, such as leveraging the international focus and population growth into the economy's multiplier effect and also to diversify the growth of the economy and supporting a large number of workers, which is currently at 83,000 people (Australia 2020, 3). There is a close integration between tourism and other key areas of focus for the state that play different and important roles in export development, investment attraction, regional growth, and strategic land development. As a result of this shared importance, the State Government has taken a whole government approach in developing the Western Australia Tourism Strategy, recognizing government agencies different will be taking in progressing the strategy.
SWOT Analysis
Looking at Western Australia's tourism environment in terms of strengths, weaknesses, opportunities, and threats, the region has several advantages and an upper hand to compete in the tourism industry, both locally and internationally. Below is the SWOT analysis of the Western Australia tourism industry.
Strengths
Good road network with public transport to key towns - Western Australia is rich in infrastructure, which is one of the most important elements in the tourism industry. The tourists need to have efficient means to move around during their tour, and the good roads are a big boost to this. Besides, it has also lead to the reduced coast of transport since good roads facilitate efficient movement hence reducing the amount of time spent moving from point A to point B.
The diverse range of attractions that are both humanmade and natural - one of the major strengths that the Western Australia tourism industry enjoys is the large variety of attraction sites (Bond, Nigel, Jan, & Roy 2018, 471). Western Australia is rich in both natural and artificial resources that can act as attraction centers for tourists, and this gives it an upper hand in terms of competition with other players in the industry.
The area has a wide variety of cruise ship facilities, which are already available in Bunbury Port (McCaughey, Robyn, Iris, & Ross Dowling 2018). There is also a tender facility that is getting developed at Augusta, and besides, Busselton Jetty is also investing in super-yacht facilities. All these facilities are of significance to the shipment of tourists and other goods which, in the long run, help to boost the Western Australia tourism industry.
Western Australia has a lot of tourism research, which is also important as it aids in decision0making concerning the best ways of developing and supporting the industry. With such important information, Western Australia enjoys major advantages such as certainty in the tourism industry as the government is able to make informed decisions on the policies to implement so as to boost tourism in the region. Tourism is a critical sector in the economy of this region, and professional research studies are important to enable it to thrive, and that is an advantage that Western Australia enjoys (Robertson & Wardrop 2012, 12).
Weaknesses
The region is vast in terms of distance, and that makes it quite inconvenient moving around to view the attraction facilities and sites. As such, own transport or hire cars are, in most cases, needed by the tourists to be able to move around the region. This has made the tourism activities quite expensive and could have an impact on the number of tourists visiting this region, especially the local tourists who might find it extremely expensive to incur such costs (Shankman 2013, 17).
There are no direct air services in the region from the Eastern States. The lack of direct air flight into the region from the Eastern States is a major weakness in the tourism industry as tourists have to connect flights to reach the region, which has made it quite expensive. The disadvantage of this is that the region may lose many tourists who might opt to tour other regions at the expense of connecting the expensive flights to the region (Bond, Nigel, Jan, & Roy 2018, 475). It is also a threat to Australia's local tourism since the people from the Eastern part of the country are limited from touring Western Australia (Shankman 2013, 20).
Many investments in the tourism sector of the region are volunteer-based, and they need support to be able to improve their financial sustainability. The impact of this is that it may have a negative influence on the ability to increase the number of visitors who visit this region (Parker, Jackie, & Greg 2018, 159).
The other weakness is in the accommodation sector. There are varying standards of accommodation facilities, with some facilities needing capital works in order to meet the required standards. Besides, the region lacks 5-star international standard properties in the area of Margaret River, which is a key tourist destination in the region. There are also no quality 4 to 5-star accommodations, restaurants, and meeting facilities in Pemberton on-site to accommodate small groups (Robertson & Wardrop 2012, 11).
Opportunities
One of the existing opportunities is to expand or upgrade Busselton Airport to facilitate direct flights from the Eastern States into Western Australia. This is an opportunity that WA needs to tap on to increase its tourism revenue since there will be an increased flow of tourists into the regions as a result of the direct flight from the Eastern States.
Western Australia can also upgrade its existing tourism-based facilities like accommodation and develop new ones to meet the international standard. One of the facilities that could be developed to meet international standards is the Tree Top Walk. The region can also include the South West as part of the region's National landscape program (Shankman 2013, 24).
Another opportunity is to support existing events and new ones that have the potential of attracting more international and interstate visitors.
Western Australia can use digital technology to increase awareness about its resources that could attract more tourists. Some of the things that it could advertise through digital technology are its events, attractions, and accommodation. It can also improve on and build its relationship with key stakeholders in Asia's international market.
Threats
The sector is highly volatile despite being a growth sector worldwide, with regular changes in itineraries and ships by cruise companies. The volatility in the sector, therefore, requires intensive planning to ensure that the region maintains positive growth (Robertson & Wardrop 2012, 13).
There are other destinations that are already forward in terms of the use of digital technology in creating awareness of their facilities, events, and resources, and therefore this is a threat to Western Australia as it risks losing clients to those destinations.
Another threat is the low-cost airlines that have made the oversea holidays cheaper. Many Australian now prefer going for their holidays overseas due to the low costs of airlines, and this is a major threat to the region's tourism sector.
The Importance of Tourism in Western Australia
The West Australia tourism industry accounts for the direct employment of 71,100 people and another indirect employment of 32,800. That means that a total of 103,900 people in Western Australia derive their livelihood from the tourism industry. The Gross State Product of the industry in WA is $11.8 billion.
The industries that have had a major contribution to the WA's direct tourism Gross Value Added (GVA) were water, air, and other transport, restaurant and take away food services, accommodation, and cafes. Other industries and business have also derived their advantages from the tourism industry, some of the major benefiting areas including health care and social assistance, construction, education and training, mining, manufacturing, financial and insurance services, and agriculture, forestry, and fishing among many others.
Tourism directly contributed to Western Australia's economy $5.556 billion, and of this amount, 47.3% was contributed by intrastate overnight travel while the remaining 25.4% was accounted for by international visitors. Western Australia tourism industry is responsible for over 11.9% of the total employment in Australia. The number of businesses running in Australia because of the tourism industry includes 302,520 tourism businesses, 51,450 small businesses, and 14,349 medium-large businesses.
Profile of Visitors to Western Australia
There are two sets of visitors who visit Western Australia as tourists. They include international visitors and intrastate visitors. International visitors are those who come to WA from other states other than Australia, while intrastate visitors are those who visit WA from other Australian states like the Eastern States. In the 2018 calendar year, there were a total of 961,000 international visitors visiting WA, and they spent a total of $2.2 billion, which was a total of 7% of dollars spent in Australia that year (Tourism WA Strategy and Research 2019).
From 2018 to 2019, the number of intrastate overnight leisure visitation to WA was as follows: there were over 6.1 million, and their average expenditure during this time was $2,969 million. According to Tourism WA Strategy and Research (2019), the number of visitor nights was 20,348,000, and their average daily spending was $146. The average length of stay was three nights, and they spend an average of $481 per trip. The data for intrastate day trip leisure visitation to WA was 16,940,000 leisure visitors, and they spent $1,623 million, with an average trip spend of $96 (Parker, Jackie, & Greg 2018, 159).
Overview of The Tourism Product
Western Australia is rich in tourism products ranging from accommodation, attractions, transport, activities, and access. WA has several 5-star hotels, with the recent being the InterContinental Perth City, which offers a luxurious and residential feel through its floor-to-ceiling windows in its 16-story (Pike 2018). There is also the New Pullman Hotel in Western Sydney, which is also a five-star. The Art Series Hotel is another iconic one in the Melbourne suburb.
Another tourism product or sector is dining and nightlife, which is also getting rich every day. In Sydney, there is Bea, who is a 180-seat fine dining restaurant, with native Australian menu and local ingredients, and the wine list featuring both up-and-coming producers from small regions and popular Australian producers (Alonso et al., 2015, 73). Sydney Harbour Restaurant is also hosting Australian celebrity chef Peter Gilmore and a maximized view of Harbour Bridge. Others include The Star Gold Coast and Australian Pub (Pike 2018).
Cite this page
Essay Sample on The Current State of Tourism in Western Australia. (2023, Apr 23). Retrieved from https://speedypaper.com/essays/the-current-state-of-tourism-in-western-australia
Request Removal
If you are the original author of this essay and no longer wish to have it published on the SpeedyPaper website, please click below to request its removal: