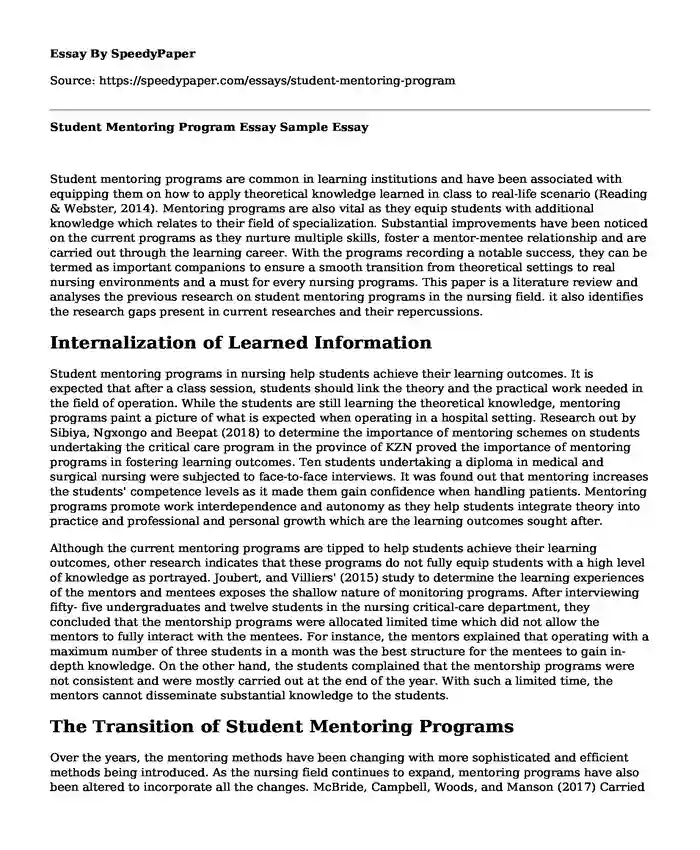 Student mentoring programs are common in learning institutions and have been associated with equipping them on how to apply theoretical knowledge learned in class to real-life scenario (Reading & Webster, 2014). Mentoring programs are also vital as they equip students with additional knowledge which relates to their field of specialization. Substantial improvements have been noticed on the current programs as they nurture multiple skills, foster a mentor-mentee relationship and are carried out through the learning career. With the programs recording a notable success, they can be termed as important companions to ensure a smooth transition from theoretical settings to real nursing environments and a must for every nursing programs. This paper is a literature review and analyses the previous research on student mentoring programs in the nursing field. it also identifies the research gaps present in current researches and their repercussions.
Internalization of Learned Information
Student mentoring programs in nursing help students achieve their learning outcomes. It is expected that after a class session, students should link the theory and the practical work needed in the field of operation. While the students are still learning the theoretical knowledge, mentoring programs paint a picture of what is expected when operating in a hospital setting. Research out by Sibiya, Ngxongo and Beepat (2018) to determine the importance of mentoring schemes on students undertaking the critical care program in the province of KZN proved the importance of mentoring programs in fostering learning outcomes. Ten students undertaking a diploma in medical and surgical nursing were subjected to face-to-face interviews. It was found out that mentoring increases the students' competence levels as it made them gain confidence when handling patients. Mentoring programs promote work interdependence and autonomy as they help students integrate theory into practice and professional and personal growth which are the learning outcomes sought after.
Although the current mentoring programs are tipped to help students achieve their learning outcomes, other research indicates that these programs do not fully equip students with a high level of knowledge as portrayed. Joubert, and Villiers' (2015) study to determine the learning experiences of the mentors and mentees exposes the shallow nature of monitoring programs. After interviewing fifty- five undergraduates and twelve students in the nursing critical-care department, they concluded that the mentorship programs were allocated limited time which did not allow the mentors to fully interact with the mentees. For instance, the mentors explained that operating with a maximum number of three students in a month was the best structure for the mentees to gain in-depth knowledge. On the other hand, the students complained that the mentorship programs were not consistent and were mostly carried out at the end of the year. With such a limited time, the mentors cannot disseminate substantial knowledge to the students.
The Transition of Student Mentoring Programs
Over the years, the mentoring methods have been changing with more sophisticated and efficient methods being introduced. As the nursing field continues to expand, mentoring programs have also been altered to incorporate all the changes. McBride, Campbell, Woods, and Manson (2017) Carried out a study on the mentoring network by analyzing previous surveys carried out by researchers. They captured the paradigm shifts witnessed in mentoring in the twentieth and the twenty-first century. In the twentieth century, mentoring was based on a single skill, instinctive kindness and done at the early stages of a career. However, mentoring programs in the twenty-first century major on multiple skills learned behavior, and are done throughout the career. Another difference is that mentoring programs in the twentieth century assumed a top-down approach and the mentor was regarded as equal to the mentee. Such is not the case in the twenty-first century where they exhibit a reciprocal relationship and the mentor and the mentee are nor regarded as equal.
Although the 21st-century mentorship programs are termed as efficient, conflicting information from other surveys has exposed their loopholes. In comparison with the 20th-century programs, the current ones are termed as consisting of few errors which are insignificant to term them as ineffective. However, research has exposed the inability of these programs to equip students with projected knowledge. One of such research is a survey carried out by Tengah (2016) on nursing students in Brunei to establish the students' perceptions on mentorship benefits. The students explained that the current mentoring programs focused only on the occupational needs leaving behind issues of personal growth. Tengah (2016) also concluded that the mentors were not prepared efficiently and did not handle all the aspects of nursing. Poor initiation of the mentoring programs was reported by the students which set a shaky ground for the preceding ones. After a single program, the mentors turned too busy and unavailable to handle any queries. These failures render the current programs as ineffective and validate the instruction of more efficient ones.
Structure of Mentoring Programs
Nowadays, nursing mentoring programs assume different structures from one medical school to another. For example, some of the programs consist of organized activities while others take the form of informal meetings comprising of mentors and mentees. Mentoring programs for different schools also contain distinct ways of pairing student and mentors, training and selection of mentors, and the mentor-mentee ratio. To back up such, Fornari, Murray, Menzin, Woo, Clifton, Lombardi and Shelov, (2014) carried research to investigate the design of mentoring programs and their implementation in medical schools by evaluating the fourteen medical schools in the USA which have been in operation since 2006. The research confirmed the presence of little uniformity of the mentoring programs which arose from the difference in faculty incentives and the number of students and faculties in each institution. With such diversity, surveys are needed to establish the best mentoring program to be adopted by all medical institutions.
Conflicting research on the various structures of the mentoring program claims that they possess poor organization as reported by McKeller and Kempster (2007). Their research involved the issuance of questionnaires to eighty-two mentees in the Victorian university which requested them to rate their mentorship experiences. Twenty-seven of the students indicated that they did not attend them as they did not understand their importance. Another bunch of students indicated that they perceived mentorship programs as schemes for failures and did not see their importance in their academic life. Students mostly participate in educational schemes which bear significance in their academic progress. Although mentorship schemes are beneficial, students lack general knowledge concerning them, a factor which has resulted in poor turn out. These failures emanate from lack of efforts to popularize the programs among the students and to highlight their importance. With few students bearing their usefulness, mentorship programs will be viewed as an additional workload and will not achieve substantial success.
Aspects of Mentoring Programs
Current mentoring programs involve additional aspects such as motivation to the mentees (Chang & Daly, 2016). Previously, these programs were directed toward the acquisition of skills and personal growth relevant to the mentees' field. However, recent programs have gone a step further to provide psychological support and motivation which led to outcomes such as improved academic performance. Fallatah, Soo Park, Farsi, and Tekian (2018) investigated the factors that contribute to effective mentorship programs obtained responses from one hundred and eighty-four students in the faculty of medicine at King Abdulaziz University. A large number of the students reported that student mentoring programs were beneficial to them as they provided psychological support which translated to improved academic performance. This study shows that apart from preparing students on the real occupational settings, current programs are vital in offering special support to students. Such revelations indicate that 21st century mentoring programs are diverse and can serve multiple purposes without jeopardizing their intended function.
Interventions
To increase the efficiency of student mentoring programs, the main intervention is the introduction of a one-on-one program. It should be noted that medical education is associated with mental breakdown where students often face anxiety and stress due to heavy workload and the competitive nature of the medical educational environment. Current programs take the structure of a social meeting which does not offer educational support and guidance. In a study by Hur, Cho, and Kim (2018) to explore the replacement of mentoring schemes with one-on-one mentoring, twenty-nine mentoring pairs were trained as mentees and mentors. A one-on-one program was carried out and the mentees told to summarize their experiences. Mentees recorded high satisfaction levels with one-on-one programs for personal counseling and career coaching. These results show the proposed mentoring program is adequate in addressing the issues faced by students in their educational journey and contribute to students' wellbeing.
Knowledge Gaps
Although student monitoring programs are popular in undergraduate medical courses, limited research has been done on the possible mentoring topics for students in master programs. When developing current programs, master students are taken as knowledgeable in their fields are often left out when other students attend mentoring sessions. A study carried out by Al Qahtani (2015) on students' attitude and knowledge on mentoring in King Saud Bin Abdulaziz subjected one hundred and twenty students to interviews. Ninety-two percent of the students indicated that mentoring was the most efficient method in nurturing their potential. However, they faulted the medical faculty for neglecting master students and recommended its introduction. Although institutions are held to account for the absence of such, there exist limited research on the topics which are applicable in master programs. Without mentoring programs, students in master levels will possess limited knowledge on what is required in the field leading to frustrations. Research should be done on possible mentoring programs for medical students in higher education programs to give them psychological support and knowledge related to fieldwork.
Mentoring programs lack an appropriate structure which creates a mentor-mentee relationship. For a program to be successful, mentors must develop bonds with their mentees as it introduces close ties whereby the students can engage them in discussions about controversial concepts. However, the current programs do not offer a platform to develop such relationships and the mentors face difficulties in identifying the most appropriate topics revolving around the academic lives of their mentees. A study carried out by Gagliardi, Webster, Perrier, Bell, and Straus, (2014) on the exploration of the ability of mentorship schemes to facilitate knowledge translation involved the analysis of two-hundred and ninety-three management and social sciences databases. It was established that most of the mentees felt neglected by their mentors as their issues were not well addressed.
Cite this page
Student Mentoring Program Essay Sample. (2022, Nov 14). Retrieved from https://speedypaper.com/essays/student-mentoring-program
Request Removal
If you are the original author of this essay and no longer wish to have it published on the SpeedyPaper website, please click below to request its removal: