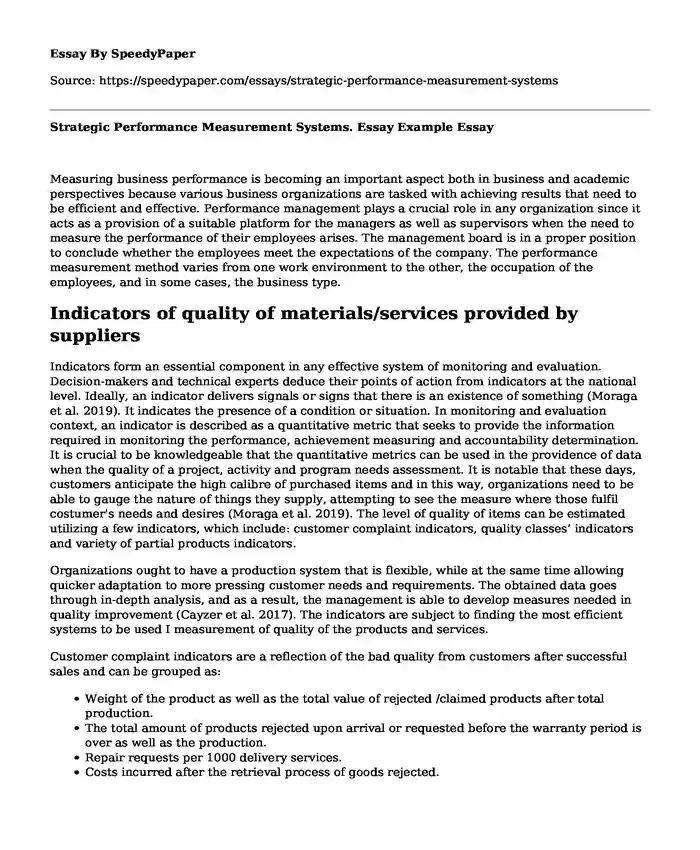 Measuring business performance is becoming an important aspect both in business and academic perspectives because various business organizations are tasked with achieving results that need to be efficient and effective. Performance management plays a crucial role in any organization since it acts as a provision of a suitable platform for the managers as well as supervisors when the need to measure the performance of their employees arises. The management board is in a proper position to conclude whether the employees meet the expectations of the company. The performance measurement method varies from one work environment to the other, the occupation of the employees, and in some cases, the business type.
Indicators of quality of materials/services provided by suppliers
Indicators form an essential component in any effective system of monitoring and evaluation. Decision-makers and technical experts deduce their points of action from indicators at the national level. Ideally, an indicator delivers signals or signs that there is an existence of something (Moraga et al. 2019). It indicates the presence of a condition or situation. In monitoring and evaluation context, an indicator is described as a quantitative metric that seeks to provide the information required in monitoring the performance, achievement measuring and accountability determination. It is crucial to be knowledgeable that the quantitative metrics can be used in the providence of data when the quality of a project, activity and program needs assessment. It is notable that these days, customers anticipate the high calibre of purchased items and in this way, organizations need to be able to gauge the nature of things they supply, attempting to see the measure where those fulfil costumer's needs and desires (Moraga et al. 2019). The level of quality of items can be estimated utilizing a few indicators, which include: customer complaint indicators, quality classes' indicators and variety of partial products indicators.
Organizations ought to have a production system that is flexible, while at the same time allowing quicker adaptation to more pressing customer needs and requirements. The obtained data goes through in-depth analysis, and as a result, the management is able to develop measures needed in quality improvement (Cayzer et al. 2017). The indicators are subject to finding the most efficient systems to be used I measurement of quality of the products and services.
Customer complaint indicators are a reflection of the bad quality from customers after successful sales and can be grouped as:
Weight of the product as well as the total value of rejected /claimed products after total production.
The total amount of products rejected upon arrival or requested before the warranty period is over as well as the production.
Repair requests per 1000 delivery services.
Costs incurred after the retrieval process of goods rejected.
The complaints analysis provide necessary information about the frequency and nature of the defects as well as the products' behaviour during exportation d customer satisfaction. With such indicators, measures can be taken, as the management seeks to eliminate production deficiencies.
Quality classes' indicator These indicators are applied if the products are categorized in quality classes, based on their unique characteristics (Moraga et al. 2019). The indicators are then grouped as those used by organizations realizing homogenous production and those used by organizations achieving various production.
Quality of partial products indicators are a reflection of a chain of characters that are measurable and the content used as a reference to property or trait, which meets specified requirements. During the expression of indicators, they can be helpful in the measurement of units in accordance with the parameters (Cayzer et al. 2017). The assessment of product quality is realized after a comparison of the results that have been obtained on the foundation of substantial product measurement that is specified in either standards, normative documents or internal notes. Companies to measure their products qualitative levels can apply indicators that measure quality. Identification, removal, monitoring, controlling as well as analysis of quality all sum up to quality measurement.
Indicators of process state
Process indicators elaborate on crucial processes, which contribute to achieving results. Process indicators include the training quality as well as a needs assessment. They are indirect merit indicators. However, they are not a total guarantee of outcome achievement. The indicators are used in highlighting things that are done in transitional operations of an organization. The evidence produced by these indicators acts as a contribution to the achievement of trainee skills required in the industry (Moraga et al. 2019). Quality training is any program will teach employee methods of testing products in order to ensure that they are not produced as defects. An employee is able to investigate various procedures and techniques used in making a product, company morale or even employee knowledge. Training can be in either of the three forms: training that addresses acquiring new jobs, transitional training and developmental opportunities.
Needs assessment is any process that organizations use in order to determine their priorities, enhance improvements in the organization as well as proper allocation of resources (Moraga et al. 2019). It has three main components: person, organizational as well as task analysis. There is no official order of conducting the process. Organizations are subject to any information received from the various types of analysis before a formal decision is made to devote money as well as time to the training, due to the fact that organizational analysis that concerns with the identification and determination as to whether the training fits with the organization's strategic goals and if there is an allocated budget, expertise and time for training, usually conducted first. Finally, task and person analysis are conducted simultaneously since it is hard to decide whether deficiencies in performance are a problem related to training, without a proper understanding of the work and task environment.
There are four steps that need to be followed while conducting a needs assessment process. 1) Elaboration and identification, where one needs to determine what they know about their organization requirements and if additional resources are necessary. 2) Data gathering as well as analysis: information is collected that is utilized in understanding the gap that exists between where the company needs to be in the future and where it currently is. 3) Utilization: Data analyzed is used in creating a plan of action and later implementing it. Priorities are set, solutions are evaluated, and a cost-benefit analysis conducted to determine the best solution.4) Evaluation: smart organizations assess the results of the needs assessment (Cayzer et al. 2017). It is a valuable tool when deciding what made the chosen action plan effective.
Every policy is supported by specific assumptions regarding the nature of the problem and how performing a particular course of action will influence the status quo.it is advisable for the management to have a discussion with those who were tasked with designing the policies for a better understanding of the assumptions (Moraga et al. 2019). They can be explicit in the documentation of the program. After clarifying the premises, the evaluators can now formulate reasoning that is logical enough to encompass: the nature of the activities, problem, as well as a rationale that seeks to elaborate how performing a specific action, will impact or solve the problem. An evaluation that is good should also measure and explain which among the original assumptions were correct and the ones that were not, and not only gauge if the changes expected occurred.
Effects of the process
An essential tool for any evaluator to create monitoring, as well as an evaluation framework that produces measurable outcomes, is a Program Intervention Logic. The program rationale is broken down to 1) Inputs- these are the invested resources. 2) Process- refers to what the policy does. 3) Outputs- the final product of a company, delivered to the clients. 4) Results- Feedback from the client and what level needs improvement. 5) Impact- refers to the extent that the program influences the organization (Moraga et al. 2019).
Indicators should be attributed to actions so that the expected outcomes can be distinguished when measuring and evaluation procedures are applied. There can be a formulation of diagrams, conceptual models and causal networks which will link the indicators to the actions related to each one of them. Complex systems make it hard to attribute the changes directly of an indicator to their actions. Indicators can be short-term or long-term: indicating that an expected action is completed and identify that outcomes have changed as expected. There are potential drivers that make it hard for outcomes to be attributed to specific actions.
In conclusion, indicators ought to be elaborated for the intervention logic of each aspect. Where they only capture output, then there is no real change after the evaluation process that can be associated with the program. If the focus is only the outcome as well as impact, it is not evident that the policy will be a success. When there is insignificant change, and the results not intermediate, there is a possibility to observe which aspects of the policy rationale fail. Adjustments are difficult to recommend as a result of that. In any case, it might be conceivable to exhibit a connection between a similar program and enhancements out in the open discernments when working in little networks or remote regions where there are no different activities with comparative targets. It might likewise be conceivable to look at sway markers for your venture site with another similarly arranged area where you are not working.
Work Cited
Moraga, Gustavo, et al. "Circular economy indicators: What do they measure?." Resources, Conservation and Recycling 146 (2019): 452-461.
Cayzer, Steve, Percy Griffiths, and Valentina Beghetto. "Design of indicators for measuring product performance in the circular economy." International Journal of Sustainable Engineering 10.4-5 (2017): 289-298.
Cite this page
Strategic Performance Measurement Systems. Essay Example. (2023, Aug 30). Retrieved from https://speedypaper.com/essays/strategic-performance-measurement-systems
Request Removal
If you are the original author of this essay and no longer wish to have it published on the SpeedyPaper website, please click below to request its removal: