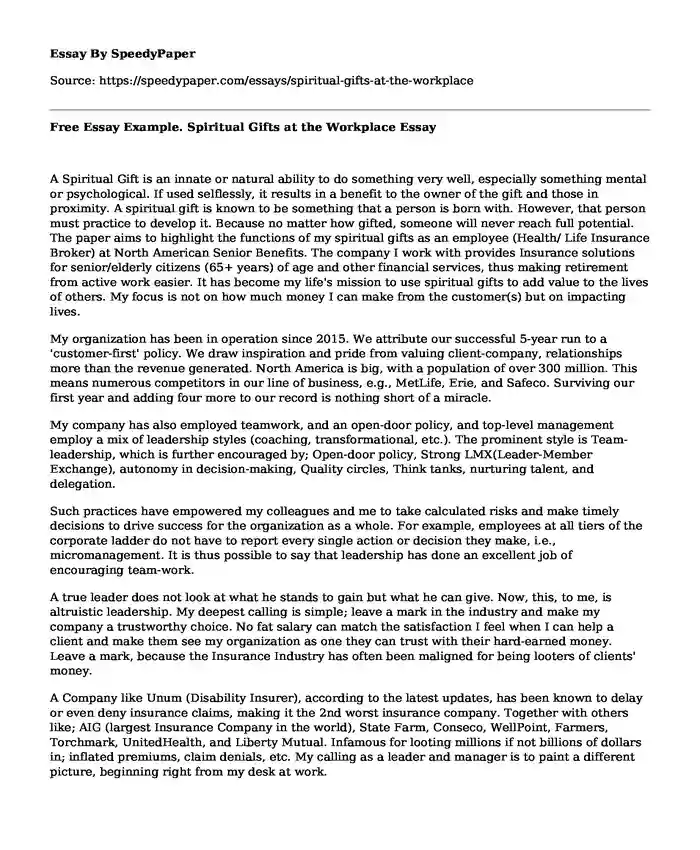 A Spiritual Gift is an innate or natural ability to do something very well, especially something mental or psychological. If used selflessly, it results in a benefit to the owner of the gift and those in proximity. A spiritual gift is known to be something that a person is born with. However, that person must practice to develop it. Because no matter how gifted, someone will never reach full potential. The paper aims to highlight the functions of my spiritual gifts as an employee (Health/ Life Insurance Broker) at North American Senior Benefits. The company I work with provides Insurance solutions for senior/elderly citizens (65+ years) of age and other financial services, thus making retirement from active work easier. It has become my life's mission to use spiritual gifts to add value to the lives of others. My focus is not on how much money I can make from the customer(s) but on impacting lives.
My organization has been in operation since 2015. We attribute our successful 5-year run to a 'customer-first' policy. We draw inspiration and pride from valuing client-company, relationships more than the revenue generated. North America is big, with a population of over 300 million. This means numerous competitors in our line of business, e.g., MetLife, Erie, and Safeco. Surviving our first year and adding four more to our record is nothing short of a miracle.
My company has also employed teamwork, and an open-door policy, and top-level management employ a mix of leadership styles (coaching, transformational, etc.). The prominent style is Team-leadership, which is further encouraged by; Open-door policy, Strong LMX(Leader-Member Exchange), autonomy in decision-making, Quality circles, Think tanks, nurturing talent, and delegation.
Such practices have empowered my colleagues and me to take calculated risks and make timely decisions to drive success for the organization as a whole. For example, employees at all tiers of the corporate ladder do not have to report every single action or decision they make, i.e., micromanagement. It is thus possible to say that leadership has done an excellent job of encouraging team-work.
A true leader does not look at what he stands to gain but what he can give. Now, this, to me, is altruistic leadership. My deepest calling is simple; leave a mark in the industry and make my company a trustworthy choice. No fat salary can match the satisfaction I feel when I can help a client and make them see my organization as one they can trust with their hard-earned money. Leave a mark, because the Insurance Industry has often been maligned for being looters of clients' money.
A Company like Unum (Disability Insurer), according to the latest updates, has been known to delay or even deny insurance claims, making it the 2nd worst insurance company. Together with others like; AIG (largest Insurance Company in the world), State Farm, Conseco, WellPoint, Farmers, Torchmark, UnitedHealth, and Liberty Mutual. Infamous for looting millions if not billions of dollars in; inflated premiums, claim denials, etc. My calling as a leader and manager is to paint a different picture, beginning right from my desk at work.
I plan to try my part of the repair to our already damaged reputation as an industry. One might say something disheartening like, 'It's too large a task for one person.' I believe, Rome was not built in a day. I am prepared and will manage my expectations. Being intentional and brutally honest with myself is my game plan. I operate from a place of hard work and consistency, which I believe when all is said and done, will ensure I can look back at how I used my time and opportunities, with zero regrets.
Self-awareness, I believe it is a great place to start for any success in life. As such, I have assessed what my qualities and spiritual gifts are and how they can be of help to others. Over the years, I have concluded; I am gifted in matters of; leadership, mercy, exhortation, discernment, apostleship, administration, pastoring, evangelism, teaching, and faith. I am confident and apply them to my work-life balance. Others are still in the oven, for instance, in matters of wisdom, knowledge, service, and prophecy. I believe we create what we don't have. Thus daily, I am committed to developing my weak points.
I use my gifts where applicable. None is more important than the other. No matter the level to which I have advanced and developed them. At work, I mostly apply the gift of leadership. It has been said before that leadership is the most important in corporate scenes. It is the reason why, in 334 B.C., Alexander the Great of Macedonia was able to unite Greece (Hellenic League) and conquer the superpower; the Persian Empire at just 30 years of age (Hauben, 1976). Undoubtedly, one of the greatest military campaigns in history pulled off by brilliant leadership.
Leadership, to me, is about sacrifice and setting an example and continuous improvement. Otherwise known as; Principle of 'Kaizen' in Japanese culture (Manos, 2007). 'Information is power.' It has become a daily habit for me to read all the relevant material and books I can find. Authors that I highly esteem and would recommend for any corporate figure include; Seth Godin, Robert Greene, Napoleon Hill, Gary Vaynerchuk, and many others. The books, in both written and audio forms, provide a wide range of tools that supplement the gifts I have.
They provide knowledge, wisdom, sharpen skills like; analytical thinking, and boost creativity. They also create 'oppositional thinking,' which I believe may give my company an edge over others in the same industry. It is thinking in a way that is unpopular or unknown but works and solves problems. As Warren Buffet said, 'If there is any advice to take, it is to Be different, To go against the tide, You cannot succeed if you think and act like the rest.' What a nugget of wisdom??
A man slept and saw that being alive was happiness. He woke up and saw that being alive was service. He served that service is what brought happiness. I agree with him and am working on giving more of my time, energy, and skills to help not only as a professional but as a human. In my opinion, when life improves, work improves. I use the other gifts to develop healthy circles outside the company, with friends and family.
The most valuable ones have been knowledge and wisdom. The two are life-long commitments because Experiences bring wisdom and knowledge. And you need the two to have positive interactions. As a parting shot, people need to develop their spiritual gifts to the highest level possible. It is possible to have many gifts, but one cannot do two things at once. Success is about specializing in sharpening the ones that are of relevance to time and place in life.
References
Hauben, H. (1976). The expansion of Macedonian sea power under Alexander the Great. Ancient Society, 7, 79-105. https://www.myinjuryattorney.com/the-10-worst-insurance-companies/

Manos, A. (2007). The benefits of Kaizen and Kaizen events. Quality Progress, 40(2), 47.
Cite this page
Free Essay Example. Spiritual Gifts at the Workplace. (2023, Jul 10). Retrieved from https://speedypaper.com/essays/spiritual-gifts-at-the-workplace
Request Removal
If you are the original author of this essay and no longer wish to have it published on the SpeedyPaper website, please click below to request its removal: