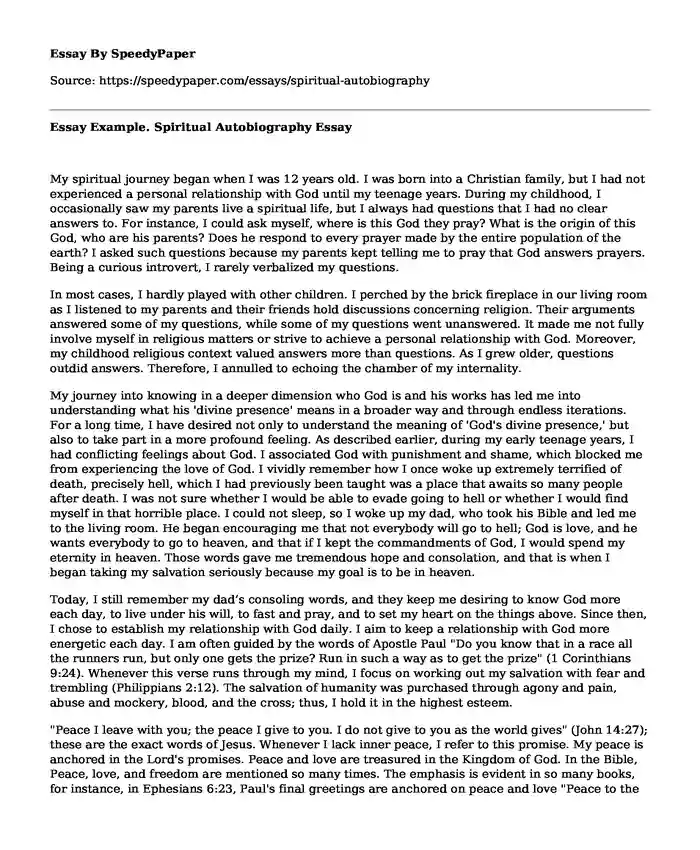 My spiritual journey began when I was 12 years old. I was born into a Christian family, but I had not experienced a personal relationship with God until my teenage years. During my childhood, I occasionally saw my parents live a spiritual life, but I always had questions that I had no clear answers to. For instance, I could ask myself, where is this God they pray? What is the origin of this God, who are his parents? Does he respond to every prayer made by the entire population of the earth? I asked such questions because my parents kept telling me to pray that God answers prayers. Being a curious introvert, I rarely verbalized my questions.
In most cases, I hardly played with other children. I perched by the brick fireplace in our living room as I listened to my parents and their friends hold discussions concerning religion. Their arguments answered some of my questions, while some of my questions went unanswered. It made me not fully involve myself in religious matters or strive to achieve a personal relationship with God. Moreover, my childhood religious context valued answers more than questions. As I grew older, questions outdid answers. Therefore, I annulled to echoing the chamber of my internality.
My journey into knowing in a deeper dimension who God is and his works has led me into understanding what his 'divine presence' means in a broader way and through endless iterations. For a long time, I have desired not only to understand the meaning of 'God's divine presence,' but also to take part in a more profound feeling. As described earlier, during my early teenage years, I had conflicting feelings about God. I associated God with punishment and shame, which blocked me from experiencing the love of God. I vividly remember how I once woke up extremely terrified of death, precisely hell, which I had previously been taught was a place that awaits so many people after death. I was not sure whether I would be able to evade going to hell or whether I would find myself in that horrible place. I could not sleep, so I woke up my dad, who took his Bible and led me to the living room. He began encouraging me that not everybody will go to hell; God is love, and he wants everybody to go to heaven, and that if I kept the commandments of God, I would spend my eternity in heaven. Those words gave me tremendous hope and consolation, and that is when I began taking my salvation seriously because my goal is to be in heaven.
Today, I still remember my dad's consoling words, and they keep me desiring to know God more each day, to live under his will, to fast and pray, and to set my heart on the things above. Since then, I chose to establish my relationship with God daily. I aim to keep a relationship with God more energetic each day. I am often guided by the words of Apostle Paul "Do you know that in a race all the runners run, but only one gets the prize? Run in such a way as to get the prize" (1 Corinthians 9:24). Whenever this verse runs through my mind, I focus on working out my salvation with fear and trembling (Philippians 2:12). The salvation of humanity was purchased through agony and pain, abuse and mockery, blood, and the cross; thus, I hold it in the highest esteem.
"Peace I leave with you; the peace I give to you. I do not give to you as the world gives" (John 14:27); these are the exact words of Jesus. Whenever I lack inner peace, I refer to this promise. My peace is anchored in the Lord's promises. Peace and love are treasured in the Kingdom of God. In the Bible, Peace, love, and freedom are mentioned so many times. The emphasis is evident in so many books, for instance, in Ephesians 6:23, Paul's final greetings are anchored on peace and love "Peace to the brothers, and love with faith from God the Father and the Lord Jesus Christ." The Peace of Christ has given me the serenity to seek God's face with confidence and in faith; and when I think of God's love, I have hope of meeting God and living with him in his kingdom eternally; and this is my main goal, to spend eternity in heaven. "So if the Son sets you free, you will be free indeed" (John 8:36). I am assured of God's freedom, which gives me the strength to overcome every scheme of the evil one. Some time back, the condemnation of sin kept coming back to me. I used to feel like God has not forgiven me even after I asked him for forgiveness. In some instances, the enemy made me feel like I have not been forgiven because the sin seemed 'too big' to be forgiven. Nevertheless, the Book of John 8:36 gives me the feeling of inner freedom that makes me overcome sin and its condemnation.
In my walk with Christ, I get my consolation on the promises of God. For instance, "but in keeping with his promise we are looking forward to a new heaven and a new earth, the home of the righteous," (2 Peter 3:13). This is the book that beholds my consolation. The walk with Christ can sometimes seem hard and almost impossible. But the thought of heaven keeps me going.
On the other hand, when I commit any sin, I automatically become restless, especially at the idea of hell- the place where all sinners are destined to spend their eternity. I know too well that my purpose on this earth is to live for Christ, by doing his will and walking his path. I am called to live a Christ-like life. Sometimes, the world with its ups and downs can cause a mismatch, but I always strive to do the will of God, thinking of the primary purpose of my life and my eternity after experience on this earth.
Cite this page
Essay Example. Spiritual Autobiography. (2023, Aug 10). Retrieved from https://speedypaper.com/essays/spiritual-autobiography
Request Removal
If you are the original author of this essay and no longer wish to have it published on the SpeedyPaper website, please click below to request its removal: