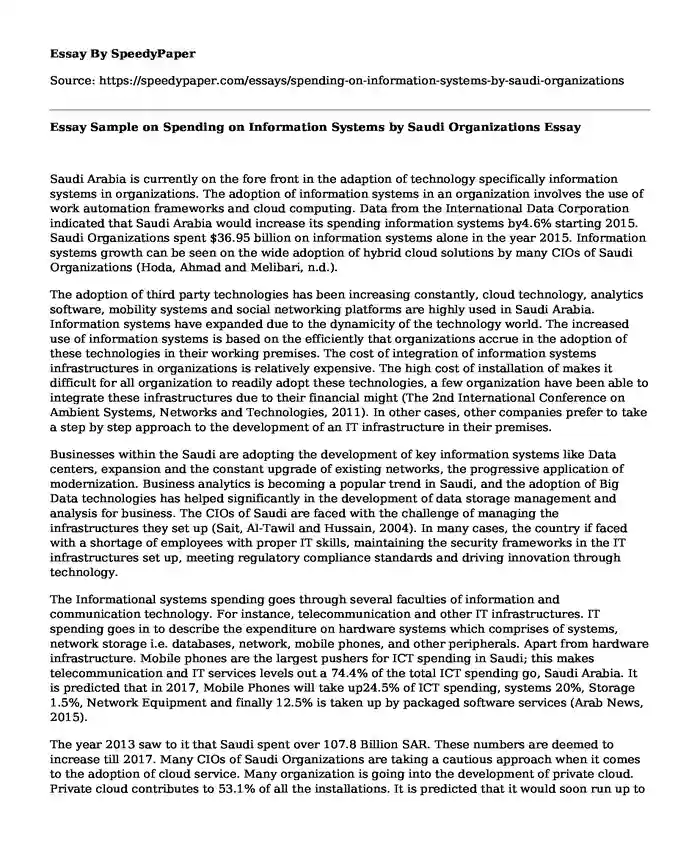 Saudi Arabia is currently on the fore front in the adaption of technology specifically information systems in organizations. The adoption of information systems in an organization involves the use of work automation frameworks and cloud computing. Data from the International Data Corporation indicated that Saudi Arabia would increase its spending information systems by4.6% starting 2015. Saudi Organizations spent $36.95 billion on information systems alone in the year 2015. Information systems growth can be seen on the wide adoption of hybrid cloud solutions by many CIOs of Saudi Organizations (Hoda, Ahmad and Melibari, n.d.).
The adoption of third party technologies has been increasing constantly, cloud technology, analytics software, mobility systems and social networking platforms are highly used in Saudi Arabia. Information systems have expanded due to the dynamicity of the technology world. The increased use of information systems is based on the efficiently that organizations accrue in the adoption of these technologies in their working premises. The cost of integration of information systems infrastructures in organizations is relatively expensive. The high cost of installation of makes it difficult for all organization to readily adopt these technologies, a few organization have been able to integrate these infrastructures due to their financial might (The 2nd International Conference on Ambient Systems, Networks and Technologies, 2011). In other cases, other companies prefer to take a step by step approach to the development of an IT infrastructure in their premises.
Businesses within the Saudi are adopting the development of key information systems like Data centers, expansion and the constant upgrade of existing networks, the progressive application of modernization. Business analytics is becoming a popular trend in Saudi, and the adoption of Big Data technologies has helped significantly in the development of data storage management and analysis for business. The CIOs of Saudi are faced with the challenge of managing the infrastructures they set up (Sait, Al-Tawil and Hussain, 2004). In many cases, the country if faced with a shortage of employees with proper IT skills, maintaining the security frameworks in the IT infrastructures set up, meeting regulatory compliance standards and driving innovation through technology.
The Informational systems spending goes through several faculties of information and communication technology. For instance, telecommunication and other IT infrastructures. IT spending goes in to describe the expenditure on hardware systems which comprises of systems, network storage i.e. databases, network, mobile phones, and other peripherals. Apart from hardware infrastructure. Mobile phones are the largest pushers for ICT spending in Saudi; this makes telecommunication and IT services levels out a 74.4% of the total ICT spending go, Saudi Arabia. It is predicted that in 2017, Mobile Phones will take up24.5% of ICT spending, systems 20%, Storage 1.5%, Network Equipment and finally 12.5% is taken up by packaged software services (Arab News, 2015).
The year 2013 saw to it that Saudi spent over 107.8 Billion SAR. These numbers are deemed to increase till 2017. Many CIOs of Saudi Organizations are taking a cautious approach when it comes to the adoption of cloud service. Many organization is going into the development of private cloud. Private cloud contributes to 53.1% of all the installations. It is predicted that it would soon run up to 70.7% that is until 2017 (Arab News, 2015). Many CIOs of organizations in Saudi prefer the installation of short-term cloud applications as opposed to long term deals (Idc-cema.com, 2016).
The Saudi Arabian government has been keen on the adoption of technology across the Kingdom; the government has attached great importance to the development of ICT, and this has been seen practically through the unprecedented commitment to ICT development. The governments key objective has been to diversify the economy. This pursuit has been implemented through the development of economic cities, the expansion of airports around the country, the transformation of the education system and policies and finally the upgrading of healthcare sectors around the country. These key sectors are being advised to adopt highly efficient information systems in order to build a highly dynamic system where all citizens data are able to be retrieved from any informational database within the network (Idc-cema.com, 2016).
Informational Systems in the country has been adopted in the development of major sectors in the country. The financial sector has benefited from informational systems through the expansion of bank networks for the purposes of boosting banking infrastructure. The Oil and Gas sector has incorporated Information Systems through the development of digital fields, the inclusion of security solutions that will benefit the sector, the deployment of private clouds has been instrumental in the dissemination of information in Oil and Gas companies. Telecommunication companies have been on the fore front in the adoption of information systems, the spending on ICT in this sector has been growing slowly due to increased competition in the sector. Currently, the telecommunication sector has embarked on the expansion of network infrastructures in a bid to improve customer experience.
Saudi CIOs have embarked on the deployment of business needed emerging technologies. The use of analytics software, mobility systems, and the cloud have been instrumental in revamping the business ecosystem in the kingdom (Fouad AlCattan, 2014).
Forecasts on the ICT spending of Saudi Arabia has indicated growth patterns that are likely to increase in future. The public sectors sending on the adoption of an information system is expected to increase to 6.79 billion SAR by 2017. The implementation of electronic services through transactional software that the public can access remotely. The secure government network and the Saudi Government Portal are underway and are planned to incorporate services by the public. Another application is the development of Messaging gateways, Business Continuity, and Data Centre consolidation. The Education sector has been boosted with the setup of Student Information Systems hand in hand with Learning Management Systems. All these resources are within the budgetary allocation of 210 billion SAR (Mcit.gov.sa, 2016). The Ministry of Education invested on Safeer, this is cloud based system that is used to help Saudi students living abroad.
The core reason for the introduction and increased spending on information systems by the Saudi organizations is fist by the high proliferation and use of mobile devices and computers among all citizens of the country. All the changes being implemented by the Saudi organizations is in a bid to develop the use of information systems in the country. CIOs in different sectors of the Saudi Economy are urging their management teams to look into his adoption of the latest information systems. Investment costs on the adoption of information systems frameworks are relatively expensive, and the costs are high within the market. Information systems have a way of improving the conduction of business within these organization and the distribution of information among the employees of every organization (IT Growth Market Series 2015 | Saudi Arabias Information and Communication Technology (ICT) market, 2016).
References
Arab News. (2015). Kingdomas ICT spending to exceed $35 billion in 2016. [online] Available at: http://www.arabnews.com/economy/news/852971 [Accessed 6 Jul. 2016].
Fouad AlCattan, R. (2014). Integration of Cloud Computing and Web2.0 Collaboration Technologies in E-Learning. International Journal of Computer Trends and Technology, 12(1), pp.46-55.
Hoda, N., Ahmad, A. and Melibari, A. (n.d.). Analysis of Demographic Factors, Internet Usage and Online Shopping for Social Media Users in Saudi Arabia. SSRN Electronic Journal.
Idc-cema.com. (2016). ICT Spending to Top $260 Billion in 2016 as Digital Transformation Initiatives Take Hold Across the Middle East, Turkey, and Africa | About IDC | IDC CEMA. [online] Available at: http://idc-cema.com/eng/about-idc/press-center/63154-ict-spending-to-top-260-billion-in-2016-as-digital-transformation-initiatives-take-hold-across-the-middle-east-turkey-and-africa [Accessed 6 Jul. 2016].
(http://www.hydrant.co.uk), S. (2015). Myanmar. [online] Oxford Business Group. Available at: http://www.oxfordbusinessgroup.com/country/saudi-arabia/ict [Accessed 6 Jul. 2016].
IT Growth Market Series 2015 | Saudi Arabiaas Information and Communication Technology (ICT) market. (2016). ICT Growth Market Series Saudi Arabia 2015. [online] Available at: http://www.itgrowthmarket.com/ict-growth-market-saudi-arabia [Accessed 6 Jul. 2016].
Mcit.gov.sa. (2016). ICT Spending to Near $37 Billion in 2015 in Saudi Businesses. [online] Available at: http://www.mcit.gov.sa/En/Communication/Pages/LocalNews/TelNews-28122014_986.aspx [Accessed 6 Jul. 2016].
Mcit.gov.sa. (2016). ICT Spending to Near $37 Billion in 2015 in Saudi Businesses. [online] Available at: http://www.mcit.gov.sa/En/Communication/Pages/LocalNews/TelNews-28122014_986.aspx [Accessed 6 Jul. 2016].
Sait, S., Al-Tawil, K. and Hussain, S. (2004). E-Commerce in Saudi Arabia: adoption and perspectives. AJIS, 12(1).
The 2nd International Conference on Ambient Systems, Networks and Technologies. (2011). Procedia Computer Science, 5, p.38.
Cite this page
Essay Sample on Spending on Information Systems by Saudi Organizations. (2019, Oct 10). Retrieved from https://speedypaper.com/essays/spending-on-information-systems-by-saudi-organizations
Request Removal
If you are the original author of this essay and no longer wish to have it published on the SpeedyPaper website, please click below to request its removal: