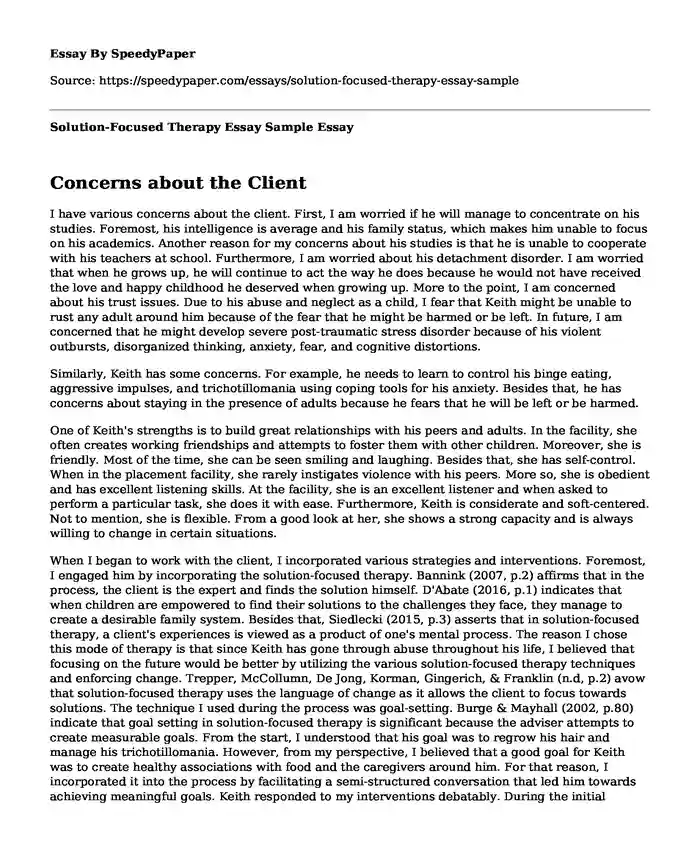 Concerns about the Client
I have various concerns about the client. First, I am worried if he will manage to concentrate on his studies. Foremost, his intelligence is average and his family status, which makes him unable to focus on his academics. Another reason for my concerns about his studies is that he is unable to cooperate with his teachers at school. Furthermore, I am worried about his detachment disorder. I am worried that when he grows up, he will continue to act the way he does because he would not have received the love and happy childhood he deserved when growing up. More to the point, I am concerned about his trust issues. Due to his abuse and neglect as a child, I fear that Keith might be unable to rust any adult around him because of the fear that he might be harmed or be left. In future, I am concerned that he might develop severe post-traumatic stress disorder because of his violent outbursts, disorganized thinking, anxiety, fear, and cognitive distortions.
Similarly, Keith has some concerns. For example, he needs to learn to control his binge eating, aggressive impulses, and trichotillomania using coping tools for his anxiety. Besides that, he has concerns about staying in the presence of adults because he fears that he will be left or be harmed.
One of Keith's strengths is to build great relationships with his peers and adults. In the facility, she often creates working friendships and attempts to foster them with other children. Moreover, she is friendly. Most of the time, she can be seen smiling and laughing. Besides that, she has self-control. When in the placement facility, she rarely instigates violence with his peers. More so, she is obedient and has excellent listening skills. At the facility, she is an excellent listener and when asked to perform a particular task, she does it with ease. Furthermore, Keith is considerate and soft-centered. Not to mention, she is flexible. From a good look at her, she shows a strong capacity and is always willing to change in certain situations.
When I began to work with the client, I incorporated various strategies and interventions. Foremost, I engaged him by incorporating the solution-focused therapy. Bannink (2007, p.2) affirms that in the process, the client is the expert and finds the solution himself. D'Abate (2016, p.1) indicates that when children are empowered to find their solutions to the challenges they face, they manage to create a desirable family system. Besides that, Siedlecki (2015, p.3) asserts that in solution-focused therapy, a client's experiences is viewed as a product of one's mental process. The reason I chose this mode of therapy is that since Keith has gone through abuse throughout his life, I believed that focusing on the future would be better by utilizing the various solution-focused therapy techniques and enforcing change. Trepper, McCollumn, De Jong, Korman, Gingerich, & Franklin (n.d, p.2) avow that solution-focused therapy uses the language of change as it allows the client to focus towards solutions. The technique I used during the process was goal-setting. Burge & Mayhall (2002, p.80) indicate that goal setting in solution-focused therapy is significant because the adviser attempts to create measurable goals. From the start, I understood that his goal was to regrow his hair and manage his trichotillomania. However, from my perspective, I believed that a good goal for Keith was to create healthy associations with food and the caregivers around him. For that reason, I incorporated it into the process by facilitating a semi-structured conversation that led him towards achieving meaningful goals. Keith responded to my interventions debatably. During the initial stages, he exhibited some resistance. When progress fails to shift, then resistance is likely to occur during therapy (Solution Focused Therapy n.d, p.1). Keith felt hopeless and believed that he would not manage to control his situation immediately. However, I addressed it by telling him that when setting goals, he should look at the exceptions. Macdonald (2011, p.16) affirms that asking about exceptions during goal-setting is significant because it improves a client's self-mastery. Overall, throughout the entire process, I saw myself as an enabler because, during our discussion, the client managed to solve problems using his competence.
Concerns about the Client's Family
Regarding the client's family system, one of my concerns is that they do not understand Keith's medical issues. Besides that, another concern, which I have, is that due to their low socio-economic status, they are unable to cater for Keith's needs when it comes to overcoming the trauma that he has suffered throughout his life. Buss, Warren, & Horton (2015, p.228) explains that low socio-economic status correlates with low academic performance. Essentially, my concerns have an impact on my client in a way that his concentration in academics is limited. Keith is unable to focus to school and often gets in trouble with his teachers because of the neglect he suffered while growing up. Besides that, I am afraid that Keith will be unable to overcome the trauma he has suffered because his family does not seem to understand his tribulations.
Within the family system, one of the strengths is acceptance. Particularly, his father accepted that Keith had a problem, and decided to put him up in a residential treatment facility. These strengths can be used to help the client in a way that they might minimize the trauma that he has faced all his life. In the placement facility, Keith attempts to be doing well because he is building relationships with the other children at his placement.
I would engage the family system, particularly, Keith's father during the solution-focused therapy. The reason I decided to include him during the process was not to air his view, but sit there and act as a comforter. Lipovsky & Hanson (2007, p.12) speaks of the family resolution process, which is a therapeutic goal towards changing the family dynamics. I believed that when Keith saw his father in the same room as him, he would open up to the solutions that would work best for him. Besides that, I spoke to the caregivers at the facility about the therapy process and let them know and understand Keith's goals. Thomas (2013, p.1) asserts that curiosity, respect, tentativeness, and non-pathologizing is what makes the therapy solution-focused. As the author adds, engagement of family fosters awareness of change, which is directed by the child and family.
From a personal perspective, regarding the family system, I believe that it is behaviorally nuanced. The patterns of abuse and neglect appear to be recurrent from Keith's step-mother, biological mother, and his cousins. Within the family system, there is np-win scenario. Despite being in a placement facility, Keith still has to focus on improving himself to overcome his trauma and fears. His father, on the other hand, is unable to have the son-father relationship with his child because he had to place him a treatment facility to change. Besides that, since the family manages to express their concerns when they see trouble instead of keeping secrets is incredible. By nature, children are a vulnerable population. Due to that, I believe that Keith's culture had nothing to do with the abuse and neglect that he has suffered.
References
Bannink, F. P. (2007). Solution-Focused Brief Therapy. J Contemp Psychother. DOI 10.1007/s10879-006-9040-y
Burg, J.E., & Mayhall, J. L. (2002). Techniques and Interventions of Solution-Focused Advising.The Advisors Toolbox. NACADA Journal, vol. 22, no.2.
Buss, K. E., Warren, J. M., & Horton, E. (2015). Trauma and Treatment in Early Childhood: A Review of the Historical and Emerging Literature for Counselors. The Professional Counselor, Volume 5, Issue 2, Pages 225-237.
D'Abate, D. A. (2016). Use of solution-focused and family narrative approaches in working with high conflict families: Strategies and techniques that can be utilized in parenting coordination and co-parenting coaching. Journal of Child Custody, vol. 13, Issue 4.
Lipovsky, J. A., & Hanson, R. F. (2007). Treatment of Child Victims of Abuse and Neglect.Retrieved from https://dc.statelibrary.sc.gov/bitstream/handle/10827/8522/CLC_Treatment_of_Child_Victims_2007.pdf?sequence=1&isAllowed=y
Macdonald. (2011), The Solution-focused Therapy Model: the First Session; Part 1. Retrieved from https://uk.sagepub.com/sites/default/files/upm-binaries/41972_9780857028907.pdf
Siedlecki, V. (2015). Solution Focused Brief Therapy. DOI: 10.13140/RG.2.1.4887.4961
Solution Focused Therapy. (n.d). Retrieved from http://www.psychpage.com/family/library/sft.htm
Thomas, F. (2013). Techniques with Children and their families that Fit Well with Solution focused Therapy. Retrieved from http://www.aamft.org/handouts/310.pdf
Trepper, T. S., McCollumn, E. E., De Jong, P., Korman, H., Gingerich, W., & Franklin, C. (n.d).Solution Focused Therapy Treatment Manual for Working with Individuals Research Committee of the Solution Focused Brief Therapy Association. Retrieved from http://www.complextrauma.uk/uploads/2/3/9/4/23949705/sft.pdf
Cite this page
Solution-Focused Therapy Essay Sample. (2022, Apr 20). Retrieved from https://speedypaper.com/essays/solution-focused-therapy-essay-sample
Request Removal
If you are the original author of this essay and no longer wish to have it published on the SpeedyPaper website, please click below to request its removal: