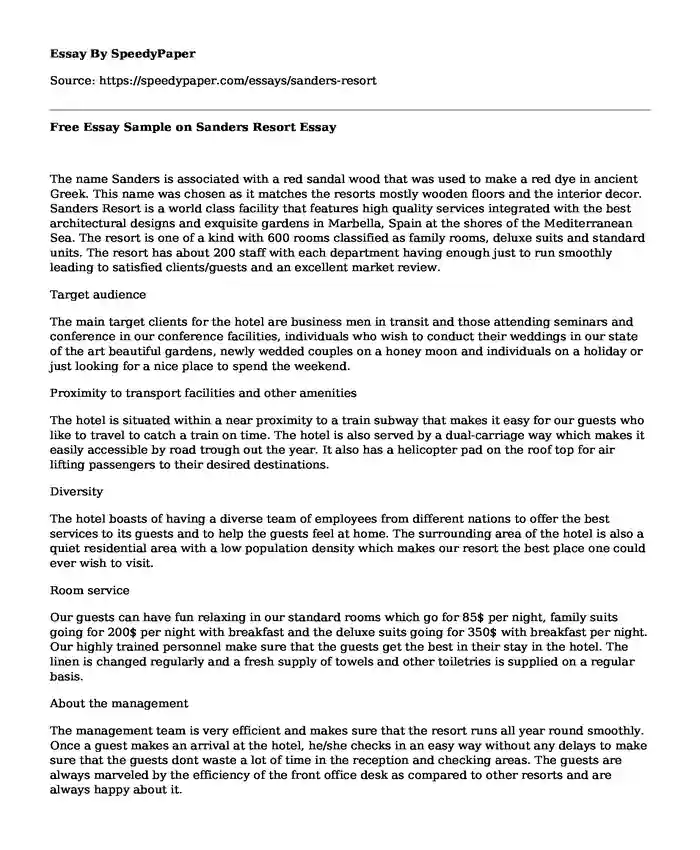 The name Sanders is associated with a red sandal wood that was used to make a red dye in ancient Greek. This name was chosen as it matches the resorts mostly wooden floors and the interior decor. Sanders Resort is a world class facility that features high quality services integrated with the best architectural designs and exquisite gardens in Marbella, Spain at the shores of the Mediterranean Sea. The resort is one of a kind with 600 rooms classified as family rooms, deluxe suits and standard units. The resort has about 200 staff with each department having enough just to run smoothly leading to satisfied clients/guests and an excellent market review.
Target audience
The main target clients for the hotel are business men in transit and those attending seminars and conference in our conference facilities, individuals who wish to conduct their weddings in our state of the art beautiful gardens, newly wedded couples on a honey moon and individuals on a holiday or just looking for a nice place to spend the weekend.
Proximity to transport facilities and other amenities
The hotel is situated within a near proximity to a train subway that makes it easy for our guests who like to travel to catch a train on time. The hotel is also served by a dual-carriage way which makes it easily accessible by road trough out the year. It also has a helicopter pad on the roof top for air lifting passengers to their desired destinations.
Diversity
The hotel boasts of having a diverse team of employees from different nations to offer the best services to its guests and to help the guests feel at home. The surrounding area of the hotel is also a quiet residential area with a low population density which makes our resort the best place one could ever wish to visit.
Room service
Our guests can have fun relaxing in our standard rooms which go for 85$ per night, family suits going for 200$ per night with breakfast and the deluxe suits going for 350$ with breakfast per night. Our highly trained personnel make sure that the guests get the best in their stay in the hotel. The linen is changed regularly and a fresh supply of towels and other toiletries is supplied on a regular basis.
About the management
The management team is very efficient and makes sure that the resort runs all year round smoothly. Once a guest makes an arrival at the hotel, he/she checks in an easy way without any delays to make sure that the guests dont waste a lot of time in the reception and checking areas. The guests are always marveled by the efficiency of the front office desk as compared to other resorts and are always happy about it.
Recreation facilities
The recreation facilities at the resort are not only elegant but also superior in nature. The resort boasts of having an Olympic size swimming pool that is operational 24 hours and is also heated to make sure that the guests also enjoy the facility even during winter. The resort also has a modern gymnasium and a highly trained team of body trainers and supervisors.
Tired and stressed up? Our team will help you relax in the sauna and spa as you enjoy a good massage to help you relax. We use natural oils and herbs from ancient Chinese therapists and high-quality sea salts to exfoliate and re-juvenate your skin to help you look brighter and feel fresh and lively. Other recreational facilities are a basketball court, a tennis court and a balling arena.
Special facilities
Coffee bar this is the place to go when you want to get that steamy cup of coffee for the day or in the evening. We feature a broad range of coffee blends from white, black, Irish, just to mention a few. Our coffee experts and tasters are highly experienced and deliver nothing but the best.
Italian restaurant- This restaurant deals with Italian cuisine at a good price and has a range of properly matured wine with some dating at 50 years from date of production. Here you can enjoy all forms of Italian-style dishes which are prepared by the best chefs from Italy.
Sushi bar- The sushi bar offers Japanese style sushi with the highest quality fresh fish and prepared just a few minutes before serving to our customers. This makes sure that our customers get the highest quality sushi which guarantees their value for the price.
The resort is also characterized by beautiful water fountains that are not only elegant in design but also very beautiful and the sound of the falling water complements that of the Mediterranean Sea which is within a very close proximity to the resort.
The resort also hosts an international food festival which features cuisines from all the continents and various bands and artists who come to entertain the guests. The festival also has some special features like live entertainment like open air circus and acrobatic shows as well as illusionists displaying mind blowing presentations.
The most popular themes in the resort are Chinese new year, the Halloween, Easter and Christmas day where the entire resort takes not only a new look from new decorations and paintings but also our guests get presents and can participate in various interactive tasks which are extremely fun and interesting.
Cite this page
Free Essay Sample on Sanders Resort. (2019, May 28). Retrieved from https://speedypaper.com/essays/sanders-resort
Request Removal
If you are the original author of this essay and no longer wish to have it published on the SpeedyPaper website, please click below to request its removal: