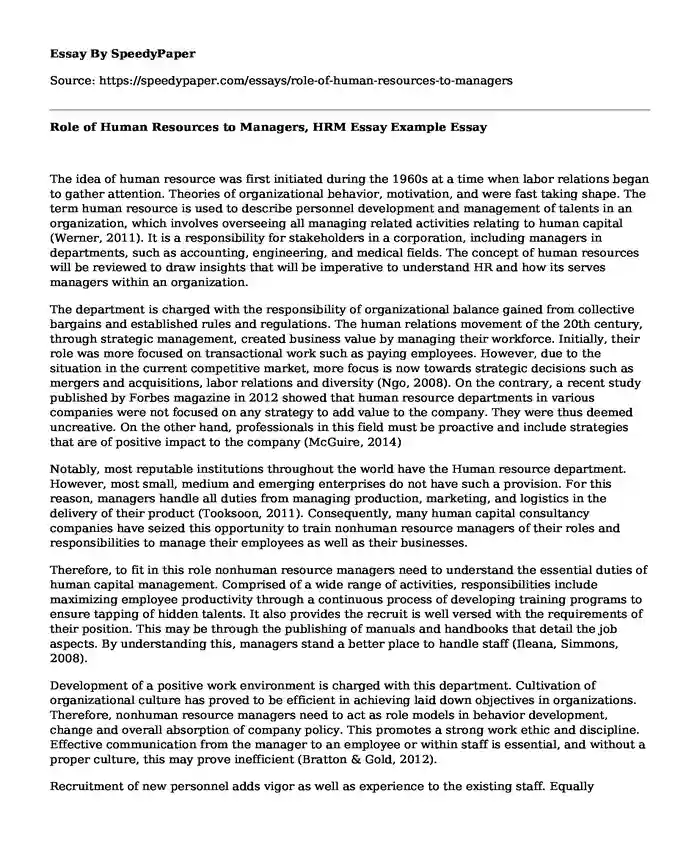 The idea of human resource was first initiated during the 1960s at a time when labor relations began to gather attention. Theories of organizational behavior, motivation, and were fast taking shape. The term human resource is used to describe personnel development and management of talents in an organization, which involves overseeing all managing related activities relating to human capital (Werner, 2011). It is a responsibility for stakeholders in a corporation, including managers in departments, such as accounting, engineering, and medical fields. The concept of human resources will be reviewed to draw insights that will be imperative to understand HR and how its serves managers within an organization.
The department is charged with the responsibility of organizational balance gained from collective bargains and established rules and regulations. The human relations movement of the 20th century, through strategic management, created business value by managing their workforce. Initially, their role was more focused on transactional work such as paying employees. However, due to the situation in the current competitive market, more focus is now towards strategic decisions such as mergers and acquisitions, labor relations and diversity (Ngo, 2008). On the contrary, a recent study published by Forbes magazine in 2012 showed that human resource departments in various companies were not focused on any strategy to add value to the company. They were thus deemed uncreative. On the other hand, professionals in this field must be proactive and include strategies that are of positive impact to the company (McGuire, 2014)
Notably, most reputable institutions throughout the world have the Human resource department. However, most small, medium and emerging enterprises do not have such a provision. For this reason, managers handle all duties from managing production, marketing, and logistics in the delivery of their product (Tooksoon, 2011). Consequently, many human capital consultancy companies have seized this opportunity to train nonhuman resource managers of their roles and responsibilities to manage their employees as well as their businesses.
Therefore, to fit in this role nonhuman resource managers need to understand the essential duties of human capital management. Comprised of a wide range of activities, responsibilities include maximizing employee productivity through a continuous process of developing training programs to ensure tapping of hidden talents. It also provides the recruit is well versed with the requirements of their position. This may be through the publishing of manuals and handbooks that detail the job aspects. By understanding this, managers stand a better place to handle staff (Ileana, Simmons, 2008).
Development of a positive work environment is charged with this department. Cultivation of organizational culture has proved to be efficient in achieving laid down objectives in organizations. Therefore, nonhuman resource managers need to act as role models in behavior development, change and overall absorption of company policy. This promotes a strong work ethic and discipline. Effective communication from the manager to an employee or within staff is essential, and without a proper culture, this may prove inefficient (Bratton & Gold, 2012).
Recruitment of new personnel adds vigor as well as experience to the existing staff. Equally important is the need to secure individual talent useful to achieving a company's goals. Job advertisements should include all aspects of an opening as well as interviewing conditions to candidates interested in that position. In hiring, the focus should be based on strengths and what value the personnel will bring to the company. Nonhuman resource managers should understand this role correctly not to bring in staff based on selfish interests.
In human resource, compliance with existing labor laws is a chief responsibility and often indicated on a company's job recruitment advertisement. A state's set of regulation may provide for inclusion of breaks for a particular period. To avoid overworking people, the number of hours worked should be checked as well as the shifts implemented to prevent work stress. Equality in gender and pay has in recent years dominated many discussions. Both male and females should have a chance to demonstrate their skills equally. This should be critically analyzed for managers to make informed decisions (Storey, 2007).
Dispensation of employee wages lies in the docket of the human resource manager. Therefore, they should device pay structures including compensation of their employees. Notably, In large companies the department that deals with remuneration is different from others however in smaller organizations, there may exist only one person in charge of disbursing wages. Pay should be on a timely basis for example at the end of the month, or after every two weeks of work likewise, healthcare benefits lie under this department.
It is common for conflict to ensure among employees, therefore, strengthening employee relationship can prove mutually beneficial to them and the company. Often, engaging in outdoor activities builds trust and resolves workplace conflict as well. By measuring job satisfaction, the manager can predict the character of individual staff. Conducting surveys from time to time especially on matters concerning contracts is a key requirement of labor relations (Hengky, 2013).
Employee performance improvement is a plan designed to help specific employees reach the expectation of their employers. The proposal includes a brief description of the behavior expected and the performance that needs to be worked on for example specific target in a sales company. Failure to meet such standards within a specified period may have repercussions.
Leadership training of professionals is a widely used method to develop character and efficiency of employees. Practice is professionally motivated and helps staff get job promotions. Through the provision of tuition assistance or applying programs that offer reimbursement after training is a significant way to improve personal development goals. This is mutually beneficial the new ideas impact the organization positively.
It is the responsibility of a manager to ensure the health and safety of their workers. Cases have been recorded where employees suffer certain diseases such as cancer especially for gold mining companies which has specific processes that involve Cyanide chemical. Proper protective gear should be provided as compensating such workers might be a significant cost for the company. Workplace injury reporting and review should be done periodically to prevent further health damage in the future (Hengky, 2013).
Reward programs should be generated by human capital managers to appreciate hard working employees. This encourages employees to do their best and improves the overall turnovers o a company. Other staff gains inspiration to outdo themselves creating a profitable work environment. Such programs attract aspiring future leaders to be more productive and pay attention to detail. This is in line with Maslow's theory of motivation.
In conclusion, the concept of human resources is that the output of an employee is directly proportional to their management. The ability to tap hidden talents is through motivation and creating conducive work environment. Satisfactory pay according to input hours should also be considered. Moreover, women should be accorded equal rights in pay and promotions just like their male counterparts (Bratton & Gold, 2012).
The current human resource management system is different from the earlier approach which concentrated on mostly personnel and administrative duties. Instead, the management staff is usually more focused on value addition through efficient strategic utilization of employees. Likewise, the introduction of employee inclusion in education programs has been observed to be mutually beneficial.
Notably, nonhuman resource managers should be keen to understand the roles and responsibilities of personnel managers. This is especially important to small enterprises where one person is likely to handle several duties at the same time (Bratton, 2012).
References
Werner, J. M., &DeSimone, R. L. (2011).Human resource development.Cengage Learning.
Bratton, J., & Gold, J. (2012).Human resource management: theory and practice. Palgrave Macmillan.
McGuire, D. (2014). Human resource development. Sage.
Ileana Petrescu, A., & Simmons, R. (2008). Human resource management practices and workers' job satisfaction. International Journal of Manpower, 29(7), 651-667.
Ngo, H. Y., Lau, C. M., & Foley, S. (2008). Strategic human resource management, firm performance, and employee relations climate in China. Human Resource Management, 47(1), 73-90.
Tooksoon, H. M. P. (2011). Conceptual framework on the relationship between human resources management practices, job satisfaction, and turnover.Journal of Economics and Behavioral Studies, 2(2), 41-49.
Hengky, S. H. (2013). Fundamentals of human resource management.Journal of Human Resources Management and Labor Studies, 1(2), 39-40.
Storey, J. (2007). Human resource management: A critical text. Cengage Learning EMEA.
Cite this page
Role of Human Resources to Managers, HRM Essay Example. (2022, Mar 23). Retrieved from https://speedypaper.com/essays/role-of-human-resources-to-managers
Request Removal
If you are the original author of this essay and no longer wish to have it published on the SpeedyPaper website, please click below to request its removal: