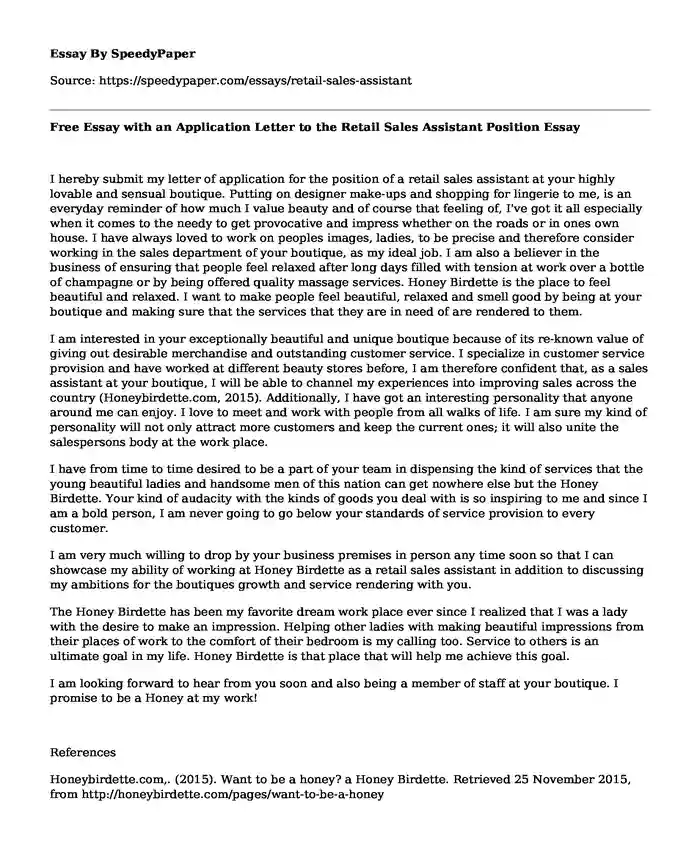 I hereby submit my letter of application for the position of a retail sales assistant at your highly lovable and sensual boutique. Putting on designer make-ups and shopping for lingerie to me, is an everyday reminder of how much I value beauty and of course that feeling of, I've got it all especially when it comes to the needy to get provocative and impress whether on the roads or in ones own house. I have always loved to work on peoples images, ladies, to be precise and therefore consider working in the sales department of your boutique, as my ideal job. I am also a believer in the business of ensuring that people feel relaxed after long days filled with tension at work over a bottle of champagne or by being offered quality massage services. Honey Birdette is the place to feel beautiful and relaxed. I want to make people feel beautiful, relaxed and smell good by being at your boutique and making sure that the services that they are in need of are rendered to them.
I am interested in your exceptionally beautiful and unique boutique because of its re-known value of giving out desirable merchandise and outstanding customer service. I specialize in customer service provision and have worked at different beauty stores before, I am therefore confident that, as a sales assistant at your boutique, I will be able to channel my experiences into improving sales across the country (Honeybirdette.com, 2015). Additionally, I have got an interesting personality that anyone around me can enjoy. I love to meet and work with people from all walks of life. I am sure my kind of personality will not only attract more customers and keep the current ones; it will also unite the salespersons body at the work place.
I have from time to time desired to be a part of your team in dispensing the kind of services that the young beautiful ladies and handsome men of this nation can get nowhere else but the Honey Birdette. Your kind of audacity with the kinds of goods you deal with is so inspiring to me and since I am a bold person, I am never going to go below your standards of service provision to every customer.
I am very much willing to drop by your business premises in person any time soon so that I can showcase my ability of working at Honey Birdette as a retail sales assistant in addition to discussing my ambitions for the boutiques growth and service rendering with you.
The Honey Birdette has been my favorite dream work place ever since I realized that I was a lady with the desire to make an impression. Helping other ladies with making beautiful impressions from their places of work to the comfort of their bedroom is my calling too. Service to others is an ultimate goal in my life. Honey Birdette is that place that will help me achieve this goal.
I am looking forward to hear from you soon and also being a member of staff at your boutique. I promise to be a Honey at my work!
References
Honeybirdette.com,. (2015). Want to be a honey? a Honey Birdette. Retrieved 25 November 2015, from http://honeybirdette.com/pages/want-to-be-a-honey
Cite this page
Free Essay with an Application Letter to the Retail Sales Assistant Position. (2021, Jan 25). Retrieved from https://speedypaper.com/essays/retail-sales-assistant
Request Removal
If you are the original author of this essay and no longer wish to have it published on the SpeedyPaper website, please click below to request its removal: