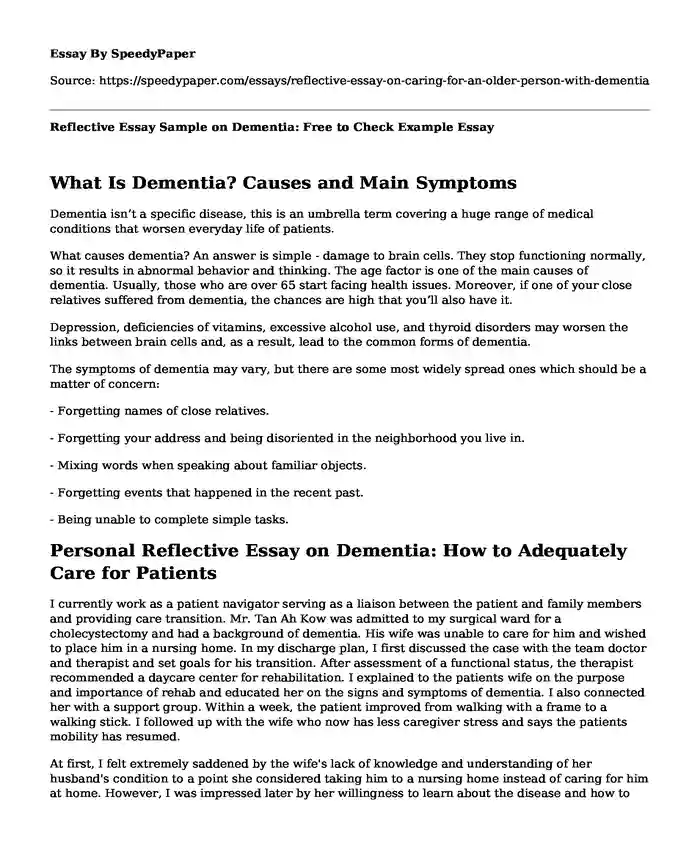 What Is Dementia? Causes and Main Symptoms
Dementia isn't a specific disease, this is an umbrella term covering a huge range of medical conditions that worsen everyday life of patients.
What causes dementia? An answer is simple - damage to brain cells. They stop functioning normally, so it results in abnormal behavior and thinking. The age factor is one of the main causes of dementia. Usually, those who are over 65 start facing health issues. Moreover, if one of your close relatives suffered from dementia, the chances are high that you'll also have it.
Depression, deficiencies of vitamins, excessive alcohol use, and thyroid disorders may worsen the links between brain cells and, as a result, lead to the common forms of dementia.
The symptoms of dementia may vary, but there are some most widely spread ones which should be a matter of concern:
- Forgetting names of close relatives.
- Forgetting your address and being disoriented in the neighborhood you live in.
- Mixing words when speaking about familiar objects.
- Forgetting events that happened in the recent past.
- Being unable to complete simple tasks.
Personal Reflective Essay on Dementia: How to Adequately Care for Patients
I currently work as a patient navigator serving as a liaison between the patient and family members and providing care transition. Mr. Tan Ah Kow was admitted to my surgical ward for a cholecystectomy and had a background of dementia. His wife was unable to care for him and wished to place him in a nursing home. In my discharge plan, I first discussed the case with the team doctor and therapist and set goals for his transition. After assessment of a functional status, the therapist recommended a daycare center for rehabilitation. I explained to the patients wife on the purpose and importance of rehab and educated her on the signs and symptoms of dementia. I also connected her with a support group. Within a week, the patient improved from walking with a frame to a walking stick. I followed up with the wife who now has less caregiver stress and says the patients mobility has resumed.
At first, I felt extremely saddened by the wife's lack of knowledge and understanding of her husband's condition to a point she considered taking him to a nursing home instead of caring for him at home. However, I was impressed later by her willingness to learn about the disease and how to care for her husband. Like many other family members, she needed support and help in learning how to care for her husband (Borbasi et al, 2011). I was also encouraged by the therapists and team doctors to help and support in formulating a discharge plan. Their input proved extremely vital in the patients transition.The positive outcome of the case motivated me to work harder at my job and help more patients to transition.
Usually, when patients come into the hospital for procedures, they are treated and discharged. In Mr. Tan's case, his dementia background was addressed and appropriate care provided. Another positive thing is that the nurses and medical care providers all treated Mr. Tan with dignity and respect when caring for him despite the difficulties his condition presents (Sorlie et al, 2013). Nolan (2011) described complications and frustrations brought about by the ever changing needs of people with dementia as one of the experiences of nurses and hospital staff dealing with dementia patients. Also, it was a positive observation that patients with dementia can improve significantly if given the proper care and support not only by medical practitioners but also their family and caregivers (Smith, Smith, & Toseland, 2011).
What was negative for me in the situation was how Mr. Tan's wife had no knowledge, information or support about her husband's condition even though he had suffered from dementia for a while. Kaplan (2012) states that caring for dementia patients can cause sleep deprivation, insufficient relaxation and nutrition and the caregivers often exceed their physical and mental capacities in an attempt to care for their sick loved ones.
Another negative thing was the fact that the hospital could not provide all the care, support, and information that Mr. Tan and his wife needed to his improvement and transition. We had to refer elsewhere for rehabilitation and support. Some family members may neglect to care for the sick which ultimately leads to the deterioration of their health (Smith et al, 2012).
The situation was made better by the fact that I did not judge Mr. Tan's wife for her lack of knowledge and information on how to help her husband. If I had reacted rudely and berated her for having a dementia patient without knowing how to be a caregiver for that patient, it would have impeded Mr. Tan's recovery and transition and it would have stressed his wife further. Nurses are supposed to be patient, understanding and accommodating to the families and the patients (Aiken et al, 2011).
My major belief is that the patients need a lot of care but the key to ensuring that they get the best care is to take care of and provide support for their families who will end up being the patient's primary caregivers (Zandi & Ham, 2012). Providing some support to Mr. Tan's wife, referring her to support groups and rehabilitation centers and following up on her to know how she is fairing as a caregiver showed my values and beliefs about providing the best care for the patients.
I also recognized that working with other caregivers in the hospital goes a long way in providing the best care for patients. According to Hee & Hee (2015), it takes a team effort between different physicians and caregivers for a patient to improve or be more comfortable with their illness. Realizing that we need each other's assistance is the first step to a patient's care process. If I had not seen the value of teamwork, then I would not have been able to reach out the wife and encourage her or follow up on her and her husband's progress.
In retrospect, I would have done a few things differently. With regards to the follow- up, I would have supplemented the phone calls with one or two visits to their home just to ensure that Mr. Tan was doing well and improving. According to Humphrey (2011), the best care possible must be provided by a patient navigator. Sometimes being a liaison requires actual visits to know how the patient is coping so that additional care can be recommended.
Another thing I would have done differently is to recommend intensive rehabilitation for Mr. Tan. His wife was already under a lot of stress, that is why I recommended just the rehabilitation that he needed urgently to help him walk. According to the Alzheimer's Society (2016), intensive rehabilitation can be provided in the hospital wards. This intensive rehabilitation consists of daily living aids, help with the use of equipment and appliances, training of the caregiver, medical and caregiving advice, physiotherapy, drug treatment, speech therapy, and listening to the patients concerns. This would have enabled me to monitor his progress and be able to adjust his care needs accordingly.
Also, I would have also recommended liaison psychiatry which enables the patients psychiatric problems to recognized and managed in the hospital instead of referrals to other psychiatrists. Liaison psychiatry is ideal for the elderly because it would help the patient to improve his physical function which in turn would reduce the amount of time the patient would have to spend in hospitals or the need to be admitted into a nursing home (Wiles, 2013). This would have enabled me to assess the actual state that Mr. Tan is in and to recommend the appropriate care goals and referrals.
Lastly, I would not have excluded Mr. Tan in the decisions made about his health care. In as much as some dementia patients cannot make decisions on their own owing to their mental states, some do have moments when they are lucid and are able to voice opinions or allude as to their healthcare preferences. Mr. Tan would probably have preferred to remain in the hospital or a care facility (Croft, 2015).
In future, I need to be more assertive with the doctors and hospital staff, especially when it comes to patients entrusted to my care and guidance. Sometimes listening to others more than the patient can cause improper healthcare recommendations which would not help the patient. In addition, I also need to listen more to the patient and their immediate family because they know more about the patient than a medical test could reveal. Listening to the patient would lead to more efficient recommendations for their health care. I would also need to do a lot more follow up on the patients than just occasional phone calls to their caregivers. This is because they have been cases of some caregivers exaggerating the patients state and impeding their progress and improvement. I would also need to work closely with the hospital staff and doctors which not only allows me to better assist my patients but also improves my knowledge and skill in caring for dementia patients. Lastly, I would also train the nurses and support staff on how to adequately care for patients.
References
Alzheimers Society. (2016). The Journal of Quality Research in Dementia. Issue 8 (lay Version). Retreived on April 20, 2016 from http://www.alzheimers.org.uk/site/scripts/documents_info
Borbasi, S., Jones, J., Lockwood, C., & Emden, C. (2011). Health professionals perspectives of providing care to people with dementia in the acute setting: Toward better practice. Geriatric Nursing, 27(5), 300308. doi: 10.1016/j.gerinurse.2006.08.013.
Croft, H. (2015). Caring in the Community. A training manual for home and community carers. Pearson Australia.
Hee, R., & Hee, L. (2015). Practical Insights into Caring for Someone with Dementia: A Practical Handbook. Australian eBook Publishers.
Humphrey, J. M. (2015). Nurses Experience of Caring for Dementia Patients who Exhibit Challenging Behaviours. BiblioBazaar.
Kaplan, M. (2012). Clinical Practice with Caregivers of Dementia Patients. Taylor and Francis Publishers, 126 129.
Nolan, L. (2011). Mental health. Caring for people with dementia in the acute setting: study of nurses views. British Journal of Nursing, 16(7), 419422
Sorlie, V., Kihlgren, A., & Kihlgren, M. (2013). Meeting ethical challenges in acute nursing care as narrated by registered nurses. Nursing Ethics, 12(2), 133142
Smith, G. C., Smith, M. F., & Toseland, R. W. (2011). Problems Identified by Family Caregivers in Counselling. The Gerontologist, 31, 15 22.
Wiles, N. J. (2013). Alzheimers Care: The Caregivers Guide to Understanding Alzheimers Disease and Best Practices to Care for People with Alzheimers and Dementia. Living Plus Healthy Publishing.
Zandi, T., & Ham, R. J. (2012). New Direction in Understanding Dementia and Alzheimers Disease. Plenum Press. New York and London.
Cite this page
Reflective Essay Sample on Dementia: Free to Check Example. (2019, Aug 30). Retrieved from https://speedypaper.com/essays/reflective-essay-on-caring-for-an-older-person-with-dementia
Request Removal
If you are the original author of this essay and no longer wish to have it published on the SpeedyPaper website, please click below to request its removal: