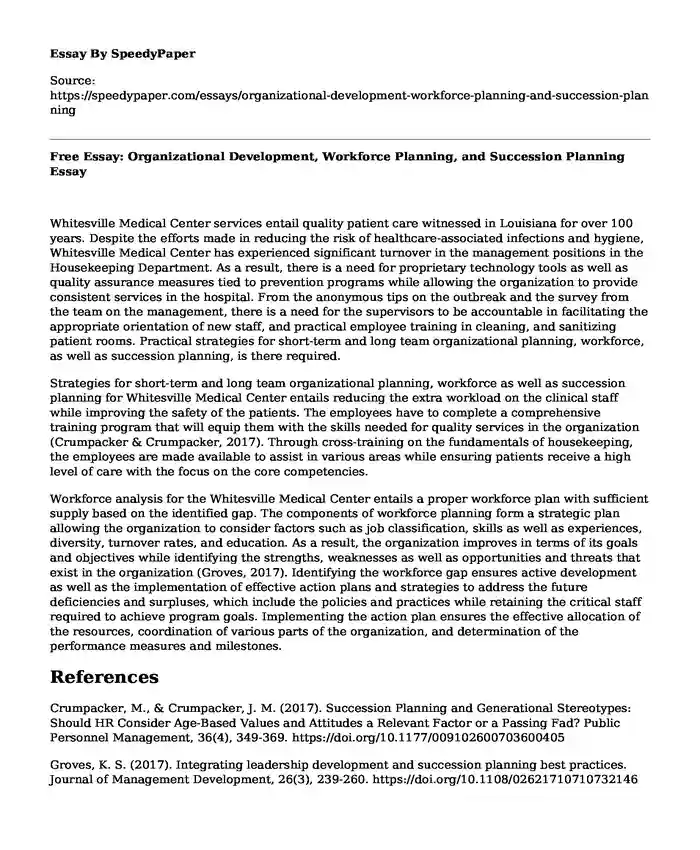 Whitesville Medical Center services entail quality patient care witnessed in Louisiana for over 100 years. Despite the efforts made in reducing the risk of healthcare-associated infections and hygiene, Whitesville Medical Center has experienced significant turnover in the management positions in the Housekeeping Department. As a result, there is a need for proprietary technology tools as well as quality assurance measures tied to prevention programs while allowing the organization to provide consistent services in the hospital. From the anonymous tips on the outbreak and the survey from the team on the management, there is a need for the supervisors to be accountable in facilitating the appropriate orientation of new staff, and practical employee training in cleaning, and sanitizing patient rooms. Practical strategies for short-term and long team organizational planning, workforce, as well as succession planning, is there required.
Strategies for short-term and long team organizational planning, workforce as well as succession planning for Whitesville Medical Center entails reducing the extra workload on the clinical staff while improving the safety of the patients. The employees have to complete a comprehensive training program that will equip them with the skills needed for quality services in the organization (Crumpacker & Crumpacker, 2017). Through cross-training on the fundamentals of housekeeping, the employees are made available to assist in various areas while ensuring patients receive a high level of care with the focus on the core competencies.
Workforce analysis for the Whitesville Medical Center entails a proper workforce plan with sufficient supply based on the identified gap. The components of workforce planning form a strategic plan allowing the organization to consider factors such as job classification, skills as well as experiences, diversity, turnover rates, and education. As a result, the organization improves in terms of its goals and objectives while identifying the strengths, weaknesses as well as opportunities and threats that exist in the organization (Groves, 2017). Identifying the workforce gap ensures active development as well as the implementation of effective action plans and strategies to address the future deficiencies and surpluses, which include the policies and practices while retaining the critical staff required to achieve program goals. Implementing the action plan ensures the effective allocation of the resources, coordination of various parts of the organization, and determination of the performance measures and milestones.
References
Crumpacker, M., & Crumpacker, J. M. (2017). Succession Planning and Generational Stereotypes: Should HR Consider Age-Based Values and Attitudes a Relevant Factor or a Passing Fad? Public Personnel Management, 36(4), 349-369. https://doi.org/10.1177/009102600703600405
Groves, K. S. (2017). Integrating leadership development and succession planning best practices. Journal of Management Development, 26(3), 239-260. https://doi.org/10.1108/02621710710732146
Cite this page
Free Essay: Organizational Development, Workforce Planning, and Succession Planning. (2023, Mar 22). Retrieved from https://speedypaper.com/essays/organizational-development-workforce-planning-and-succession-planning
Request Removal
If you are the original author of this essay and no longer wish to have it published on the SpeedyPaper website, please click below to request its removal: