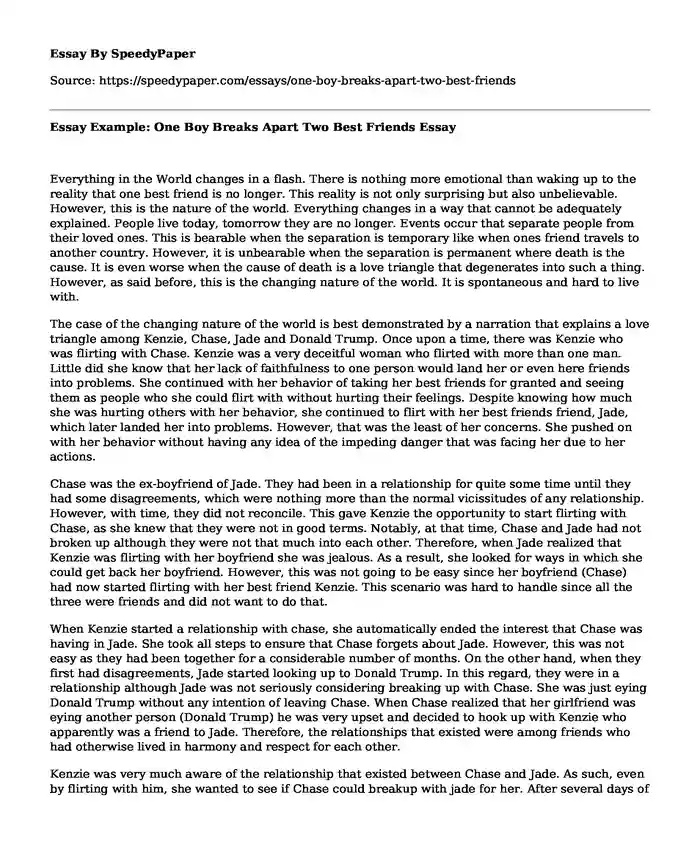 Everything in the World changes in a flash. There is nothing more emotional than waking up to the reality that one best friend is no longer. This reality is not only surprising but also unbelievable. However, this is the nature of the world. Everything changes in a way that cannot be adequately explained. People live today, tomorrow they are no longer. Events occur that separate people from their loved ones. This is bearable when the separation is temporary like when ones friend travels to another country. However, it is unbearable when the separation is permanent where death is the cause. It is even worse when the cause of death is a love triangle that degenerates into such a thing. However, as said before, this is the changing nature of the world. It is spontaneous and hard to live with.
The case of the changing nature of the world is best demonstrated by a narration that explains a love triangle among Kenzie, Chase, Jade and Donald Trump. Once upon a time, there was Kenzie who was flirting with Chase. Kenzie was a very deceitful woman who flirted with more than one man. Little did she know that her lack of faithfulness to one person would land her or even here friends into problems. She continued with her behavior of taking her best friends for granted and seeing them as people who she could flirt with without hurting their feelings. Despite knowing how much she was hurting others with her behavior, she continued to flirt with her best friends friend, Jade, which later landed her into problems. However, that was the least of her concerns. She pushed on with her behavior without having any idea of the impeding danger that was facing her due to her actions.
Chase was the ex-boyfriend of Jade. They had been in a relationship for quite some time until they had some disagreements, which were nothing more than the normal vicissitudes of any relationship. However, with time, they did not reconcile. This gave Kenzie the opportunity to start flirting with Chase, as she knew that they were not in good terms. Notably, at that time, Chase and Jade had not broken up although they were not that much into each other. Therefore, when Jade realized that Kenzie was flirting with her boyfriend she was jealous. As a result, she looked for ways in which she could get back her boyfriend. However, this was not going to be easy since her boyfriend (Chase) had now started flirting with her best friend Kenzie. This scenario was hard to handle since all the three were friends and did not want to do that.
When Kenzie started a relationship with chase, she automatically ended the interest that Chase was having in Jade. She took all steps to ensure that Chase forgets about Jade. However, this was not easy as they had been together for a considerable number of months. On the other hand, when they first had disagreements, Jade started looking up to Donald Trump. In this regard, they were in a relationship although Jade was not seriously considering breaking up with Chase. She was just eying Donald Trump without any intention of leaving Chase. When Chase realized that her girlfriend was eying another person (Donald Trump) he was very upset and decided to hook up with Kenzie who apparently was a friend to Jade. Therefore, the relationships that existed were among friends who had otherwise lived in harmony and respect for each other.
Kenzie was very much aware of the relationship that existed between Chase and Jade. As such, even by flirting with him, she wanted to see if Chase could breakup with jade for her. After several days of convincing him of how she was going to love him, Chase gave into Kenzies demands and he broke up with Jade. Jade did not take this lightly as there were several things that she felt that she had lost. One of those is that she had lost the fight for her love to Kenzie. In this case, she had lost her boyfriend Chase to Kenzie. Additionally, her ego had been lowered by those events, as she could not stand the prospect of seeing the two together. Despite her efforts to get back to Chase, she was unsuccessful and Kenzie and Chase continued to enjoy their new love. She lived in agony and stress thinking about her past events with her now ex-boyfriend Chase. She did not even sleep enough when she thought about how easily she had lost Chase to Kenzie. Every time she saw them together, her concentration in whatever she was doing was lost. She just could not stand it. She thought deeply on how she was going to make it right and get her esteemed lover (Chase) back.
Kenzie continued to enjoy her time with Chase. However, behind his back, she was also seeing other male friends, as she could not be satisfied with loving one man, Chase. However, Chase had no idea of what was happening. Donald Trump, on the other hand, was plying his tricks to ensure that he gets the love of Jade. Jade, was not interested in Donald Trump but rather on the best way she could use to get back on Chase. Unaware of what was happening, Chase bought Kenzie gifts and showered her with other lovely items in display of his love. Kenzie was very happy that Chase was not aware that she was seeing other men behind her back. She used to ridicule Jade, reminding her that she could not know how to keep her man. Additionally she told her that she had taken care of Chase and that is why she (Jade) would never have him back. After around two weeks of ridicule and being looked down upon, Jade was tired of it all. She had a plan; she was going to eliminate Kenzie so that she (Jade) could get her lover and friend Chase back.
Every time that Jade tried to get back with Chase, Kenzie got into their way. Specifically, she did not even want the two to meet let alone talk. Each moment that Chase and Jade were trying to talk, Kenzie came running and whisked Chase away pretending that she had a very important thing to tell her. However, when they (Chase and Kenzie) were away, all she (Kenzie) did was to intoxicate his mind with lies about Chase. For instance, she lied to him how Jade has so many boyfriends and that she did not love her at all. Additionally, she told him how he would not benefit from his relationship with Jade. These lies served to make Chase even more hateful to Jade despite having spent time together. Indeed, although Chase was still hopeful of reviving his relationship with Jade, his attempts were thwarted by the lies that he got from Kenzie.
For some time, Jade lived in jealousy and agony knowing that getting back to chase was an uphill task. She even prayed so that she could get back with him. However, in the way that things were happening, she was sure that it would take a miracle. However, she did not give up. During all this time, Donald Trump was still pursuing Jade despite being unsuccessful in several instances. At times, he was very disappointed by the fact that Jade was not interested in him but rather in Chase. As such, he (Donald Trump) developed hate towards Chase as he thought that he (Chase) was the impediment to this relationship with Jade. He was jealous of Chase as he (Chase) was already flirting with Kenzie and being pursued by Jade. Notably, there were two instances of hate that existed. First, was the hate Jade had on Kenzie and secondly, the hate that Donald Trump had on chase.
Finally, when Jade was unsuccessfully to win Chase back through dialogue, she vowed never to let him be in relationship with Kenzie. When her jealousy reached the climax, she decided to take care of Kenzie. In order to take that care, he decided that he had to get back Chase through hook and crook. Unfortunately, with Kenzie preventing their reconciliation, Jade had to two options, to either eliminate Kenzie or risk her heart. She chose the latter. Therefore, she made a plan on how she was going to eliminate her. In this regard, she planned that she was going to pretend that they were friends and poison her food. This is what happened on one day when they (Kenzie and Jade) went out in to play while carrying their snacks. In this particular day, Kenzie was carrying a snack that had been poisoned. When it was time for them to take the snacks, Jade exchanged the snack and gave Kenzie the one that had been positioned. Several minutes after Kenzie had taken the snack; she began feeling dizzy, vomiting and dehydrated. An ambulance arrived ten minutes later and took Kenzie to hospital. However, on arrival she was confirmed dead. Many were astonished and perplexed by such an indefinite event that they did not anticipate.
This story was a clear testament of how everything in the world changes in a flash. Kenzie was with her friends days earlier; however, she passed away just without any substantial justification. Jade killed her for the sake of her love with Chase. People could not believe it. Her friends could not decipher what had happened. They cursed whatever caused her death. However, that was it; she was gone and gone forever. Her parents could not stand the prospect of losing their daughter. Nevertheless, they had to accept that whatever happened is the state of the world where everything changes in a flash. Indeed, the love triangle had caused this unfortunate event. Jades jealousy caused this death. Chase had broken the friendship between Kenzie and jade. Indeed, everything in the world changes in a flash.
Cite this page
Essay Example: One Boy Breaks Apart Two Best Friends. (2019, Oct 02). Retrieved from https://speedypaper.com/essays/one-boy-breaks-apart-two-best-friends
Request Removal
If you are the original author of this essay and no longer wish to have it published on the SpeedyPaper website, please click below to request its removal: