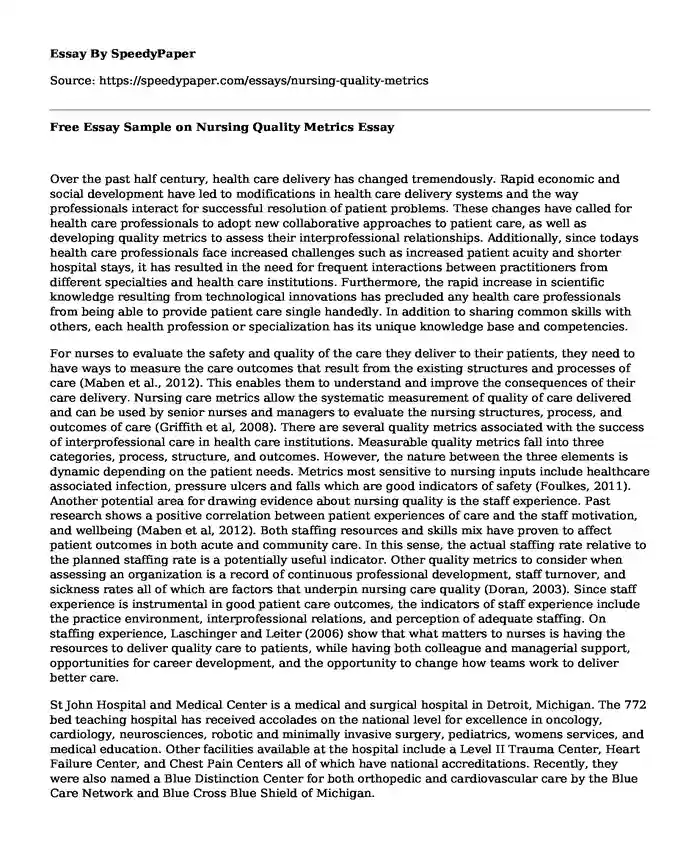 Over the past half century, health care delivery has changed tremendously. Rapid economic and social development have led to modifications in health care delivery systems and the way professionals interact for successful resolution of patient problems. These changes have called for health care professionals to adopt new collaborative approaches to patient care, as well as developing quality metrics to assess their interprofessional relationships. Additionally, since todays health care professionals face increased challenges such as increased patient acuity and shorter hospital stays, it has resulted in the need for frequent interactions between practitioners from different specialties and health care institutions. Furthermore, the rapid increase in scientific knowledge resulting from technological innovations has precluded any health care professionals from being able to provide patient care single handedly. In addition to sharing common skills with others, each health profession or specialization has its unique knowledge base and competencies.
For nurses to evaluate the safety and quality of the care they deliver to their patients, they need to have ways to measure the care outcomes that result from the existing structures and processes of care (Maben et al., 2012). This enables them to understand and improve the consequences of their care delivery. Nursing care metrics allow the systematic measurement of quality of care delivered and can be used by senior nurses and managers to evaluate the nursing structures, process, and outcomes of care (Griffith et al, 2008). There are several quality metrics associated with the success of interprofessional care in health care institutions. Measurable quality metrics fall into three categories, process, structure, and outcomes. However, the nature between the three elements is dynamic depending on the patient needs. Metrics most sensitive to nursing inputs include healthcare associated infection, pressure ulcers and falls which are good indicators of safety (Foulkes, 2011). Another potential area for drawing evidence about nursing quality is the staff experience. Past research shows a positive correlation between patient experiences of care and the staff motivation, and wellbeing (Maben et al, 2012). Both staffing resources and skills mix have proven to affect patient outcomes in both acute and community care. In this sense, the actual staffing rate relative to the planned staffing rate is a potentially useful indicator. Other quality metrics to consider when assessing an organization is a record of continuous professional development, staff turnover, and sickness rates all of which are factors that underpin nursing care quality (Doran, 2003). Since staff experience is instrumental in good patient care outcomes, the indicators of staff experience include the practice environment, interprofessional relations, and perception of adequate staffing. On staffing experience, Laschinger and Leiter (2006) show that what matters to nurses is having the resources to deliver quality care to patients, while having both colleague and managerial support, opportunities for career development, and the opportunity to change how teams work to deliver better care.
St John Hospital and Medical Center is a medical and surgical hospital in Detroit, Michigan. The 772 bed teaching hospital has received accolades on the national level for excellence in oncology, cardiology, neurosciences, robotic and minimally invasive surgery, pediatrics, womens services, and medical education. Other facilities available at the hospital include a Level II Trauma Center, Heart Failure Center, and Chest Pain Centers all of which have national accreditations. Recently, they were also named a Blue Distinction Center for both orthopedic and cardiovascular care by the Blue Care Network and Blue Cross Blue Shield of Michigan.
On patient outcomes, the overall patient survival at the hospital is above average. The St John Hospital and Medical care mortality rate is 14% better than the national average based on the national rate for clinical illnesses. The mortality rate from heart attack was 14% while heart failure was 9% and Pneumonia related deaths were 10%. Drug resistant bacterial are one of the largest health care issues facing the United States with a rising number of drug resistant bacteria due to unnecessary use among humans with hospitalization for relatively minor reasons. In the past year, the hospital has had 72 cases of C. Diff which has a 17% mortality rate after a year while they had 32 cases of MRSA which causes blood stream infections and surgical site infections. While this number is below the national average, the hospital should work on reducing the number of patient infections resulting from medical care. Most of these infections are caused by unclean care environments (Dancer, White, & Robertson, 2008). This has been a major patient complaint especially for those undergoing surgical operations.
One of the major complaints against the hospital is the amount of time spent waiting for medical assistance. In the past, some patients have complained of waiting for a long time in the emergency room before receiving medication even for moderately serious cases. The average wait time in the emergency room is 24 minutes while the average resolution time for non-critical cases is 2 hours and 49 minutes. Serious cases have higher figures as they require an average of 3 hours and 49 minutes for admission and an additional hour-long delay before going to their rooms. One of the factors affecting patient satisfaction is the amount of time spent waiting for a professional to provide assistance and if needed, medication. In this aspect, St Johns Hospital and Medical Center needs improvements which will decrease the amount of time spent in the hospital.
The nurses at the hospital are open to interprofessional collaboration as compared to other hospitals in the region. There have been positive patient reviews with most highlighting how the nurses take time to communicate well with the patients informing them of medication objectives and the options available before commencing medication. Additionally, doctors also communicate well with patients which serves to increase patient satisfaction with the quality of care. However, the nurses were dissatisfied with the limited involvement in the decision making process regarding patient care and would like an increase in their involvement in policy development. The technology in use at the hospital is state of the art which has enabled the medical practitioners to perform their duties with increased ease while also facilitating easy collection and maintenance of patient data.
It is clear that St Johns Hospital and Medical Center needs to increase their staff in order to provide quality care to patients and reduce the number of patient infections occurring as a result of medical care. Additionally, the management needs to be more in sync with the employees who often have the best perspective on what works and what doesnt. since the St John Providence Health System already utilizes improvement processes like Malcolm Baldrige, Continuous Quality improvement, Six Sigma, Lean, and PDSA, it should incentivize its employees to maintain these quality standards. These would result in notable clinical improvements such as decreased infections in the ICUs, shorter length of time spent in the hospital, decreased falls, and improved physician attitudes all of which would increase the quality of care provided to patients.
References
Calhoun, J. G., Dollett, L., Sinioris, M. E., Wainio, J. A., Butler, P. W., Griffith, J. R., & Warden, G. L. (2008). Development of an interprofessional competency model for healthcare leadership. Journal of Healthcare Management, 53(6), 375.
Dancer, S. J., White, L., & Robertson, C. (2008). Monitoring environmental cleanliness on two surgical wards. International journal of environmental health research, 18(5), 357-364.
Doran, D., & Almost, J. (2003). Nursing sensitive outcomes: The state of the science. Jones & Bartlett Learning.
Foulkes, M. (2011). Nursing metrics: measuring quality in patient care.Nursing Standard, 25(42), 40.
Laschinger, H. K. S., & Leiter, M. P. (2006). The impact of nursing work environments on patient safety outcomes: The mediating role of burnout engagement. Journal of Nursing Administration, 36(5), 259-267.
Maben, J., Adams, M., Peccei, R., Murrells, T., & Robert, G. (2012). Poppets and parcels: the links between staff experience of work and acutely ill older peoples experience of hospital care. International journal of older people nursing, 7(2), 83-94.
Cite this page
Free Essay Sample on Nursing Quality Metrics. (2019, Sep 24). Retrieved from https://speedypaper.com/essays/nursing-quality-metrics
Request Removal
If you are the original author of this essay and no longer wish to have it published on the SpeedyPaper website, please click below to request its removal: