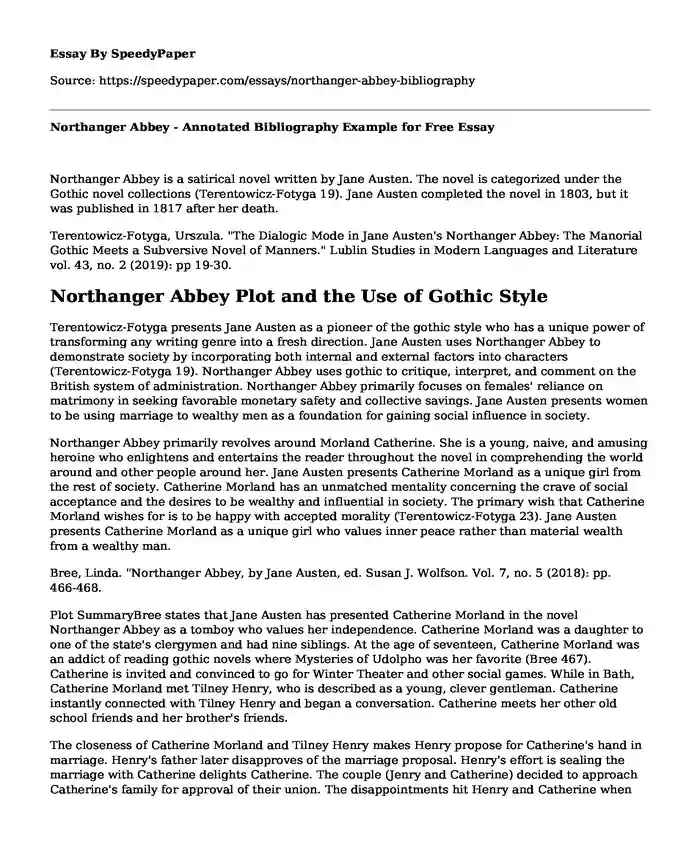 | | |
| --- | --- |
| Type of paper:  | Annotated bibliography |
| Categories: | Jane Austen |
| Pages: | 5 |
| Wordcount: | 1293 words |
Northanger Abbey is a satirical novel written by Jane Austen. The novel is categorized under the Gothic novel collections (Terentowicz-Fotyga 19). Jane Austen completed the novel in 1803, but it was published in 1817 after her death.
Terentowicz-Fotyga, Urszula. "The Dialogic Mode in Jane Austen's Northanger Abbey: The Manorial Gothic Meets a Subversive Novel of Manners." Lublin Studies in Modern Languages and Literature vol. 43, no. 2 (2019): pp 19-30.
Northanger Abbey Plot and the Use of Gothic Style
Terentowicz-Fotyga presents Jane Austen as a pioneer of the gothic style who has a unique power of transforming any writing genre into a fresh direction. Jane Austen uses Northanger Abbey to demonstrate society by incorporating both internal and external factors into characters (Terentowicz-Fotyga 19). Northanger Abbey uses gothic to critique, interpret, and comment on the British system of administration. Northanger Abbey primarily focuses on females' reliance on matrimony in seeking favorable monetary safety and collective savings. Jane Austen presents women to be using marriage to wealthy men as a foundation for gaining social influence in society.
Northanger Abbey primarily revolves around Morland Catherine. She is a young, naive, and amusing heroine who enlightens and entertains the reader throughout the novel in comprehending the world around and other people around her. Jane Austen presents Catherine Morland as a unique girl from the rest of society. Catherine Morland has an unmatched mentality concerning the crave of social acceptance and the desires to be wealthy and influential in society. The primary wish that Catherine Morland wishes for is to be happy with accepted morality (Terentowicz-Fotyga 23). Jane Austen presents Catherine Morland as a unique girl who values inner peace rather than material wealth from a wealthy man.
Bree, Linda. "Northanger Abbey, by Jane Austen, ed. Susan J. Wolfson. Vol. 7, no. 5 (2018): pp. 466-468.
Plot SummaryBree states that Jane Austen has presented Catherine Morland in the novel Northanger Abbey as a tomboy who values her independence. Catherine Morland was a daughter to one of the state's clergymen and had nine siblings. At the age of seventeen, Catherine Morland was an addict of reading gothic novels where Mysteries of Udolpho was her favorite (Bree 467). Catherine is invited and convinced to go for Winter Theater and other social games. While in Bath, Catherine Morland met Tilney Henry, who is described as a young, clever gentleman. Catherine instantly connected with Tilney Henry and began a conversation. Catherine meets her other old school friends and her brother's friends.
The closeness of Catherine Morland and Tilney Henry makes Henry propose for Catherine's hand in marriage. Henry's father later disapproves of the marriage proposal. Henry's effort is sealing the marriage with Catherine delights Catherine. The couple (Jenry and Catherine) decided to approach Catherine's family for approval of their union. The disappointments hit Henry and Catherine when Catherine's family states that the final approval of Henry and Catherine union will be done by Henry's father (General Tilney). General Tilney already disapproved the union earlier (Bree 467). After long debates, Henry married Catherine, where they shared their love full of sarcastic humor.
London, Odette Cortes. "Perilous Books for Girls: Reflections on Readership in Jane Austen's Northanger Abbey." (2018). 56, no.2, (2015): pp 1-8
Northanger Abbey's Characters
Benis presents a credible and reliable analysis of the primary characters featured in the novel Northanger Abbey. The central role which is evident throughout the plot is Catherine Morland. She is a pretty and pleasing tomboy with a unique mentality different from the rest of women. Catherine lacks experience in life due to her young age of seventeen years, but she is determined to bring the best in people. She is observant and quickly notices the insincerity and inconsistence in people around her (London 4).
The other crucial characters in the novel are John Thorpe, Isabella Thorpe, Henry Tilney, and James Morland. Henry Tilney is an intuitive clergyman from the wealthy family of General Tilney. James Morland is the older brother of Catherine. James Morland spends his time studying at Oxford University but sacrifices time to visit his family in Bath (London 7). James Morland is innocent and naive when it comes to love. He falls in love with Isabella, who accepts her marriage proposal. The couple later breaks up as Isabella goes on to look for love elsewhere, leaving James heartbroken. John Thorpe is a boastful and arrogant brother to Isabella Thorpe. John initially takes an interest in Catherine, but when he learns that Catherine loves Henry, John manipulates the situation to fit his liking. John goes further to lie General Tilney (Henry's father) about Catherine's family fortunes. He convinces General Tilney until General Tilney prejudices Catherine leading to the disapproval of Catherine's marriage to Henry. Isabella Thorpe is manipulative and uses her friendship with Catherine to make wealthy friends. Isabella holds to the society's mentality that marriage to a wealthy person is the only way of establishing her (London 7).
Halsey, Katie. "The Books Sir Edward Denham Doesn't Read Jane Austen's Literary Jokes." Textus vol. 30, no. 3 (2017): pp 1-15
Themes in Northanger Abbey
The primary subjects in Northanger Abbey are society, morality, and behavior. The monotony and intricacies of the high society in the selection of marriage partners and the confliction in marriage is evident. The Bath society believes that the wealth of the family is the primary factor when considering a partner for their children. Catherine is new to society's beliefs and values her independence (Halsey 4). Catherine lives life as if in a Gothic novel. Catherine finds it hard to separate real life from fiction used in novels, which leads to her accusing General Tilney of murdering her wife. The accusations are false.
The behavior of society is reflected through women. The majority of women in Northanger Abbey want to be successful but have no creativity in achieving their dreams. Women end up believing that marriage to a wealthy family is the only sure way of being economically stable; therefore, socially acceptable (Halsey 8).
Rampelli, Melissa. "Satire, Celebrity, and Politics in Jane Austen by Jocelyn Harris." Eighteenth-Century Fiction, vol. 31, no. 2, winter 2018, pp. 471-474
Literary Significance
Wells state that Northanger Abbey's novel is fundamentally a parody developed using Gothic fiction. Austen strategically turns the previous societal belief by making her heroine (Catherine) undistinguished and understandable from the common family fall in love with a wealthy Tilney (Rampelli 472). Wells adds that Austen exposes Catherine's curiosity and fears as baseless. Jane Austen also primarily focused on using the satirical gothic fiction to enable the readers to seek compression of the society's prejudice and the mentality of women and wealthy families in selecting partners for their children (Rampelli 474).
Conclusion
Northanger Abbey is a satirical novel that exposes the prejudice and behaviors of women during the eighteenth century. Catherine and Henry Tilney are the primary characters who facilitate the understanding of the themes. Northanger Abbey challenges society's dependency behavior using Catherine, who values her independence.
Works Cited
Bree, L. (2018). Northanger Abbey, by Jane Austen, ed. Susan J. Wolfson. vol. 7, no. 5 (2018): pp 466-468. Accessed from http://web.b.ebscohost.com/ehost/pdfviewer/pdfviewer?vid=3&sid=039ffcc2-ce1c-434a-9ffc-84bcf4d4af64%40pdc-v-sessmgr01
Halsey, Katie. "The Books Sir Edward Denham Doesn't Read Jane Austen's Literary Jokes." Textus vol. 30, no. 3 (2017): pp 1-15 Accessed from
https://www.google.com/url?sa=t&source=web&rct=j&url=https://dspace.stir.ac.uk/bitstream/1893/25932/1/%253F%253FThe%2520certain%2520corrective%253F%253F_%2520Sanditon%2520Students%2520and%2520Strategies%2520of%2520Defamiliarization.pdf&ved=2ahUKEwjrr4mGmoflAhVT5eAKHbQSBCIQFjACegQIAxAB&usg=AOvVaw3l1xa6VxSdOUM4ELG1kUSv&cshid=1570350141458

Rampelli, Melissa. "Satire, Celebrity, and Politics in Jane Austen by Jocelyn Harris." Eighteenth Century Fiction, vol. 31, no. 2, winter 2018, pp. 471-474. EBSCOhost, doi:10.3138/ecf.31.2.471 Accessed from http://web.b.ebscohost.com/ehost/pdfviewer/pdfviewer?vid=10&sid=039ffcc2-ce1c-434a-9ffc-84bcf4d4af64%40pdc-v-sessmgr01
London, Odette Cortes. "Perilous Books for Girls: Reflections on Readership in Jane Austen's Northanger Abbey." (2018). 56, no.2, (2015): pp 1-8. Accessed from https://www.google.com/url?sa=t&source=web&rct=j&url=https://www.researchgate.net/publication/328576343_Perilous_Books_for_Girls_Reflections_on_Readership_in_Jane_Austen%27s_Northanger_Abbey&ved=2ahUKEwi-l_K43oflAhUc4OAKHZ5iBQsQFjAAegQIAxAB&usg=AOvVaw1ljWLcMSZOkwys_g9ta0bM&cshid=1570368607278
Terentowicz-Fotyga, Urszula. "The Dialogic Mode in Jane Austen's Northanger Abbey: The Manorial Gothic Meets a Subversive Novel of Manners." Lublin Studies in Modern Languages and Literature vol. 43, no. 2 (2019): pp 19-30. Accessed from https://www.google.com/url?sa=t&source=web&rct=j&url=http://cejsh.icm.edu.pl/cejsh/element/bwmeta1.element.ojs-doi-10_17951_lsmll_2019_43_2_19-30/c/7927-6536.pdf&ved=2ahUKEwjH78aI7IXlAhWLnhQKHV8iDBcQFjAAegQIARAB&usg=AOvVaw2sXjFbxxzBt92vDsIS-dcB
Cite this page
Northanger Abbey - Annotated Bibliography Example for Free. (2022, Feb 22). Retrieved from https://speedypaper.com/essays/northanger-abbey-bibliography
Request Removal
If you are the original author of this essay and no longer wish to have it published on the SpeedyPaper website, please click below to request its removal: