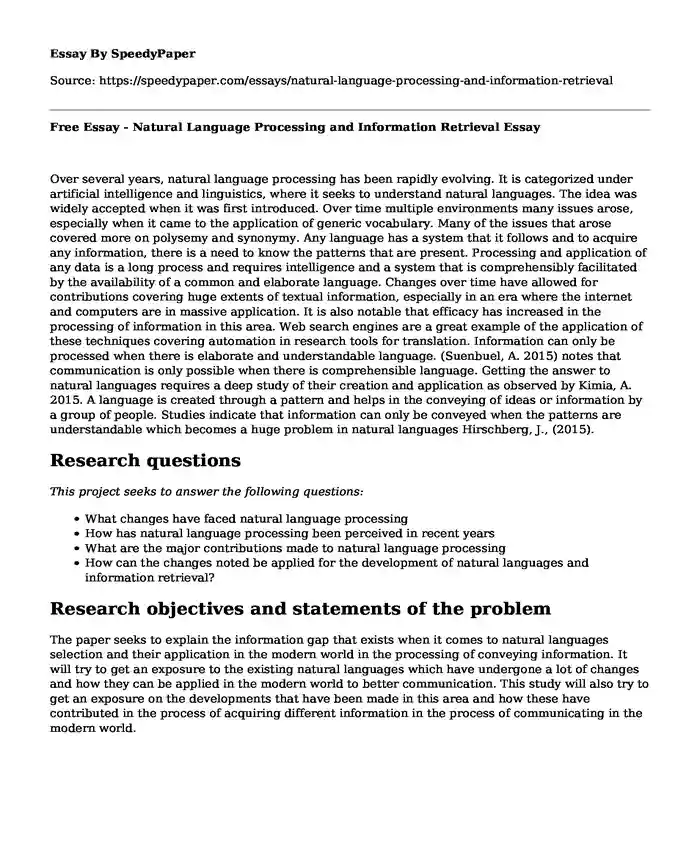 Over several years, natural language processing has been rapidly evolving. It is categorized under artificial intelligence and linguistics, where it seeks to understand natural languages. The idea was widely accepted when it was first introduced. Over time multiple environments many issues arose, especially when it came to the application of generic vocabulary. Many of the issues that arose covered more on polysemy and synonymy. Any language has a system that it follows and to acquire any information, there is a need to know the patterns that are present. Processing and application of any data is a long process and requires intelligence and a system that is comprehensibly facilitated by the availability of a common and elaborate language. Changes over time have allowed for contributions covering huge extents of textual information, especially in an era where the internet and computers are in massive application. It is also notable that efficacy has increased in the processing of information in this area. Web search engines are a great example of the application of these techniques covering automation in research tools for translation. Information can only be processed when there is elaborate and understandable language. (Suenbuel, A. 2015) notes that communication is only possible when there is comprehensible language. Getting the answer to natural languages requires a deep study of their creation and application as observed by Kimia, A. 2015. A language is created through a pattern and helps in the conveying of ideas or information by a group of people. Studies indicate that information can only be conveyed when the patterns are understandable which becomes a huge problem in natural languages Hirschberg, J., (2015).
Research questions
This project seeks to answer the following questions:
What changes have faced natural language processing
How has natural language processing been perceived in recent years
What are the major contributions made to natural language processing
How can the changes noted be applied for the development of natural languages and information retrieval?
Research objectives and statements of the problem
The paper seeks to explain the information gap that exists when it comes to natural languages selection and their application in the modern world in the processing of conveying information. It will try to get an exposure to the existing natural languages which have undergone a lot of changes and how they can be applied in the modern world to better communication. This study will also try to get an exposure on the developments that have been made in this area and how these have contributed in the process of acquiring different information in the process of communicating in the modern world.
Literature review
Information gaps have existed overtime when it comes to the understanding of natural languages. Massive changes have also come about in different natural languages all over the world which have contributed to poor communication and information retrieval across different communities. The process of acquiring information from natural languages requires a deep understanding of their creation and application across different contexts (Kumar, A., (2016). Getting to implement the changes that have been made needs a massive understanding of a particular language and this translates to effecting of retrieval of information and communication. (Young, T., (2018). Contributions have been made over time in different languages to better comprehend things and for effective communication. It is also notable that there has been the implementation of the additions and deduction in different languages of which have contributed to the understanding of workings of different societies. Noticeably, environmental changes have also proved instrumental in the creation of various changes made on natural languages. Applications of changes or improvements made in natural languages is a step by step process that needs great attention to achieve the desired outcome (Ganguly, D, 2015). Retrieval of different types of information has been enabled through the acceptance of different elements which all assist in the creation of a language from scratch. Chandurkar, A., (2017) indicates that the creation of the internet has triggered the enquiry into different languages across the world as they seek to simplify the conveying of information for different purposes. Generation of data in any given situation needs the interpretation of a language at anyone given time Munro, R.. (2016). Data is only used when its meaning is at hand which brings in the need to cross-examine the language that is at hand Goldberg, Y. (2017).
Significance of the study
The paper tries to explain the changes that have been noted in natural languages and how they have contributed to their betterment in communication. It points out the improvements that have been made across the field in the bid to get an understanding of how the changes have been influential across different areas ; one of them being computer science. These have molded the process of creating different ideas and their contributions to the implementation of various systems in communication. It is worth observing that the massive changes are influential in the understanding of different languages to improve relations. The study comes in to enable the relation of ideas that can be used across many sectors in a given society. Additionally, the process of acquiring information through segments such as web search have also been factored by this study. The study gets to show the contributions of natural languages in the creation of systems that enable different users as they seek information on different elements. Applications can be made on a variety of areas and more so in the development of concepts used in communication. Getting information from sources that were previously inaccessible due to the language barrier is possible with this type of study. The user is able to comprehend the patterns in a language which helps them to get the type of data or information that they desire. There is also the need to introduce the systems discussed in this paper is an attempt to connect people from different walks of life in the modern and digital world.
Research Methodology
The paper seeks to understand natural language processing and information retrieval through the application of a number of methods. It applied quantitative and qualitative research in the bid to understand the process of natural language processing and the incorporation of information retrieval in the same area. Qualitative involved reading data and attachment of codes to get exposure of the language that is being researched through the application of these techniques, different findings were made which helped to better understand natural languages and the retrieval of various types of information for the research.
References
Kumar, A., Irsoy, O., Ondruska, P., Iyyer, M., Bradbury, J., Gulrajani, I., Socher, R. (2016, June). Ask me anything: Dynamic memory networks for natural language processing. In International conference on machine learning (pp. 1378-1387).
Young, T., Hazarika, D., Poria, S., & Cambria, E. (2018). Recent trends in deep learning-based natural language processing. ieee Computational intelligenCe magazine, 13(3), 55-75.
Ganguly, D., Roy, D., Mitra, M., & J; ones, G. J. (2015, August). Word embedding-based generalized language model for information retrieval. In Proceedings of the 38th international ACM SIGIR conference on research and development in information retrieval (pp. 795-798). ACM.
Suenbuel, A., Waldinger, R., Sikka, V., & Richardson, K. (2015). U.S. Patent Application No. 14/538,642.
Hirschberg, J., & Manning, C. D. (2015). Advances in natural language processing. Science, 349(6245), 261-266.
Kimia, A. A., Savova, G., Landschaft, A., & Harper, M. B. (2015). An introduction to natural language processing: how you can get more from those electronic notes you are generating. Pediatric emergency care, 31(7), 536-541.
Chandurkar, A., & Bansal, A. (2017). A composite natural language processing and information retrieval approach to question answering using a structured knowledge base. International Journal of Semantic Computing, 11(03), 345-371.
Munro, R. J., Erle, S. D., Walker, C., Luger, S. K., Brenier, J., King, G. C., Robinson, J. B. (2016). U.S. Patent Application No. 14/964,517.
Lehnert, W. G., & Ringle, M. H. (Eds.). (2014). Strategies for natural language processing. Psychology Press.
Goldberg, Y. (2017). Neural network methods for natural language processing. Synthesis Lectures on Human Language Technologies, 10(1), 1-309.
Clark, A., Fox, C., & Lappin, S. (Eds.). (2013). The handbook of computational linguistics and natural language processing. John Wiley & Sons.
Collobert, R., Weston, J., Bottou, L., Karlen, M., Kavukcuoglu, K., & Kuksa, P. (2011). Natural language processing (almost) from scratch. Journal of machine learning research, 12(Aug), 2493-2537.
Murff, H. J., FitzHenry, F., Matheny, M. E., Gentry, N., Kotter, K. L., Crimin, K., ... & Speroff, T. (2011). Automated identification of postoperative complications within an electronic medical record using natural language processing. Jama, 306(8), 848-855.
Nivre, J. (2015, April). Towards a universal grammar for natural language processing. In International Conference on Intelligent Text Processing and Computational Linguistics (pp. 3-16). Springer, Cham.
Cite this page
Free Essay - Natural Language Processing and Information Retrieval. (2023, Mar 22). Retrieved from https://speedypaper.com/essays/natural-language-processing-and-information-retrieval
Request Removal
If you are the original author of this essay and no longer wish to have it published on the SpeedyPaper website, please click below to request its removal: