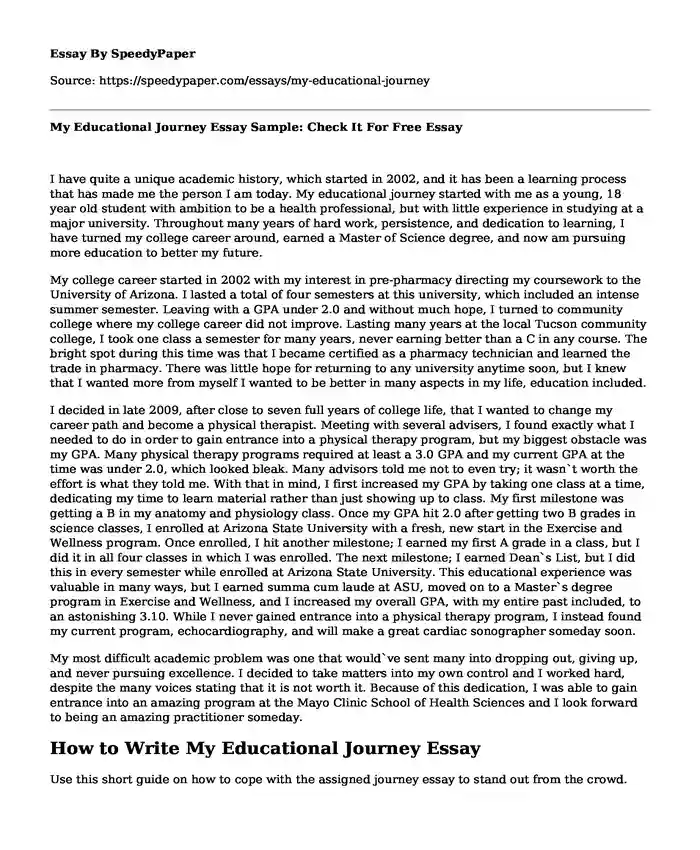 I have quite a unique academic history, which started in 2002, and it has been a learning process that has made me the person I am today. My educational journey started with me as a young, 18 year old student with ambition to be a health professional, but with little experience in studying at a major university. Throughout many years of hard work, persistence, and dedication to learning, I have turned my college career around, earned a Master of Science degree, and now am pursuing more education to better my future.
My college career started in 2002 with my interest in pre-pharmacy directing my coursework to the University of Arizona. I lasted a total of four semesters at this university, which included an intense summer semester. Leaving with a GPA under 2.0 and without much hope, I turned to community college where my college career did not improve. Lasting many years at the local Tucson community college, I took one class a semester for many years, never earning better than a C in any course. The bright spot during this time was that I became certified as a pharmacy technician and learned the trade in pharmacy. There was little hope for returning to any university anytime soon, but I knew that I wanted more from myself I wanted to be better in many aspects in my life, education included.
I decided in late 2009, after close to seven full years of college life, that I wanted to change my career path and become a physical therapist. Meeting with several advisers, I found exactly what I needed to do in order to gain entrance into a physical therapy program, but my biggest obstacle was my GPA. Many physical therapy programs required at least a 3.0 GPA and my current GPA at the time was under 2.0, which looked bleak. Many advisors told me not to even try; it wasn`t worth the effort is what they told me. With that in mind, I first increased my GPA by taking one class at a time, dedicating my time to learn material rather than just showing up to class. My first milestone was getting a B in my anatomy and physiology class. Once my GPA hit 2.0 after getting two B grades in science classes, I enrolled at Arizona State University with a fresh, new start in the Exercise and Wellness program. Once enrolled, I hit another milestone; I earned my first A grade in a class, but I did it in all four classes in which I was enrolled. The next milestone; I earned Dean`s List, but I did this in every semester while enrolled at Arizona State University. This educational experience was valuable in many ways, but I earned summa cum laude at ASU, moved on to a Master`s degree program in Exercise and Wellness, and I increased my overall GPA, with my entire past included, to an astonishing 3.10. While I never gained entrance into a physical therapy program, I instead found my current program, echocardiography, and will make a great cardiac sonographer someday soon.
My most difficult academic problem was one that would`ve sent many into dropping out, giving up, and never pursuing excellence. I decided to take matters into my own control and I worked hard, despite the many voices stating that it is not worth it. Because of this dedication, I was able to gain entrance into an amazing program at the Mayo Clinic School of Health Sciences and I look forward to being an amazing practitioner someday.
How to Write My Educational Journey Essay
Use this short guide on how to cope with the assigned journey essay to stand out from the crowd.
Start strong
People usually judge whether to read a book or not by the first sentences. The same goes for college essays. To make the reader interested in your assignment, it is advised to start strong. Avoid creating weak paragraphs, but try to introduce the meaty part of an essay first. You may even throw the reader into the middle of your story, don't be afraid to experiment, and show that you are able to think outside the box. This will definitely grab the readers' attention and will help you stand out from the crowd.
Populate your paper with compelling examples
Remember that an essay isn't a resume where you just list your attributes. This is an assignment where you need to provide specific examples to illustrate your viewpoint. Don't just list the educational institutions you were in, tell the reader about your feelings and the impact studying there had on you. Such compelling examples will stick out to the reader and will make a good impression for sure.
Be logical and clear
No doubt, your assignment won't shine bright if your thoughts are confusing and there are no connections. Before submitting your paper, always reread everything you've written and try to answer the following questions:
- Is my essay organized?
- Are there transitions that make my paper flawless?
- Have I provided enough examples and a strong ending?
- Make your essay beautiful
The information and dates in your paper should look good. Make your assignment beautiful using a readable font and separating paragraphs. Try to balance your educational journey essay on the page, and don't forget about the margins on all sides.
Lasting impression is vital
End your paper with something that summarizes everything written above and makes your essay catchy. Try to make the reader feel the emotion in the end, so there should be a memorable phrase or a sentence.
Revise Accordingly
Even if you completed an impressive essay, but it is populated with typos and grammar mistakes, most likely, your grade will be much lower than expected. Proofread everything you've written in your paper, correct mistakes, and do it again. You may also ask a friend or an expert online for editing and proofreading assistance to make your essay shine. The final stage is reading your paper out loud to make sure it is ready for submission.
All the tips above will help you craft an assignment that is compelling, unique, and stands out in a good way.
Cite this page
My Educational Journey Essay Sample: Check It For Free. (2017, Jul 04). Retrieved from https://speedypaper.com/essays/my-educational-journey
Request Removal
If you are the original author of this essay and no longer wish to have it published on the SpeedyPaper website, please click below to request its removal: