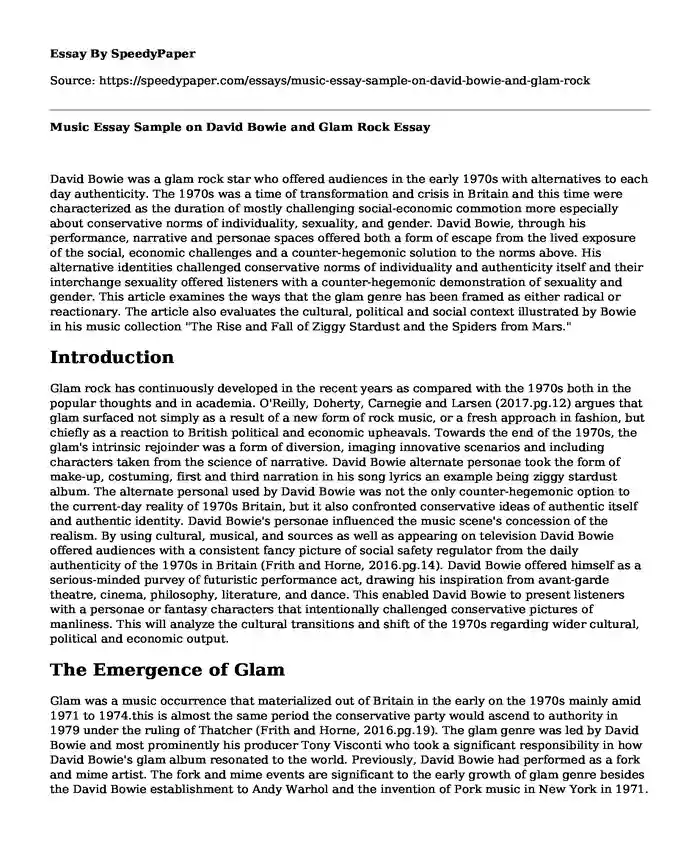 | | |
| --- | --- |
| Type of paper:  | Essay |
| Categories: | Music |
| Pages: | 7 |
| Wordcount: | 1841 words |
David Bowie was a glam rock star who offered audiences in the early 1970s with alternatives to each day authenticity. The 1970s was a time of transformation and crisis in Britain and this time were characterized as the duration of mostly challenging social-economic commotion more especially about conservative norms of individuality, sexuality, and gender. David Bowie, through his performance, narrative and personae spaces offered both a form of escape from the lived exposure of the social, economic challenges and a counter-hegemonic solution to the norms above. His alternative identities challenged conservative norms of individuality and authenticity itself and their interchange sexuality offered listeners with a counter-hegemonic demonstration of sexuality and gender. This article examines the ways that the glam genre has been framed as either radical or reactionary. The article also evaluates the cultural, political and social context illustrated by Bowie in his music collection "The Rise and Fall of Ziggy Stardust and the Spiders from Mars."
Introduction
Glam rock has continuously developed in the recent years as compared with the 1970s both in the popular thoughts and in academia. O'Reilly, Doherty, Carnegie and Larsen (2017.pg.12) argues that glam surfaced not simply as a result of a new form of rock music, or a fresh approach in fashion, but chiefly as a reaction to British political and economic upheavals. Towards the end of the 1970s, the glam's intrinsic rejoinder was a form of diversion, imaging innovative scenarios and including characters taken from the science of narrative. David Bowie alternate personae took the form of make-up, costuming, first and third narration in his song lyrics an example being ziggy stardust album. The alternate personal used by David Bowie was not the only counter-hegemonic option to the current-day reality of 1970s Britain, but it also confronted conservative ideas of authentic itself and authentic identity. David Bowie's personae influenced the music scene's concession of the realism. By using cultural, musical, and sources as well as appearing on television David Bowie offered audiences with a consistent fancy picture of social safety regulator from the daily authenticity of the 1970s in Britain (Frith and Horne, 2016.pg.14). David Bowie offered himself as a serious-minded purvey of futuristic performance act, drawing his inspiration from avant-garde theatre, cinema, philosophy, literature, and dance. This enabled David Bowie to present listeners with a personae or fantasy characters that intentionally challenged conservative pictures of manliness. This will analyze the cultural transitions and shift of the 1970s regarding wider cultural, political and economic output.
The Emergence of Glam
Glam was a music occurrence that materialized out of Britain in the early on the 1970s mainly amid 1971 to 1974.this is almost the same period the conservative party would ascend to authority in 1979 under the ruling of Thatcher (Frith and Horne, 2016.pg.19). The glam genre was led by David Bowie and most prominently his producer Tony Visconti who took a significant responsibility in how David Bowie's glam album resonated to the world. Previously, David Bowie had performed as a fork and mime artist. The fork and mime events are significant to the early growth of glam genre besides the David Bowie establishment to Andy Warhol and the invention of Pork music in New York in 1971. There is a consensus across both non-academic and academic works of literature that there are two important iconic moments in the history of the glam genre, for example, David Bowie performing (star man) as the (alien) personality ziggy stardust. Two ladies are recognized as being essential in the growth of the early glam genre. One woman was Bolan's stylist Chelita Secunda who decided on the idea of using glitter to Bolan's cheeks. The other woman was David Bowie's wife Angela Bowie whose genderless styling prejudiced Bowie most especially in the design of Ziggy Stardust. David Bowie most successful years were 1972 and 1973 and his solitary chart achievements during this time consisted (star man) that put David Bowie on to the music landscape and who was later classified as glam in the accepted media (Allen, 2016.pg.30). The London chart saw numerous acts advertised under the glam poster following David Bowie success in the glam genre.
Categorization of Glam
According to Allen, (2016.pg.16), glam rock is a genre of rock music described by the visual style of its artist. In the 1970s, an artist whose stage appearance resembled markedly genderless and theatrical was classified as glam. The glam musical style ranged from complex or avant-garde-influenced rock-pop songwriting to 1950s rock, blues and roll-inspired pop rock and bubblegum rock. As such, deliberations of the glam genre tend to describe the genre in provisions of a high and low genre. The high glam genre includes David Bowie music while low glam incorporated Gary Glitter music. David Bowie was recognized as a high glam actor and was advertised as a modern singer since he was perceived as a singer of his artistic vision. Many people argue that 1970s were a period when the music sector permitted for a fresh appearance of creativity, and as such, it had not arrived at the levels of mass adverts and consistency that is observed in the music arena today (Brandellero and Janssen, 2014.pg.33). This time was, however, a time of experimentation with innovation in cinema, theatre, music, and dance. David Bowie specifically used additional avant-garde cultural outlines which enabled him to produce work that was particularly inventive in itself and showing a certain quantity of authorial liberty.
Theoretical Response to Glam
The academic reaction to the glam genre has fallen into two classes: glam genre as a political or a reactionary and thus a conservative; glam as a radical or potentially critical. (Brandellero and Janssen, (2014.pg.12) exemplified glam as a political and van der Hoeven (2018.pg.15) outlined glam as conservative. Luttrell (2017.pg.19) has reframed and reconsidered the genre as radical and illustrating a particular social political and cultural moment. The reconsideration of the glam genre concerning its ideological foundation illustrates the recent resignifying of the 1970s as the duration of crucial serious cultural and social output. David Bowie is analyzed as the only high glam artist because of his working classiness. Glam as a genre can be disputed to possess its politics regarding the simultaneous matters of identity and sexuality, and it has a response to and against the wider political and social situations of the past days. Knight and Cutcher (2017.pg.30) engage with glam genre mainly regarding subcultural evaluation. In doing this, the author observes how high glam operated in the 1970s as a structure of educational resources through its function of educated masculine. Referring particularly to David Bowie, the author notes that the high glam dual is an important one as it does not make apparent the difference that the fans themselves prepared at the time especially regarding whether they needed to recognize with singers that were more academic. Daschuk (2016.pg.31) places each period of David Bowie career span into its cultural context illustrating the singer's output as a reflection of its specific zeitgeist. The author explores David Bowie association with identity politics and in specific his role as an admired figure. The author frames the artist as suggesting new possibilities of masculinity. The personality of ziggy stardust is seen as providing the audiences the exposure of 'dissimilarity' as a structure of escape of the restrictions and limits of the manner in which they were synchronized in daily life. The author also suggests that David Bowie offered visibility to non-conservative sexual individuality, undermining norms of maleness through acting a 'cross-dressed body.'
"The Rise and fall of Ziggy Stardust and the Spiders from Mars"
Ziggy Stardust is the 5th music collection composed by the late David Bowie. The collection was released in June 1972 in Britain (Marc and Green, (2016.pg.37). The ziggy stardust album was produced by Ken Scott featuring Trevor Bolder, Mick Woodmansey, and Mick Ronson. Ziggy Stardust was produced in Trident studio in London. The album is described as a loose concept since it illustrates David Bowie's so-called ziggy stardust. Ziggy Stardust is an imaginary genderless bisexual glam rock star that performs as a massager for alien beings. The character was maintained for the ensuing ziggy stardust tour through North America, Japan, and the United Kingdom. The character of Ziggy Stardust and the album were prejudiced by glam rock and explored themes of social commentary, sexual exploration as well as uncertainty enclosing David Bowie's sexuality. The album acknowledged extensive significant acclaim and had been regarded as one of the best and influential albums of all time. By January 2016, the album had sold around 7.2 million copies internationally (Luttrell, 2017.pg.41). Additionally, the album was chosen for preservation in the national recording registry since it was considered artistically, historically or culturally important by the library of congress in Britain. The trucks in the album include "Velvet Goldmine," "Holy Holy" and "Bombers." Ziggy Stardust was not visualized as a perception album since a great deal of the story was composed after the album was produced.
The characters in this album were androgynous, and the costume they had worn had sheer and femininity ridiculousness and that the characters looked pleaded to the rebellious artistic nature (van der Hoeven, 2018.pg.33). David Bowie had developed androgynous appearance which was accepted by opponents but got varied reactions from listeners. David Bowie affection of acting led his total fascination in the personalities he formed for his music. After performing the same responsibility for an extended time, it appeared impractical for David Bowie to split ziggy stardust from his private personality. The personality in this album was influenced by British rock 'n' roll artist known as Vince Taylor whom David Bowie encountered with after Taylor had had a collapse and alleged himself to be between the alien and gods. Other inspirations incorporated the cult artist legendary stardust as well as Yamamoto who made the clothes David Bowie used during the trip. The alternative idea is that during the trip, David Bowie grew the idea of Ziggy as a melding of the persona of Iggy Pop with the music of Lou Reed generating the eventual pop idol. The name ziggy stardust came moderately from the legendary stardust cowboy and partially because Ziggy was one of the few Christian identities David Bowie could locate starting with the letter Z. in 1990, David Bowie said that the ziggy name resulted from Taylor's shop referred to as ziggy. David Bowie liked it since it had the Iggy pop association. Ziggy Stardust was an authentic combination of entities. In the ziggy stardust album plotline, humankind will end up within five years due to inadequate of natural resources. In the album, ziggy believed that in the survival of 'eternal' outer space beings that are in whole black jumpers will be coming down to save the world. During the song, rock 'n' roll suicide the 'Eternals' appear and tear ziggy stardust into pieces on stage taking his essentials to become observable.
Ziggy Stardust album has been retrospectively explained as glam rock, and it stands for David Bowie's interest in cabaret, dance, kabuki, science fiction, and theatre (Fr...
Cite this page
Music Essay Sample on David Bowie and Glam Rock. (2022, May 04). Retrieved from https://speedypaper.com/essays/music-essay-sample-on-david-bowie-and-glam-rock
Request Removal
If you are the original author of this essay and no longer wish to have it published on the SpeedyPaper website, please click below to request its removal: