B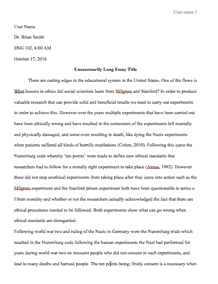 This essay has been submitted by a student. This is not an example of the work written by our professional essay writers.
The Missouri Nurses Association started participating in the Technical Advisory Committee on Quality Patient Care and Nursing Practices that address the development of regulations intended to prohibit mandatory overtime in 2003. The same year saw the state lobby for safer staffing via banning the practice, specifically in hospital settings. As such, the State of Missouri has not legislated mandatory overtime (Missouri Nurses Association: MONA, n.d). However, the state has regulations that hare encompassed in chapter 20 that deals with hospitals. In the chapter, policies have been enacted to deal with matters that regard to overtime. The chapter states that, Overtime shall not be mandated for any licensed nursing personnel except when an unexpected nurse staffing shortage arises that involves a substantial risk to patient safety, in which a reasonable effort must be applied to secure safe staffing before requiring the on-duty licensed nursing personnel to work overtime" (ANA, n.d).
However, in 2005, the American Nurses Association (ANA) in a bid to alleviate the worsening trend of lack of nurses, it initiated a Nationwide State Legislative Agenda that addresses instances of nurse staffing crisis. Essentially, the State Nurses Associations have had tremendous support for mandatory overtime legislations, as well as other regulatory agencies. Additionally, the Safe Nursing and Patient Care Act that was enacted in 2005 was also introduced by the Senate with the aim of prohibiting the assertion that nurses should work for over 12 hours with a 24-hour timespan, as well as 80 hours for a period extending to 14 consecutive days, with a few exceptions. Even after the mandatory overtime legislation was introduced in Missouri in 2006, it has not been passed to date (ANA, n.d).
As such, mandatory overtime is an issue that has gained a lot of attention among Missouris Registered Nurses (RNs), specifically because it is a difficult problem they experienced along with the healthcare facilities they serve. This owes to the fact that the state lacks inadequate RN staffing, and the option has been considered by many employers to staff the healthcare facilities, often aimed at saving costs (Huston, 2014). Mainly, nurses are concerned about the adverse effects that long term overtime can cause, as well as the reduction of the quality of care that they provide. In essence, whenever the mandatory overtime is extended over a long period of time, the quality of care provided to the sick significantly reduces. As such, instead of more benefits, a hospital that adopts mandatory healthcare has a high probability of losing in terms of quality, even when the primary intention was to save cost factors. For instance, research reveals that the rate of making errors increases whenever shifts are longer than 12 hours, as well as instances when they work overtime or work for more than 40 hours on a weekly basis (ANA, n.d).
Following the legislation of the mandatory overtime, which has not been passed to date by Missouri, it shows that there is a lot of misunderstanding between various nursing boards and associations. The Missouri State Board of Nursing is aware of the conflicts that exist between it and other nursing associations and organizations. Even so, the Board along with other associations share the responsibility of providing safe care to the Missouri people. The Board enforces the rules of practice, as well as the law, as well as approving nurses licenses. On the other hand, the other associations involve various practitioners, and together, they develop professional practices and standards that every nurse should follow. In addition, they are involved in formulating codes of ethics that are aimed at protecting and promoting the general, as well as the economic welfare of the nurses to enhance patient safety and also improving quality of care provided to them. The regulatory bodies enforce laws and impose penalties to nurses who have failed to practice as the law stipulates (Mason et al, 2014). Importantly, the Board of Nursing in Missouri enforces laws and rules that regulate the nursing practice according to the set laws but not how the nurses wish the law was like. Ideally, the Nursing Board has authority to take disciplinary measures against nurses regulated solely by the board, including LPNs, RNs, and APRNs. The Board, however, cannot take any action in instances when the nurse is not licensed. Only then will it require county prosecutors for assistance. In such scenarios, the Board can only collect evidence but can only depend on the prosecutor to charge the non-licensees.
Because the Missouri Nursing Board does not have power over the nurses employers pertaining to matters of double shifts, as well as mandatory overtime are issues that lie outside the Missouri State Board of Nursing. However, if an employer allows the nurses to act in ways that betray the set standards of safe care, the Board should be notified, as well as forging a complaint, where thereafter, an investigation is initiated. In addition, the Missouri State Board of Nursing adopted a resolution, which was passed by the National Council of State Boards of Nursing, Inc. (NCSBN) that was adopted in 2001. It stated that, NCSBN promotes safe and effective nursing practice in the interest of protecting public health and welfare. Therefore, National Council recognizes the professional responsibility of nurses to accept or decline overtime assignments based on their self-assessment of ability to provide safe care (Missouri State Board of Nursing, 2015).
According to Clark and Walker (2011), the number of mistakes initiated by workers who have been on a mandatory overtime increases significantly. The overtime timespan is directly correlated to the number of mistakes. Therefore, more timespan allocated for overtime predisposes the nurse to perform more errors, which might compromise the safe of care of the patient, as well as a reduction of the quality of care. As such, as Clark and Walker (2011) assert, it is important that hospitals should look for alternative methods of eliminating the mandatory overtime equation, and in turn, increase the quality and extent of safety while delivering care to the patients. Some of the measures that can be taken include adopting shifts or a rotating pattern encapsulated by night, evening, and morning shifts. Also, creating a schedule is important in alleviating the problems that come with an increased overtime. In effect, it reduces rescheduling, as well as absenteeism among the nurses, while also reducing errors. In the end, the quality and safety of care is significantly improved. Therefore, considering the fact that the Missouri State Board does not force the nurses to partake mandatory overtime. It is an effective move, which promises more advantages than the disadvantages that adopting mandatory overtime would lead. By not coercing nurses to partake mandatory overtime, the nurses stand to provide more quality care while also promoting the safety with which nursing interventions are administered (Mason et al, 2014). Instead of forcing nurses to undertake mandatory overtime, the Board via the National Council of State Boards of Nursing, Inc. (NCSBN) lets them to self-assess before embarking on the move. If they feel that they can provide care based on quality and safeness, the nurse can have an extra hour or two for overtime depending on how she can work best. On the other hand, if a nurse does not have the capacity of having an overtime, it is wise to have a break, and so, not to compromise the quality and safety while administering care to patients.
In summary, even when most nursing associations have strongly supported mandatory overtime, especially in the hospital setting, the Missouri State Board of Nursing comprehends the fact that the move is prone to a disagreement. For this reason, even after ANA proposed the adoption of the move, the Board has not legislated this policy to date. Instead, it has made it open for nurses to make their decision depending on how effective they will provide care. Ideally, mandatory overtime has had the quality and safety of administering care to patients compromised. For this reason, the Missouri Board has made the right choice of letting the decision of embarking on mandatory overtime fall on the nurses hands. If they deem fit to have that extra hour or two, they can have it, but only when the quality and safety of care for the patient is not compromised.
References
Clark, A. R., & Walker, H. (2011). Nurse rescheduling with shift preferences and minimal disruption. Journal of Applied Operational Research, 3(3), 148-162
American Nurses Association (ANA), (n.d). ANA State Government Affairs on Mandatory Overtime. Nursing World. Retrieved 29 June 2015, from http://www.nursingworld.org/MainMenuCategories/ThePracticeofProfessionalNursing/NurseStaffing/OvertimeIssues/mandatory12761.html
Huston, C. J. (2014). Professional issues in nursing: Challenges and opportunities (3rd Ed). New York: Lippincott, Williams & Wilkins.
Mason, D. J, Leavitt, J. K., & Chaffee, M. W. (2014). Policy and politics in nursing and health care (6th Ed). St. Louis, MO: Elsevier Saunders.
Missouri State Board of Nursing (2015). Missouri State Board of Nursing position statement. Patient Abandonment. Retrieved from http://www.pr.mo.gov/boards/nursing/positionstatements/Patient%20Abandonment.pdf
Missouri Nurses Association (MONA) (n.d). Legislative History - Missouri Nurses Association. Missourinurses.org. Retrieved 29 June 2015, from http://www.missourinurses.org/?page=20
Need a paper on the same topic?
We will write it for you from scratch!
Request Removal
If you are the original author of this essay and no longer wish to have it published on the SpeedyPaper website, please click below to request its removal: