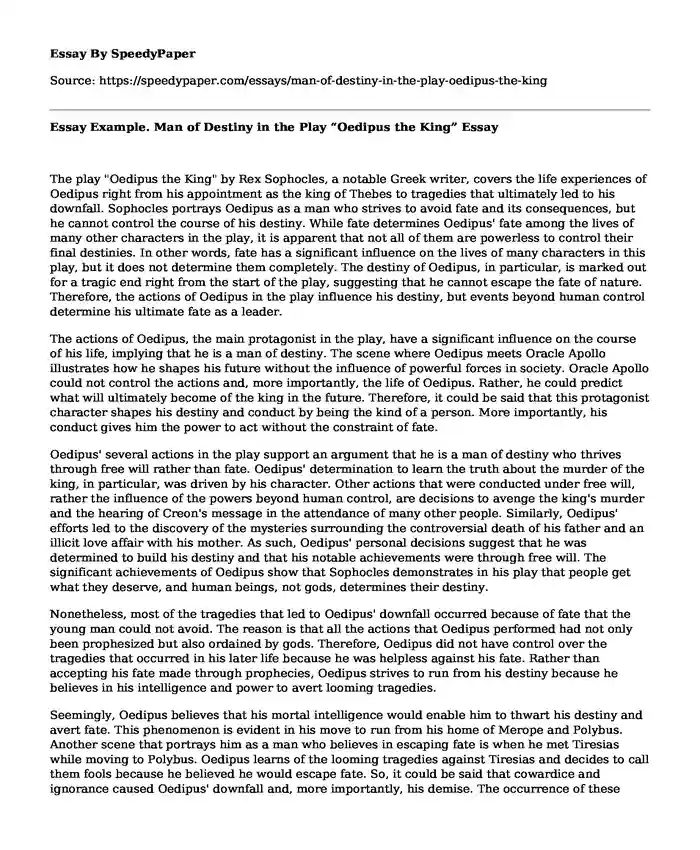 The play "Oedipus the King" by Rex Sophocles, a notable Greek writer, covers the life experiences of Oedipus right from his appointment as the king of Thebes to tragedies that ultimately led to his downfall. Sophocles portrays Oedipus as a man who strives to avoid fate and its consequences, but he cannot control the course of his destiny. While fate determines Oedipus' fate among the lives of many other characters in the play, it is apparent that not all of them are powerless to control their final destinies. In other words, fate has a significant influence on the lives of many characters in this play, but it does not determine them completely. The destiny of Oedipus, in particular, is marked out for a tragic end right from the start of the play, suggesting that he cannot escape the fate of nature. Therefore, the actions of Oedipus in the play influence his destiny, but events beyond human control determine his ultimate fate as a leader.
The actions of Oedipus, the main protagonist in the play, have a significant influence on the course of his life, implying that he is a man of destiny. The scene where Oedipus meets Oracle Apollo illustrates how he shapes his future without the influence of powerful forces in society. Oracle Apollo could not control the actions and, more importantly, the life of Oedipus. Rather, he could predict what will ultimately become of the king in the future. Therefore, it could be said that this protagonist character shapes his destiny and conduct by being the kind of a person. More importantly, his conduct gives him the power to act without the constraint of fate.
Oedipus' several actions in the play support an argument that he is a man of destiny who thrives through free will rather than fate. Oedipus' determination to learn the truth about the murder of the king, in particular, was driven by his character. Other actions that were conducted under free will, rather the influence of the powers beyond human control, are decisions to avenge the king's murder and the hearing of Creon's message in the attendance of many other people. Similarly, Oedipus' efforts led to the discovery of the mysteries surrounding the controversial death of his father and an illicit love affair with his mother. As such, Oedipus' personal decisions suggest that he was determined to build his destiny and that his notable achievements were through free will. The significant achievements of Oedipus show that Sophocles demonstrates in his play that people get what they deserve, and human beings, not gods, determines their destiny.
Nonetheless, most of the tragedies that led to Oedipus' downfall occurred because of fate that the young man could not avoid. The reason is that all the actions that Oedipus performed had not only been prophesized but also ordained by gods. Therefore, Oedipus did not have control over the tragedies that occurred in his later life because he was helpless against his fate. Rather than accepting his fate made through prophecies, Oedipus strives to run from his destiny because he believes in his intelligence and power to avert looming tragedies.
Seemingly, Oedipus believes that his mortal intelligence would enable him to thwart his destiny and avert fate. This phenomenon is evident in his move to run from his home of Merope and Polybus. Another scene that portrays him as a man who believes in escaping fate is when he met Tiresias while moving to Polybus. Oedipus learns of the looming tragedies against Tiresias and decides to call them fools because he believed he would escape fate. So, it could be said that cowardice and ignorance caused Oedipus' downfall and, more importantly, his demise. The occurrence of these tragedies shows that Oedipus had an inescapable destiny that he could not influence through his efforts. According to Sand et al. (2016), Sophocles wrote the play at a time when many people believed a Greek philosophy that gods predetermine people's fate, suggesting that their destiny is unchangeable. The Greeks of that time further believed that people should learn to accept fate since there is no way they cannot avoid it (Sand et al., 2016).
Oedipus is not willing to accept the truth of his fate, yet he cannot escape it. In the first parts of the play, Sophocles portrays Oedipus as a dumbfounded man overtaken by events. The reason is that he neither did know about causing his father's death nor marrying his mother. However, Oedipus learns later that the people he thought to be his biological parents were not the real ones. This man even realized that he once killed his male parent, and he had married his beloved mother (Rex & Finglass, 2018). Since Oedipus promised to punish himself if found guilty of killing his father, he had to do so as a way of upholding the interests of his people. By this point, there is no way this man could avoid or even avert the consequences of fate, and this aspect explains him as a man of destiny. It is worth noting that Oedipus had initially downplayed his fate and instead perceived it as a strategy that Tiresias was using to dethrone him.
There was no way Oedipus could change his destiny when it came to his knowledge that he was responsible for the death of his father. He bore this responsibility by accepting the punishment that the community had assigned to the murderer of Laius. However, Tiresias was annoyed with Oedipus' unintentional incest and believed that fate should take the course through punishments from gods. They said to Oedipus that no man in the world could make the gods do more than the gods will (Luthra, 2016). The Thebes isolated Oedipus for his sins and could not escape the ultimate destiny. Although the fate of this man was predetermined, Oedipus strives to escape it. One of the approaches that he took to avoid marrying his mother, for instance, is to flee from his homeland town. His motive, in this regard, was to relieve himself and set his mind free like any other person in trouble. While most of these problems are associated with fate, actions like sending Creon to Delphi at a time of a severe plague hastened his downfall. Also, he impatiently investigated the murder of King Laius and ended up unknowingly cursing himself.
Conclusion
Oedipus is perceived as a man of destiny in the play "Oedipus the King." Fate ultimately brought his downfall, despite attempts to avert it. Initially, an Oracle had said that this man would slay his father and marry his mother. Oedipus' efforts to change his destiny was unsuccessful because he was bound to fail and marry his mother. However, his behavior and personality influenced his success in the first parts of the play. While Oedipus needed fate the least, its role was there for him to shape his ultimate destiny. In the end, fate won, and Oedipus failed. So, it could be said that the role of destiny in Oedipus' life is mighty and inevitable.
References
Luthra, N. (2016). European Classical Literature Lesson: King Oedipus by Sophocles. Retrieved
20 November 2019, from https://www.academia.edu/download/57790745/Sophocles_King_Oedipus.pdf/url/
Rex, O., & Finglass, P. (2018). Oedipus the king. Cambridge University Press.
Sand, S., Ujjan, A., Turk, M., Detho, M., Nizaman, M., DuaUrooj, S., & Panhwar, K. (2016).
Role of Fate in the Play '" Oedipus the King." The International Research Journal, 5(2), 49-53. Retrieved 20 November 2019, from https://www.researchgate.net/publication/326042102/url/
Cite this page
Essay Example. Man of Destiny in the Play "Oedipus the King". (2023, Mar 01). Retrieved from https://speedypaper.com/essays/man-of-destiny-in-the-play-oedipus-the-king
Request Removal
If you are the original author of this essay and no longer wish to have it published on the SpeedyPaper website, please click below to request its removal: