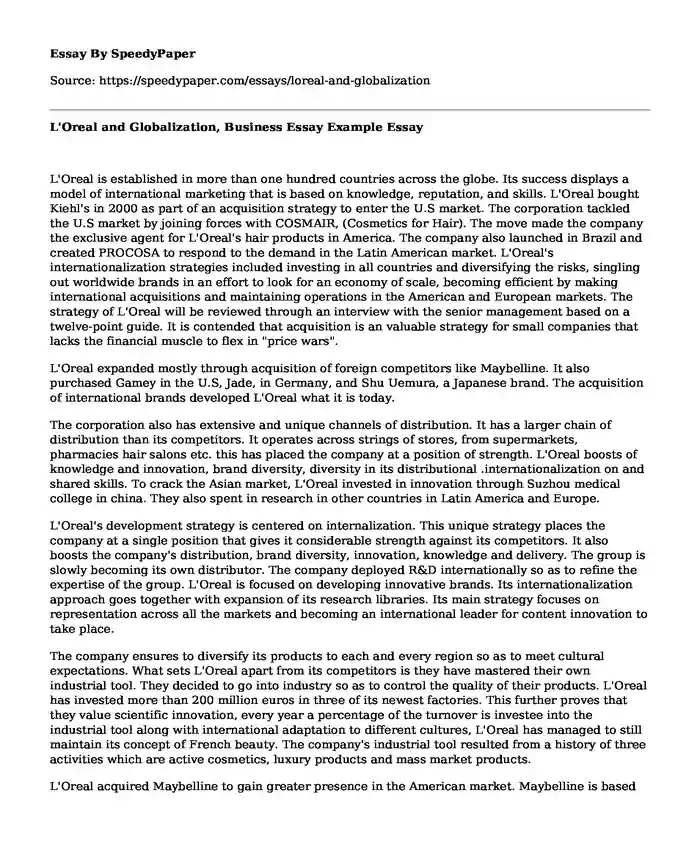 L'Oreal is established in more than one hundred countries across the globe. Its success displays a model of international marketing that is based on knowledge, reputation, and skills. L'Oreal bought Kiehl's in 2000 as part of an acquisition strategy to enter the U.S market. The corporation tackled the U.S market by joining forces with COSMAIR, (Cosmetics for Hair). The move made the company the exclusive agent for L'Oreal's hair products in America. The company also launched in Brazil and created PROCOSA to respond to the demand in the Latin American market. L'Oreal's internationalization strategies included investing in all countries and diversifying the risks, singling out worldwide brands in an effort to look for an economy of scale, becoming efficient by making international acquisitions and maintaining operations in the American and European markets. The strategy of L'Oreal will be reviewed through an interview with the senior management based on a twelve-point guide. It is contended that acquisition is an valuable strategy for small companies that lacks the financial muscle to flex in "price wars".
L'Oreal expanded mostly through acquisition of foreign competitors like Maybelline. It also purchased Gamey in the U.S, Jade, in Germany, and Shu Uemura, a Japanese brand. The acquisition of international brands developed L'Oreal what it is today.
The corporation also has extensive and unique channels of distribution. It has a larger chain of distribution than its competitors. It operates across strings of stores, from supermarkets, pharmacies hair salons etc. this has placed the company at a position of strength. L'Oreal boosts of knowledge and innovation, brand diversity, diversity in its distributional .internationalization on and shared skills. To crack the Asian market, L'Oreal invested in innovation through Suzhou medical college in china. They also spent in research in other countries in Latin America and Europe.
L'Oreal's development strategy is centered on internalization. This unique strategy places the company at a single position that gives it considerable strength against its competitors. It also boosts the company's distribution, brand diversity, innovation, knowledge and delivery. The group is slowly becoming its own distributor. The company deployed R&D internationally so as to refine the expertise of the group. L'Oreal is focused on developing innovative brands. Its internationalization approach goes together with expansion of its research libraries. Its main strategy focuses on representation across all the markets and becoming an international leader for content innovation to take place.
The company ensures to diversify its products to each and every region so as to meet cultural expectations. What sets L'Oreal apart from its competitors is they have mastered their own industrial tool. They decided to go into industry so as to control the quality of their products. L'Oreal has invested more than 200 million euros in three of its newest factories. This further proves that they value scientific innovation, every year a percentage of the turnover is investee into the industrial tool along with international adaptation to different cultures, L'Oreal has managed to still maintain its concept of French beauty. The company's industrial tool resulted from a history of three activities which are active cosmetics, luxury products and mass market products.
L'Oreal acquired Maybelline to gain greater presence in the American market. Maybelline is based in Memphis and is known for making inexpensive cosmetics that are sold through discount and drug stores. L'Oreal assumed Maybelline's debt of $152million.The company's growth strategy is mainly focused on global expansion; L'Oreal strives increase its customer base by distributing its brands into new countries and raising market share. The company also plans to continue its digital innovation. This will drive the market future of the company and with its investments in the founder's factory, it will have access to a lot of beauty tech startups that will allow the company to accelerate maintain its unique competitive edge and accelerate its growth.
Cite this page
L'Oreal and Globalization, Business Essay Example. (2022, Mar 30). Retrieved from https://speedypaper.com/essays/loreal-and-globalization
Request Removal
If you are the original author of this essay and no longer wish to have it published on the SpeedyPaper website, please click below to request its removal: