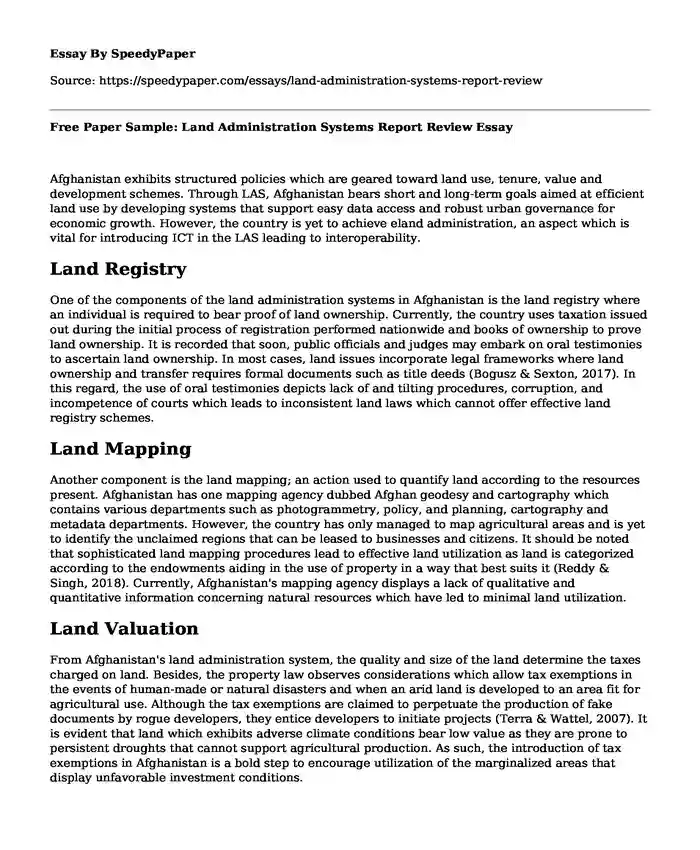 Afghanistan exhibits structured policies which are geared toward land use, tenure, value and development schemes. Through LAS, Afghanistan bears short and long-term goals aimed at efficient land use by developing systems that support easy data access and robust urban governance for economic growth. However, the country is yet to achieve eland administration, an aspect which is vital for introducing ICT in the LAS leading to interoperability.
Land Registry
One of the components of the land administration systems in Afghanistan is the land registry where an individual is required to bear proof of land ownership. Currently, the country uses taxation issued out during the initial process of registration performed nationwide and books of ownership to prove land ownership. It is recorded that soon, public officials and judges may embark on oral testimonies to ascertain land ownership. In most cases, land issues incorporate legal frameworks where land ownership and transfer requires formal documents such as title deeds (Bogusz & Sexton, 2017). In this regard, the use of oral testimonies depicts lack of and tilting procedures, corruption, and incompetence of courts which leads to inconsistent land laws which cannot offer effective land registry schemes.
Land Mapping
Another component is the land mapping; an action used to quantify land according to the resources present. Afghanistan has one mapping agency dubbed Afghan geodesy and cartography which contains various departments such as photogrammetry, policy, and planning, cartography and metadata departments. However, the country has only managed to map agricultural areas and is yet to identify the unclaimed regions that can be leased to businesses and citizens. It should be noted that sophisticated land mapping procedures lead to effective land utilization as land is categorized according to the endowments aiding in the use of property in a way that best suits it (Reddy & Singh, 2018). Currently, Afghanistan's mapping agency displays a lack of qualitative and quantitative information concerning natural resources which have led to minimal land utilization.
Land Valuation
From Afghanistan's land administration system, the quality and size of the land determine the taxes charged on land. Besides, the property law observes considerations which allow tax exemptions in the events of human-made or natural disasters and when an arid land is developed to an area fit for agricultural use. Although the tax exemptions are claimed to perpetuate the production of fake documents by rogue developers, they entice developers to initiate projects (Terra & Wattel, 2007). It is evident that land which exhibits adverse climate conditions bear low value as they are prone to persistent droughts that cannot support agricultural production. As such, the introduction of tax exemptions in Afghanistan is a bold step to encourage utilization of the marginalized areas that display unfavorable investment conditions.
Land Development
Another component of land development which is geared toward enhancing Afghanistan's urban development. Such a move is governed by the urban national priority program that seeks to achieve safe and dynamic urban centers that support economic growth, social and cultural inclusion. Informal urban development leads to informal settlement schemes with minimal security and essential commodities such as clean water. Also, informal housing is inadequate to provide shelter for the growing population in urban centers due to increased rural to urban migration. Coming up with a planned urban development will improve the housing conditions leading to decent settlements in urban centers.
Data Types and Collection Methods
The development of efficient land administration systems necessitates the formulation of efficient data collection methods to capture different types of data. In the efforts of collecting such data, Afghanistan has developed a database for the land administration system to unify, protect and legislate the present arrangements for easy access of land development, use, value, and tenure data. When running the database, the required data include land value, property taxes, land use, the title of ownership among others which will be collected using aerial survey, government institutions, and sensors.
Spatial Data Infrastructure
Afghanistan has embraced the current advancement in technology by using spatial data infrastructure where individuals and agencies will access information without altering the content. Also, the move is geared towards organizing data to different categories for easy retrieval. SDI is seen as a way of enabling agencies to share data to the public as Afghanistan records average internet connectivity which renders data sharing through the internet a challenge. Creating a spatial data infrastructure is beneficial since it maintains data security and integrity by providing a venue for retrieving factual data (Sadahiro, 2008). Also, it provides an easy way of accessing data as users can locate geospatial data quickly and also obtain its quality.
eland Administration
Afghanistan is yet to embark on the eland administration due to the absence of the unification scheme for the existing systems that host individual indicator records. Besides, the country records a low internet usage which hampers the establishment of eland systems. In this scenario, the state can use data capture which does not require web service. Also, cataloging is appropriate as Afghanistan faces security challenges which jeopardize the safety of paperwork. For Afghanistan to enjoy eland administration, it should embark on ICT development as it requires interoperability where computer systems work interdependently to share data.
Accessing Land Administration Systems
For a successful land administration successful land administration systems, Afghanistan should embark on evaluation schemes to determine its profitability. For example, the country should monitor the short term and long term goals for developing safe and dynamic urban centers. Robust urban centers are projected to create sustainable living environments with adequate housing and infrastructure. Also, sophisticated administration systems will generate a readily available data which can be accessed easily. However, development should be controlled by ensuring rural areas are also factored to avoid increased rural to urban migration.
References
Bogusz, B., & Sexton, R. (2017). Complete land law: Text, cases, and materials. Oxford: Oxford University Press.
Reddy, G., & Singh, S. (2018). Geospatial Technologies in Land Resources Mapping, Monitoring and Management. Cham: Springer International Publishing.
Sadahiro, Y. (2008). Spatial data infrastructure for urban regeneration. Tokyo: Springer.
Terra, B. J. M., & Wattel, P. J. (2007). European tax law. The Hague: Kluwer Law International.
Cite this page
Free Paper Sample: Land Administration Systems Report Review. (2022, Sep 12). Retrieved from https://speedypaper.com/essays/land-administration-systems-report-review
Request Removal
If you are the original author of this essay and no longer wish to have it published on the SpeedyPaper website, please click below to request its removal: