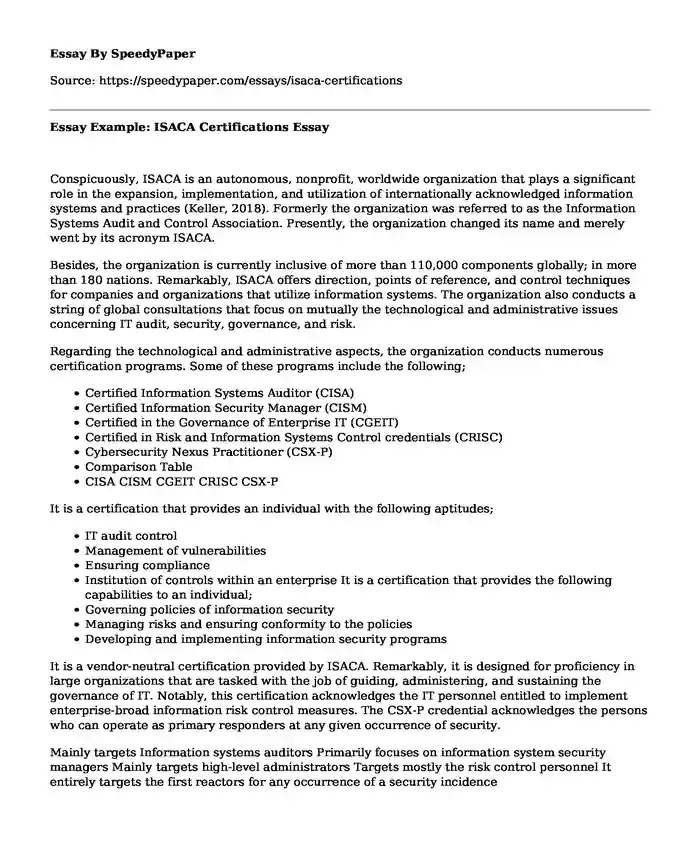 Conspicuously, ISACA is an autonomous, nonprofit, worldwide organization that plays a significant role in the expansion, implementation, and utilization of internationally acknowledged information systems and practices (Keller, 2018). Formerly the organization was referred to as the Information Systems Audit and Control Association. Presently, the organization changed its name and merely went by its acronym ISACA.
Besides, the organization is currently inclusive of more than 110,000 components globally; in more than 180 nations. Remarkably, ISACA offers direction, points of reference, and control techniques for companies and organizations that utilize information systems. The organization also conducts a string of global consultations that focus on mutually the technological and administrative issues concerning IT audit, security, governance, and risk.
Regarding the technological and administrative aspects, the organization conducts numerous certification programs. Some of these programs include the following;
Certified Information Systems Auditor (CISA)
Certified Information Security Manager (CISM)
Certified in the Governance of Enterprise IT (CGEIT)
Certified in Risk and Information Systems Control credentials (CRISC)
Cybersecurity Nexus Practitioner (CSX-P)
Comparison Table
CISA CISM CGEIT CRISC CSX-P
It is a certification that provides an individual with the following aptitudes;
IT audit control
Management of vulnerabilities
Ensuring compliance
Institution of controls within an enterprise It is a certification that provides the following capabilities to an individual;
Governing policies of information security
Managing risks and ensuring conformity to the policies
Developing and implementing information security programs
It is a vendor-neutral certification provided by ISACA. Remarkably, it is designed for proficiency in large organizations that are tasked with the job of guiding, administering, and sustaining the governance of IT. Notably, this certification acknowledges the IT personnel entitled to implement enterprise-broad information risk control measures. The CSX-P credential acknowledges the persons who can operate as primary responders at any given occurrence of security.
Mainly targets Information systems auditors Primarily focuses on information system security managers Mainly targets high-level administrators Targets mostly the risk control personnel It entirely targets the first reactors for any occurrence of a security incidence
Discussion
Typically, the CISA certification happens to be the most popular certification of ISACA by distance. Remarkably, it had achieved an approximate grant of 115,000 credentials from the time when the program commenced (Cannon et al., 2006). Conspicuously, for an individual to realize the CISA certification, they ought to pass a 150-question examination, present evidence of their job experience, and finish the application. Regarding the work experience, it ought to be at least five years of proficiency-level information systems assessment, management or security.
Moving on, the Certified Information Security Manager certification has turned out to be the primary credential for the administration area of information security. The certification lays its focus on the professionals who plan, build up and supervise an organization's system of information (Peltier, 2016). Essentially, for an individual to attain a CISM certification, they ought to pass a 200-question exam, offer substantial evidence of their work experience, and draw the application to a close. In regards to the aspect of job experience, an individual is required to attain at least five years of competent-level information security.
Apparently, they exist quite a small quantity of persons who have attained the Certified in the Governance of Enterprise IT certification. Remarkably, these individuals seize senior-level ranks in their particular enterprises. The accreditation is premeditated for experts who are profoundly ingrained in enterprise authority and assurance (Isaca, 2009). Typically, they align how the business operates.
Certified in Risk and Information Systems Control (CRISC) is another category of certification offered by ISACA. It recognizes IT personnel who are accountable for executing broad business information risk-managing initiatives (James & Callen, 2018). For an individual to attain a CRISC certification, they ought to pass a 150-question exam, present evidence of their work experience, and finish off the application.
The last certification offered by ISACA is the CSX-P. The credential acknowledges the multiple persons who have the aptitude of responding first for in the event of a security concern (Aijala, 2018). Regarding this certification, applicants ought to exhibit proficiency and indulgence in performing tasks with firewalls, scrapping antivirus retorts, and executing various security measures.
To sum up this discussion, the Certified Information Security Manager certification would serve appropriately in regards to my area of work. The reason for this is the certification will offer a platform whereby I can enhance my skills in the following significant fields;
Information safety control
Information risk administration and observance
Information safety occurrence management
Information security program development and management
References
Aijala, T. (2018). CISSP certification-accreditation value for employees and recruiters. Retrieved from https://www.theseus.fi/handle/10024/148953
Cannon, D. L., Bergmann, T. S., & Pamplin, B. (2006). CISA. Wiley. Retrieved from https://gpreview.kingborn.net/455000/ea12ffde61504d35abd0cdb4c377e64f.pdf
Isaca. (2009). Implementing and Continually Improving IT Governance. ISACA. Retrieved from https://books.google.com/books?hl=en&lr=&id=2gwDIwXoVNoC&oi=fnd&pg=PA7&dq=Certified+in+the+Governance+of+Enterprise+IT+(CGEIT)&ots=zD75XMnSdo&sig=Iba_VfbXHYLrnJ08nL3doLS-tBU
James, J. E., & Callen, J. (2018). Cybersecurity Certifications Matter. Issues in Information Systems, 19(3). Retrieved from http://www.iacis.org/iis/2018/3_iis_2018_193-201.pdf
Keller, N. (2018). Success Story: ISACA. Retrieved from https://www.nist.gov/cyberframework/success-stories/isaca
Peltier, T. R. (2016). Complete guide to CISM certification. Auerbach Publications. Retrieved from https://content.taylorfrancis.com/books/download?dac=C2009-0-09904-0&isbn=9781420013252&format=googlePreviewPdf
Cite this page
Essay Example: ISACA Certifications. (2023, Apr 10). Retrieved from https://speedypaper.com/essays/isaca-certifications
Request Removal
If you are the original author of this essay and no longer wish to have it published on the SpeedyPaper website, please click below to request its removal: