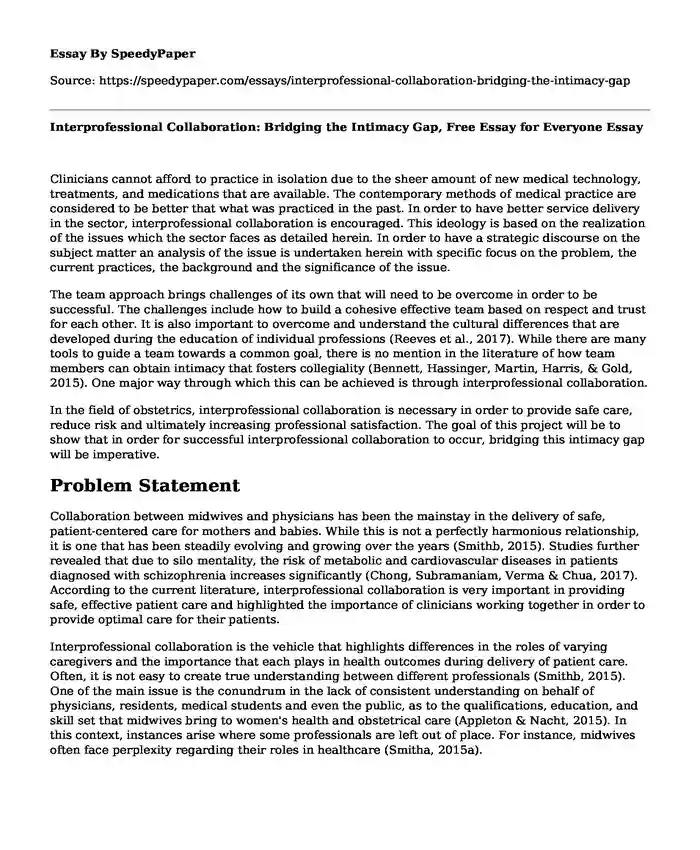 | | |
| --- | --- |
| Type of paper:  | Literature review |
| Categories: | Healthcare |
| Pages: | 7 |
| Wordcount: | 1673 words |
Clinicians cannot afford to practice in isolation due to the sheer amount of new medical technology, treatments, and medications that are available. The contemporary methods of medical practice are considered to be better that what was practiced in the past. In order to have better service delivery in the sector, interprofessional collaboration is encouraged. This ideology is based on the realization of the issues which the sector faces as detailed herein. In order to have a strategic discourse on the subject matter an analysis of the issue is undertaken herein with specific focus on the problem, the current practices, the background and the significance of the issue.
The team approach brings challenges of its own that will need to be overcome in order to be successful. The challenges include how to build a cohesive effective team based on respect and trust for each other. It is also important to overcome and understand the cultural differences that are developed during the education of individual professions (Reeves et al., 2017). While there are many tools to guide a team towards a common goal, there is no mention in the literature of how team members can obtain intimacy that fosters collegiality (Bennett, Hassinger, Martin, Harris, & Gold, 2015). One major way through which this can be achieved is through interprofessional collaboration.
In the field of obstetrics, interprofessional collaboration is necessary in order to provide safe care, reduce risk and ultimately increasing professional satisfaction. The goal of this project will be to show that in order for successful interprofessional collaboration to occur, bridging this intimacy gap will be imperative.
Problem Statement
Collaboration between midwives and physicians has been the mainstay in the delivery of safe, patient-centered care for mothers and babies. While this is not a perfectly harmonious relationship, it is one that has been steadily evolving and growing over the years (Smithb, 2015). Studies further revealed that due to silo mentality, the risk of metabolic and cardiovascular diseases in patients diagnosed with schizophrenia increases significantly (Chong, Subramaniam, Verma & Chua, 2017). According to the current literature, interprofessional collaboration is very important in providing safe, effective patient care and highlighted the importance of clinicians working together in order to provide optimal care for their patients.
Interprofessional collaboration is the vehicle that highlights differences in the roles of varying caregivers and the importance that each plays in health outcomes during delivery of patient care. Often, it is not easy to create true understanding between different professionals (Smithb, 2015). One of the main issue is the conundrum in the lack of consistent understanding on behalf of physicians, residents, medical students and even the public, as to the qualifications, education, and skill set that midwives bring to women's health and obstetrical care (Appleton & Nacht, 2015). In this context, instances arise where some professionals are left out of place. For instance, midwives often face perplexity regarding their roles in healthcare (Smitha, 2015a).
Current Practices
Successful interprofessional collaborations between midwives and physicians were seen during the review of the literature. According to Smith (2015a), there has always been a need for better collaboration between staffs in the healthcare sector. The author indicates that with the newly found seal for collaboration between the doctors and the midwives. In this context, upon review of the importance of interprofessional collaboration, the dynamics, complexities, challenges, and success of collaboration were brought to light (Smith, 2015a). These collaborative sessions were also noted to increase professional satisfaction. In this context, it was noted that the successful collaboration was as a result of serious consideration of others' values, shared goals and decision making (Reeves et al., 2017). Also, the roles, trust, respect, effective communication and purpose were put into consideration (Bennett et al., 2015). All of these elements are important as they provide a foundation for teams to build upon by providing structure and support (Bennett et al., 2015).
Background and Significance of the Problem
Barriers to an effective team include team members not understanding each other's scopes of practice, education, and training. The silo mentality brings with it some negative effects that facilitate lack of cooperation between the departments in an organization. According to Bevc, Retrum & Varda (2015), the silo mentality motivates the staff members to focus on their department or sector in the organization. Such employees end up disregarding other departments and workers as well. As a result of this disregard, the performance of the organization is affected and therefore the patients as well. To this extent, the effects of poor team work cannot go ignored. One example of poor team work is the poor relationship that is often experienced between midwives and obstetricians.
Midwives and obstetricians can make a very effective team that benefits all parties especially the women and children that are under their care (Smith, 2015a). Appleton & Nacht, (2015) reviewed a new program at the University of Colorado between the College of Nursing midwifery faculty and the School of Medicine, Department of Obstetrics and Gynecology. The program implemented a new curriculum where midwives not only taught first-year residents about physiologic birth in a classroom setting but the residents were also required to spend time in labor and delivery, postpartum and triage with the nurse midwives as part of their clinical rotation (Appleton & Nacht, 2015). The premise of this new program was to teach collaboration and expose residents to midwifery care (Appleton & Nacht, 2015). The feedback from the residents participating in this new program was favorable and revealed an increased understanding of midwifery care and collaboration (Appleton & Nacht, 2015).
The major theme through all literature reviewed was the importance that communication, respect, and honesty plays in a successful team (Orchard & Kabene, 2016; Smith, 2015a). These values provide interprofessional collaborative teams a guideline to follow in order to increase patient safety and professional satisfaction. The variations in professional cultures were discussed with emphasis on the importance of the interprofessional members to begin understanding the differences in order to become more cohesive.
PICOT Question
The PICOT question: is "In a newly formed team (P), does personal storytelling (I) compared to current team management (C) increase team intimacy (O) over a three-month period (T)?"
Planned Search Strategy
CINAHL, Cochrane Database, PubMed, and MeSH were the databases that were utilized during the literature review in order to develop the PICOT question. Key words and Boolean phrases are listed in Table 1. These were utilized when the searches were being conducted. The use of key words was in order to narrow down the search to only very relevant material. Several common themes were identified throughout the literature review and they included: safety, successful team values, communication, and collaboration (Bennett et al., 2015).
Table 1
Search Engine Key Words/Boolean/Phrase Total Results CINAHL Collaboration 46,705 Interprofessional 18,424 collaboration AND interprofessional
4,126 Collaborative Practice 1,072 Teams 72,928 Teams AND Development 13,042 Teams AND Intimacy 32 Teams AND Personal Storytelling 0 Teams AND Collegiality 39 Teams AND Management 15,468 Teams AND Respect 1,132 Teams AND Interprofessional 4,801 Teams AND Interprofessional AND Collaboration 1,513 Teams AND Collaboration AND Practice 2,496 Teams AND Collaboration AND Midwives 74 Storytelling 2901 Storytelling AND Teams 66 Storytelling AND Teams AND Function 0 Interprofessional AND Storytelling 23 TeamSTEPPS 115 TeamSTEPPS AND Midwives 1 Search Engine Key Words/Boolean/Phrase Results Cochrane Database Interprofessional Collaboration 3 TeamSTEPPS 8 Collaborative Care 20 Collaborative Care AND Interprofessional 9 Collaborative Care AND Midwives 1 Interprofessional Collaboration AND Midwives 0 TeamSTEPPS AND Midwives 0 MeSH Unique ID# D007400 Relations, Interprofessional
Etiquette, Medical
Medical Etiquette 586 Unique ID#: D033183 Communication, Interdisciplinary
Communications, Interdisciplinary
Interdisciplinary Communication
Multidisciplinary Communication
Communication, Multidisciplinary
Communications, Multidisciplinary
Multidisciplinary Communications
Cross-disciplinary Communication
Communication, Cross-Disciplinary
Communications, Cross-Disciplinary
Cross Disciplinary Communication
Cross-Disciplinary Communication
Communication Research
Research, Communication 262 Search Engine Key Words/Boolean/Phrase Total Results PubMed Collaboration 75,580 Interprofessional 53,275 collaboration AND interprofessional 4,922 Collaborative Practice 13,590 Search Engine Key Words/Boolean/Phrase Results Teams 127,960 Teams AND Development 21,345 Teams AND Intimacy 63 Teams AND Personal Storytelling 4 Teams AND Collegiality 136 Teams AND Management 59,906 Teams AND Respect 2,461 Teams AND Interprofessional 6,413 Teams AND Interprofessional AND Collaboration 106 Teams AND Collaboration AND Practice 2,523 Teams AND Collaboration AND Midwives 195 Storytelling 1,162 Storytelling AND Teams 30 Storytelling AND Teams AND Function 1 Interprofessional AND Storytelling 0 TeamSTEPPS 99 TeamSTEPPS AND Midwives 85 Conclusion
Conclusively, it has become clear from the review that interprofessional collaboration is critical and should be practiced more so in the medical fraternity. From the literature reviewed, it has also been determined that the medical fraternity has suffered due to poor collaboration. In the same context, it is clear that where there is no collaboration patients suffer. In this context, the collaboration between the professionals such as the midwives and physicians is determiend to be critical. Different methods of enhancign collaboration such as storrytelling have been determined as strategoc solution to the issue at hand. As such, it is clear that clinicians cannot afford to practice in isolation due to the sheer amount of new medical technology, treatments, and medications that are available.
References
Appleton, S., & Nacht, A. (2015). Interdisciplinary education from a college of nursing and school of medicine. Journal of Midwifery & Women's Health, 60(6), 744-750. doi: 10.1111/jmwh.12325
Bennett, A., Hassinger, J. A., Martin, L., Harris, L., & Gold, M. (2015). Developing patient-centered teams: The role of sharing stories about patients and patient care. Families, Systems, & Health, 33(3), 203-212. doi: 10.1037/fsh0000106
Bevc, C. A., H. Retrum, J., & M. Varda, D. (2015). New perspectives on the "silo effect": initial comparisons of network structures across public health collaboratives. American journal of public health, 105(S2), S230-S235.
Chong, S. A., Subramaniam, M., Verma, S., & Chua, H. C. (2017). Responding to the challenge of multimorbidity in people with serious mental illness.
Orchard, C. A., Curran, V., & Kabene, S. (2016). Creating a culture for interdisciplinary collaborative professional practice. Medical Education Online,10(1), 4387. doi: 10.3402/meo.v10i.4387
Reeves, S., Pelone, F., Harrison, R., Goldman, J., & Zwarenstein, M. (2017). Interprofessional collaboration to improve professional practice and healthcare outcomes (review). Cochrane Database of Systematic Reviews, 6, 1-49. Doi: 10.1002/14651858.CD000072...
Cite this page
Interprofessional Collaboration: Bridging the Intimacy Gap, Free Essay for Everyone. (2022, Apr 04). Retrieved from https://speedypaper.com/essays/interprofessional-collaboration-bridging-the-intimacy-gap
Request Removal
If you are the original author of this essay and no longer wish to have it published on the SpeedyPaper website, please click below to request its removal: