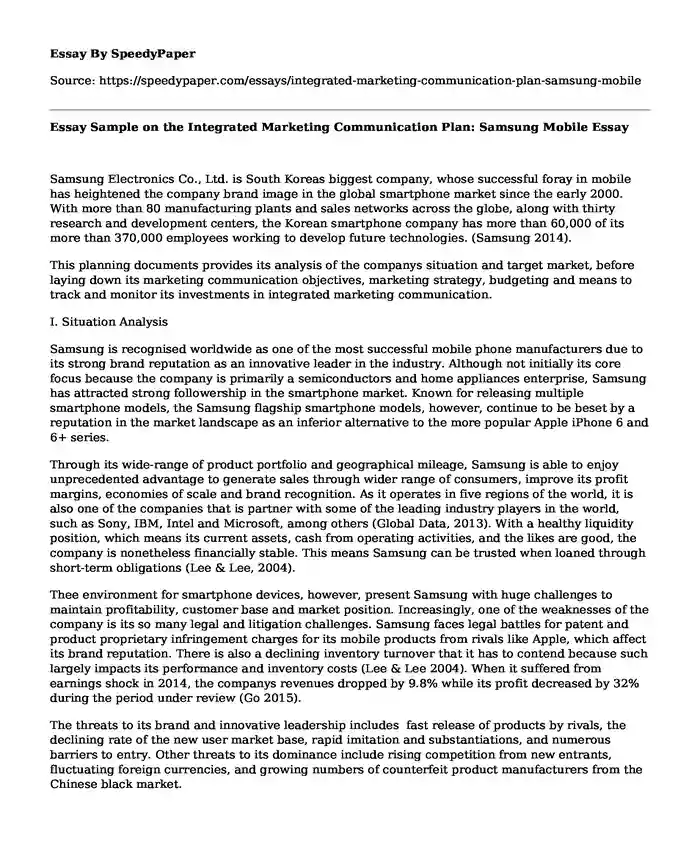 Samsung Electronics Co., Ltd. is South Koreas biggest company, whose successful foray in mobile has heightened the company brand image in the global smartphone market since the early 2000. With more than 80 manufacturing plants and sales networks across the globe, along with thirty research and development centers, the Korean smartphone company has more than 60,000 of its more than 370,000 employees working to develop future technologies. (Samsung 2014).
This planning documents provides its analysis of the companys situation and target market, before laying down its marketing communication objectives, marketing strategy, budgeting and means to track and monitor its investments in integrated marketing communication.
I. Situation Analysis
Samsung is recognised worldwide as one of the most successful mobile phone manufacturers due to its strong brand reputation as an innovative leader in the industry. Although not initially its core focus because the company is primarily a semiconductors and home appliances enterprise, Samsung has attracted strong followership in the smartphone market. Known for releasing multiple smartphone models, the Samsung flagship smartphone models, however, continue to be beset by a reputation in the market landscape as an inferior alternative to the more popular Apple iPhone 6 and 6+ series.
Through its wide-range of product portfolio and geographical mileage, Samsung is able to enjoy unprecedented advantage to generate sales through wider range of consumers, improve its profit margins, economies of scale and brand recognition. As it operates in five regions of the world, it is also one of the companies that is partner with some of the leading industry players in the world, such as Sony, IBM, Intel and Microsoft, among others (Global Data, 2013). With a healthy liquidity position, which means its current assets, cash from operating activities, and the likes are good, the company is nonetheless financially stable. This means Samsung can be trusted when loaned through short-term obligations (Lee & Lee, 2004).
Thee environment for smartphone devices, however, present Samsung with huge challenges to maintain profitability, customer base and market position. Increasingly, one of the weaknesses of the company is its so many legal and litigation challenges. Samsung faces legal battles for patent and product proprietary infringement charges for its mobile products from rivals like Apple, which affect its brand reputation. There is also a declining inventory turnover that it has to contend because such largely impacts its performance and inventory costs (Lee & Lee 2004). When it suffered from earnings shock in 2014, the companys revenues dropped by 9.8% while its profit decreased by 32% during the period under review (Go 2015).
The threats to its brand and innovative leadership includes fast release of products by rivals, the declining rate of the new user market base, rapid imitation and substantiations, and numerous barriers to entry. Other threats to its dominance include rising competition from new entrants, fluctuating foreign currencies, and growing numbers of counterfeit product manufacturers from the Chinese black market.
In the same environment, however, opportunities are also existing waiting to be explored, improved upon, strategized and optimized. The high demand for innovative flagship smartphones, new products that would make switching cost higher for customers, new operating systems, personal health management, and its strategic partnerships, among many others are additional opportunities to take for Samsung.
II. Target Audience Profile
The target audience for the Samsung smartphone products includes the following (Global Data, 2013):
o Male and female, aged 18 to 49, who have at least some college education.
o With annual salary of $50,000+.
o Highly-demanding of services and devices that are capable of faster connection to higher capacity networks (e.g., 4G and Wi-Fi networks), quality camera, security, and operating system that would allow increased performance, battery life, and the likes.
o The Samsung flagship series demographic audience are demanding for the company to release faster-than-ever communication, functional devices, and quality products even at a higher price.
III. Communication Objectives
The challenge for Samsung flagship mobile phones is to beat out its public image as reported by the media as the only second-best if not inferior alternative next to Apples iPhone. The company then must set out to communicate the following:
o Samsung has a world-class innovative technology to make its smartphone not only functional but cool to use (Awareness).
o New Samsung flagship smartphones are high-end devices sporting must-have features, stylish, and modern look for business-oriented professionals (Preference for brand prestige products).
o New Samsung flagship smartphones acts as fashion accessory to appeal to luxury brand-conscious audience (Preference).
o New Samsung flagship smartphones are preferred by popular celebrities, sports people, and social media influencers (Preference).
o The new products are best seasonal gifts (e.g., Graduation, Holiday Season, etc.) (Simulate sales).
IV. Integrated Marketing Communication Strategy
A. Creative Strategy. The new Samsung flagship smartphone will be marketed as high-end, most-preferred gadget by media influencers, and must-have accessories or digital items for the 18-36 years old, earning $50,000 annually. Integrated marketing communication strategy to be pushed will include print, radio, television, in-store branding, and the web.
B. Messaging Strategy. A new marketing tagline will be debuted, sporting an upbeat message: #YourMostBeautifulGalaxy that will be carried through the DRIP model of differentiate, reinforce, inform and persuade. Promotional mix of advertising, public relations, sponsorship, sales promotion, social media marketing, web marketing, direct marketing will be launched to ensure that following messaging are achieved:
a. First: to create awareness about Galaxy series as a differentiated product from its rivals.
b. Second: to reinforce the brand messaging objective that the Galaxy series is one to beat in the smartphone wars.
c.Third: to persuade the consumers who are on a buying-readiness states to the last state the purchase state or for the new customers to shift their loyalty to Samsung
C. Integration Strategy. The marketing campaign will push through the following key stages:
a. Pre-Launch: Brazil Olympics in 2016 will release footage of one of its celebrated soccer superstar, announcing the sports milestones in the history of Olympics. At the back of the soccer start speaking is a poster of the galaxy, where a big hashtag was splashed: #YourMostBeautifulGalaxy and the date (06.06.2016) which stands for the launch date. The aim is to generate buzz and word-of-mouth marketing to hype excitement about the new Galaxy model, earning free public relations for the company.
b. Launch: The specified 06.06.2016 date is actually the date of the World Mobile Convention 2016, which will be held in Barcelona, Spain, where the phone is also slated to be launched. Journalists and bloggers invited in the event will be given hands-on experience using the phone and will be invited to write and blog about their first impressions.
c. Galaxy Phone Release: The company will massive television advertisements, billboards, radio, magazine ads, social media campaigns, Youtube videos, in-store banners, and sponsorships. TVC and radio commercials will feature the new product endorsers or media influencers. On social media and the web, there will be landing pages and microsite that will promote the concept #YourMostBeautifulGalaxy through immersive experience with the customers. On stores, the company will make available augmented reality (AR) devices that will allow customers to get the feel of the new Galaxy series.
V. Budgeting
The IMC plan will have the following allocation of budget:
o Launch and near post-launch campaign and endorsement will each be earmarked with 3,000,000 or 30% each of the total 10,000,000.00 budget for the IMC plan.
o The sponsorship and events strategy for sponsorship and events during NBA Finals in US and Summer Olympics in Brazil will each receive 1,000,000 or 10% of the total maximum budget allotted for the implementation of the campaign.
o The pre-launch marketing plans Brazil Olympics Soccer Player Footage Production and World Mobile Convention will each receive 500,000 or 5% of the total budget, respectively.
o The bigger chunk of the budget has been allotted to the companys hype-making and post-launch campaign, because it is during these period where the company will need an intensified push to assert brand awareness and relevance of the Samsung product during its timing of release.
o It is also customary that Samsung increases the budget for promotional mix after launch until it is established. During the holiday season, the budget will be decreased on account that people have already been informed or made aware that selecting the new Samsung flagship smartphone is a smart choice and a brand most preferred to have or given out to impress.
Campaign Setup
Promotional Mix
Duration
Budget
Brazil Olympics 2016 Soccer Star Footage (Pre-Launch)
Viral Strategy, PR and Publicity Strategy
14 day
500,000
World Mobile Convention (Launch)
Sponsorship & Events Strategy, PR, Publicity Strategy, Viral Strategy, Direct Marketing
14 days
500,000
#YourMostBeautifulGalaxy Launch
Advertising Strategy, PR and Publicity Strategy, Direct Marketing Strategy, Sales Force Marketing, Packaging, Viral, Experiential Strategy
1 month
3,000,000
Post-Launch Product Endorsement
Viral Strategy, Product Endorsement by Influencers
Sales Promotion Strategy, Direct Marketing
7 months
3,000,000
NBA Finals (US)
Sponsorship and Events Strategy, Advertising strategy
1 month
1,000,000
Summer Olympics (Brazil)
Sponsorship and Events Strategy, advertising strategy
1 month
1,000,000
Holiday season Advertising (US)
Advertising strategy, PR and Publicity strategy, experiential strategy
1 month
1,000,000
GRAND TOTAL
10,000,000
VI. Evaluation and Control
The pre-launch hype-making campaigns, the companys basis of the effectiveness of these approaches have been tested during its previous launch. However, the same will still be tested using social media and web testing, whereby the video campaign will be sent out to selected market demographics, asking for them to rate and send feedback about the campaign.
Once Samsung has received the sales figures, it will then test whether the results of units sold was driven by advertising or other factors. Internet and social media analytics and metrics can be used to measure page views, which are signs of the popularity, or virality of its campaign. Banner advertisements effectiveness will also be based on click and dwell-rate. Logo tests will also be run to determine whether the new Samsung flagship product being advertised has increased its brand retention, and market share.
CONCLUSION
The challenge for the launch of the new Samsung flagship smartphone is to court new customers and change the perception of brand loyalists to the companys rivals who continue to perceive its products as an inferior alternative or substitute to the dominant market player Apple. The latter has built a solid reputation in the high-end, brand-conscious, business marketplace while Samsung still has to keep pace with its aggressive marketing push. But through a well-implemented and budgeted integrated marketing strategy, this can be changed. Using its budget for IMC strategy, the company will have to develop approaches, strategies and tactics that will promote its differentiated products, establish brand loyalists. Even with intensified competition, barriers to entry and declining user base in the developed economies, Samsung will have to consider the opportunities at its disposal since it is well-funded and adheres to going beyond its limitations in product innovation.
Reference List
Global Data. (2013, March 27). Samsung Electronics Company Ltd.- Financial and Strategic Analysis Review. Business Insights: Essentials. Retrieved http://callisto.ggsrv.com/imgsrv/FastFetch/UBER1/937517_GDTC32730FSA <Accessed 18 March 2016>.
Go, JI (2015). Strategic Analysis of Samsung's Smartphone Product Portfolio: Countering the Challenge from Chinese Competitors. Massachusetts Institute of Technology. Retrieved from http://hdl.handle.net/1721.1/99007 <Accessed 18 March 2016>.
Lee, B.Y. & Lee, S.J. (2004). Case Study of Samsungs Mobile Phone Business. KDI School of Public Policy & Management Paper No. 04-11. Retrieved from http://211.253.40.86/mille/service/PBH/10000/IMG/000000000489/W04-11.pdf <Accessed 18 March 2016).
Nielsen. (2014). Smartphone Milestone: Half of Americans Ages 55+ Own Smartphones. Nielsen. 22 April, 2014. Retrieved from Nielsen: http://www.nielsen.com/us/en/newswire/2014/smartphone-milestone-half-of- americans-ages-55-own-smartphones.html <Accessed 18 March 2016>
Samsung (2014). 2014 Samsung Electronics Annual Reports. Samsung. Retrieved from http://www.samsung.com/common/aboutsamsung/download/companyreports/2014_E.pdf <Accessed 18 March 2016>
Cite this page
Essay Sample on the Integrated Marketing Communication Plan: Samsung Mobile. (2017, Sep 02). Retrieved from https://speedypaper.com/essays/integrated-marketing-communication-plan-samsung-mobile
Request Removal
If you are the original author of this essay and no longer wish to have it published on the SpeedyPaper website, please click below to request its removal: