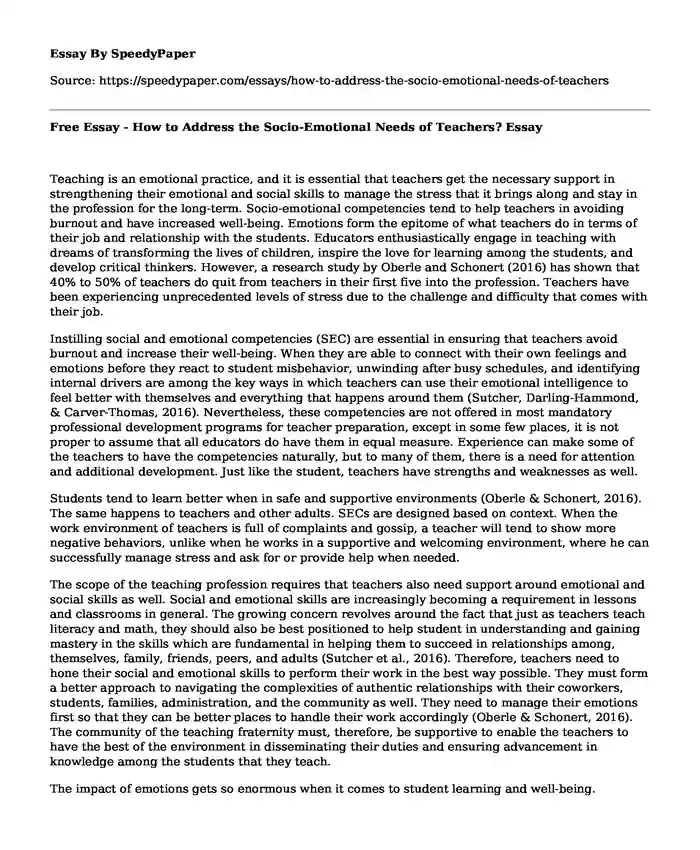 Teaching is an emotional practice, and it is essential that teachers get the necessary support in strengthening their emotional and social skills to manage the stress that it brings along and stay in the profession for the long-term. Socio-emotional competencies tend to help teachers in avoiding burnout and have increased well-being. Emotions form the epitome of what teachers do in terms of their job and relationship with the students. Educators enthusiastically engage in teaching with dreams of transforming the lives of children, inspire the love for learning among the students, and develop critical thinkers. However, a research study by Oberle and Schonert (2016) has shown that 40% to 50% of teachers do quit from teachers in their first five into the profession. Teachers have been experiencing unprecedented levels of stress due to the challenge and difficulty that comes with their job.
Instilling social and emotional competencies (SEC) are essential in ensuring that teachers avoid burnout and increase their well-being. When they are able to connect with their own feelings and emotions before they react to student misbehavior, unwinding after busy schedules, and identifying internal drivers are among the key ways in which teachers can use their emotional intelligence to feel better with themselves and everything that happens around them (Sutcher, Darling-Hammond, & Carver-Thomas, 2016). Nevertheless, these competencies are not offered in most mandatory professional development programs for teacher preparation, except in some few places, it is not proper to assume that all educators do have them in equal measure. Experience can make some of the teachers to have the competencies naturally, but to many of them, there is a need for attention and additional development. Just like the student, teachers have strengths and weaknesses as well.
Students tend to learn better when in safe and supportive environments (Oberle & Schonert, 2016). The same happens to teachers and other adults. SECs are designed based on context. When the work environment of teachers is full of complaints and gossip, a teacher will tend to show more negative behaviors, unlike when he works in a supportive and welcoming environment, where he can successfully manage stress and ask for or provide help when needed.
The scope of the teaching profession requires that teachers also need support around emotional and social skills as well. Social and emotional skills are increasingly becoming a requirement in lessons and classrooms in general. The growing concern revolves around the fact that just as teachers teach literacy and math, they should also be best positioned to help student in understanding and gaining mastery in the skills which are fundamental in helping them to succeed in relationships among, themselves, family, friends, peers, and adults (Sutcher et al., 2016). Therefore, teachers need to hone their social and emotional skills to perform their work in the best way possible. They must form a better approach to navigating the complexities of authentic relationships with their coworkers, students, families, administration, and the community as well. They need to manage their emotions first so that they can be better places to handle their work accordingly (Oberle & Schonert, 2016). The community of the teaching fraternity must, therefore, be supportive to enable the teachers to have the best of the environment in disseminating their duties and ensuring advancement in knowledge among the students that they teach.
The impact of emotions gets so enormous when it comes to student learning and well-being. Therefore, teachers must show competence in the social and emotional areas of a student's growth and learning developments. Developing such a level of competency skills calls for explicit training in the development of compassion, empathy, gratitude, among other social-emotional skills as well. It is fundamental that teachers develop these skills not only for their well-being but also to improve student learning.
Social and Emotional Learning and Teachers
The article pinpoints that teachers are at the core of social and emotional learning (SEL) programs and practices in classrooms, therefore, their social-emotional competence and wellbeing has a strong influence on the students. A learning environment in which there is a warm teacher-student relationship enhances active learning and healthy social and emotional development among the students as stated by Schonert-Reichl (2017). In scenarios where teachers fail to manage the social and emotional demands of their students effectively, the learners' level of academic performance and even behavior suffer a great deal. When the teachers social and emotional needs are not understood and addressed, then there is nothing much that we should expect from them in terms of promoting the SEL in the classroom.
Teaching is one of the most stressful occupations, and therefore it puts teachers to be definitely at risk of experiencing poor social and emotional wellbeing. Stress is the classroom can be contagious. That is, when a teacher is stressed out, it is more certain that he would have stressed out students as well (Schonert-Reichl, 2017). Previously, several studies have pointed to providing several interventions concerning improving the social and emotional competencies among teachers and even strategies towards stress management in schools, and the author of this article undertakes the review of the results of these studies.
The author further looks into how the beliefs of teachers about their teaching efficacy, and whether they received adequate support has influenced the level of fidelity in which they undertake the implementation of SEL programs in the classroom. When there is low fidelity, the SEL programs can never achieve a high success rate. She finally assesses the extent to which the U.S. teacher education programs sharpen teacher candidates towards promoting their own and their student's social and emotional competence, as she encourages that it is possible to achieve much more.
Teachers' SEL
The influence of teachers' social and emotional needs competence level cuts across the students' learning process and even the teacher's wellbeing. The competencies of teachers with regards to social and emotional needs define the nature of their relationships with the students as confirmed in the research study by Mark Greenberg of Pennsylvania State University and Patria Jennings of the University of Virginia (Schonert-Reichl, 2017, p. 139). The two scholars stated in the study that students' outcomes hugely depend on the quality of teacher-student relationships, classroom and student management, and effective implementation of the social and emotional learning program. A classroom with warm relationships between the teacher and the students promote deep learning, while students who feel comfortable with their peers and teachers put more effort to handle the challenges of learning and persistently try to resolve difficult learning tasks. On the contrary, teachers who poorly manage the social and emotional needs of learning; their students have lower performance and on-task behavior (Schonert-Reichl, 2017). Indeed, it is imperative that there is clear optimization of teachers' ability to promote SEL among their students as they help them to build on their own social and emotional competence.
Embedding SEL in Teacher Preparation
An increasing number of teacher preparation programs have started incorporating research, theory, and practical applications of SEL into the pre-service education of teachers. Schonert-Reichl (2017, p. 149) states that an example of such programs is the one undertaken by San Jose State University's Center for Reaching and Teaching the Whole Child. The institution has shown commitment to embedding the social and emotional dimensions of learning and teaching into the teacher preparation program of the university. The university's pre-service course, for instance, science and math or classroom management, have been redesigned and revised to incorporate SEL content. There is an observation protocol that the faculty has developed with an SEL orientation for university supervisors and mentor teachers to use as they observe student teaching.
Moreover, Schonert-Reichl (2017, p. 149), states that, at the University of British Columbia where he works, the Faculty of Education has integrated the SEL into a post-baccalaureate 12-month teaching preparation program. The program provides that teacher candidates should follow the general outline of the regular education program, but there is an added emphasis on SEL. Apart from learning SEL theory and research in the coursework when undertaking their student-teaching practicum, they learn how best to implement evidence-based SEL practices and programs in the classroom. The program gives the teacher candidates to review the broad variety of SEL programs and incorporate the strategies they have learned into the student teaching coursework (Schonert-Reichl, 2017). All the teacher candidates go through the process of understanding the active learning approaches which enable to create caring, safe, and participatory school and classroom environments.
Teaching the Whole Child
Supporting Social-Emotional Learning
The academia arena provides that the students learn social-emotional competencies in their classrooms as teachers equip them with such skills and also give them the opportunity to apply the acquired skills (Yoder, 2014). Teachers, on the other hand, are supposed to be given access to systematic supports so that they can provide these opportunities to the students. The role to ensure that teachers are given the systematic supports leans on the school administration, state education agencies, and districts (Yoder, 2014). There are specific action steps that the states, districts, teachers, and administrators can put in place in ensuring that there is promotion of student's SEL. First, the state should adopt and implement SEL standards which incorporate practices that support and promote SEL in educator evaluation systems (Yoder, 2014, p. 5-13). It can further ensure establishing policies which put focus on the implementation of those practices which are geared towards promoting and supporting SEL. The districts can take the action of creating process which ensure continuous assess of the effectiveness of programs and initiatives designed to enhance the implementation of SEL. On the other hand, the school administrators should ensure that they effectively implement the SEL program by integrating it into the academic curricular and learning resources. The school administrators should provide teachers with professional learning experiences on SEL by looking for instructional practies which support and promote SEL. Additionally, the school administrators ensure the integration of SEL to other school procedures and policies, for instance, the school vision and mission, school climate, or service learning programs. Lastly, the teachers' actions should encompass the use of specific instructional techniques and classroom management strategies, particularly those that foster a caring and supporting learning environment. The teachers need to deploy the use of instructional strategies which support incorporation and implementation of SEL in the classroom. They need to undertake as assessment of students' social-emotional competencies in the classroom. According to Yoder (2014, p.7), the teachers should ensure that there is successful implementation of the SEL by asking for feedback from their evaluators, peers, and administrators on the implementation of SEL.
Cite this page
Free Essay - How to Address the Socio-Emotional Needs of Teachers?. (2023, Jan 05). Retrieved from https://speedypaper.com/essays/how-to-address-the-socio-emotional-needs-of-teachers
Request Removal
If you are the original author of this essay and no longer wish to have it published on the SpeedyPaper website, please click below to request its removal: