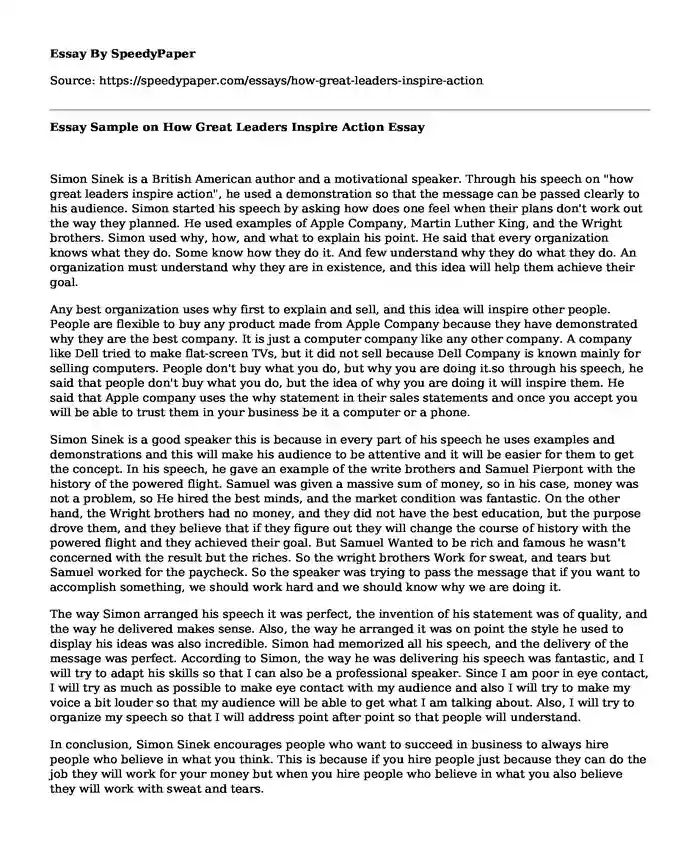 Simon Sinek is a British American author and a motivational speaker. Through his speech on "how great leaders inspire action", he used a demonstration so that the message can be passed clearly to his audience. Simon started his speech by asking how does one feel when their plans don't work out the way they planned. He used examples of Apple Company, Martin Luther King, and the Wright brothers. Simon used why, how, and what to explain his point. He said that every organization knows what they do. Some know how they do it. And few understand why they do what they do. An organization must understand why they are in existence, and this idea will help them achieve their goal.
Any best organization uses why first to explain and sell, and this idea will inspire other people. People are flexible to buy any product made from Apple Company because they have demonstrated why they are the best company. It is just a computer company like any other company. A company like Dell tried to make flat-screen TVs, but it did not sell because Dell Company is known mainly for selling computers. People don't buy what you do, but why you are doing it.so through his speech, he said that people don't buy what you do, but the idea of why you are doing it will inspire them. He said that Apple company uses the why statement in their sales statements and once you accept you will be able to trust them in your business be it a computer or a phone.
Simon Sinek is a good speaker this is because in every part of his speech he uses examples and demonstrations and this will make his audience to be attentive and it will be easier for them to get the concept. In his speech, he gave an example of the write brothers and Samuel Pierpont with the history of the powered flight. Samuel was given a massive sum of money, so in his case, money was not a problem, so He hired the best minds, and the market condition was fantastic. On the other hand, the Wright brothers had no money, and they did not have the best education, but the purpose drove them, and they believe that if they figure out they will change the course of history with the powered flight and they achieved their goal. But Samuel Wanted to be rich and famous he wasn't concerned with the result but the riches. So the wright brothers Work for sweat, and tears but Samuel worked for the paycheck. So the speaker was trying to pass the message that if you want to accomplish something, we should work hard and we should know why we are doing it.
The way Simon arranged his speech it was perfect, the invention of his statement was of quality, and the way he delivered makes sense. Also, the way he arranged it was on point the style he used to display his ideas was also incredible. Simon had memorized all his speech, and the delivery of the message was perfect. According to Simon, the way he was delivering his speech was fantastic, and I will try to adapt his skills so that I can also be a professional speaker. Since I am poor in eye contact, I will try as much as possible to make eye contact with my audience and also I will try to make my voice a bit louder so that my audience will be able to get what I am talking about. Also, I will try to organize my speech so that I will address point after point so that people will understand.
In conclusion, Simon Sinek encourages people who want to succeed in business to always hire people who believe in what you think. This is because if you hire people just because they can do the job they will work for your money but when you hire people who believe in what you also believe they will work with sweat and tears.
Cite this page
Essay Sample on How Great Leaders Inspire Action. (2023, Jan 27). Retrieved from https://speedypaper.com/essays/how-great-leaders-inspire-action
Request Removal
If you are the original author of this essay and no longer wish to have it published on the SpeedyPaper website, please click below to request its removal: