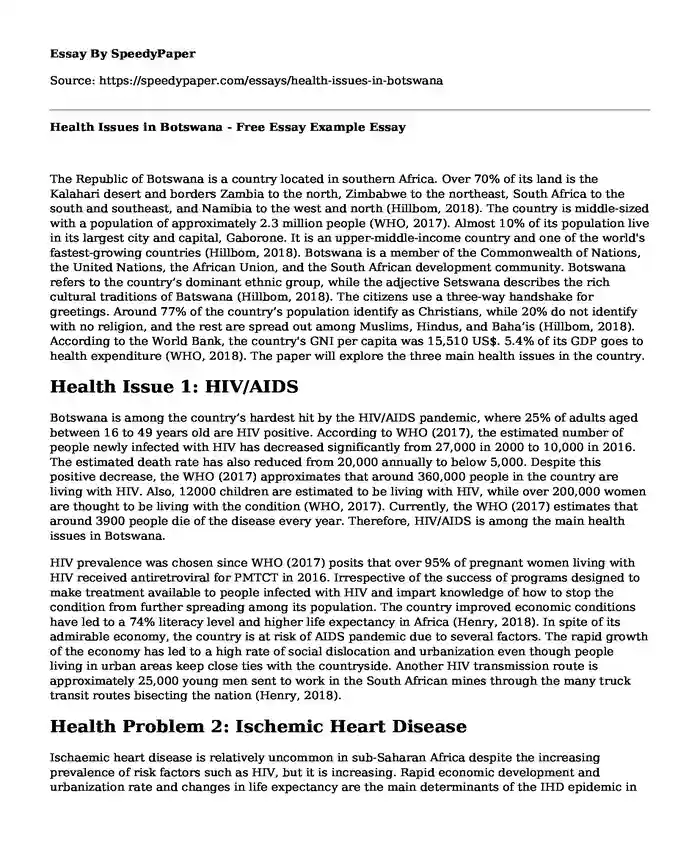 The Republic of Botswana is a country located in southern Africa. Over 70% of its land is the Kalahari desert and borders Zambia to the north, Zimbabwe to the northeast, South Africa to the south and southeast, and Namibia to the west and north (Hillbom, 2018). The country is middle-sized with a population of approximately 2.3 million people (WHO, 2017). Almost 10% of its population live in its largest city and capital, Gaborone. It is an upper-middle-income country and one of the world's fastest-growing countries (Hillbom, 2018). Botswana is a member of the Commonwealth of Nations, the United Nations, the African Union, and the South African development community. Botswana refers to the country's dominant ethnic group, while the adjective Setswana describes the rich cultural traditions of Batswana (Hillbom, 2018). The citizens use a three-way handshake for greetings. Around 77% of the country's population identify as Christians, while 20% do not identify with no religion, and the rest are spread out among Muslims, Hindus, and Baha'is (Hillbom, 2018). According to the World Bank, the country's GNI per capita was 15,510 US$. 5.4% of its GDP goes to health expenditure (WHO, 2018). The paper will explore the three main health issues in the country.
Health Issue 1: HIV/AIDS
Botswana is among the country's hardest hit by the HIV/AIDS pandemic, where 25% of adults aged between 16 to 49 years old are HIV positive. According to WHO (2017), the estimated number of people newly infected with HIV has decreased significantly from 27,000 in 2000 to 10,000 in 2016. The estimated death rate has also reduced from 20,000 annually to below 5,000. Despite this positive decrease, the WHO (2017) approximates that around 360,000 people in the country are living with HIV. Also, 12000 children are estimated to be living with HIV, while over 200,000 women are thought to be living with the condition (WHO, 2017). Currently, the WHO (2017) estimates that around 3900 people die of the disease every year. Therefore, HIV/AIDS is among the main health issues in Botswana.
HIV prevalence was chosen since WHO (2017) posits that over 95% of pregnant women living with HIV received antiretroviral for PMTCT in 2016. Irrespective of the success of programs designed to make treatment available to people infected with HIV and impart knowledge of how to stop the condition from further spreading among its population. The country improved economic conditions have led to a 74% literacy level and higher life expectancy in Africa (Henry, 2018). In spite of its admirable economy, the country is at risk of AIDS pandemic due to several factors. The rapid growth of the economy has led to a high rate of social dislocation and urbanization even though people living in urban areas keep close ties with the countryside. Another HIV transmission route is approximately 25,000 young men sent to work in the South African mines through the many truck transit routes bisecting the nation (Henry, 2018).
Health Problem 2: Ischemic Heart Disease
Ischaemic heart disease is relatively uncommon in sub-Saharan Africa despite the increasing prevalence of risk factors such as HIV, but it is increasing. Rapid economic development and urbanization rate and changes in life expectancy are the main determinants of the IHD epidemic in Sub Saharan Africa. According to data published by WHO in 2018, IHD deaths in Botswana have reached 9.02% or 1,310 of total annual deaths. In every 13 Batswana deaths, 1 is as a result of the condition ranking position 86 in the world, which indicates that about four people die of coronary Heart Disease every day (WHO, 2018).
Ischemic Heart Disease was selected since it has the second-highest mortality rate after HIV/AIDS in Botswana (WHO, 2018). The fast rise in IHD burden in Botswana is due to socio-economic changes, rising lifespan, and changes in living style risk factors. Further, the condition death rate is high and call for intervention to reduce its prevalence and risk factors. Several studies have highlighted HIV as an ISD risk factor, hence the need to identify, evaluate, and recognize the relationship between these diseases in the country.
Health Issue 3: Stroke
Strokes is another of Botswana's major health issues. According to WHO (2018) deaths due to stroke in the country reached 6.42% of the total annual deaths or 933 ranking position 64 in the world. Thus, stroke and heart disease are on the rise in Sub-Saharan Africa and are the leading cause of disability and death. In Botswana, stroke traditional risk factors such as diabetes mellitus, hypertension, sedentary lifestyle, excessive alcohol intake, unhealthy diet, truncal obesity, and dyslipidemia are on the rise among the African populace (Akpalu et al., 2015). Therefore, there is a need to tackle stroke burden and unravel the reasons for the escalating epidemic.
Stroke was chosen as a health problem in Botswana since it is among the leading cause of death in the country. Furthermore, people living with HIV have a high risk of strokes at a tender age. According to Bearden (2020), HIV-related strokes occurred in young people and were more likely to be lacunar in comparison with HIV-uninfected persons. Thus, among strokes patients with alcohol use and hypertension are important risk factors for strokes. And since there is HIV prevalence in the country and alcohol use in Malawi renders strokes a health concern. Moreover, a study in Malawi by Benjamin et al. (2017) found that patients who started on antiretroviral therapies were at a heightened risk of stroke, which raises concerns, particularly for immunocompromised individuals that the starting months following ART initiation is a time of significant neurological vulnerability.
In conclusion, HIV/AIDS, Ischemic Heart Disease, and Stroke are the leading cause of death in Botswana. They are the major health problems that the country is facing. The conditions are mainly as a result of rapid economic growth, urbanization, and increased life expectancy. Thus, the country needs to initiate programs that will help in tackling the burden of these three main health problems.
References
Akpalu, A., Sarfo, F. S., Ovbiagele, B., Akinyemi, R., Gebregziabher, M., Obiako, R. & Adamu, S. (2015). Phenotyping stroke in sub-Saharan Africa: stroke investigative research and education network (SIREN) phenomics protocol. Neuroepidemiology, 45(2), 73-82. https://www.karger.com/Article/PDF/437372
Bearden, D. R., Omech, B., Rulaganyang, I., Sesay, S. O., Kolson, D. L., Kasner, S. E., & Mullen, M. T. (2020). Stroke and HIV in Botswana: A prospective study of risk factors and outcomes. Journal of the Neurological Sciences, 116806. https://doi.org/10.1016/j.jns.2020.116806

Benjamin, L. A., Allain, T. J., Mzinganjira, H., Connor, M. D., Smith, C., Lucas, S. & Hopkins, M. (2017). The role of human immunodeficiency Virus–Associated vasculopathy in the etiology of stroke. The Journal of Infectious Diseases, 216(5), 545-553. https://academic.oup.com/jid/article/216/5/545/4002646

Henry, M. (2018, June 30). Botswana Leads in HIV Treatment. Harvard AIDS Initiative. https://aids.harvard.edu/botswana-leads-in-hiv-treatment/

Hillbom, E., & Bolt, J. (2018). Botswana–A Modern Economic History: An African Diamond in the Rough. Springer. https://link.springer.com/content/pdf/10.1007/978-3-319-73144-5.pdf
World Health Organization. (2017). Botswana HIV Country Profile: 2016. WHO | World Health Organization. https://www.who.int/hiv/data/Country_profile_Botswana.pdf?ua=1

World Health Organization. (2018). World Health Statistics 2018. WHO | World Health Organization. https://apps.who.int/iris/bitstream/handle/10665/272596/9789241565585-eng.pdf
Cite this page
Health Issues in Botswana - Free Essay Example. (2023, Sep 19). Retrieved from https://speedypaper.com/essays/health-issues-in-botswana
Request Removal
If you are the original author of this essay and no longer wish to have it published on the SpeedyPaper website, please click below to request its removal: