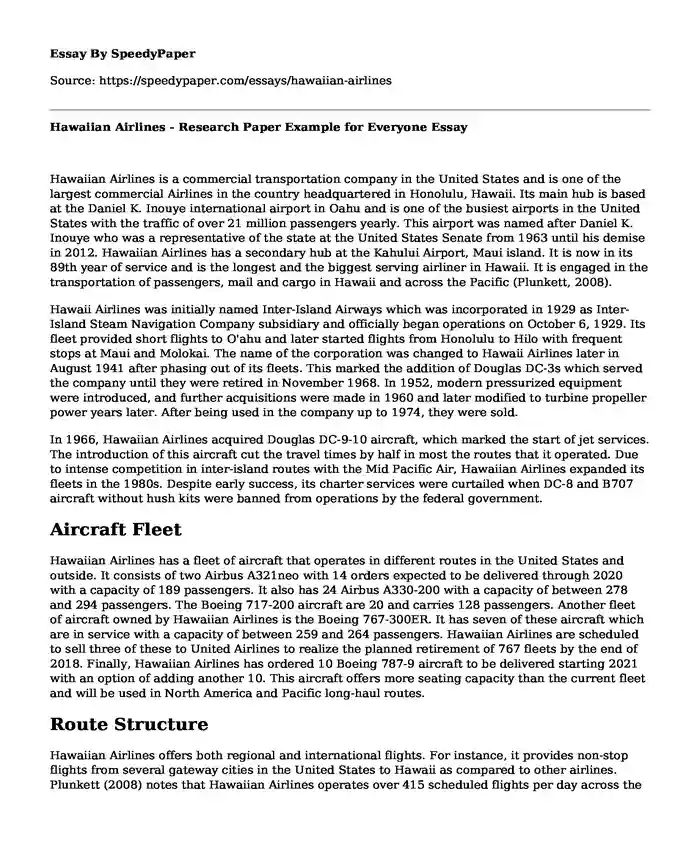 Hawaiian Airlines is a commercial transportation company in the United States and is one of the largest commercial Airlines in the country headquartered in Honolulu, Hawaii. Its main hub is based at the Daniel K. Inouye international airport in Oahu and is one of the busiest airports in the United States with the traffic of over 21 million passengers yearly. This airport was named after Daniel K. Inouye who was a representative of the state at the United States Senate from 1963 until his demise in 2012. Hawaiian Airlines has a secondary hub at the Kahului Airport, Maui island. It is now in its 89th year of service and is the longest and the biggest serving airliner in Hawaii. It is engaged in the transportation of passengers, mail and cargo in Hawaii and across the Pacific (Plunkett, 2008).
Hawaii Airlines was initially named Inter-Island Airways which was incorporated in 1929 as Inter-Island Steam Navigation Company subsidiary and officially began operations on October 6, 1929. Its fleet provided short flights to O'ahu and later started flights from Honolulu to Hilo with frequent stops at Maui and Molokai. The name of the corporation was changed to Hawaii Airlines later in August 1941 after phasing out of its fleets. This marked the addition of Douglas DC-3s which served the company until they were retired in November 1968. In 1952, modern pressurized equipment were introduced, and further acquisitions were made in 1960 and later modified to turbine propeller power years later. After being used in the company up to 1974, they were sold.
In 1966, Hawaiian Airlines acquired Douglas DC-9-10 aircraft, which marked the start of jet services. The introduction of this aircraft cut the travel times by half in most the routes that it operated. Due to intense competition in inter-island routes with the Mid Pacific Air, Hawaiian Airlines expanded its fleets in the 1980s. Despite early success, its charter services were curtailed when DC-8 and B707 aircraft without hush kits were banned from operations by the federal government.
Aircraft Fleet
Hawaiian Airlines has a fleet of aircraft that operates in different routes in the United States and outside. It consists of two Airbus A321neo with 14 orders expected to be delivered through 2020 with a capacity of 189 passengers. It also has 24 Airbus A330-200 with a capacity of between 278 and 294 passengers. The Boeing 717-200 aircraft are 20 and carries 128 passengers. Another fleet of aircraft owned by Hawaiian Airlines is the Boeing 767-300ER. It has seven of these aircraft which are in service with a capacity of between 259 and 264 passengers. Hawaiian Airlines are scheduled to sell three of these to United Airlines to realize the planned retirement of 767 fleets by the end of 2018. Finally, Hawaiian Airlines has ordered 10 Boeing 787-9 aircraft to be delivered starting 2021 with an option of adding another 10. This aircraft offers more seating capacity than the current fleet and will be used in North America and Pacific long-haul routes.
Route Structure
Hawaiian Airlines offers both regional and international flights. For instance, it provides non-stop flights from several gateway cities in the United States to Hawaii as compared to other airlines. Plunkett (2008) notes that Hawaiian Airlines operates over 415 scheduled flights per day across the Pacific routes to Los Angeles, San Jose, San Diego, San Francisco, Portland, Sacramento, Las Vegas, Phoenix, and Seattle. It also operates on over 175 inter-island routes among the major islands in Hawaii such as Kauai, O'ahu, and Maui and provides weekly service to South Pacific routes from Hawaii to Pago Pago in American Samoa, Brisbane, Sydney, and Auckland in Australia, and Papeete, Tahiti (Baldacchino, 2016). Its scheduled non-stop international routes include flights from Honolulu to Beijing, South Korea, New Zealand, Sapporo, and Osaka (Hawaiian Airlines, 2018).
Employees and Ownership
According to the Hawaiian Airlines (2018), approximately 6,893 employees are working in different areas at the airliner as at February 2018. These employees are honored to serve customers with a desire for air travel and work in part-time or full-time employment in different islands and across all the travel destinations all over the world. These employees work as pilots, flight attendants, engineers, and ground service crew. Hawaiian Holdings own Hawaiian Airlines.
Certification Requirements for Deck Crew Members
Hawaiian Airlines requires certification for all the deck crew members. For example, a first officer should have the Federal Aviation Administration (FAA) Airline Transport Pilot (ATP) certificate which is the highest level of certification for aircraft pilots. Hawaiian Airlines also needs a pilot with at least 2000 flight hours and a high school diploma or a GED equivalent. Furthermore, Hawaiian Airlines requires a first officer to successfully pass a drug test before employment, meet all the requirements that are related to the FAA Pilot Record Improvement Act and a first class medical certificate issued by the FAA. A first officer should also have a permit in Radiotelephone operation and can obtain and maintain the United States government security clearance. A first officer is highly desirable if he or she has at least 1,000 hours as a pilot in command (PIC) of an aircraft, a college degree, and experience in international flying.
Regulations
The government agency tasked with the regulation of airline safety in the United States is the Federal Aviation Administration (FAA). It makes rules and regulations on pilot proficiency, training and health standards. It makes sure that airliners follow aircraft designs, certification and maintenance procedures and standards. FAA has operators of the systems of controlling air traffic and sets the standards of operation in such a system. In case an airliner violates the set rules, FAA is the executioner, judge, and the jury hence is the law. The laws it makes is equal to federal law, as long as it does not present any contradiction to the general laws made in the congress thus gives it the authority and existence in administering punishment to the violators of such laws.
In the State of Hawaii, the Department of Transportation, Airports Division is mandated to offer flight safety and the promotion of aviation in all the islands in Hawaii. It also seeks to maintain, manage, and develop an efficient and safe global air transportation for all the people. It sets instructions and procedures that are in tandem with the Federal Aviation Regulations (FAR), FAA, Administrative Rules of the State Airport System, the FAA Pacific Chart Supplement (PCS), and the Aeronautical Information Manual (AIM). This is because flight safety involves a lot of people. Department of Transportation, Airports Division in the State of Hawaii requires all the pilots to acquaint themselves with the established procedures in the publication they offer to them to enhance safety in all the airports in Hawaii and outside.
Apart from regulating airline safety, FAA is empowered to regulate routes flown by aircraft. Hawaiian Airliners flowing in and out of the United States are required to comply with several requirements such as entry, exit and flying in the airspace of the United States. These requirements touch on matters of national security and apply to foreign aircraft registered to operate in the United States airspace. FAA pays attention to ensure that advance passenger manifest information procedures (APIS) required by the Customs and Border Protection (CBP) of the United States are followed by airlines. FAA works with the Federal aviation regulations (FARs), the Department of Defense (DOD), and the Department of Homeland Security in enforcing the rules set by these bodies. The FARs are the rules that are recommended by the FAA that governs all the civil aviation activities meant for air traffic security control.
Owned and Leased Fleet.
Several companies lease their aircraft to interested airlines. They offer their planes depending on the capacity and the demand that exist in the market. Hawaiian Airlines has own aircraft as well as leased ones from different leasing companies. Research shows that large airlines in the United States have a smaller number of leased fleet as compared to smaller airlines (Jasko, 2016). This shows that big airlines do not favor leasing aircraft as this adventure has financing implications. Hawaiian Airlines had 48 aircraft in 2016, with 33 percent of these leased from other companies (Jasko, 2016). Some of the companies that Hawaiian Airlines have entered into a partnership for leasing aircraft include the America Airlines, Air Lease Corporation, Ansett Worldwide Aviation Services (AWAS), and the China Aircraft Leasing Group Holdings Limited (CALC). In 2016, an agreement was signed between Hawaiian Airlines and CALC for a long-term lease of Airbus A321neo to be delivered in 2018. Through this lease, Hawaiian Airlines became the first client from the Americas to lease aircraft from CALC.
Hawaiian Airlines has also purchased fleets that were initially on lease. For instance, Hawaiian Airlines bought three Boeing 767-300ER aircraft which were formerly leased from AWAS. Hawaiian Airlines financed the purchase through the issuance of new debt and cash. This acquisition led to the cancellation of the previous agreements that could have allowed AWAS to terminate earlier the agreements made with Hawaiian Airlines such as shortening the leasing terms and subsequent adjustments of the lease rates. Despite the purchase of these aircraft, there were no changes to the expenses related to ownership, interests, and depreciation. Hawaiian Airlines also realized the decline of the rental expense through the purchase of these aircraft.
Incidents
Safety of airlines has come a long way in the recent decades, but there are records of some airlines that have never suffered a fatal injury to a single passenger or lost an aircraft to an accident despite so many years in the transportation of passengers. Hawaiian Airlines planes are on record to have never been involved in a single accident yet it has been in service since 1929, hence makes it the oldest carrier in the United States to maintain a clean accident record (Machat, 2017). This is an incredible feat considering the many crashes that have occurred all over the world during the earlier decades. Despite the financial trouble it encountered in 1993 and 2003, Hawaiian Airlines has never compromised on safety and has safely delivered over 10.7 million passengers to their various destinations (Machat, 2017).
Despite this, Hawaiian Airlines has encountered problems that have been classified as incidents. For instance, in January 20, 2018, Hawaiian Airbus A-330-200 developed a flaps problem as it approached the Oakland international airport runway. The pilots were forced to climb back up, as the crew ran incident-related checklist. The aircraft eventually landed safely and returned to service soon after the checks were complete. Other incidences that Hawaiian Airlines have encountered include fuel leaks, failure of weather radar, bird strikes, turbulence, smoke in the cockpit and cabin, engine shutdown in flight, and problems with gear retraction. All these incidences caused delays, and slightly damaged aircraft, but never resulted in any accidents. There were minimal repairs in the affected aeroplanes and hence resumed operations after the repairs and checks were complete.
Several factors have contributed the safety record for Hawaiian Airlines. First, the size of the fleet matters. Hawaiian Airlines spent a couple of years with fewer aeroplanes. Up to now, it boats with not more than 63 owned and leased aeroplanes. It has also dedicated much of its effort in the inter-island market with flights d...
Cite this page
Hawaiian Airlines - Research Paper Example for Everyone. (2022, Apr 08). Retrieved from https://speedypaper.com/essays/hawaiian-airlines
Request Removal
If you are the original author of this essay and no longer wish to have it published on the SpeedyPaper website, please click below to request its removal: