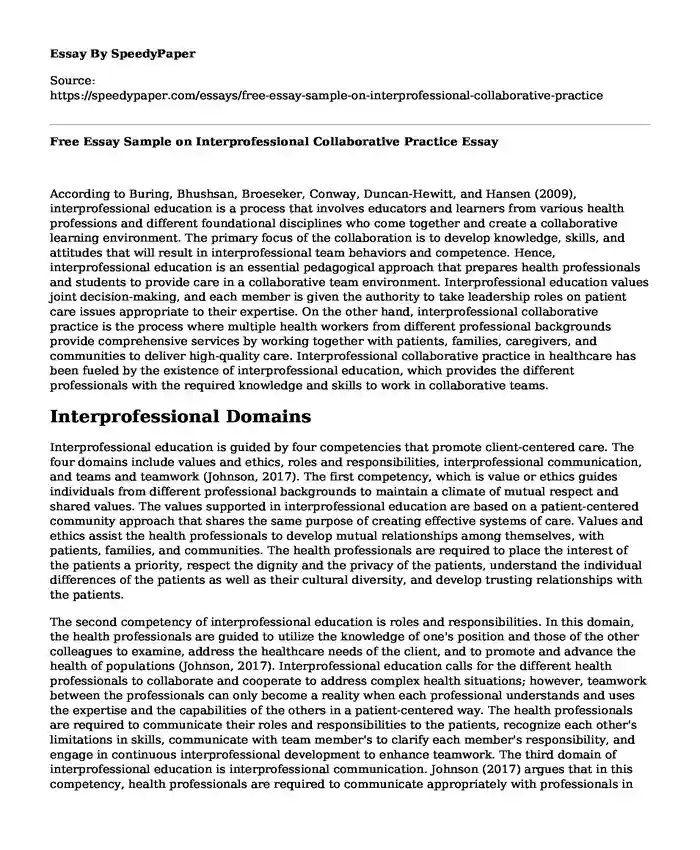 According to Buring, Bhushsan, Broeseker, Conway, Duncan-Hewitt, and Hansen (2009), interprofessional education is a process that involves educators and learners from various health professions and different foundational disciplines who come together and create a collaborative learning environment. The primary focus of the collaboration is to develop knowledge, skills, and attitudes that will result in interprofessional team behaviors and competence. Hence, interprofessional education is an essential pedagogical approach that prepares health professionals and students to provide care in a collaborative team environment. Interprofessional education values joint decision-making, and each member is given the authority to take leadership roles on patient care issues appropriate to their expertise. On the other hand, interprofessional collaborative practice is the process where multiple health workers from different professional backgrounds provide comprehensive services by working together with patients, families, caregivers, and communities to deliver high-quality care. Interprofessional collaborative practice in healthcare has been fueled by the existence of interprofessional education, which provides the different professionals with the required knowledge and skills to work in collaborative teams.
Interprofessional Domains
Interprofessional education is guided by four competencies that promote client-centered care. The four domains include values and ethics, roles and responsibilities, interprofessional communication, and teams and teamwork (Johnson, 2017). The first competency, which is value or ethics guides individuals from different professional backgrounds to maintain a climate of mutual respect and shared values. The values supported in interprofessional education are based on a patient-centered community approach that shares the same purpose of creating effective systems of care. Values and ethics assist the health professionals to develop mutual relationships among themselves, with patients, families, and communities. The health professionals are required to place the interest of the patients a priority, respect the dignity and the privacy of the patients, understand the individual differences of the patients as well as their cultural diversity, and develop trusting relationships with the patients.
The second competency of interprofessional education is roles and responsibilities. In this domain, the health professionals are guided to utilize the knowledge of one's position and those of the other colleagues to examine, address the healthcare needs of the client, and to promote and advance the health of populations (Johnson, 2017). Interprofessional education calls for the different health professionals to collaborate and cooperate to address complex health situations; however, teamwork between the professionals can only become a reality when each professional understands and uses the expertise and the capabilities of the others in a patient-centered way. The health professionals are required to communicate their roles and responsibilities to the patients, recognize each other's limitations in skills, communicate with team member's to clarify each member's responsibility, and engage in continuous interprofessional development to enhance teamwork. The third domain of interprofessional education is interprofessional communication. Johnson (2017) argues that in this competency, health professionals are required to communicate appropriately with professionals in the health and other fields, patients, families, and communities to support a team approach with the focus of promotion and maintenance of quality health. The health professionals are required to use a common language that will be understandable to the rest of the team; hence, minimize instances of professional jargon that acts as a barrier to effective interprofessional care. The fourth domain focuses on teams and teamwork. In this competency, the involved individuals are required to apply relationship-building values and the principles of team dynamics to perform effectively in different team roles such as planning, delivering, and evaluating of client-centered care and health programs (Johnson, 2017).
Challenges and Strengths of Interprofessional Education and Practice in the Primary Healthcare Settings
Some of the primary challenges of interprofessional education and practice include uniprofessional mindset, organizational problems, and lack of training in teamwork (Johnson, 2017). A uniprofessional mindset is characterized by the use of medical jargon unique to a significant number of disciplines. When these individuals from different fields work to provide healthcare services parallel to one another, the result is a confused client who is visited by multiple professionals with differing interventions. The lack of collaboration and a common language among the health professionals can result in medication errors and poor decision-making; thus, compromising quality care and significant patient outcomes. Equally important, organizational barriers contribute to the lack of collaboration in healthcare delivery. The changes in the hospital census that culminates from the fee-for-service payment model that provides practitioners a one-to-one time with the client's results in inconsistency in the staff providing the care (Johnson, 2017). A high hospital census may prompt the hospital policy to mandate that when other beds are full, clients be sent to open beds on floors that do not specialize on the client's needs. On the other hand, a low census requires the hospital manager to float staff to other levels or send the staff home. In this case, the client ends up being visited by different health professionals, and this trend can affect the quality of care since there lacks an interprofessional team to realize the needs of the patient.
The lack of teamwork is another barrier affecting interprofessional education and practice. The traditional health care education and practice have been based on hierarchies that hinder communication (Johnson, 2017). A tribal mentality and rampant stereotypes affect the interactions of health professionals in the healthcare setting. The existence of such barriers affects teamwork, which then results in poor quality care and patient outcomes. The health professionals fail to meet the needs of the patients due to lack of cohesion, cooperation, and collaboration among themselves. Johnson and Freeman (2014) have also identified additional barriers to interprofessional education and practice that affect patient outcomes. Some of the challenges include the lack of facilities equipped with an interdisciplinary structure for educational purposes, inadequate compensation and funding, and the existence of biases and prejudices regarding particular disciplines.
Lash, Barnett, Parekh, Shieh, Louie, and Tang (2014) highlight the benefits of interprofessional education and practice in their study. The researchers utilized faculty members across different health disciplines. The results indicated that interprofessional education is beneficial in conflict resolution that led to an improvement in efficiency in patient care, better patient outcomes, and team-based learning. Another study by Mahler, Schwarzbeck, Mink, and Goetz (2018) found that students benefited a lot form the four competencies of interprofessional education. The students reported that interprofessional education and practice enabled them to understand each other, used their knowledge and the knowledge of others to improve healthcare, and managed to communicate their problems and prejudices towards a common goal.
Clinical Situation
While I was working as a nurse intern, a patient was scheduled to undergo brain surgery to remove a tumor. Various professional doctors and nurses were outsourced to come and conduct the operation based on their expertise. Before and during the surgery, the professionals were in constant disagreements regarding the proper method to initiate the surgery. The surgery was commenced, and the tumor was removed; however, while the patient was recuperating, one nurse while undertaking brain check on the patient realized that a tumor was left behind. The patient had to undergo surgery again. In such a scenario, if the health professionals had experienced some form of interprofessional education before commencing on the surgery, they would have managed to assess the situation and work together towards improving the healthcare of the patient.
Reflection
The knowledge imparted by interprofessional education and practice has influenced my perception regarding teamwork and collaboration in the healthcare setting. Previously, I would find it difficult to understand how different professionals from various fields would come together and ensure quality healthcare. I had the perception that individuals from diverse backgrounds could not work together and provide improved patient outcomes and quality care; fortunately, interprofessional education and practice has transformed my misconception and made me believe that teamwork and collaboration is a possibility among different health professionals as long as they are guided by principles of interprofessional education. Additionally, I realized that interprofessional education makes it possible to unite various disciplines by eradicating the silos in these fields. Now, professionals from the different areas can collaborate with each other using a common language free from individual medical jargons to facilitate quality healthcare. Interprofessional education has enlightened me to understand the necessity of analyzing each individual roles, abilities, and limitations to forge independent relationships with other professions to improve care and advance learning. An understanding of the different positions can help nurses to explain the roles and responsibilities of other care providers and deliberate on how the team will work together to provide care.
References
Buring, S. M., Bhushan, A., Broeseker, A., Conway, S., Duncan-hewitt, W., & Hansen, L. (2009). Interprofessional education supplement. American Journal of Pharmaceutical Education 73(4), pp.1-8.
Johnson, C. (2017). Understanding Interprofessional Collaboration: An Essential Skill for all Practitioners. OT PRACTICE, 22(11), pp. 1-8.
Johnson, K., & Freeman, K. (2014). Integrating interprofessional education and collaboration competencies (IPEC) into mental health counselor education. Journal of Mental Health Counseling, 36(4), pp.328-344.
Lash, D. B., Barnett, M. J., Parekh, N., Shieh, A., Louie, M. C., & Tang, T. T. (2014). Perceived benefits and challenges of interprofessional education based on a multidisciplinary faculty member survey. American journal of pharmaceutical education, 78(10), pp.180-189.
Mahler, C., Schwarzbeck, V., Mink, J., & Goetz, K. (2018). Student's perception of interprofessional education in the bachelor programme "Interprofessional Health Care" in Heidelberg, Germany: an exploratory case study. BMC medical education, 18(1), pp.19-26.
Cite this page
Free Essay Sample on Interprofessional Collaborative Practice. (2022, Jun 24). Retrieved from https://speedypaper.com/essays/free-essay-sample-on-interprofessional-collaborative-practice
Request Removal
If you are the original author of this essay and no longer wish to have it published on the SpeedyPaper website, please click below to request its removal: