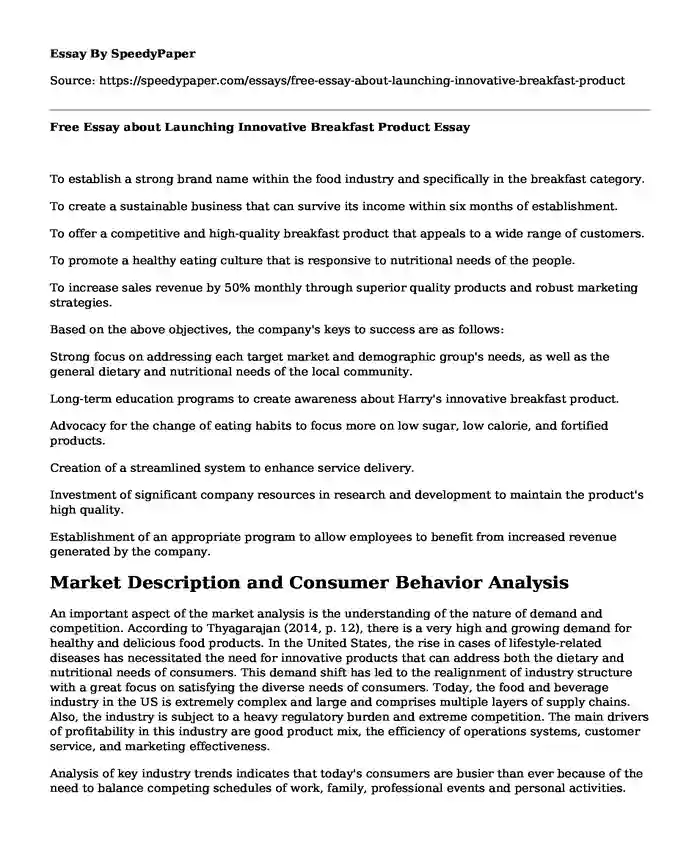 To establish a strong brand name within the food industry and specifically in the breakfast category.
To create a sustainable business that can survive its income within six months of establishment.
To offer a competitive and high-quality breakfast product that appeals to a wide range of customers.
To promote a healthy eating culture that is responsive to nutritional needs of the people.
To increase sales revenue by 50% monthly through superior quality products and robust marketing strategies.
Based on the above objectives, the company's keys to success are as follows:
Strong focus on addressing each target market and demographic group's needs, as well as the general dietary and nutritional needs of the local community.
Long-term education programs to create awareness about Harry's innovative breakfast product.
Advocacy for the change of eating habits to focus more on low sugar, low calorie, and fortified products.
Creation of a streamlined system to enhance service delivery.
Investment of significant company resources in research and development to maintain the product's high quality.
Establishment of an appropriate program to allow employees to benefit from increased revenue generated by the company.
Market Description and Consumer Behavior Analysis
An important aspect of the market analysis is the understanding of the nature of demand and competition. According to Thyagarajan (2014, p. 12), there is a very high and growing demand for healthy and delicious food products. In the United States, the rise in cases of lifestyle-related diseases has necessitated the need for innovative products that can address both the dietary and nutritional needs of consumers. This demand shift has led to the realignment of industry structure with a great focus on satisfying the diverse needs of consumers. Today, the food and beverage industry in the US is extremely complex and large and comprises multiple layers of supply chains. Also, the industry is subject to a heavy regulatory burden and extreme competition. The main drivers of profitability in this industry are good product mix, the efficiency of operations systems, customer service, and marketing effectiveness.
Analysis of key industry trends indicates that today's consumers are busier than ever because of the need to balance competing schedules of work, family, professional events and personal activities. Working couples and individuals, busy students, older adults and mothers with children all look for healthy ready-made or easy to cook packaged food as a convenient breakfast or quick snack (Plunkett, 2016, p. 123-126). Most of the foods that were previously considered as snacks have been found to offer healthy, yet indulgent options for breakfast meals. In the backdrop of this consideration, oatmeal has gained a reputation as a major component of breakfast meals. Many families in the United States prefer oatmeal porridge for breakfast because it is rich nutritionally.
It has been established through research studies that when choosing breakfast, most American families consider foods that contain organic and natural ingredients, raw cane sugar and natural flavors. Other important factors that consumers consider include the absence of chemicals and potential allergens and minimal processing. Concerning nutrition, Americans prefer a high protein, high fiber products, and whole grain. Due to the increase in the prevalence of lifestyle diseases, Americans are normally keen to avoid products that increase the risk of a lifestyle-related condition such as diabetes, obesity and cardiovascular diseases (Traill and Pitts, 1998, p. 68). As such, the majority of American households prefer products that are low in sugar, fats, salt and carbohydrates and calories. Other important attributes include gluten-free, non-genetically modified foods and minimum artificial colors and preservatives.
According to Leadley (2015, p. 65) American consumers are confronted with a myriad of choices when shopping. In the case of breakfast, they must choose between organic and inorganic foods. At the same time, they must also choose between animal-based and plant-based foods for breakfast. With all the competing claims and mixed messages about healthy foods, the American public is increasingly questioning the accuracy of claims made by different brands. More particularly, older adults and parents concerned with the health of their children are exploring plant-based diets. As such, animal-based breakfasts are gradually losing their competitive edge in the American market.
Studies have also found that majority of Americans are concerned with the sustainability of the food products they consume. Issues of environmental impact, child labor and use of banned substances and practices in the supply chain are of great concern to American consumers. Mostly, Americans prefer products that are manufactured and sold through fair trade, responsibly sourced and which cause minimal impact on the environment. Therefore, consumers usually look for more information regarding where their product came from and how it is sourced. Products sourced from countries with an unimpressive record of accomplishment in line with the use of child labor or exploited workers are attracting a lot of attention in the US.
In summary, it is apparent that organic, low sugar, plant-based breakfast diets are on the rise in the US. Most consumers are looking for highly nutritious, healthy plant-based foods that they can add to their breakfast menus. Although the majority of existing breakfast foods offer a wide range of benefits, they contain a lot of sugar and are not fortified. As well, most of these competing brands are rich in carbohydrates and do not offer the advantage of instant consumption. Thus, there is a very big gap for an innovative breakfast product that can address the concerns of customers.
Cite this page
Free Essay about Launching Innovative Breakfast Product. (2022, May 25). Retrieved from https://speedypaper.com/essays/free-essay-about-launching-innovative-breakfast-product
Request Removal
If you are the original author of this essay and no longer wish to have it published on the SpeedyPaper website, please click below to request its removal: