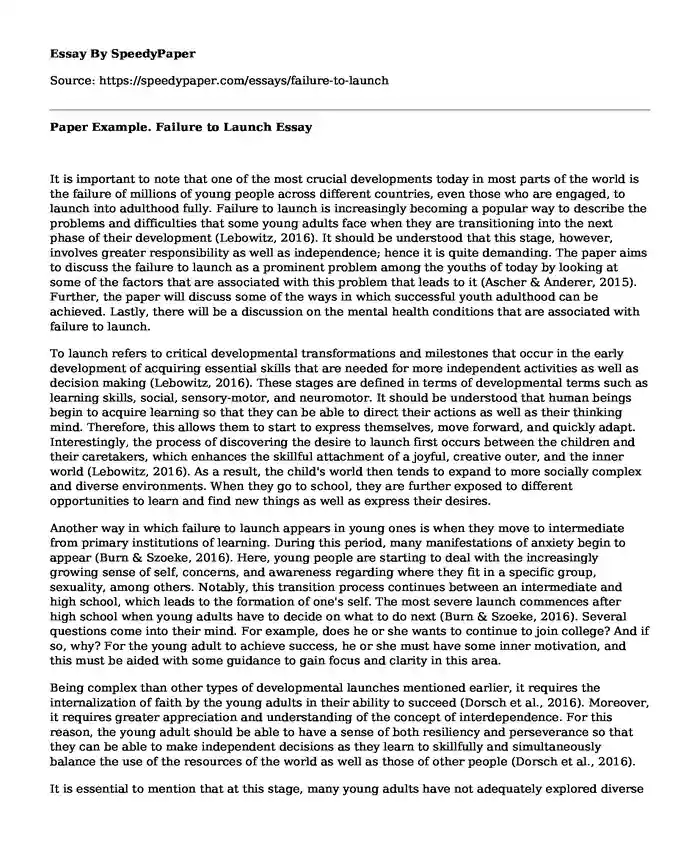 It is important to note that one of the most crucial developments today in most parts of the world is the failure of millions of young people across different countries, even those who are engaged, to launch into adulthood fully. Failure to launch is increasingly becoming a popular way to describe the problems and difficulties that some young adults face when they are transitioning into the next phase of their development (Lebowitz, 2016). It should be understood that this stage, however, involves greater responsibility as well as independence; hence it is quite demanding. The paper aims to discuss the failure to launch as a prominent problem among the youths of today by looking at some of the factors that are associated with this problem that leads to it (Ascher & Anderer, 2015). Further, the paper will discuss some of the ways in which successful youth adulthood can be achieved. Lastly, there will be a discussion on the mental health conditions that are associated with failure to launch.
To launch refers to critical developmental transformations and milestones that occur in the early development of acquiring essential skills that are needed for more independent activities as well as decision making (Lebowitz, 2016). These stages are defined in terms of developmental terms such as learning skills, social, sensory-motor, and neuromotor. It should be understood that human beings begin to acquire learning so that they can be able to direct their actions as well as their thinking mind. Therefore, this allows them to start to express themselves, move forward, and quickly adapt. Interestingly, the process of discovering the desire to launch first occurs between the children and their caretakers, which enhances the skillful attachment of a joyful, creative outer, and the inner world (Lebowitz, 2016). As a result, the child's world then tends to expand to more socially complex and diverse environments. When they go to school, they are further exposed to different opportunities to learn and find new things as well as express their desires.
Another way in which failure to launch appears in young ones is when they move to intermediate from primary institutions of learning. During this period, many manifestations of anxiety begin to appear (Burn & Szoeke, 2016). Here, young people are starting to deal with the increasingly growing sense of self, concerns, and awareness regarding where they fit in a specific group, sexuality, among others. Notably, this transition process continues between an intermediate and high school, which leads to the formation of one's self. The most severe launch commences after high school when young adults have to decide on what to do next (Burn & Szoeke, 2016). Several questions come into their mind. For example, does he or she wants to continue to join college? And if so, why? For the young adult to achieve success, he or she must have some inner motivation, and this must be aided with some guidance to gain focus and clarity in this area.
Being complex than other types of developmental launches mentioned earlier, it requires the internalization of faith by the young adults in their ability to succeed (Dorsch et al., 2016). Moreover, it requires greater appreciation and understanding of the concept of interdependence. For this reason, the young adult should be able to have a sense of both resiliency and perseverance so that they can be able to make independent decisions as they learn to skillfully and simultaneously balance the use of the resources of the world as well as those of other people (Dorsch et al., 2016).
It is essential to mention that at this stage, many young adults have not adequately explored diverse opportunities for social growth as well as intimacy. As such, college affords them this chance in different ways. It is, however, essential to note that social goals are equally important for young adults as academic goals.
As stated above, for the young adults to have a successful adulthood launch, various elements must be considered and adhered to. These involve a system of factors that can help shape the lives of young adults hence avoiding the problem of failure to launch syndrome (Dorsch et al., 2016). Firstly, preparation and fueling is a crucial element in ensuring a successful young adulthood launch. In this case, the level of desire and motivation to launch must be considered to be good enough to succeed. The desire should be slow-burning and powerful sufficient to lift-off. It should not be that which requires a lot of energy to break the obstacles of negative thinking and fears.
Another step for a successful launch is the lift-off. In this element, what is considered most is the action. To avoid failure to launch, young adults must be ready to take a chance. It cannot be denied that when one tries, they release the gravitational pull of their habituated, unskillful, and avoidant responses to anxieties, fears, as well as unrealistic goals. Lifting off as an element may manifest as deciding to join a workforce, college, as well as living independently (Ascher & Anderer, 2015).
For a successful launch, young adults should be ready to act as rockets. In this case, the mind, body, and creative self of the young adult should serve as the vehicle that lifts them off and push them to the target of the launch, and this leads to a balanced life (Rymer & Kristin, 2017). Notably, it is essential that one is clear about their targets and that they have a reasonable path with defined goals on it. However, it cannot be denied that for its success, guidance and support are often required factors with this process (Rymer & Kristin, 2017).
To stay on course with the launch, another element that is required is navigational skills (Mugon et al., 2018). Most importantly, practicing and acquiring new skills that allow room for the achievement of both long term and short-term goals is crucial to guide and persevere the launch. While undergoing all this process, the young adult has to figure out how to relate with peers, as well as the degree of intimacy that is desired and that can be enjoyed successfully. The thought patterns have to be examined (Rymer & Kristin, 2017). At this stage, young adults can be encouraged to avoid comparing themselves to idealized notions of other people and concentrate on themselves to achieve their personal best for a balanced life.
Lastly, the final element for a successful launch is the common pathway to the target, which is a balanced life. Irrespective of any issue or diagnosis that young adults may be facing, the final common pathway is that they must identify a passion, experience the excitement that comes with showing such passions as well as have the opportunity to share that joy with other people (Ascher & Anderer, 2015). It should be understood that a conscious effort to cultivate both the logic of the mind and also desires of the heart is needed for satisfaction and a sense of balance in life.
It is essential to note that failure to launch is a situation that is more than a diagnosis, mental health condition, or a syndrome (Ascher & Anderer, 2015). In most cases, it involves other factors, but it should be understood that it is not a problem in a person's mental state that can require diagnosis as well as treatment in the way in which depression and anxiety can be dealt with. To deal with the situation, it needs more than just administering treatment to the young person for a mental health issue (Ascher & Anderer, 2015).
While failure to launch is not a diagnosis, in most cases, it is related to some of the mental health conditions (Ascher & Anderer, 2015). Therefore, it has been noticed that the majority of the failure to launch situations involves one or more of the mental health conditions or other related features. One of the most critical initial steps to understanding and resolving this situation is to identify the various mental health conditions that contribute to failure to launch (Ascher & Anderer, 2015). These conditions involve; anxiety and other related conditions like social anxiety disorder are some of the biggest and frequent contributors to failure to launch in young adults. It is worth noting that anxiety is such a typical important component in the dynamic of failure to launch.
Another mental health condition that is related to the failure-to-launch syndrome is depression (Mugon et al., 2018). In most scenarios, depression is a common feature in this condition as a full mental health disorder or as depressed emotions that make young adults feel apathetic. Also, Attention Deficit Hyperactivity Disorder is associated with failure to launch. It has been suggested that impairment of important functioning, as well as self-regulation, is one of the leading causes of failure to launch (Mugon et al., 2018). Other mental health disorders that are associated with failure to launch condition is Autism Spectrum Disorder, Substance Use, among others.
In conclusion, it is crucial to restate that establishing an accurate diagnosis and assessment of a given mental health disorder that contributes to the failure to launch is very vital. While the usual way of handling any failure to launch the situation is similar, the actual treatment of any given disorder varies a great deal. As a result, when dealing with failure to launch a situation, it is not enough to only treat the mental health condition. Therefore, families of young adults affected should be involved.
References
Ascher, M., & Anderer, S. (2015). Failure to launch syndrome: What you need to know to help your dependent adult child. The Huffington Post. http://www. huffingtonpost. com/michael-ascher-md/failure-to-launch-syndrom_b_6709206. html.
Burn, K., & Szoeke, C. (2016). Boomerang families and failure-to-launch: Commentary on adult children living at home. Maturitas, 83, 9-12.
Dorsch, T. E., Lowe, K., Dotterer, A. M., & Lyons, L. (2016). Parent Involvement in Young Adults' Intercollegiate Athletic Careers. Journal of Intercollegiate Sport, 9(1), 1-26. www.journals.ku.edu/jis/article/view/10092

Lebowitz, E. R. (2016). "Failure to launch": shaping intervention for highly dependent adult children. Journal of the American Academy of Child and Adolescent Psychiatry, 55(2), 89. www.ncbi.nlm.nih.gov/pmc/articles/PMC4895190/https://www.ncbi.nlm.nih.gov/pmc/articles/PMC4895190/

Mugon, J., Struk, A., & Danckert, J. (2018). A failure to launch: Regulatory modes and boredom proneness. Frontiers in psychology, 9, 1126. www.frontiersin.org/articles/10.3389/fpsyg.2018.01126/full

Rymer, J. A., & Kristin Newby, L. (2017). Failure to Launch.
Cite this page
Paper Example. Failure to Launch. (2023, Apr 20). Retrieved from https://speedypaper.com/essays/failure-to-launch
Request Removal
If you are the original author of this essay and no longer wish to have it published on the SpeedyPaper website, please click below to request its removal: