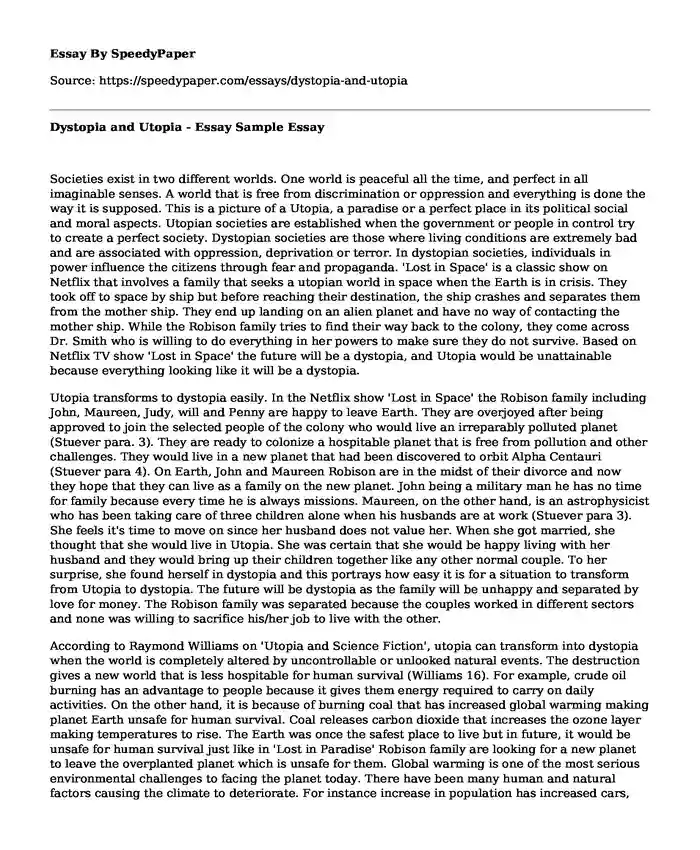 Societies exist in two different worlds. One world is peaceful all the time, and perfect in all imaginable senses. A world that is free from discrimination or oppression and everything is done the way it is supposed. This is a picture of a Utopia, a paradise or a perfect place in its political social and moral aspects. Utopian societies are established when the government or people in control try to create a perfect society. Dystopian societies are those where living conditions are extremely bad and are associated with oppression, deprivation or terror. In dystopian societies, individuals in power influence the citizens through fear and propaganda. 'Lost in Space' is a classic show on Netflix that involves a family that seeks a utopian world in space when the Earth is in crisis. They took off to space by ship but before reaching their destination, the ship crashes and separates them from the mother ship. They end up landing on an alien planet and have no way of contacting the mother ship. While the Robison family tries to find their way back to the colony, they come across Dr. Smith who is willing to do everything in her powers to make sure they do not survive. Based on Netflix TV show 'Lost in Space' the future will be a dystopia, and Utopia would be unattainable because everything looking like it will be a dystopia.
Utopia transforms to dystopia easily. In the Netflix show 'Lost in Space' the Robison family including John, Maureen, Judy, will and Penny are happy to leave Earth. They are overjoyed after being approved to join the selected people of the colony who would live an irreparably polluted planet (Stuever para. 3). They are ready to colonize a hospitable planet that is free from pollution and other challenges. They would live in a new planet that had been discovered to orbit Alpha Centauri (Stuever para 4). On Earth, John and Maureen Robison are in the midst of their divorce and now they hope that they can live as a family on the new planet. John being a military man he has no time for family because every time he is always missions. Maureen, on the other hand, is an astrophysicist who has been taking care of three children alone when his husbands are at work (Stuever para 3). She feels it's time to move on since her husband does not value her. When she got married, she thought that she would live in Utopia. She was certain that she would be happy living with her husband and they would bring up their children together like any other normal couple. To her surprise, she found herself in dystopia and this portrays how easy it is for a situation to transform from Utopia to dystopia. The future will be dystopia as the family will be unhappy and separated by love for money. The Robison family was separated because the couples worked in different sectors and none was willing to sacrifice his/her job to live with the other.
According to Raymond Williams on 'Utopia and Science Fiction', utopia can transform into dystopia when the world is completely altered by uncontrollable or unlooked natural events. The destruction gives a new world that is less hospitable for human survival (Williams 16). For example, crude oil burning has an advantage to people because it gives them energy required to carry on daily activities. On the other hand, it is because of burning coal that has increased global warming making planet Earth unsafe for human survival. Coal releases carbon dioxide that increases the ozone layer making temperatures to rise. The Earth was once the safest place to live but in future, it would be unsafe for human survival just like in 'Lost in Paradise' Robison family are looking for a new planet to leave the overplanted planet which is unsafe for them. Global warming is one of the most serious environmental challenges to facing the planet today. There have been many human and natural factors causing the climate to deteriorate. For instance increase in population has increased cars, factories, and power plants and they are changing the climate. For decades, humans have been burning massive quantities of these fossil fuels to power the global civilization and the developing technology. This causes an increase of carbon dioxide in the atmosphere because of the release of carbon dioxide trapped in the fuels in the form of energy-rich organic particles back into the atmosphere. Williams explains that dystopia is as a result of under looked events that end up making life less happy. If people continue burin coal and do not take up green energy the future will be a dystopia.
The Brotherhood of the New Life was considered as a utopia because people were happy and satisfied. The brotherhood community was well known as 'The Use' because all members surrendered themselves for divine purpose or use (Sreenivasan). They did not undertake personal responsibilities because they felt that they were created with a divine purpose and only a divine being is responsible for their lives. The leaders noticed that the people believed the propaganda they told them and they used them for personal gain on the notion that they were being used for a divine purpose. The members of the community denied themselves and their family to undertake divine responsibility. They could not realize that the society they were living in was not perfect. They were made to believe that civic duty and their relevant religion was the only role they should perform in the community (Sreenivasan). In the case of 'Brotherhood of new life 'Utopian societies transform to dystopias, because the leaders continue to encourage the followers to believe that they are living in an ideal society. The community continues to serve a divine being without realizing that the readers are taking advantage of their ignorance.
The society can falsely define itself as a Utopian but in a real sense, people are not happy with their lives. Thomas Lake Harris, was The Brotherhood of the New Life, a community that did not realize that it was not living an ideal life Harris led his society with spiritualistic ideas. Harris spiritual teachings were expanded to much interpretation and he used them to control his followers. Leader's ability to control followers' lives and beliefs is a sin of dystopia (Sreenivasan). His teachings of the Brotherhood of the New Life were misleading from the beginning. The entire society was behaving as they were directed by their leader. None of them questioned his teaching and the whole community followed him blindly.
They were forced to work hard in divine duties and also to sustain themselves. They were also taught that they should meditate by breathing deeply so that they could draw closer god. He encouraged celibacy as a way of maintaining divine holiness in the eyes of God. Celibacy created barriers and chaos in families and people refrained from marriage forever (Sreenivasan). Leaders' beliefs can influence the society to believe that they are living in a happy society. Thomas Harris strongly believed that the Brotherhood of the New Life was a utopia despite opposition from people who understood that it was the exact opposite. The leaders make laws and policies that they feel they create a utopian environment. Everyone has his/her idea of the perfect world leaving the leader to detested and immoral rules that match his wants. Harris was a selfish leader and was interpreting the teachings to suit his personal desires. Sreenivasan state that by manipulating spiritual teachings, Harris had made members of the society his slaves. They were ready to do anything that Harris ordered them to without question. In future, the society may be brainwashed by leaders through political, social or religious belief which would make them live in a dystopia.
Alzire Chevaillier criticized Harris teaching when he said publically that he was not a pure spiritualist as he made his followers to believe (Sreenivasan). Such incidents are common in utopian literature and societies. A person utopia only pretends and hides his true identity to their followers. 1984 is a good example of a society that was supposedly ideal. Conversely, Winston, the main character life is a nightmare despite the belief that he is in an ideal society. He lives in Oceania a corrupt and cruel place that causes suffering to its citizens. Life in Oceania is controlled by the inner party and no one is allowed to think independently. People are arrested while innocent and Winston complains that he thought crime is death but this is not the case in Oceania (Williams). Winston has realized that he has been brainwashed since childhood birth that the inner-Party is all he has. He has been denied important aspects of life such as freedom of thought. When he realizes his foolishness he recognizes his country as a dystopia.
Leaders of societies try to control all those inferior. In 1984, George Orwell writes, "War Is Peace Freedom Is Slavery Ignorance Is Strength" (Williams). These contradicting words prove how when society is at war and people are dying, they feel that they are living in an ideal society. The society cannot differentiate between freedom and slavery. Freedom in the society allows people to make their decisions without any interference. Slavery involves oppression where people are forced to do what they do not wish. They are ignorant of the society they live in and think that they are a perfect society. In the inside, they portray sins of a dystopian society struggling with slavery, ignorance, and war. The Orwell case is enough evidence that proves that although future societies would try to live a happy life, their leaders would influence them into dystopia, and they would not realize it due to their ignorance.
Williams state that technological transformation makes a new life for Utopia and Dystopia. 'The Coming Race' is at one level an example of the mode of technological transformation. Vril-ya is a community that lives under Earth. The community possesses Vril that makes them civilized. Vril is an all-purpose energy source which lies beyond magnetism and electricity. Remote underground individuals who do not own Vril are traditionalists because it brings civilization and the improvement of behaviors. Those who do not own Vril are not considered as members of the society because social relations are based on it. The modifications thus brought about are the change of work into play, the termination of the State and in effect the banning of competitive and violent social relations. Vril influences people in both anarchist and socialist utopia. On the centrally, an aristocracy, it projects ideal social attitudes that do not determine production and rent (Williams). Vril has outdated the roles of men and women in the society, liberating sexual and family relations. In regard to those who still think that men and women should practice certain roles as outdated and rigid. In earlier societies, roles were divided between care, security, and maintenance but Vril abolished all these divisions allowing equal opportunities between a man and a woman. Likewise in 'Lost in Space' Maureen perform the responsibility of a man in the family. She defends her children even with her own life (Stuever para 4). When they are stranded on the unknown planet, Maureen worked for hand in hand with her husband to protect their children.
As Williams suggest that technological transformation may cause Utopia but eventually cause dystopia as people try to use the developed technology. In 'Lost In space' episode one the show begins with Robison family in a modern robot ship. The family is seated in a space ship, wearing astronaut suits. Despite the high technology used to make the ship, there was rogue debris that collides the ship making the ship to separate from the other and Robison family lands in an unknown planet. Upon reaching, their ship landed on the ice and goes down under deep water.
Cite this page
Dystopia and Utopia - Essay Sample. (2022, May 22). Retrieved from https://speedypaper.com/essays/dystopia-and-utopia
Request Removal
If you are the original author of this essay and no longer wish to have it published on the SpeedyPaper website, please click below to request its removal: