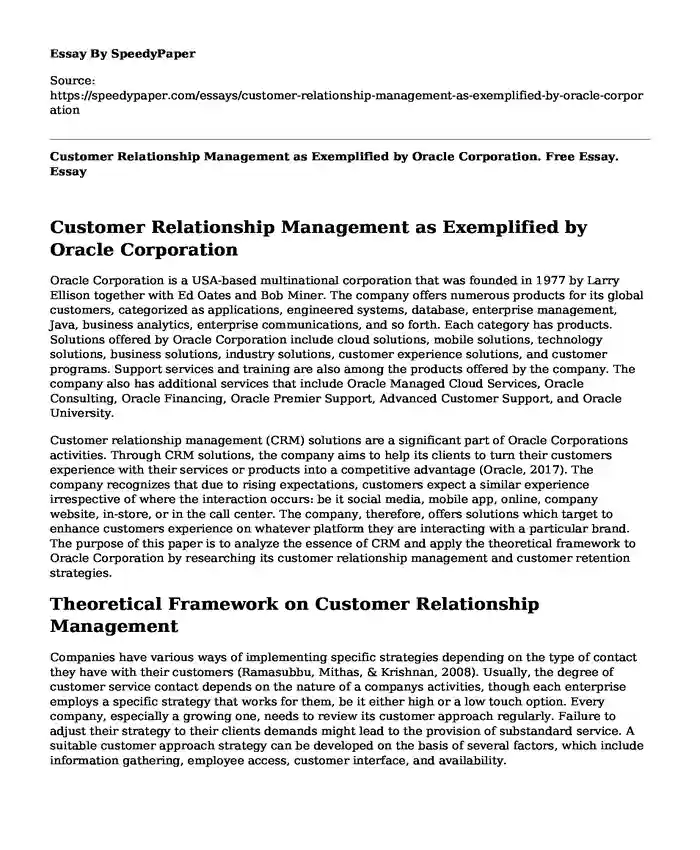 Customer Relationship Management as Exemplified by Oracle Corporation
Oracle Corporation is a USA-based multinational corporation that was founded in 1977 by Larry Ellison together with Ed Oates and Bob Miner. The company offers numerous products for its global customers, categorized as applications, engineered systems, database, enterprise management, Java, business analytics, enterprise communications, and so forth. Each category has products. Solutions offered by Oracle Corporation include cloud solutions, mobile solutions, technology solutions, business solutions, industry solutions, customer experience solutions, and customer programs. Support services and training are also among the products offered by the company. The company also has additional services that include Oracle Managed Cloud Services, Oracle Consulting, Oracle Financing, Oracle Premier Support, Advanced Customer Support, and Oracle University.
Customer relationship management (CRM) solutions are a significant part of Oracle Corporations activities. Through CRM solutions, the company aims to help its clients to turn their customers experience with their services or products into a competitive advantage (Oracle, 2017). The company recognizes that due to rising expectations, customers expect a similar experience irrespective of where the interaction occurs: be it social media, mobile app, online, company website, in-store, or in the call center. The company, therefore, offers solutions which target to enhance customers experience on whatever platform they are interacting with a particular brand. The purpose of this paper is to analyze the essence of CRM and apply the theoretical framework to Oracle Corporation by researching its customer relationship management and customer retention strategies.
Theoretical Framework on Customer Relationship Management
Companies have various ways of implementing specific strategies depending on the type of contact they have with their customers (Ramasubbu, Mithas, & Krishnan, 2008). Usually, the degree of customer service contact depends on the nature of a companys activities, though each enterprise employs a specific strategy that works for them, be it either high or a low touch option. Every company, especially a growing one, needs to review its customer approach regularly. Failure to adjust their strategy to their clients demands might lead to the provision of substandard service. A suitable customer approach strategy can be developed on the basis of several factors, which include information gathering, employee access, customer interface, and availability.
Information Gathering
Companies gather information from their customers for various purposes. However, the level of information they gather so that they can address customer concerns varies according to the customer service the company provides. In low-touch customer service strategies, the idea is to address the problems and concerns of the customer as they arise. This strategy, however, does not include gathering information which would help in the identification of specific solutions. One example is a watch store: The store fixes watches as they break. In such a situation, the store does not have to gather any information from the customer regarding the problems or concerns so that they can create a particular kind of problem-solving workflow.
The approach will be different in the case of high-touch customer service, where the idea is to gather information from customers, analyze complaints, and then develop a solution, thus creating a problem-solving workflow scenario. One example is a software vendor that sells its products to a wide pool of customers. The vendor has to create a system where customers report problems or concerns with the software. The company then analyzes customers feedback so that it can come up with solutions for customers who might encounter similar or related problems in the future.
Employee Access
In certain situations, there is a need for a customer to interact directly with a companys employees. However, the level at which the customer is able to access the companys employee depends on the customer service strategy the company has put in place. In a low-touch customer service strategy, customers are restricted from accessing top-level managers and executives when they encounter a problem. On the other hand, a high-touch customer service strategy affords customers who encounter a problem an opportunity to access or speak to top-level managers and executives or any other employee positioned higher up the chain of command. For example, a company that sells expensive designer luxury cars might consider customers who buy such cars as high-touch customers. Every time the customer encounters a problem, they can be granted an opportunity to speak to a high-rank company representative such as the vice president or the owner.
Customer Interface
Companies and business use interfaces to communicate with their customers. Such interfaces are designed depending on whether a high- and or a low-touch customer strategy is employed. In a low-touch customer service approach, the customers do not have an opportunity to have a direct contact with an employee. For example, a company might have an automated system that guides the customer on how to solve or troubleshoot a problem without contacting the company employee. E-mail feedback can serve as an example of such a system. Unlike low-touch, in high-touch customer service programs, customers have an opportunity to interact with employees when they encounter a problem or when they wish to make an inquiry. Companies can offer high-touch customer service programs through a representative or a call center to help customers resolve problems.
Availability
Companies understand that customers can encounter problems with their services and products at any time of the day. The level at which customer service is available to the customer is dependent on the nature of the customer approach. In a low-touch strategy, a customer cannot contact the companys representative other than within the business hours. However, for high-touch customer service programs, the customers are able to contact the company representative through a 24-hour helpline, call centers, service centers, and any other options anytime they encounter a problem.
Oracle Corporations Customer Retention Strategies
When a company makes customer experience its competitive advantage, it is possible for such a company to retain its customers. The use of the Oracle CX Cloud Suite provides Oracle Corporations customers with cross-channel and consistent experiences by making use of the pre-built business process that extends the silo. It also provides connections throughout the journey of the buyers and thus makes their operations more efficient. Additionally, the use of the Cloud Suite helps the respective companies to leverage best industry-specific practices that are not only competitive but also lower their total cost ownership (TCO). Oracle Corporation, through its Oracle CX Cloud Suite, makes it possible to break down silos in such a way that it can deliver seamless customer experience across various units of the business, including service, sales, social factor, marketing, commerce, and configure, price and quote (CPQ) (Oracle, 2017).
Marketing
Oracle Corporation uses marketing as one of its customer retention strategies. The company believes that delivering the right message to the right customer at the right time using a range of communication channels needs a quick collection of data, gaining insight, and turning that insight into action. The company has modern marketing solutions that enable their clients to create customized meaningful, personalized experiences for their clients, and in the process to turn casual prospects into loyal advocates and thus achieve revenues faster. Marketing solutions are capable of aggregating marketing data which are then used to target the right customers in order to simplify and streamline the experiences of the customers. Using various channels, the solutions coordinate relevant, individualized customer experiences.
Sales
Todays customers are very dynamic in the way they want to transact their businesses such as purchasing of products, transfer of money, or paying for services. The modern salesforce is mobile, and as such, it requires a CRM system that is not only easy to use but also contains the relevant information necessary to make sales faster. This is a key to customer retention because customers prefer performing their transactions real-time. Using Oracle Sales Cloud helps in easy deployment and use of a CRM system. It also drives sales by employing multiple screens and complete mobility. The solution facilitates productivity through coaching, integrated communication, and team selling. Further, Oracle solutions help in driving demand across various channels with the use of modern selling tools. When all these product features are combined, they result in an overall great customer experience, thus making it possible for companies to retain customers.
Commerce
The modern shoppers have increasing expectations. For example, they demand personalized and easy access channels. When their demands are met, they are more likely to remain loyal. To meet the demand of such customers, and therefore retain them, the company has come up with a solution known as Oracle Commerce Cloud. This solution helps businesses operate flexible cloud platforms that allow simplified connections to other systems, ultimate brand control, and streamline site management. As a result, business agility is improved and the costs are reduced as they deliver great customer experience, which further leads to loyalty and commerce evolution.
Social Factor
The social aspect of business cannot be ignored in the modern business. Oracle Corporation uses social media as a tool for improving customer experiences with more targeted as well as effective content, better insights, better service, and real-time collaboration. The solutions help in capturing only the relevant conversations around the companys brand and then employ advanced analytics to make use of the insights rapidly. The outcome is the delivery of content to not only the right people but also at the right time. The company, through identification and targeting the customer in the social media, can grow faster. Growth is only assured since loyal customers are retained while new customers are attracted to the experience.
Service
By employing not only a modern but an integrated customer service approach, a company can leverage a multichannel business environment to offer superior services at a reduced cost to facilitate higher sales conversions and monitor social media complaints to identify and then address potential issues about the service they provide. The solution makes it easier for current and potential customers to interact with the companys brand and obtain any information they might require. Oracle Corporation serves customers efficiently by the use of platforms such as online chat, virtual assistants, self-service content, and click-to-call.
CPQ
Customer experience, and hence customer retention can be achieved by making alterations to the way configuration, pricing and quoting is done. A streamlined opportunity-to-quote process can attract and make customers loyal to a company because of the great experience they are offered. Oracle Corporation achieves this by making the sales process more efficient through CPQ, easier product selection, ordering, and flexible approval workflow. The ultimate result is better customer service which translates into loyalty. For example, customers would be delighted to be offered an opportunity that allows them to automatically generate quotes that are customer-friendly and 100% accurate in a matter of minutes.
Co-Production and Self-Sufficiency
Oracle Corporation works hand in hand with the customers to generate solutions that solve their problems. This is made possible by collecting customers data regarding complaints, analyzing the complaints, and generating solutions that address the current specific problems and similar potential problems. The customers are provided with an opportunity to have a say in the decisions that are key to addressing their problems. Another approach employed by the company enabling their customers to be self-sufficient in solving the problems they might encounter with the service or the products they purchase. This can be achieved by training and provision of automated solutions which customers can utilize without necessarily going back to the seller, which reduces business proximity with the high-touch customer service strategy (Salomann, Kobe, & Brenner, 2005).
System and Technology
The advent of IT and computer systems have made it possible to do a lot of transactions efficiently at a reduced cost. Oracle Corporation continuously develops a wide array of solutions that helps in improving customer experience. Such solutions include software for gathering and analyzing customer data, monitoring customers, improving customers interaction with the brand, informing or updating the customers on new products or upgrades, and so forth. While many of the companys systems and technologies have been available for some time, there are some solutions, such as cloud-based technologies and systems, that have been only recently launched.
Recommendations
The world of social media is growing in popularity among the young people. There is a tendency to catch up with new technologies, and in the process, people who fail to do so can be easily forgotten. Companies mostly offer solutions that target young people because they happen to be the majority in the market. The aging population may not be in a position to follow the technological progress, and they might be comfortable with a certain way of transacting business. This is also a category of population that is not present in the social media and therefore, online tracking tools might not capture such peoples data. It is, thus, important that new systems being generated should gather all data with consideration of the aging population. There should be systems that are tailor-made to address changing demographics. There is also a need to have solutions that can help companies design future products by allowing the customers to decide what they want in future.
Summary
CRM is one of the sectors in business that should be well-managed as a failure in CRM approach can drive a company out of business. Oracle Corporation not only offers a wide array of business solutions, but it also offers CRM services to various companies on the basis of high- or low-touch customer service strategy. This strategy can be based on factors such as availability, data gathering, customer access, and interface. To retain customers,a CRM service company can offer solutions that improve customer experience in terms of marketing, sales, CPQ, commerce, social interaction, and service.
Co-production and self-sufficiency should form the core activities of every move forward, which Oracle Corporation implements successfully. Systems and technology help the company to conduct its CRM activities efficiently and with minimum costs. It also employs systems and technology to improve its customers experiences. It is highly recommended that as Oracle Corporation collects online data from its current and potential customers, it does not forget those who might not be in opposition to use social media such as the aging population, who can also happen to be the companys customers.
References
Oracle. (2017). Oracle CRM- CX Cloud suite. Retrieved from: https://www.oracle.com/applications/customer-experience/crm/index.html
Ramasubbu, N., Mithas, S., & Krishnan, M. S. (2008). High tech, high touch: The effect of employee skills and customer heterogeneity on customer satisfaction with enterprise system support services. Decision Support Systems, 44(2), 509-523. http://dx.doi.org/10.1016/j.dss.2007.06.005
Salomann, H., Kolbe, L., & Brenner, W. (2005). Self-services in customer relationships: balancing high-tech and high-touch today and tomorrow. E-Service Journal, 4(2), 65-84. http://dx.doi.org/10.1353/esj.2006.0011
Cite this page
Customer Relationship Management as Exemplified by Oracle Corporation. Free Essay.. (2017, Jul 31). Retrieved from https://speedypaper.com/essays/customer-relationship-management-as-exemplified-by-oracle-corporation
Request Removal
If you are the original author of this essay and no longer wish to have it published on the SpeedyPaper website, please click below to request its removal: