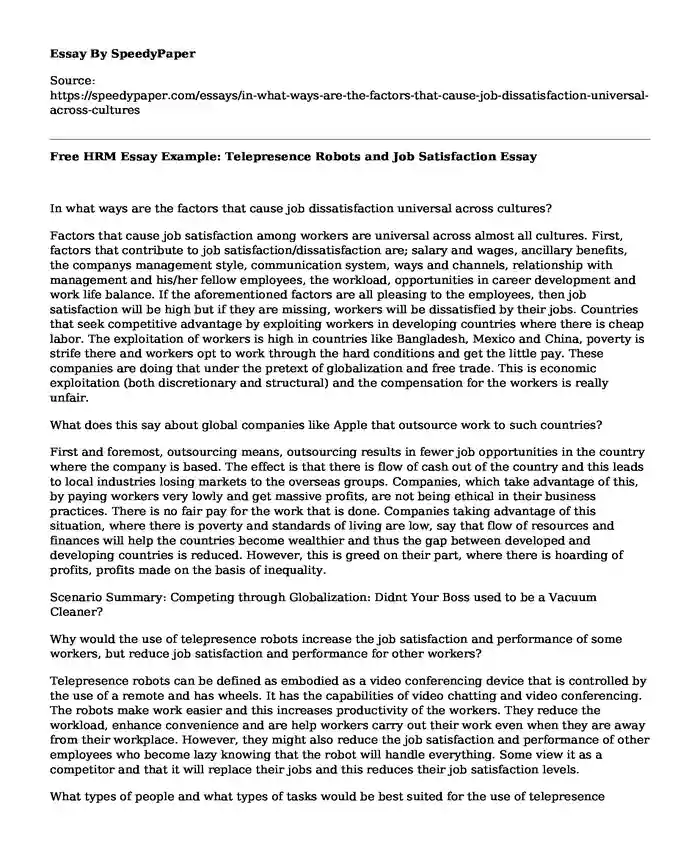 In what ways are the factors that cause job dissatisfaction universal across cultures?
Factors that cause job satisfaction among workers are universal across almost all cultures. First, factors that contribute to job satisfaction/dissatisfaction are; salary and wages, ancillary benefits, the companys management style, communication system, ways and channels, relationship with management and his/her fellow employees, the workload, opportunities in career development and work life balance. If the aforementioned factors are all pleasing to the employees, then job satisfaction will be high but if they are missing, workers will be dissatisfied by their jobs. Countries that seek competitive advantage by exploiting workers in developing countries where there is cheap labor. The exploitation of workers is high in countries like Bangladesh, Mexico and China, poverty is strife there and workers opt to work through the hard conditions and get the little pay. These companies are doing that under the pretext of globalization and free trade. This is economic exploitation (both discretionary and structural) and the compensation for the workers is really unfair.
What does this say about global companies like Apple that outsource work to such countries?
First and foremost, outsourcing means, outsourcing results in fewer job opportunities in the country where the company is based. The effect is that there is flow of cash out of the country and this leads to local industries losing markets to the overseas groups. Companies, which take advantage of this, by paying workers very lowly and get massive profits, are not being ethical in their business practices. There is no fair pay for the work that is done. Companies taking advantage of this situation, where there is poverty and standards of living are low, say that flow of resources and finances will help the countries become wealthier and thus the gap between developed and developing countries is reduced. However, this is greed on their part, where there is hoarding of profits, profits made on the basis of inequality.
Scenario Summary: Competing through Globalization: Didnt Your Boss used to be a Vacuum Cleaner?
Why would the use of telepresence robots increase the job satisfaction and performance of some workers, but reduce job satisfaction and performance for other workers?
Telepresence robots can be defined as embodied as a video conferencing device that is controlled by the use of a remote and has wheels. It has the capabilities of video chatting and video conferencing. The robots make work easier and this increases productivity of the workers. They reduce the workload, enhance convenience and are help workers carry out their work even when they are away from their workplace. However, they might also reduce the job satisfaction and performance of other employees who become lazy knowing that the robot will handle everything. Some view it as a competitor and that it will replace their jobs and this reduces their job satisfaction levels.
What types of people and what types of tasks would be best suited for the use of telepresence robots?
Telepresence are mostly used in healthcare industry, businesses like hostel like the Strange hotel in Japan and in education. These robots can be used by nurses and doctors in the monitoring of patients who are far away. They enable doctors visit patients who require additional checks and these patients do not need to go to the hospital. They are used to administer physical therapy and checking the recovery process of a patient while he or she is at home. The robots also keep records if the prescriptions are being followed by recording the patients actions. Because of physical disabilities, some children are not able to attend schools. These robots can be used by such students to continue with learning process while they are still at school. The robot has a computer screen and is operated by an internet-connected computer equipped with audio capabilities and a webcam and the student uses the telepresence machine to move about, interact with friends easily. Telepresence robots also enable remote visiting. One can be able to visit a sick relative or friend and they talk and spend time together through the machine. The robot overcomes the distance barrier between the patient and the visitor. It can also confer with doctors who happen to be out of the rooms, provide the much needed company and seek nursing assistance in case of anything.
Scenario Summary: Competing via Technology: Has Its Time Come and Gone?
Discuss how the nature of a companys workers and the nature of the work itself might influence when flextime is a good policy and when it is a poor strategy.
The nature of the job and the worker influence the flextime policy. It is a vlountary system and the only employees eligible for it are the ones who have no documented performance issues and problems. Employees whose presence is very critical in their normal working hours cannot be granted this option, for example, line opertaors and this is beacsue these are paid overtime for the excess hours.
Because the personal lives of people are becoming more hectic daily, providing flexible working options for the workers is seen as a way of ensuring a company retains some of its best employees. However, the flextime can be a good policy and can also be a poor strategy. For it to be a good policy, then it is imperative that the company ensures that the goals and the objectives of a worker working flextime have to be clear and understood. The goals need to be precise and action oriented. The company also needs to clearly define what the role of the employee in the organization is. The frequency, means, modes and channles of communication have to be established prior to the commencement of flextime schedules by the employees. It is also important to establish constant working hours for the purposes of telecommuting with the workers. This helps in lowering the anxiety created by flextime.
Why might a one-size-fits-all policy for flextime be unrealistic?
The flextime issue is a complex issue. No two workers, no two businesses, and no two families are alike; each one has their own particular reality and needs. As such, there should be no one size fits all flextime balance policies. However, this does not mean that achieving work-family balance is utopian or illusory. It does say that making flextime balance a reality requires the cooperation of many different agents, both private and public, at all levels of social life (the individual worker, their family, their employers and supervisors, the business, the government) each according to their different competencies and ranges of influence. It is important for all organizations to look and adopt flextime policies which are as per their employees needs, family consideration and job satisfaction.
Scenario Summary: Integrity in Action: Whistleblower or Traitor: The Role of HR in Making the Call
Imagine that HR professionals were able to accurately predict who would become a whistleblower.
If Human Resource professionals would be able to accurately predict who would be a whistleblower, then most companies would take advantage of this and ensure that action is taken on the whistleblower before he or she voices out his concern. To mitigate the risk of a costly and investigation, it would be important for organization leaders to ensure that internal reporting procedures are adhered to and also train their employees to voice out any concerns to the management first. In each of these processes, HR professionals play a very vital role. They need to ensure that the company has very good working relations and the relationship between the company and the workers is excellent so that they can feel free to voice out their issues instead of going to report them right away. The HR department should come up with programs that help the workers to speak up and the management should be willing to listen and act swiftly and accordingly.
Would firms be motivated to screen out such individuals from being hired, if so, would this be an ethical practice from the view of the larger society?
It is illegal and prohibited for employers to punish employees who decide to blow the whistle in reference to safety and occupational hazards. There are some laws and rules which have been drafted to protect employees who give evidence of discrimination in the workplace by the employer. Laws have also been enacted to ensure those employees who report on funds mismanagement and questionable accounting practices are protected from harassment by the management. However, most of these laws are only applicable in government owned public companies. In most private companies, there are laws which illegal retaliation in the engagement of lawful conduct. Screening out of these individuals would not be a good ethical practice and consequently, it would paint a bad image of the company.
References
Agarwal, S. (1993), Influence of formalization on role stress, organizational commitment, and work alienation of salespersons: A cross-national comparative study", Journal of International Business Studies, Vol. 24, pp. 715-735.
Harrison, D. A., Newman, D. A., and Roth, P. L. (2006), "How important are job attitudes?
Meta-analytic comparisons of integrative outcomes and time sequences", Academy of Management Journal, Vol. 49, pp. 305-325.
Taylor, A.C. (2003). The changing world of ancillary benefits. Employee Benefits Journal 28(2), 32.
U.S. job satisfaction hits record low, the conference board reports today; discontent growing among all age groups, income levels and regions. (2003). PR Newswire
J. Drury, H. Yanco, and J. Scholtz. Using Competitions to Study Human-Robot Interaction in Urban Search and Rescue. Interactions, 12(2):3941, 2005
Cite this page
Free HRM Essay Example: Telepresence Robots and Job Satisfaction. (2019, Nov 11). Retrieved from https://speedypaper.com/essays/in-what-ways-are-the-factors-that-cause-job-dissatisfaction-universal-across-cultures
Request Removal
If you are the original author of this essay and no longer wish to have it published on the SpeedyPaper website, please click below to request its removal: