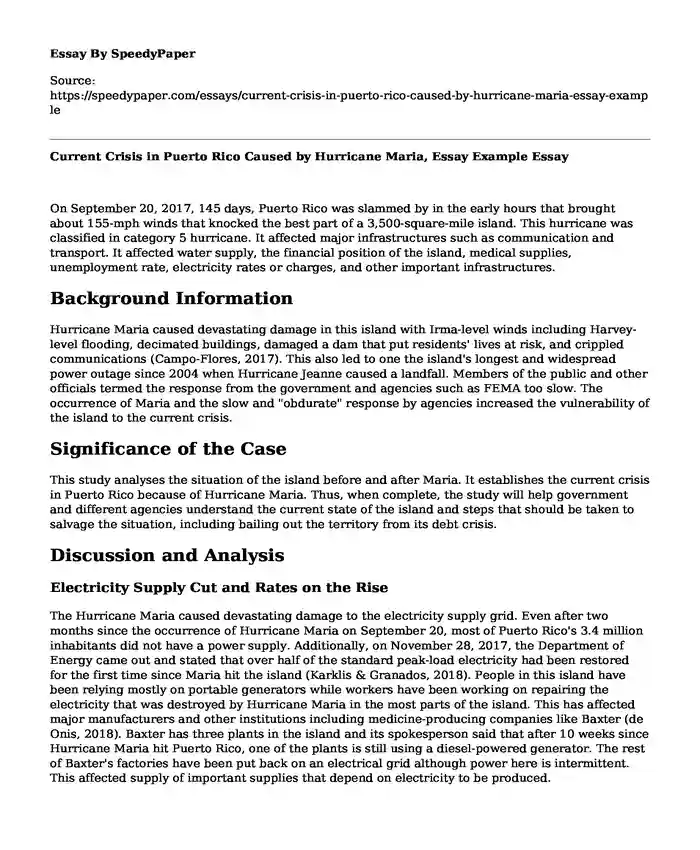 On September 20, 2017, 145 days, Puerto Rico was slammed by in the early hours that brought about 155-mph winds that knocked the best part of a 3,500-square-mile island. This hurricane was classified in category 5 hurricane. It affected major infrastructures such as communication and transport. It affected water supply, the financial position of the island, medical supplies, unemployment rate, electricity rates or charges, and other important infrastructures.
Background Information
Hurricane Maria caused devastating damage in this island with Irma-level winds including Harvey-level flooding, decimated buildings, damaged a dam that put residents' lives at risk, and crippled communications (Campo-Flores, 2017). This also led to one the island's longest and widespread power outage since 2004 when Hurricane Jeanne caused a landfall. Members of the public and other officials termed the response from the government and agencies such as FEMA too slow. The occurrence of Maria and the slow and "obdurate" response by agencies increased the vulnerability of the island to the current crisis.
Significance of the Case
This study analyses the situation of the island before and after Maria. It establishes the current crisis in Puerto Rico because of Hurricane Maria. Thus, when complete, the study will help government and different agencies understand the current state of the island and steps that should be taken to salvage the situation, including bailing out the territory from its debt crisis.
Discussion and Analysis
Electricity Supply Cut and Rates on the Rise
The Hurricane Maria caused devastating damage to the electricity supply grid. Even after two months since the occurrence of Hurricane Maria on September 20, most of Puerto Rico's 3.4 million inhabitants did not have a power supply. Additionally, on November 28, 2017, the Department of Energy came out and stated that over half of the standard peak-load electricity had been restored for the first time since Maria hit the island (Karklis & Granados, 2018). People in this island have been relying mostly on portable generators while workers have been working on repairing the electricity that was destroyed by Hurricane Maria in the most parts of the island. This has affected major manufacturers and other institutions including medicine-producing companies like Baxter (de Onis, 2018). Baxter has three plants in the island and its spokesperson said that after 10 weeks since Hurricane Maria hit Puerto Rico, one of the plants is still using a diesel-powered generator. The rest of Baxter's factories have been put back on an electrical grid although power here is intermittent. This affected supply of important supplies that depend on electricity to be produced.
Collapse of Guajataca Dam
Located in the northwest corner of Puerto Rico, Guajataca Dam is causing a major crisis in the island. This dam suffered major deconstruction on the eve of Hurricane Maria. The decisive infrastructure failure that this dam faced is a major threat to the lives of residents now. Some parts of the dam have fallen apart and the dam has been releasing water since Maria hit the island. This dam threatens lives of more than 70,000 residents (Narayan, 2017). The crisis is even forcing people who live below the dam to evacuate their homes for their safety. With the wireless crisis, officials had to move from house to house-warning residents of the dangers they face could Guajataca Dam collapse while they are at their homes (Zorrilla, 2017). Moving away from home after a major crisis like a hurricane could cost a lot and inflict further financial crisis on individuals. It also requires support from agencies and the local administration, of which is facing a debt crisis.
Crippled Transport System
The hurricane damaged roads and bridge across the island. On the eve of Hurricane Maria in September 2017, San Juan airport was crippled with only a few commercial planes available too. However, although airport services are back to normal, road transport system is still affected and yet to recover. There are severe damages that occurred on the bridges and roads especially on rural, mountainous parts of the island. The process of recovery is slow as the hurricane hit the island at a very bad time as they are a facing financial crisis and the recovery process is even slowing. This is a giant problem that will take a considerable financial support to fix and time to do so too. This means that facilities such as hospitals and leaning institutions in the area will suffer from a low supply of important supplies that depend on road transport. For sure, crippled road infrastructure is a major crisis for Puerto Rico.
Communication Out
Hurricane Maria has inflicted a major crisis that Puerto Rico is still facing today as it crippled the island's communication system. The hurricane immediately left 95% island's wireless cell phone sites out of service as reported by the Federal Communications Commission. This was going to take longer to solve and get things back to normal (Rodriguez-Diaz, 2018). It was worse compared to the Hurricane Irma that followed immediately knocking out 56% of Puerto Rico's wireless network in the process. The communication problem affected radio, telephone, cellular telephone satellite, and television. With the power problem is facing the area, we expect the communication problem to still hit the island for a few more days or weeks given that FEMA's Brock Long said that it "could take weeks or many, many months" to fix the electricity problem (Gonchar, 2017).
Shortage of Medical Supplies
However, while the island slowly recuperates from Hurricane Maria's destruction that occurred in September 2017, mainland hospitals are handling some of the most challenging side effects that resulted from the destruction. According to Caputo (2017), hospitals are struggling with intravenous fluids shortage especially those that are directly related to such hurricane damage. One of the major manufacturers of intravenous bags and fluids, Baxter, reported a shortage in its production. IV fluids such as dextrose and saline are very important to hospitals. Such fluids are needed in hospitals to give medications as well as rehydrate patients (Diaz, 2017; Alcorn, 2017). However, hospital pharmacies are used to using smaller IV bags when mixing medications but such are now short in supply after the occurrence of Hurricane Maria and so pharmacists are relying more on larger bags (Caputo, 2017). Regrettably, these larger bags seem to be running out of supply.
Aggravated Debt Crisis
The debt crisis in Puerto Rico has several complex causes as well as far-reaching effects. However, Hurricane Maria hit the island when the problem was at its climax. This meant that the problem was aggravated further. If the island had any chance of saving itself from the financial crisis before Hurricane Maria, it is almost gone thanks to Maria. Puerto Rico cannot save itself from this problem. According to Gonchar (2017), the only possible solution that could involve the island inhabitants would force the government workers to forgo public health, pension money as well as infrastructure projects. The crisis is also inflicting further problems of "brain drain" as professionals have been moving to the mainland and this could intensify further after Maria add Gonchar (2017). The island's administration can no longer provide its people with effective public services because the weight of the debt is crushing them more than ever because of Hurricane Maria (Gluzmann, Guzman, & Stiglitz, 2018). This new low crisis is currently facing Puerto Rico and needs external intervention including intervention from the mainland.
Unemployment Rate
The unemployment rate in Puerto Rico was twice the United States of America's average, 10.1% by August as compared to 4.4 % that is the average in the country (Karklis & Granados, 2018). However, this is expected to grow further after Hurricane Maria. Moreover, high poverty rates have been aggravated by the mass emigration of Puerto Ricans especially professionals or experts into the mainland from the crisis-hit island. The economic recession that occurred in 2008 is also turning the situation worse causing a large number of the educated class to flee the island (Page-Hoongrajok, Chakraborty, & Pollin, 2017). These two reasons, incorporated with another disaster in the name of Hurricane Maria have contributed to unemployment rates to increase, adding more to the economic turmoil in the island.
Conclusion and Recommendations
Hurricane Maria has caused more crises to Puerto Rico. Some of the crises have been aggravated while others were newly inflicted by the tragedy. Current crisis includes power shortage and increased costs of electricity. The damage inflicted on the Guajataca Dam has forced people to flee their homes and has caused an unanticipated cost of repairing it. Maria also crippled the transport system, more so the road transports where roads and bridges remain barricaded because they are in bad state. Communication system remains affected and a high cost of repair still to be paid by the citizens, probably through high rates. Hospitals were also crippled by the shortage in medicals supplies still affecting the locale. Hurricane Maria that now affects the livelihood of Puerto Ricans has moved the debt crisis to a high notch. In turn, unemployment rates have increased compared to the average rate in the country. The government of United States should, therefore, bail out this territory from its severe debt crisis to save island from "brain drain," help citizens enjoy effective services, and increase the preparedness for possible future disasters.
References
Alcorn, T. (2017). Puerto Rico's health system after Hurricane Maria.
Campo-Flores, A. (2017, September). Puerto Rico After Maria: No Power, No Cell Signal, and Lots of Damage. Retrieved from https://www.wsj.com/articles/puerto-rico-braces-for-more-flooding-as-maria-dumps-more-rain-1505998033
Caputo, I. (2017, December). Hurricane Maria devastated Puerto Rico. Then it caused a ripple effect in mainland hospitals. Retrieved from https://www.usatoday.com/story/news/nation/2017/12/07/hurricane-maria-puerto-rico/929866001/
de Onis, C. M. (2018). Energy Colonialism Powers the Ongoing Unnatural Disaster in Puerto Rico. Frontiers in Communication, 3, 2.
Diaz, J. O. P. (2017). Place-based psychosocial interventions in the aftermath of Hurricane Maria in Puerto Rico.
Gluzmann, P., Guzman, M., & Stiglitz, J. E. (2018). An analysis of Puerto Rico's debt relief needs to restore debt sustainability.
Gonchar, M. (2017, October ). Island in Crisis: Teaching About Puerto Rico after Hurricane Maria. Retrieved from https://www.nytimes.com/2017/10/04/learning/lesson-plans/island-in-crisis-teaching-about-puerto-rico-after-hurricane-maria.html
Karklis, L., & Granados, S. (2018, February). Analysis: After Hurricane Maria, parts of Puerto Rico are still in the dark. Retrieved from https://www.washingtonpost.com/graphics/2017/national/puerto-rico-hurricane-recovery/?utm_term=.9c15bc0eaf39
Narayan, C. (2017, September). 'Apocalyptic' devastation in Puerto Rico, and little help in sight. Retrieved from https://edition.cnn.com/2017/09/25/us/hurricane-maria-puerto-rico/index.html
Page-Hoongrajok, A., Chakraborty, S., & Pollin, R. (2017). Austerity versus Green Growth for Puerto Rico. Challenge, 60(6), 543-573.
Rodriguez-Diaz, C. E. (2018). Maria in Puerto Rico: natural disaster in a colonial archipelago.
Zorrilla, C. D. (2017). The View from Puerto Rico-Hurricane Maria and Its Aftermath. New England journal of medicine, 377(19), 1801-1803.
Cite this page
Current Crisis in Puerto Rico Caused by Hurricane Maria, Essay Example. (2022, Mar 03). Retrieved from https://speedypaper.com/essays/current-crisis-in-puerto-rico-caused-by-hurricane-maria-essay-example
Request Removal
If you are the original author of this essay and no longer wish to have it published on the SpeedyPaper website, please click below to request its removal: