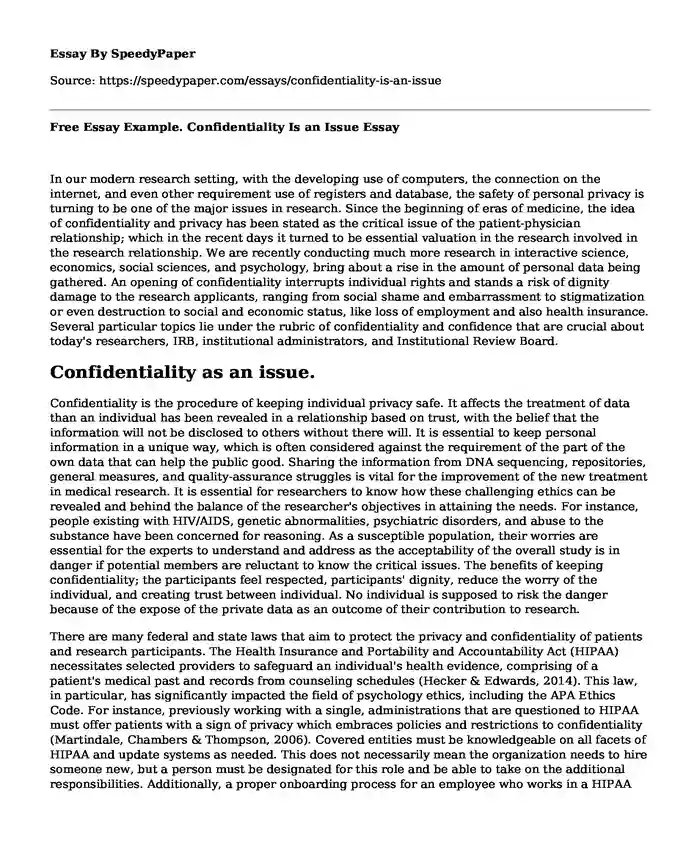 In our modern research setting, with the developing use of computers, the connection on the internet, and even other requirement use of registers and database, the safety of personal privacy is turning to be one of the major issues in research. Since the beginning of eras of medicine, the idea of confidentiality and privacy has been stated as the critical issue of the patient-physician relationship; which in the recent days it turned to be essential valuation in the research involved in the research relationship. We are recently conducting much more research in interactive science, economics, social sciences, and psychology, bring about a rise in the amount of personal data being gathered. An opening of confidentiality interrupts individual rights and stands a risk of dignity damage to the research applicants, ranging from social shame and embarrassment to stigmatization or even destruction to social and economic status, like loss of employment and also health insurance. Several particular topics lie under the rubric of confidentiality and confidence that are crucial about today's researchers, IRB, institutional administrators, and Institutional Review Board.
Confidentiality as an issue.
Confidentiality is the procedure of keeping individual privacy safe. It affects the treatment of data than an individual has been revealed in a relationship based on trust, with the belief that the information will not be disclosed to others without there will. It is essential to keep personal information in a unique way, which is often considered against the requirement of the part of the own data that can help the public good. Sharing the information from DNA sequencing, repositories, general measures, and quality-assurance struggles is vital for the improvement of the new treatment in medical research. It is essential for researchers to know how these challenging ethics can be revealed and behind the balance of the researcher's objectives in attaining the needs. For instance, people existing with HIV/AIDS, genetic abnormalities, psychiatric disorders, and abuse to the substance have been concerned for reasoning. As a susceptible population, their worries are essential for the experts to understand and address as the acceptability of the overall study is in danger if potential members are reluctant to know the critical issues. The benefits of keeping confidentiality; the participants feel respected, participants' dignity, reduce the worry of the individual, and creating trust between individual. No individual is supposed to risk the danger because of the expose of the private data as an outcome of their contribution to research.
There are many federal and state laws that aim to protect the privacy and confidentiality of patients and research participants. The Health Insurance and Portability and Accountability Act (HIPAA) necessitates selected providers to safeguard an individual's health evidence, comprising of a patient's medical past and records from counseling schedules (Hecker & Edwards, 2014). This law, in particular, has significantly impacted the field of psychology ethics, including the APA Ethics Code. For instance, previously working with a single, administrations that are questioned to HIPAA must offer patients with a sign of privacy which embraces policies and restrictions to confidentiality (Martindale, Chambers & Thompson, 2006). Covered entities must be knowledgeable on all facets of HIPAA and update systems as needed. This does not necessarily mean the organization needs to hire someone new, but a person must be designated for this role and be able to take on the additional responsibilities. Additionally, a proper onboarding process for an employee who works in a HIPAA covered organization includes a complete discussion of confidentiality and all the related HIPAA processes.
The establishment and extension of HIPAA together with HITECH were aimed in containing the criminal and any civil punishment which is violated. The HITECH Act has four stages of approvals with consistent fiscal penalties, which may rise to $1.5M for violating similar establishment of this act (Wians & Bouregy, 2013). Both HIPAA and HITECH have significantly influenced the field of psychology ethics. Not only are the day-to-day processes and onboarding procedures differ based on these regulations, but if an organization made HIPPA-related errors, it could financially devastate a psychology professional or an entire organization.
Similar to HIPAA and HITECH, the Family Educational Rights and Privacy Act (FERPA) shields confidentiality and privacy but is geared toward educational data (Fisher, 2017). This regulation has significantly impacted psychologists working in schools. In this case, FERPA does not elect a change between educational and medical archives; if a student's medical state, such as diabetes conditions, can limit some events, this facts must also be maintained confidential (Fisher, 2017). The APA Ethics Code, along with federal and state laws, are all necessary structural and procedural components of confidentiality. Each of these mechanisms serves as guardrails for individuals and organizations in terms of behavior. While an objective or scholarly perspective, is essential, it is also interesting to consider how confidentiality influences the field of psychology ethics from a subjective viewpoint.
By What Means Does Confidentiality Influence Psychology Ethics
Confidentiality is the keystone of psychoanalysis (Meer & Vandercreek, 2002) and in the absence of it, the most public would not sense comfortable talking with a psychologist round profoundly personal subjects. This writer knows firsthand that the trust that develops during therapy is essential for the therapeutic process. Confidentiality creates a cocoon of safety through which life's painful events can be brought into the light for healing. Adoption, betrayal, rejection, divorce, fear, and shame were all emotional topics that surfaced during psychotherapy. There was a comfort knowing that the psychologist was ethically and legally bound to keep this information confidential. HIPAA may cause more paperwork, but it provides a layer of protection and assurance regarding one's privacy, especially surrounding vulnerable topics. A similar situation was also communicated by a friend when she used a psychologist to help her with Adult Attention Deficit Disorder and issues of addiction and abandonment following the divorce of her parents. Her time in therapy was a tremendously healing experience for her, and knowing that the information she shared would remain confidential was key to her willingness to reveal these painful experiences. She described her time in therapy as the only safe place to talk about her feelings and deal with her issues. Again, the protection of confidentiality in this situation was governed by HIPAA. Kaufman and Lee (2000) claimed that privacy is only severe to some patients in some cases, but the personal skills of this writer and those within her loop of family members and friends all care the significance of confidentiality to the therapeutic procedure. Confidentiality influences the field of psychology ethics, but the reverse is also true. The area of psychology ethics has also changed the concept of privacy.
How Psychology Ethics influences the confidentiality
Psychology ethics have controlled the topic of privacy in several mission-critical ways. The APA Ethics Code delivers a detailed description of enforceable values, including the course for grievances, warnings, and sanctions (Fisher, 2017). APA can enforce penalties against a member, including a reprimand, censure, or expulsion, and can also issue directives such as a "cease" order or issue an education or training requirement (Fisher, 2017) after an incident. Like sanctions from HITECH, APA Ethics Code sanctions can have lasting repercussions for individuals and organizations. To illustrate consider the Tarasoff case. By creating a border between "protective privilege," which is a lawful expression for confidentiality and the responsibility to defend the public (Kaufman & Lee, 2000), The Tarasoff case is meaningfully influenced by how psychology experts and others view privacy. In 1974, this incident changed a review to the APA Ethics code when the California Supreme Court held that a mindset professional could be accountable for a "breach of obligation" by not cautioning someone of immediate danger associated to a patient or contributor (Kaufman & Lee, 2000). This ruling changed the codes and also changed how psychology professionals and others viewed confidentiality. Knowing that a psychology professional could be held responsible for not divulging certain pieces of information was a paradigm shift for many regarding this topic. The weight of legal sanctions and the possibility of losing one's license changed both attitudes and behavior toward confidentiality.


References
Benos, D. J., Fabres, J., Farmer, J., Gutierrez, J. P., Hennessy, K., Kosek, D., ... & Wang, K. (2005). Ethics and scientific publication. Advances in Physiology Education, 29(2), 59-74.
Chi, F., Shen, S. H., Cheng, H. P., Jing, Y. X., Yanni, Y. G., & Dazzo, F. B. (2005). Ascending migration of endophytic rhizobia, from roots to leaves, inside rice plants and assessment of benefits to rice growth physiology. Appl. Environ. Microbiol., 71(11), 7271-7278.
Dawkins, M. S., Donnelly, C. A., & Jones, T. A. (2004). Chicken welfare is influenced more by housing conditions than by stocking density. Nature, 427(6972), 342.
Gailliot, M. T., & Baumeister, R. F. (2007). The physiology of willpower: Linking blood glucose to self-control. Personality and social psychology review, 11(4), 303-327.
JacobTimm, S. (2000). School psychology in the new millennium: Legal influences and ethical issues. Psychology in the Schools, 37(1), 39-48.
Cite this page
Free Essay Example. Confidentiality Is an Issue. (2023, Jan 18). Retrieved from https://speedypaper.com/essays/confidentiality-is-an-issue
Request Removal
If you are the original author of this essay and no longer wish to have it published on the SpeedyPaper website, please click below to request its removal: