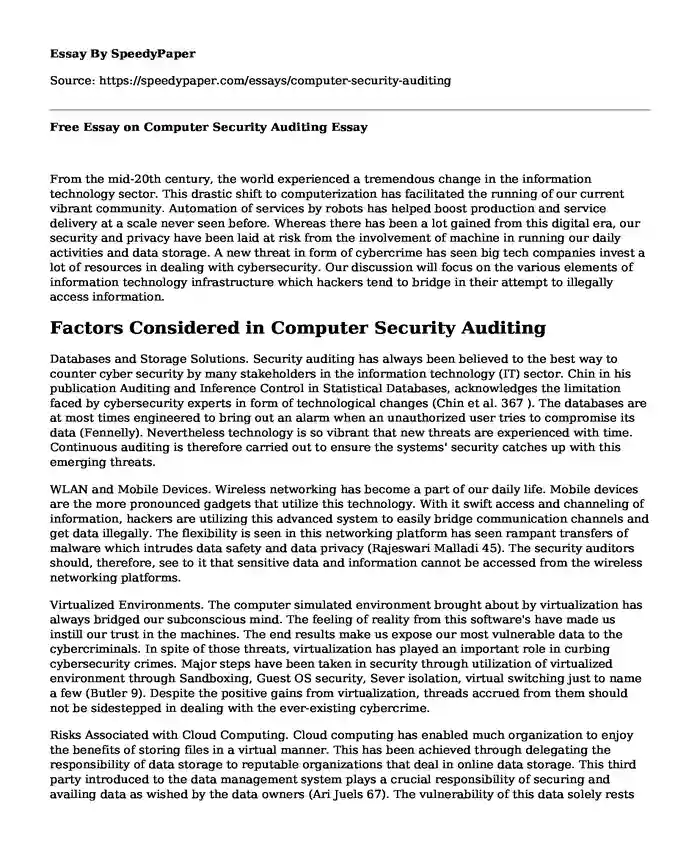 From the mid-20th century, the world experienced a tremendous change in the information technology sector. This drastic shift to computerization has facilitated the running of our current vibrant community. Automation of services by robots has helped boost production and service delivery at a scale never seen before. Whereas there has been a lot gained from this digital era, our security and privacy have been laid at risk from the involvement of machine in running our daily activities and data storage. A new threat in form of cybercrime has seen big tech companies invest a lot of resources in dealing with cybersecurity. Our discussion will focus on the various elements of information technology infrastructure which hackers tend to bridge in their attempt to illegally access information.
Factors Considered in Computer Security Auditing
Databases and Storage Solutions. Security auditing has always been believed to the best way to counter cyber security by many stakeholders in the information technology (IT) sector. Chin in his publication Auditing and Inference Control in Statistical Databases, acknowledges the limitation faced by cybersecurity experts in form of technological changes (Chin et al. 367 ). The databases are at most times engineered to bring out an alarm when an unauthorized user tries to compromise its data (Fennelly). Nevertheless technology is so vibrant that new threats are experienced with time. Continuous auditing is therefore carried out to ensure the systems' security catches up with this emerging threats.
WLAN and Mobile Devices. Wireless networking has become a part of our daily life. Mobile devices are the more pronounced gadgets that utilize this technology. With it swift access and channeling of information, hackers are utilizing this advanced system to easily bridge communication channels and get data illegally. The flexibility is seen in this networking platform has seen rampant transfers of malware which intrudes data safety and data privacy (Rajeswari Malladi 45). The security auditors should, therefore, see to it that sensitive data and information cannot be accessed from the wireless networking platforms.
Virtualized Environments. The computer simulated environment brought about by virtualization has always bridged our subconscious mind. The feeling of reality from this software's have made us instill our trust in the machines. The end results make us expose our most vulnerable data to the cybercriminals. In spite of those threats, virtualization has played an important role in curbing cybersecurity crimes. Major steps have been taken in security through utilization of virtualized environment through Sandboxing, Guest OS security, Sever isolation, virtual switching just to name a few (Butler 9). Despite the positive gains from virtualization, threads accrued from them should not be sidestepped in dealing with the ever-existing cybercrime.
Risks Associated with Cloud Computing. Cloud computing has enabled much organization to enjoy the benefits of storing files in a virtual manner. This has been achieved through delegating the responsibility of data storage to reputable organizations that deal in online data storage. This third party introduced to the data management system plays a crucial responsibility of securing and availing data as wished by the data owners (Ari Juels 67). The vulnerability of this data solely rests on the security measures employed to safeguard them. The auditors are faced with a responsibility of ensuring that all digital flaws that may be bridged by cybercriminals and malware are sealed.
Potential Control Weaknesses in Computer Security Auditing. Application controls act by the set-out measures that safeguard the vulnerability of a system through both preventative and detective means. Their actions mainly depend on Computer-Assisted Auditing Techniques (CAATs). The set up used in this auditing technique means that the probability of manipulation of computer actions can be witnessed. A continuous assessment needs to be carried out frequently to ensure that intrusive malware is kept away from invading the system (Fennelly). This will ensure the system performers its mandated task of cyber threat protection.
Conclusion
From our discussion above, we can acknowledge the impacts that information technology plays in our life. The great benefits attained through computerization should be appreciated in considerations with the cyber threats that have come with it. We all have to be cautious of the cybercriminals who wish to misuse the information technologies to pray on unsuspecting individuals. Serious auditing should, therefore, be carried out to ascertain the ramifications brought about by the digital platforms.
Works Cited
Ari Juels, Alina Oprea. "New Approaches to Security and Availability Of Cloud Data." Communication of the ACM (2013): 64-73. Website.
Butler, Brandon. "How Network Virtualization is used as a Security." Network World (2014): 9. website. 17 February 2018. <https://www.networkworld.com/article/2606388/virtualization/how-network-virtualization-is-used-as-a-security-tool.html>.
Fennelly, Carole. "IT Security Auditing: Best Practices for Conducting Auditing." TechTarget (2008): 12. website. 17 February 2018. <http://searchsecurity.techtarget.com/IT-security-auditing-Best-practices-for-conducting-audits>.
Francis y. Chin, Gultekin Ozsoyoglu. Auditing and Inference Control in Statistical Databases. Vols. SE-6. Chicago: IEEE Transactions On Software Engineering, 1982. 6 vols. document.
Jungwoo Ryoo, Syed Rizvi, William Aiken, John Kissell. "Cloud Security Auditing: Challenges and Emerging Approaches." IEEE Security and Privacy 12 (2014): 74. document. <doi.ieeecomputersociety.org/10.1109/MSP.2013.132>.
Rajeswari Malladi, Dharma p. Agrawal. Current and Future Application of Mobile and Wireless Network. Vol. 45. San Fransisco: Communications of the AMC, 2002. 10 vols. Document.
Cite this page
Free Essay on Computer Security Auditing. (2022, Mar 11). Retrieved from https://speedypaper.com/essays/computer-security-auditing
Request Removal
If you are the original author of this essay and no longer wish to have it published on the SpeedyPaper website, please click below to request its removal: