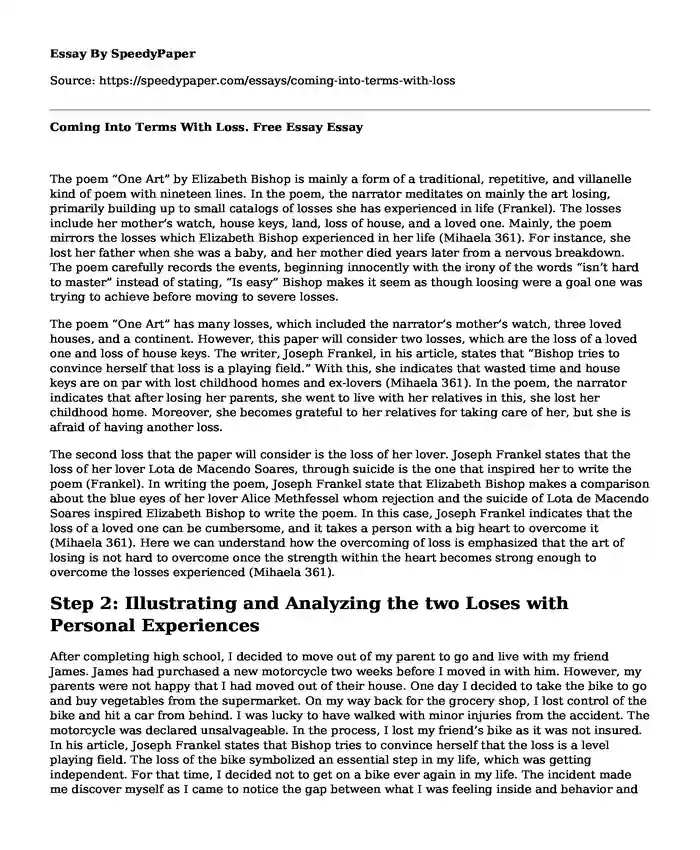 The poem "One Art" by Elizabeth Bishop is mainly a form of a traditional, repetitive, and villanelle kind of poem with nineteen lines. In the poem, the narrator meditates on mainly the art losing, primarily building up to small catalogs of losses she has experienced in life (Frankel). The losses include her mother's watch, house keys, land, loss of house, and a loved one. Mainly, the poem mirrors the losses which Elizabeth Bishop experienced in her life (Mihaela 361). For instance, she lost her father when she was a baby, and her mother died years later from a nervous breakdown. The poem carefully records the events, beginning innocently with the irony of the words "isn't hard to master" instead of stating, "Is easy" Bishop makes it seem as though loosing were a goal one was trying to achieve before moving to severe losses.
The poem "One Art" has many losses, which included the narrator's mother's watch, three loved houses, and a continent. However, this paper will consider two losses, which are the loss of a loved one and loss of house keys. The writer, Joseph Frankel, in his article, states that "Bishop tries to convince herself that loss is a playing field." With this, she indicates that wasted time and house keys are on par with lost childhood homes and ex-lovers (Mihaela 361). In the poem, the narrator indicates that after losing her parents, she went to live with her relatives in this, she lost her childhood home. Moreover, she becomes grateful to her relatives for taking care of her, but she is afraid of having another loss.
The second loss that the paper will consider is the loss of her lover. Joseph Frankel states that the loss of her lover Lota de Macendo Soares, through suicide is the one that inspired her to write the poem (Frankel). In writing the poem, Joseph Frankel state that Elizabeth Bishop makes a comparison about the blue eyes of her lover Alice Methfessel whom rejection and the suicide of Lota de Macendo Soares inspired Elizabeth Bishop to write the poem. In this case, Joseph Frankel indicates that the loss of a loved one can be cumbersome, and it takes a person with a big heart to overcome it (Mihaela 361). Here we can understand how the overcoming of loss is emphasized that the art of losing is not hard to overcome once the strength within the heart becomes strong enough to overcome the losses experienced (Mihaela 361).
Step 2: Illustrating and Analyzing the two Loses with Personal Experiences
After completing high school, I decided to move out of my parent to go and live with my friend James. James had purchased a new motorcycle two weeks before I moved in with him. However, my parents were not happy that I had moved out of their house. One day I decided to take the bike to go and buy vegetables from the supermarket. On my way back for the grocery shop, I lost control of the bike and hit a car from behind. I was lucky to have walked with minor injuries from the accident. The motorcycle was declared unsalvageable. In the process, I lost my friend's bike as it was not insured. In his article, Joseph Frankel states that Bishop tries to convince herself that the loss is a level playing field. The loss of the bike symbolized an essential step in my life, which was getting independent. For that time, I decided not to get on a bike ever again in my life. The incident made me discover myself as I came to notice the gap between what I was feeling inside and behavior and words which I show the world.
A few years after my motorcycle accident, another tragedy occurred. There was this girl I was really in love with while in college. One day she decides to go and visit her parents over the weekend. On her way back, she was involved in a gruesome accident where she had to be put on life support for three months. However, she did not make it as her organs failed, and the injuries were fatal. On the day I learned of her passing, it was the worst day of my life. Nothing could compare with the pain I was feeling. The words of Joseph Frankel come into light when he says that "One Art" "is a poem worth returning to after a death or any other loss." The poem share experience from which a grieving person can get encouragement and hope.
Step 3: "Write It"
The central theme of the poem "One Art" is a loss, acceptance of loss, and all the sadness that was experienced. The losses include mother's watch, house keys, land, loss of house, and a loved one. The poem mirrors the losses which Elizabeth Bishop experienced in her life. Primarily, the poem is inspired by actual events that occurred in Elizabeth Bishop's life. Having lost her father and mother at a tender age, she is forced to go and live with are relatives where her uncle tries to molest her in several instances. However, the loss that hit her the worst is that of her lover through suicide and the rejection by Alice Methfessel. These are the two main incidences that inspire the poem. In her life, Elizabeth Bishop is afraid of losing, but through acceptance, she later must master the art of losing when she gets back with Alice Methfessel. The losses that leave her devastating are those of her mother, father, and lover. I think the words "write it" in the people Elizabeth Bishop uses them to express and show the difficulties she had accepting the loss of loved one, and adding these words, she is mainly trying to make the thought less hurtful.
Works Cited
Frankel, Joseph. "Coming to Terms with Loss in Elizabeth Bishop's 'One Art.'" The Atlantic, 2017, https://www.theatlantic.com/notes/2017/04/coming-to-terms-with-loss-in-elizabeth-bishops-one-art/524154/?utm_campaign=share&utm_medium=email&utm_source=atl. Accessed 8 June 2020.
Mihaela Irimia. "The Art of Losing: W. H. Auden and Elizabeth Bishop." Critical Survey, vol. 6, no. 3, 1994, p. 361. EBSCOhost, search.ebscohost.com/login.aspx?direct=true&db=edsjsr&AN=edsjsr.41555856&site=eds-live&scope=site.
Cite this page
Coming Into Terms With Loss. Free Essay. (2023, Aug 27). Retrieved from https://speedypaper.com/essays/coming-into-terms-with-loss
Request Removal
If you are the original author of this essay and no longer wish to have it published on the SpeedyPaper website, please click below to request its removal: