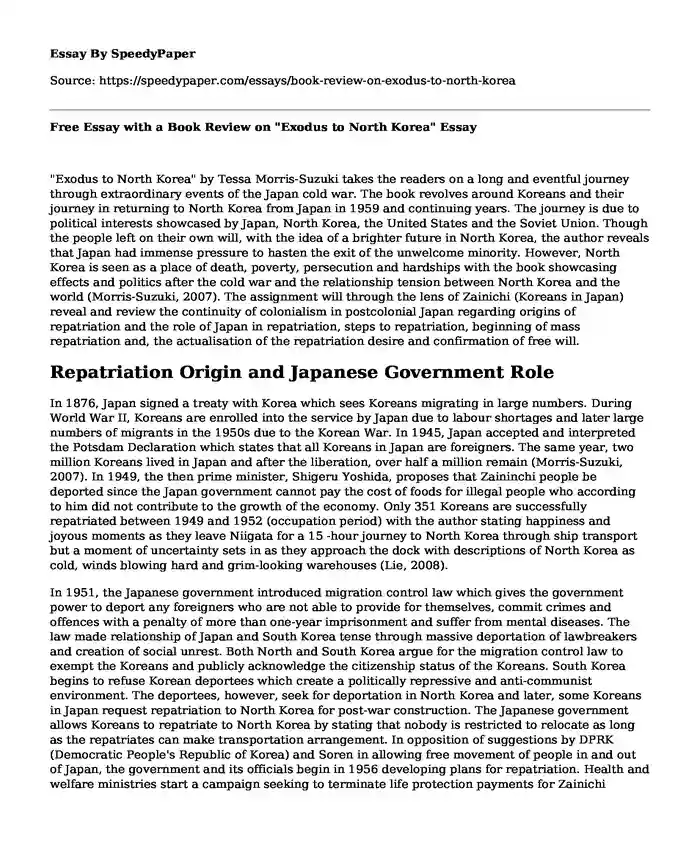 "Exodus to North Korea" by Tessa Morris-Suzuki takes the readers on a long and eventful journey through extraordinary events of the Japan cold war. The book revolves around Koreans and their journey in returning to North Korea from Japan in 1959 and continuing years. The journey is due to political interests showcased by Japan, North Korea, the United States and the Soviet Union. Though the people left on their own will, with the idea of a brighter future in North Korea, the author reveals that Japan had immense pressure to hasten the exit of the unwelcome minority. However, North Korea is seen as a place of death, poverty, persecution and hardships with the book showcasing effects and politics after the cold war and the relationship tension between North Korea and the world (Morris-Suzuki, 2007). The assignment will through the lens of Zainichi (Koreans in Japan) reveal and review the continuity of colonialism in postcolonial Japan regarding origins of repatriation and the role of Japan in repatriation, steps to repatriation, beginning of mass repatriation and, the actualisation of the repatriation desire and confirmation of free will.
Repatriation Origin and Japanese Government Role
In 1876, Japan signed a treaty with Korea which sees Koreans migrating in large numbers. During World War II, Koreans are enrolled into the service by Japan due to labour shortages and later large numbers of migrants in the 1950s due to the Korean War. In 1945, Japan accepted and interpreted the Potsdam Declaration which states that all Koreans in Japan are foreigners. The same year, two million Koreans lived in Japan and after the liberation, over half a million remain (Morris-Suzuki, 2007). In 1949, the then prime minister, Shigeru Yoshida, proposes that Zaininchi people be deported since the Japan government cannot pay the cost of foods for illegal people who according to him did not contribute to the growth of the economy. Only 351 Koreans are successfully repatriated between 1949 and 1952 (occupation period) with the author stating happiness and joyous moments as they leave Niigata for a 15 -hour journey to North Korea through ship transport but a moment of uncertainty sets in as they approach the dock with descriptions of North Korea as cold, winds blowing hard and grim-looking warehouses (Lie, 2008).
In 1951, the Japanese government introduced migration control law which gives the government power to deport any foreigners who are not able to provide for themselves, commit crimes and offences with a penalty of more than one-year imprisonment and suffer from mental diseases. The law made relationship of Japan and South Korea tense through massive deportation of lawbreakers and creation of social unrest. Both North and South Korea argue for the migration control law to exempt the Koreans and publicly acknowledge the citizenship status of the Koreans. South Korea begins to refuse Korean deportees which create a politically repressive and anti-communist environment. The deportees, however, seek for deportation in North Korea and later, some Koreans in Japan request repatriation to North Korea for post-war construction. The Japanese government allows Koreans to repatriate to North Korea by stating that nobody is restricted to relocate as long as the repatriates can make transportation arrangement. In opposition of suggestions by DPRK (Democratic People's Republic of Korea) and Soren in allowing free movement of people in and out of Japan, the government and its officials begin in 1956 developing plans for repatriation. Health and welfare ministries start a campaign seeking to terminate life protection payments for Zainichi people. In 1959, the government launched a national welfare system which excludes the Zainichi which makes life unbearable and makes repatriation to North Korea a better option (Morris-Suzuki, 2007).
Steps to Repatriation
In the declassified Japanese government document of 200 contains the repatriation project. The document entails repatriation history regarding diplomatic agreements and negotiations between North Korea and Japan while offering insight on foreign ministry 1955 draft repatriation plan and the incidence in 1953 of "Lee Ho-Yeon". After the Korean War in 1953, the Zainichi sought repatriation efforts through the Minsen, their Korean left-wing movement, by involving in diplomatic talks with the ministry of foreign affairs and Justice. Alternative solutions are arrived at with officials detailing for the need for non-involvement of Japanese Red Cross as it would create more tension with South Korea and a solution of repatriation through China to North Korea with the repatriates paying for all the expense. In 1953, Lee Ho-Yeon, Minsen chairman, enters into a secret agreement with the Immigration Bureau of Japan by allowing him to travel to North Korea to represent in discussions about repatriation in North Korea. However, in May 1954, shortly before heading for a North Korea, Lee holds a press conference which puts the secrecy agreement in danger. The government of Japan quickly cancels his travelling permission (Morris-Suzuki, 2007).
Japanese Red Cross in 1954 reaches out to its counterpart in North Korea seeking for identification and return of Japanese citizens living in DPRK with assurance or willingness to help in the repatriation of Zainichi to their homeland. In 1955, the Japan red cross held discussions in Geneva asking ICRC (International Committee of the Red Cross) to repatriate Japanese in North Korea while forecasting future requests in Zainichi repatriation. North Korea takes an active approach by making statements of Zainichi treatment in Japan and demands of Omura detainees to be released which opens indirect communication with South Korea. In 1955, a draft outline by the Ministry of Foreign Affairs was done which entails, one, the government paying all travel expenses to returnees, two, the consultation with North Korea on acceptance or not of the repatriates. Three, repatriation by names with Soren (general association of Koreans in Japan), and four, provision of ships by Red Cross of North Korea to designated ports. In the draft plan, immigration Bureau issues departure stamps and plans for the repatriates, dealings with South Korea by the ministry of foreign affairs, and provision of transport by Ministry of welfare and transport (Morris-Suzuki, 2007).
Mass Repatriation Vision
Repatriation of a large number of Koreans was by Japanese officials seen as a way to solve Omura detainees problem and save the welfare system that Koreans depend on fully. Japan sees ICRC as a gateway to good repatriation process while remaining cautious of the United States and South Korea reaction. North Korea, on the other hand, sees stabilising of Zainichi lives in Japan, repatriation to its country and the detainment of Omura as foreign policy advancement which seeks to influence and increase Koreans in Japan. Claims arise that Soren sought the mass repatriation idea in 1958 as a future possibility and not by red cross officials or Japanese officials as earlier reported. Nature and scale of the repatriate's volumes occur with a high number reported by media of about 2,000 protesters during a demonstration by Zainichi returnees outside Red Cross society offices in Tokyo (Dudden, 2008).
Two reports namely "Fundamental conditions of livelihood of certain Koreans living in Japan " and " The repatriation problem of certain Koreans residing in Japan " replace the term "impoverished" with " certain Koreans residing in Japan" (Morris-Suzuki, 2007). The reports cite high unemployment levels with total dependency on welfare. The report suggests successful mass repatriation of 60,000 Koreans if they volunteer and are unable to be self-sufficient. Concerns, however, arise, which put an armistice agreement at risk with mass repatriation linking with potential military resources by North Korea (Dudden, 2008). However, a lower number of 6, 000 returns are repatriated which according to the reports would not stabilise the lives of Zainichi. Inoue sites that no country budgets in its national treasury for foreigners and it is important for a democratic country like Japan to allow voluntary repatriation of foreigners who are not self-sufficient.
The Actualisation of the Repatriation Desire
Japanese Redcross in collaboration with the government made deliberate steps to begin a repatriation project in 1955. Redcross responds due to demonstrations held in Tokyo, by working its way in ensuring availability of ships for transportation to North Korea. Use of self-funding trips and ICRC travel documents and foreign ships such as swiss would, therefore, increase the number of repatriates volunteering. Actualising the repatriation desire involves the following steps: one, correspondence of Japanese red cross with its counterparts in North Korea followed by physical meetings seeking to necessitate mass repatriation. Two, an association of Japanese Red Cross and North Korea to petition the Soviet Union to lend their ships for repatriation purposes. Three, lobbying by the Japanese red cross to draft the repatriation plan of large-scale with the support of the Japan government. The steps provoke South Korea through threats to arrest Japanese fishers. The government shifts its focus in 1957 on resolving the crisis with South Korea while still petitioning for ICRC to lead the repatriation role (Wickstrum, 2016).
Confirmation of Free Will
The Japanese government and its Redcross in recent publications showcase a humanitarian action by ensuring ICRC carried out repatriation of the Koreans out of free will. It is argued that Japan admits to social prejudice of Koreans being a repatriation factor. However much the process was detrimental and bad on arrival to North Korea, the process of free will repatriation remains necessary in respecting repatriates' rights and interests. A study showed that 25 % of those who voluntarily registered for repatriation had a change of mind which makes sense as overseeing of ICRC saves the Zainichi from a gruesome fate in North Korea. The free will process was restrictive and compromising in most cases with little communication between repatriates and ICRC (Morris-Suzuki, 2007). Objections from North Korea through Soren arose to which Japan responds by confirming free will through family groups as opposed to individually and posing of limited standard questions to the repatriates. However, documentation by ICRC shows some influence and pressure by Soren to incite Koreans into joining repatriation with Soren allegedly makes the impression that starting afresh in North Korea is promising. Also, some reports indicate repatriation to North Korea as a mass abduction for due to its influence in determining deportation choice of either South or North Korea. The conclusion, however, is problematic as it is not easy to explain why deportation to North Korea is bad even with political instability in South Korea (Wickstrum, 2016).
Conclusively, the Zainichi people have been mistreated by the Japanese government. Through the introduction of migration control laws, direct and indirect communication of ICRC and North Korea, Japan has made it clear that Zainichi is an unwelcome minority group in Japan. With the introduction of a mass repatriation plan, either through free will or not, tension ensues between North Korea and other nations. Questions such as lack of willingness of Japan to provide avenues for repatriates' return, its lack of insistence for effective confirmation of will by ICRC, and its lack of initiative to look for other deporting nations instead of North and South Korea remain to be answered.
References
Dudden, A. (2008). Exodus to North Korea: Shadows from Japan's cold war. The Journal of Japan...
Cite this page
Free Essay with a Book Review on "Exodus to North Korea". (2022, Oct 24). Retrieved from https://speedypaper.com/essays/book-review-on-exodus-to-north-korea
Request Removal
If you are the original author of this essay and no longer wish to have it published on the SpeedyPaper website, please click below to request its removal: