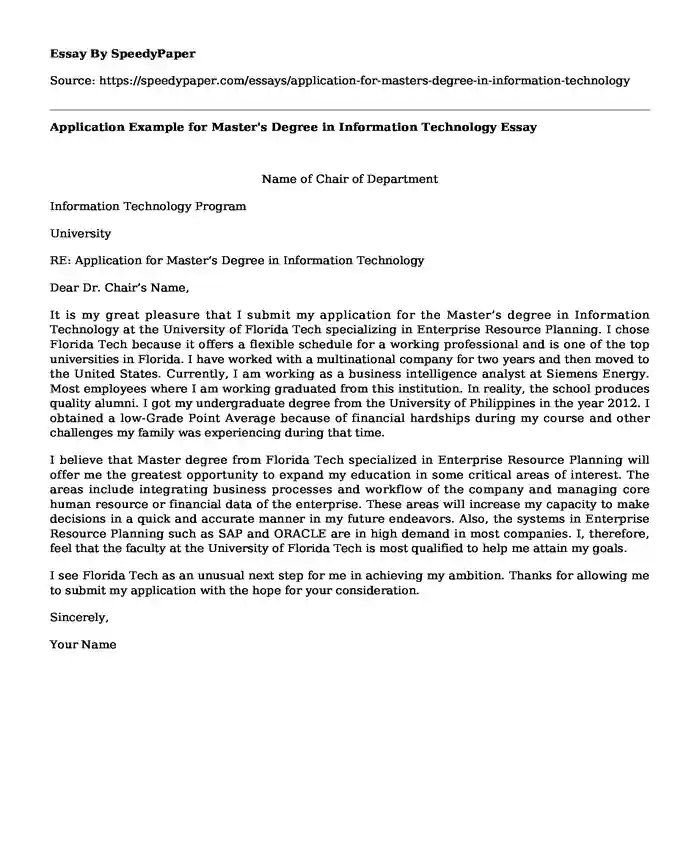 Name of Chair of Department
Information Technology Program
University
RE: Application for Master's Degree in Information Technology
Dear Dr. Chair's Name,
It is my great pleasure that I submit my application for the Master's degree in Information Technology at the University of Florida Tech specializing in Enterprise Resource Planning. I chose Florida Tech because it offers a flexible schedule for a working professional and is one of the top universities in Florida. I have worked with a multinational company for two years and then moved to the United States. Currently, I am working as a business intelligence analyst at Siemens Energy. Most employees where I am working graduated from this institution. In reality, the school produces quality alumni. I got my undergraduate degree from the University of Philippines in the year 2012. I obtained a low-Grade Point Average because of financial hardships during my course and other challenges my family was experiencing during that time.
I believe that Master degree from Florida Tech specialized in Enterprise Resource Planning will offer me the greatest opportunity to expand my education in some critical areas of interest. The areas include integrating business processes and workflow of the company and managing core human resource or financial data of the enterprise. These areas will increase my capacity to make decisions in a quick and accurate manner in my future endeavors. Also, the systems in Enterprise Resource Planning such as SAP and ORACLE are in high demand in most companies. I, therefore, feel that the faculty at the University of Florida Tech is most qualified to help me attain my goals.
I see Florida Tech as an unusual next step for me in achieving my ambition. Thanks for allowing me to submit my application with the hope for your consideration.
Sincerely,
Your Name
Cite this page
Application Example for Master's Degree in Information Technology. (2017, Oct 20). Retrieved from https://speedypaper.com/essays/application-for-masters-degree-in-information-technology
Request Removal
If you are the original author of this essay and no longer wish to have it published on the SpeedyPaper website, please click below to request its removal: